This Slow Cooker Sweet Chili Chicken has a sweet and tangy flavor that your family will love! Dust off your crockpot and get cooking!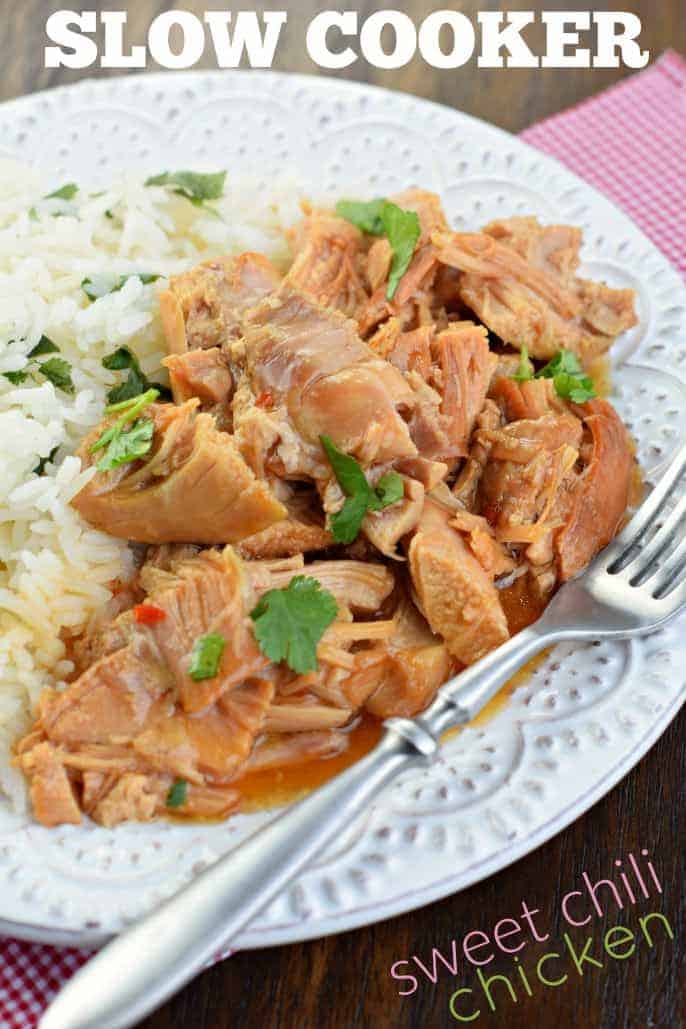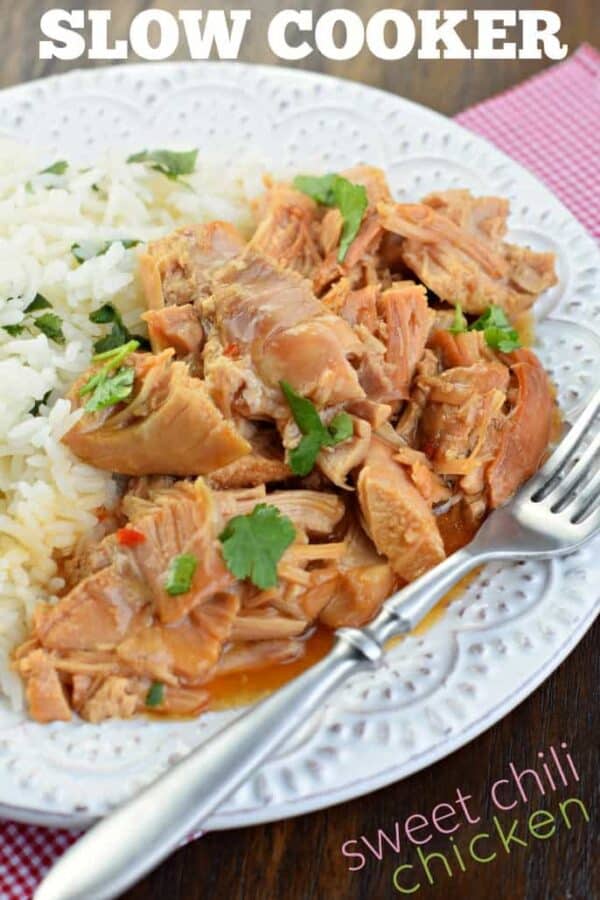 What is Sweet Chili Chicken
Once you taste this chicken you will never think of crockpot dinners as boring again. This Sweet Chili Chicken slow cooker recipe uses a bottle of sweet chili sauce to give plain chicken a kick with plenty of sweetness to balance out the spice.
The chicken has a little bit of an Asian flare that can be served over rice or your other favorite grain, tossed into a salad or even stuffed in a wrap.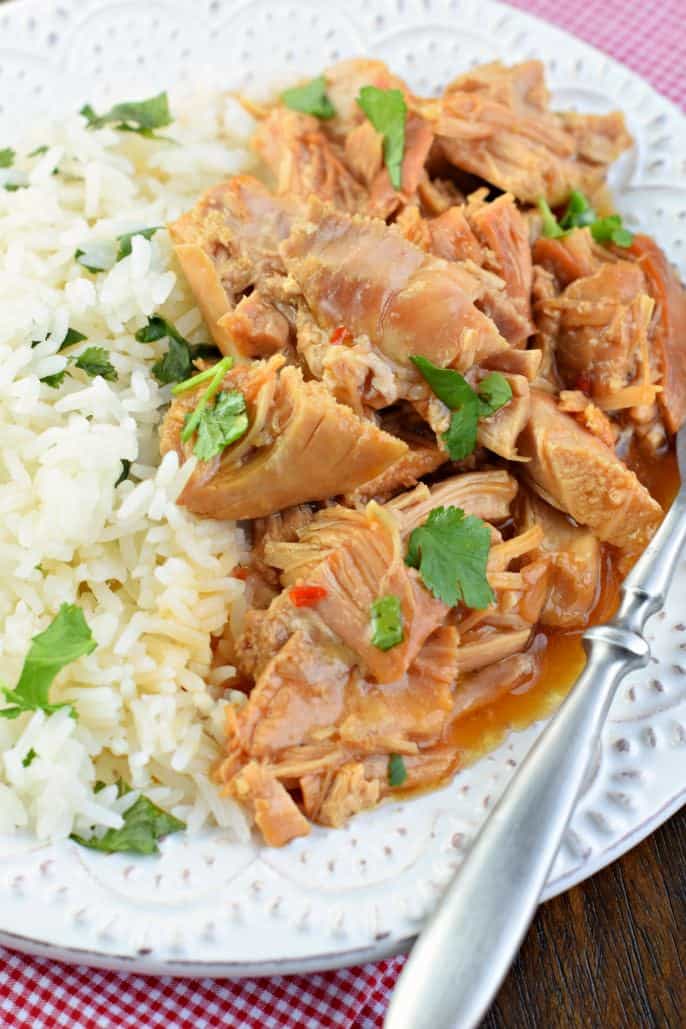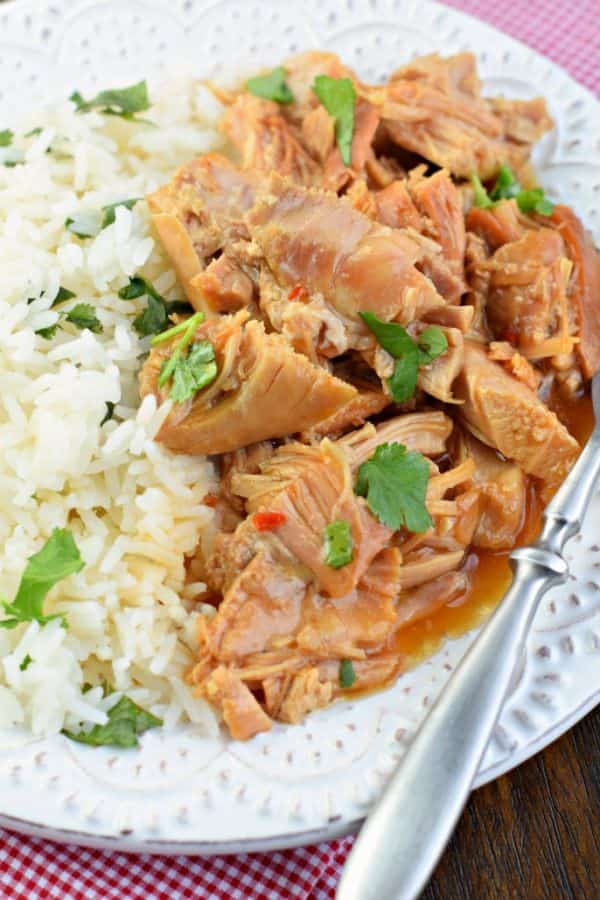 Ingredient Notes
Chicken Thighs – To make moist and tender chicken in the crockpot dark meat is best, which is way I prefer chicken thighs to breasts in this recipe. Even my husband, who usually prefers light meat notices a delicious difference when I use thighs vs breasts in the slow cooker.
Sweet Chili Sauce – This is usually sold as a dipping sauce in the Asian or International foods section of your grocery store.
Soy sauce – A low sodium soy sauce works if you want less salt or tamari sauce if you need this to be gluten free.
Cilantro – Not a fan? It's just the garnish so feel free to leave it off!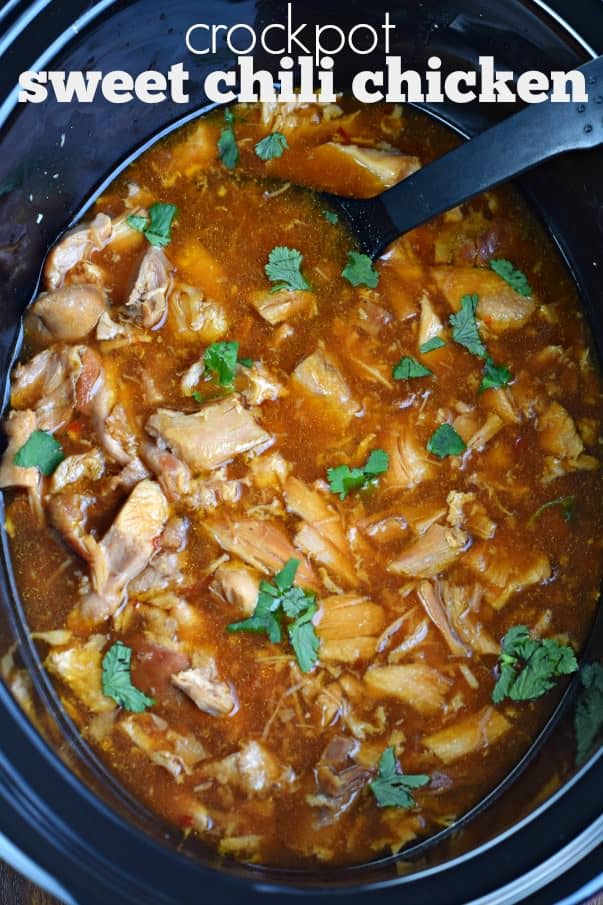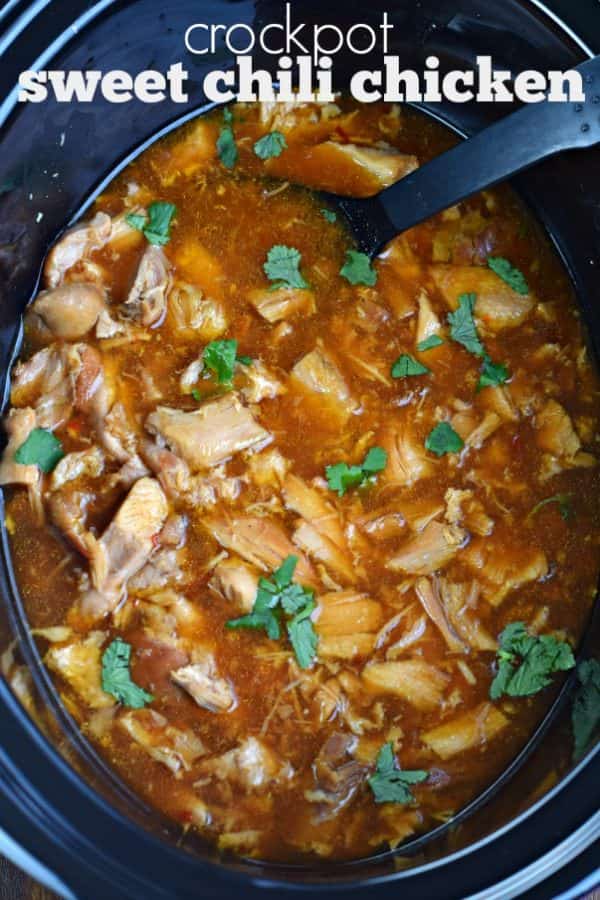 Easy Crockpot Chicken Recipe
Add all the marinade ingredients to the slow cooker before adding the chicken then whisk them together right in the pot. There is no need to dirty a second bowl for this, unless you like washing dishes!
Make sure to spoon a little of the marinade over the chicken to cover every inch of the chicken with that delicious sauce.
While the chicken slow cooks, resist the temptation to open the lid and check on it! Every time you take the lid off a little bit of the moisture escapes and we want the chicken to turn out moist and juicy.
If you want an even thicker sauce, you can add a mixture of cornstarch and broth (or water) to the pot about 20 – 30 minutes before serving. Let it simmer with the chicken until you're ready to serve, letting the marinade thicken up.
Sprinkle some chopped cilantro on top just before serving for a pop of color and freshness.
I served our chicken on a bed of cilantro-lime rice. But if you have a favorite quinoa recipe or rice pilaf, that would work great too!
Recipe FAQs
Can you use chicken breasts instead of thighs?
You sure can. I tend to prefer the flavor and juiciness of chicken thighs vs. breasts but it will turn out delicious whichever one you use.
Is this chicken spicy?
It depends on what you consider "spicy." The chili gives the chicken a hint of heat but it's also diluted by the other marinade ingredients and sweetness of the sauce so my family didn't find it overwhelmingly hot. In fact, spicy food lovers may even want to top this with some chili garlic sauce for more of a kick.
How do you serve Sweet Chili Chicken?
We love it over a bed of rice or another grain. I bet the leftovers would be delicious in a salad for lunch the next day, too.
Who knew that easy slow cooker dinners could be so exciting and flavorful? Put this dinner in the crock pot and walk away until dinner time.
Slow Cooker Sweet Chili Chicken might just become your new favorite way to put the crockpot to use!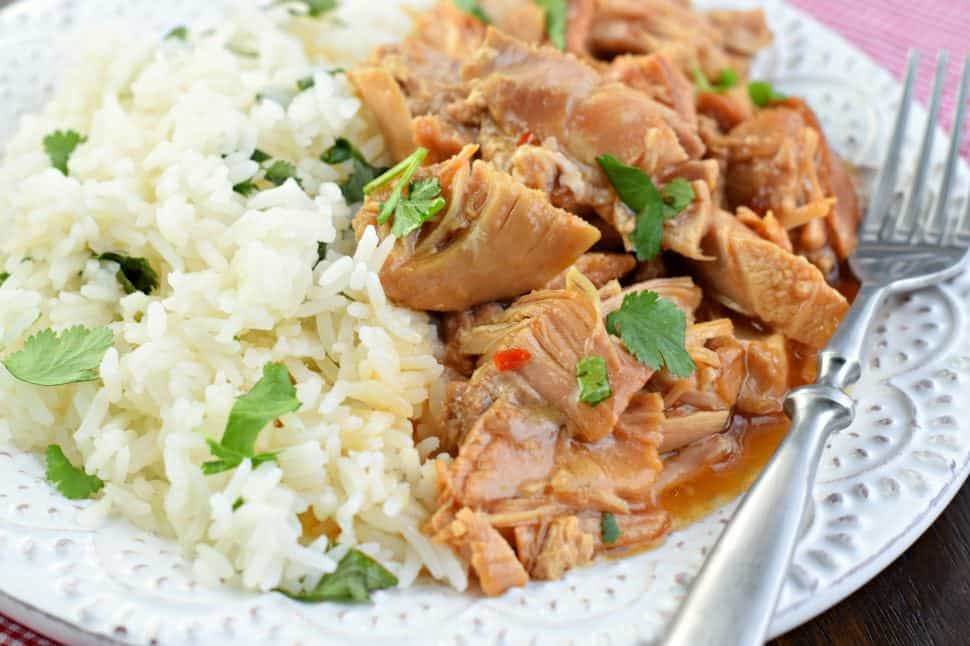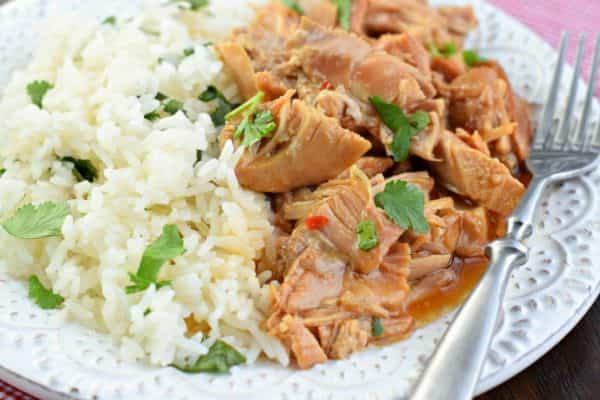 More Easy Dinner Recipes
If you love using your slow cooker, be sure to try our delicious Crockpot Spaghetti Sauce. True comfort food. We also love this Slow Cooker Balsamic Pork recipe!