Put everything in the slow cooker and walk away until meal time. Slow Cooker Chipotle BBQ Pork sandwiches go straight from slow cooker to the dinner table. This is a kid approved dinner that the whole family loves.
Need some side dish inspiration too? This KFC Coleslaw Recipe pairs perfectly with BBQ pork. Or serve it up with some homemade applesauce.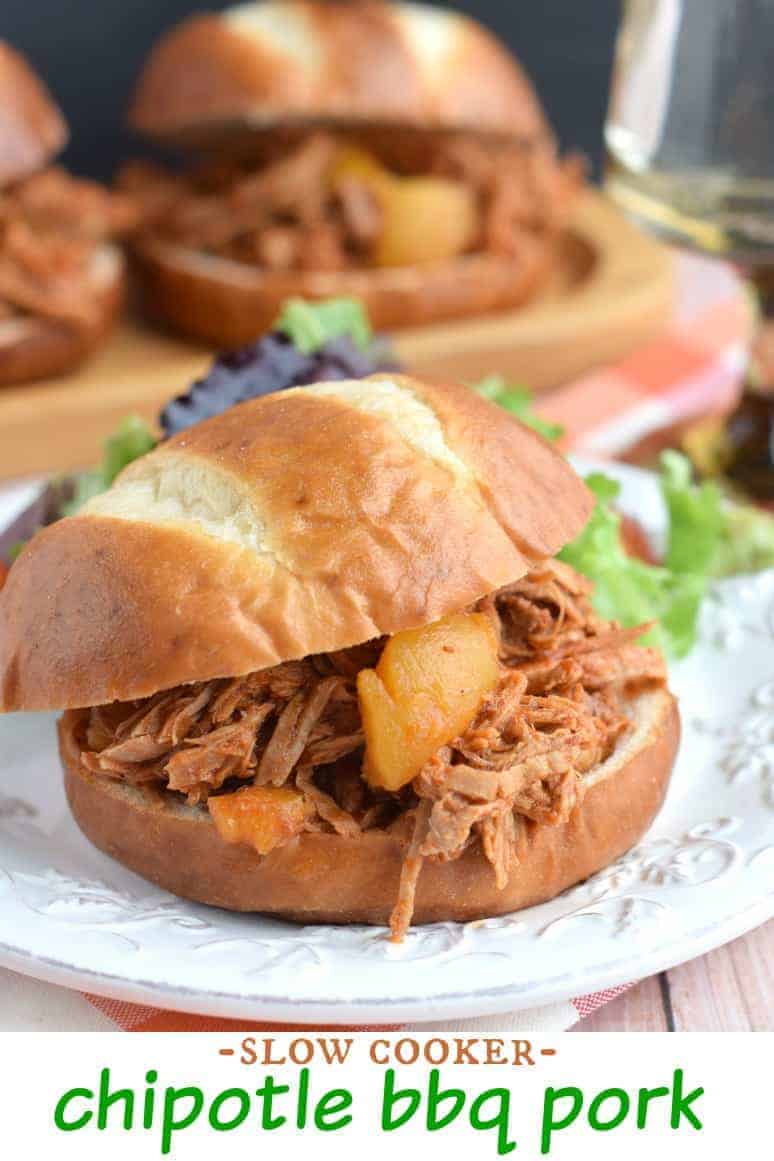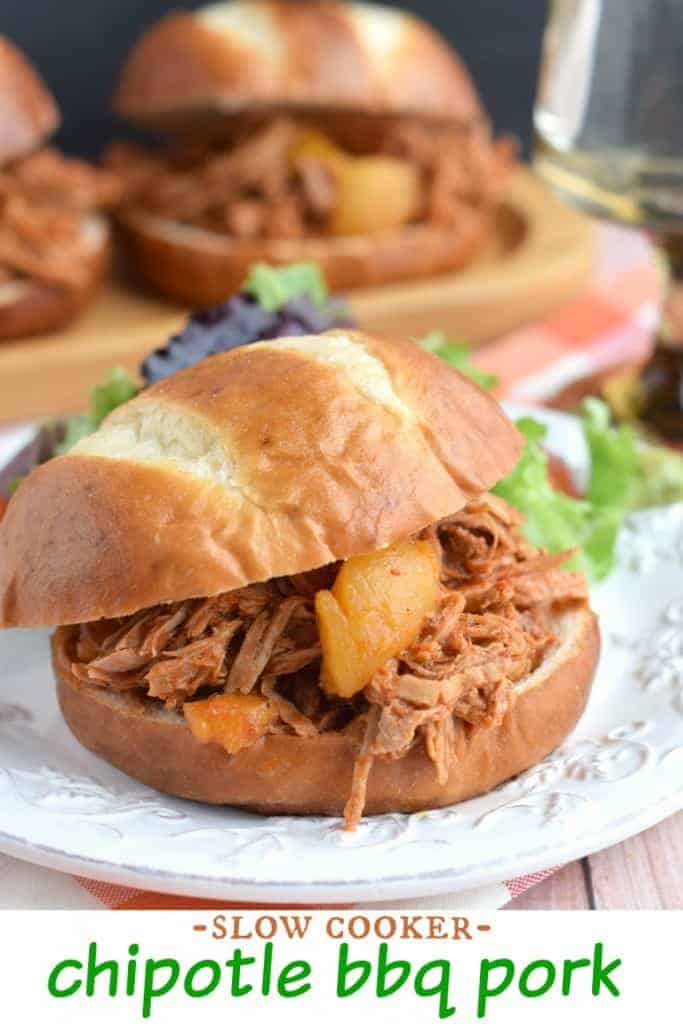 Why this Recipe Works
Slow cooking is my go-to way to prepare pork. The long cooking time allows the meat to break down and release all their amazing flavor and juices.
The pork cooks all day in a chipotle infused sauce for a smoky, spicy flavor.
Adding sliced peaches to the BBQ pork makes the sandwiches sweet, tangy and extra juicy. The sweetness helps balance out the hot peppers.
Prepping this meal takes almost no time at all. You can put it in the slow cooker in the morning and come home to a ready-to-eat meal.
If you loved my Root Beer Pulled Pork, you've got to give today's recipe a try!
Ingredient Notes
Sirloin tip roast. This cut of meat has less fat than the shoulder or other cuts typically used for pulled pork. Cooked in this sauce it comes out perfectly tender without being greasy. You can certainly swap it out for a shoulder, and trim the fat if desired.
Chipotle peppers in adobo sauce. You will need both the peppers and the sauce they come in for this recipe. They're blended into the other marinade ingredients to get smoky heat in every bite of pork.
Sliced peaches. I add canned peaches at the end to help take the edge of the hot chipotle peppers. Make sure to drain out the juices before adding them to the cooked pork. Pairing pork with peaches is nothing new for us, you may remember these breaded pork chops!
Pretzel buns. This BBQ chipotle pork is also tasty on sliced corn muffins or any other hearty sandwich bun you enjoy.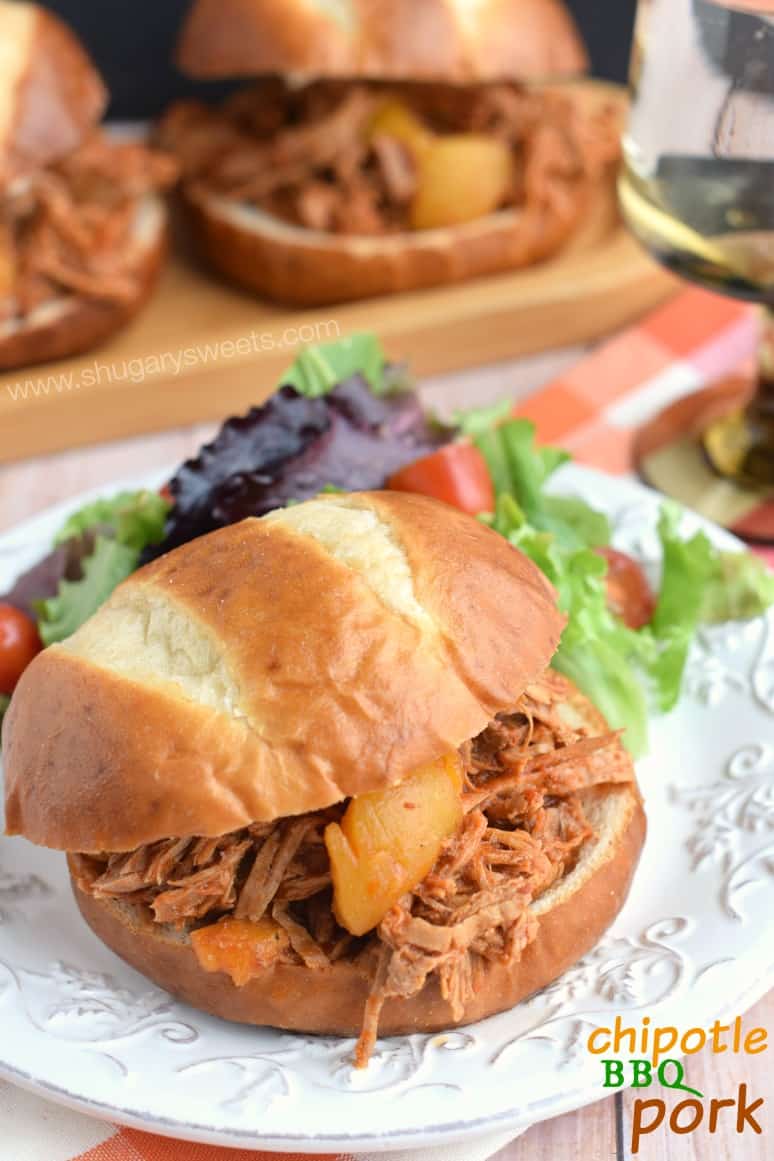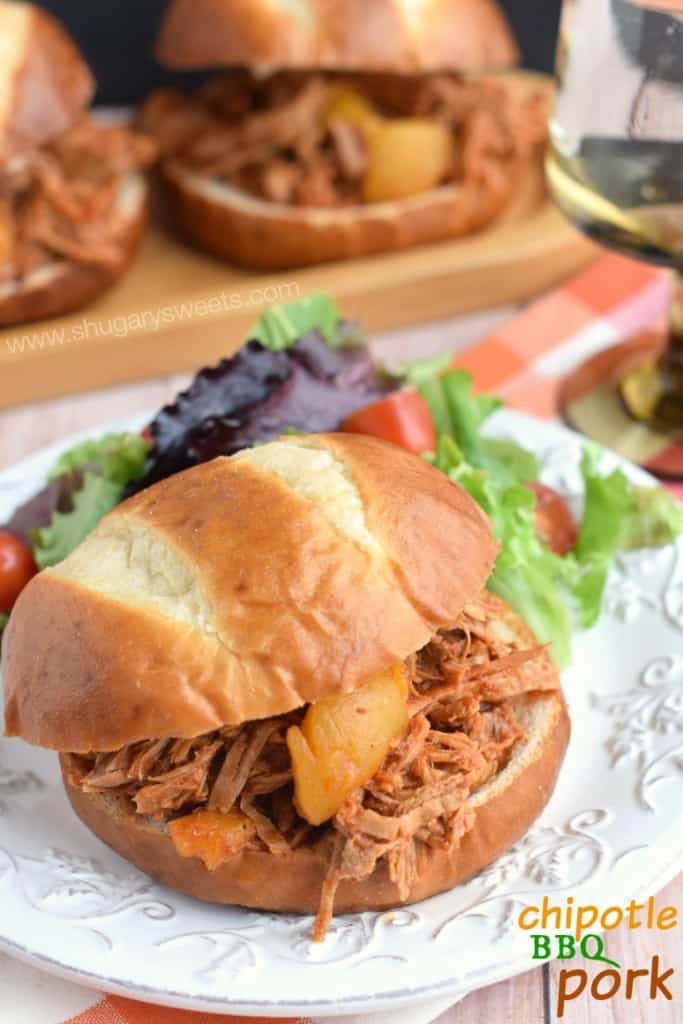 Easy Instructions
First, make the sauce: Add all the sauce ingredients to a blender. Process until smooth.
Now, add everything to the slow cooker: Put the pork roast in the pot first. Pour the sauce on top.
Cook: Cover the slow cooker and cook on low for 6 to 8 hours.
Serve: Shred cooked pork with two forks. Mix in a can of sliced peaches. Serve on buns and enjoy.
Tips and Tricks
Serving ideas: Top your sandwiches with a simple coleslaw or sliced red onions if desired. This pork would also be amazing on nachos!
Storing: Store leftovers in an airtight container in the refrigerator. Reheat and enjoy within 3 to 4 days.
Recipe FAQs
Can I make this recipe with a different cut of pork?
Yes, this Chipotle BBQ Pork recipe can be made with pork shoulder or pork loin instead of sirloin tip roast.
Can I use fresh peaches in this recipe instead of canned?
I haven't tried making this sauce with fresh peach slices. If you do give it a try, make sure to remove the skin before adding the peaches to the sauce!
Is this BBQ pork spicy?
These pork sandwiches definitely have some kick but the sweetness of the peaches help keep it from being overwhelming. If you don't like any spicy flavor in your smoky pulled pork, this Kalua Pork recipe might be more your style.
Don't let busy weeks keep you from getting an incredible homemade meal on the table! You can make this easy Slow Cooker Chipotle BBQ Pork any night of the week.