Treat your dinner guests or potluck friends and family to an Easy Taffy Apple Salad recipe. Made with apples, pineapple, whipped cream, peanuts & more. 
Potlucks are all about the varieties of salads. From our favorite Broccoli Salad recipe to the all-American Potato Salad. What's your favorite?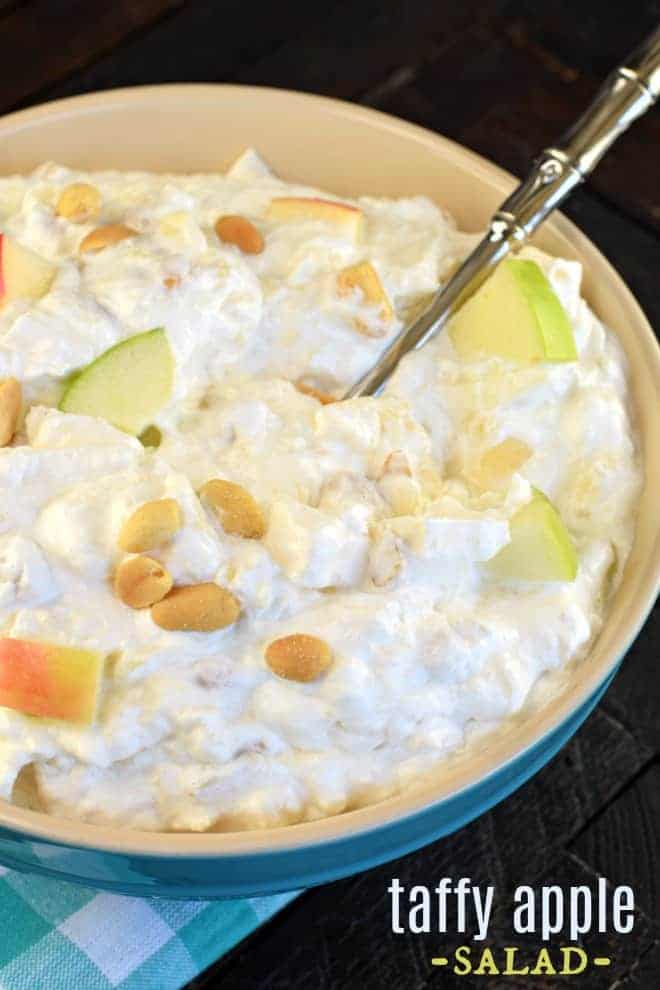 Why this Recipe Works
It's funny how different food we make evokes certain memories. My son, asks me to make this salad all the time. For him, it reminds him of family barbeques and potlucks with all my extended family! 
My Aunt Carol gave me this recipe, and according to my son, "she makes the best taffy apple salad." He has tried it at many other potlucks and gatherings, but always comes back saying that his Aunt Carol's is superior!
There's a secret ingredient that takes your typical taffy apple salad from good….to "superior."
How to make Taffy Apple Salad
In a large mixing bowl, whisk together the sugar, egg, vinegar, and flour.
In a small saucepan, heat egg mixture over medium heat and whisk it constantly until thickens. This will take 5-10 minutes. Remove from heat and cool completely.
Chop apples into bite sized pieces. Add diced apples with drained pineapple to the cooled sugar mixture.
Stir everything together completely.
Fold in Cool Whip and refrigerate for at least one hour or until ready to serve.
Right before serving, add peanuts. ENJOY!
PRO TIP: Take it to the next level and add some Snickers Bars for a fun Snicker Salad recipe!
What kind of apples should I use in Apple Salad
I like to use a combination of red and green apples. So pick your favorite varieties.
The sweetness from a red apple (like Honeycrisp, Gala, or Fuji) pairs beautifully with the tartness of a green Granny Smith!
Can Taffy Apple Salad be made ahead of time
Yes. Kinda.
Taffy Apple Salad can get watery the longer it sits. I recommend making and eating this salad on the same day. You could make it in the morning to have at dinnertime though!
If you want to cut some time, you could dice the apples the night before and toss them with the pineapple (this will keep them from getting brown). Then the next day, add the remaining ingredients at least an hour before serving.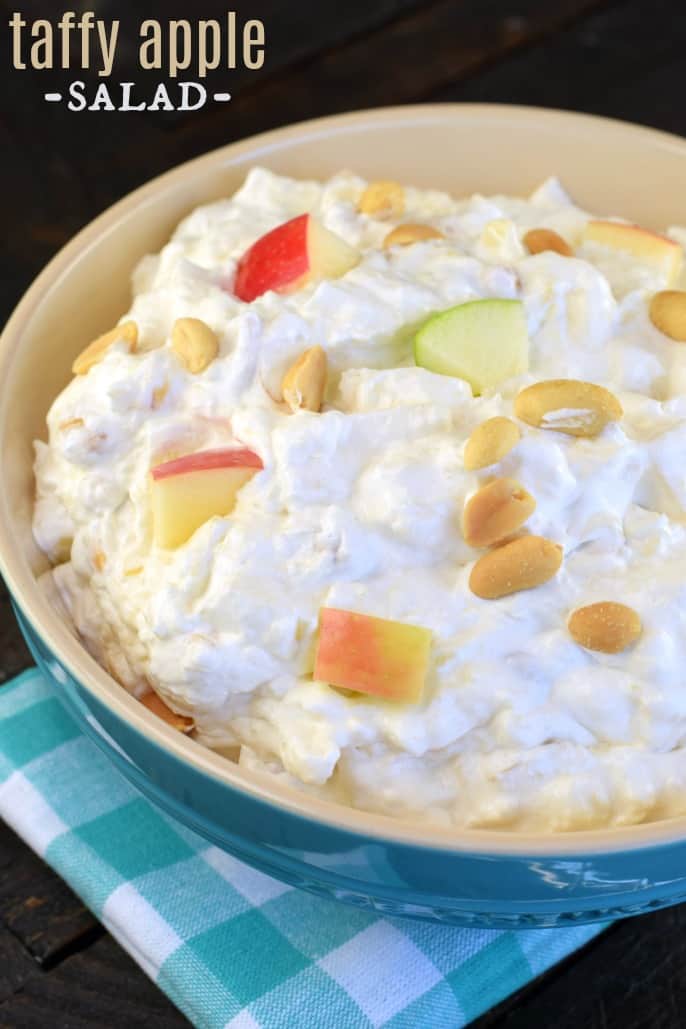 More Potluck Recipes
My family loves hosting potluck meals. It's a chance for all our friends and family to gather, without anyone feeling stressed about providing all the food.
Plus, with a potluck, I always encourage people to bring a dish that they know their family enjoys. This way if there's nothing else on the table your picky eater likes, at least your food is a winner to them.
Healthy and light, this fresh Cucumber Tomato Salad is a delicious summer side dish!
This Loaded Potato Salad is sure to be a crowd pleaser. I can tell you it definitely was a hit with my family!
This Cheesy Hashbrown Casserole recipe is true comfort food. Made with frozen hash browns and plenty of cheese, I can guarantee your family is going to enjoy this one!
Easy, 4 ingredient Pistachio Fluff Salad, also known simply as Pistachio Salad! Best served with friends and family, this recipe makes a great potluck dish!
More Easy Recipes