Sweet potatoes and Caesar salad come together in this healthy, easy and unbelievably delicious meal. Stuffed Sweet Potatoes are the Whole 30 friendly recipe you've been missing in your life.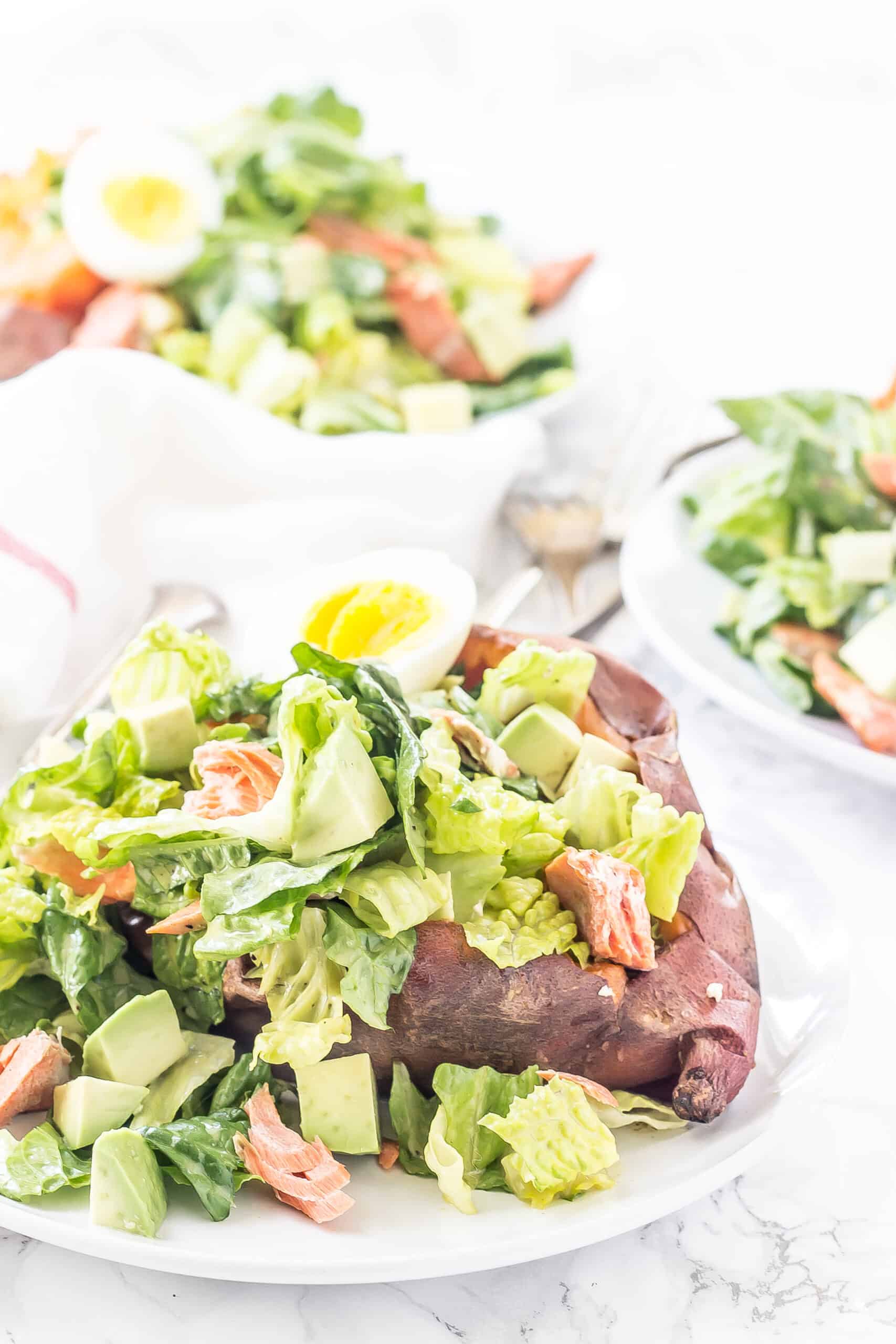 The BEST meals are always the ones I haphazardly throw together when I have a million different leftovers in the fridge and no real clear plan.
That's what happened with the Caesar Salad Stuffed Sweet Potato and it was SO good that I just had to share!
Stuffed Sweet Potatoes
Don't you love when the best tasting foods also happen to be good for you? Sweet potatoes fall firmly into that category. Higher in vitamins and fiber than other kinds of potatoes, their slightly sweet taste makes them a delicious alternative to the usual carbs on my dinner plate.
Baked Sweet Potatoes show up on my menu regularly, as a side dish or (in this case) as a canvas for a main dish.
I made these Stuffed Sweet Potatoes using leftover baked potatoes I'd made for dinner the night before.
I whipped up a Caesar salad dressing, baked some salmon filets and stuffed that salmon Caesar salad right into my cooked sweet potatoes!
Of course, I couldn't resist topping the whole dish with a nice hard boiled egg.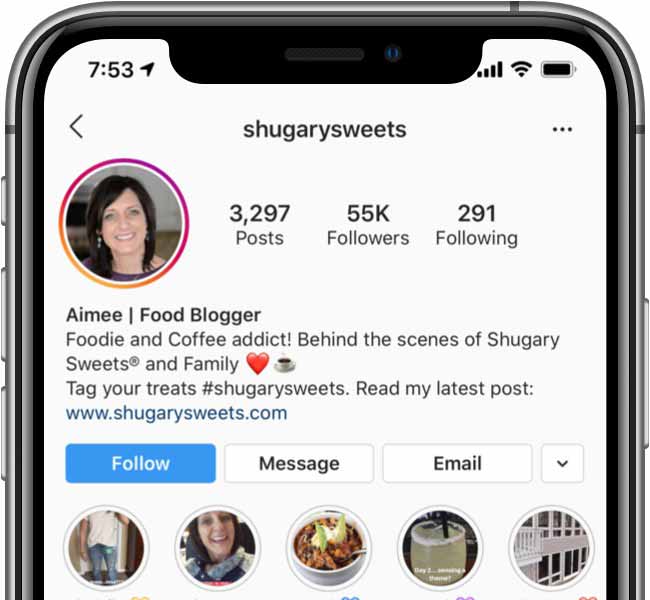 The flaky salmon and creamy dressing were the perfect match for the fluffy insides of my sweet potatoes. These Paleo stuffed sweet potatoes were such a happy surprise!
Whole 30 Recipe
This stuffed potato boasts protein and omega 3's from salmon, avocado for some additional healthy fat, and an egg for more protein + fat making this a perfect go-to meal for a Paleo or Whole30 diet!
Even if you're not following any kind of special diet, you'll find this lunch hearty and satisfying without weighing you down. For those looking to get a little more protein into their day, a salmon stuffed sweet potato is a great start!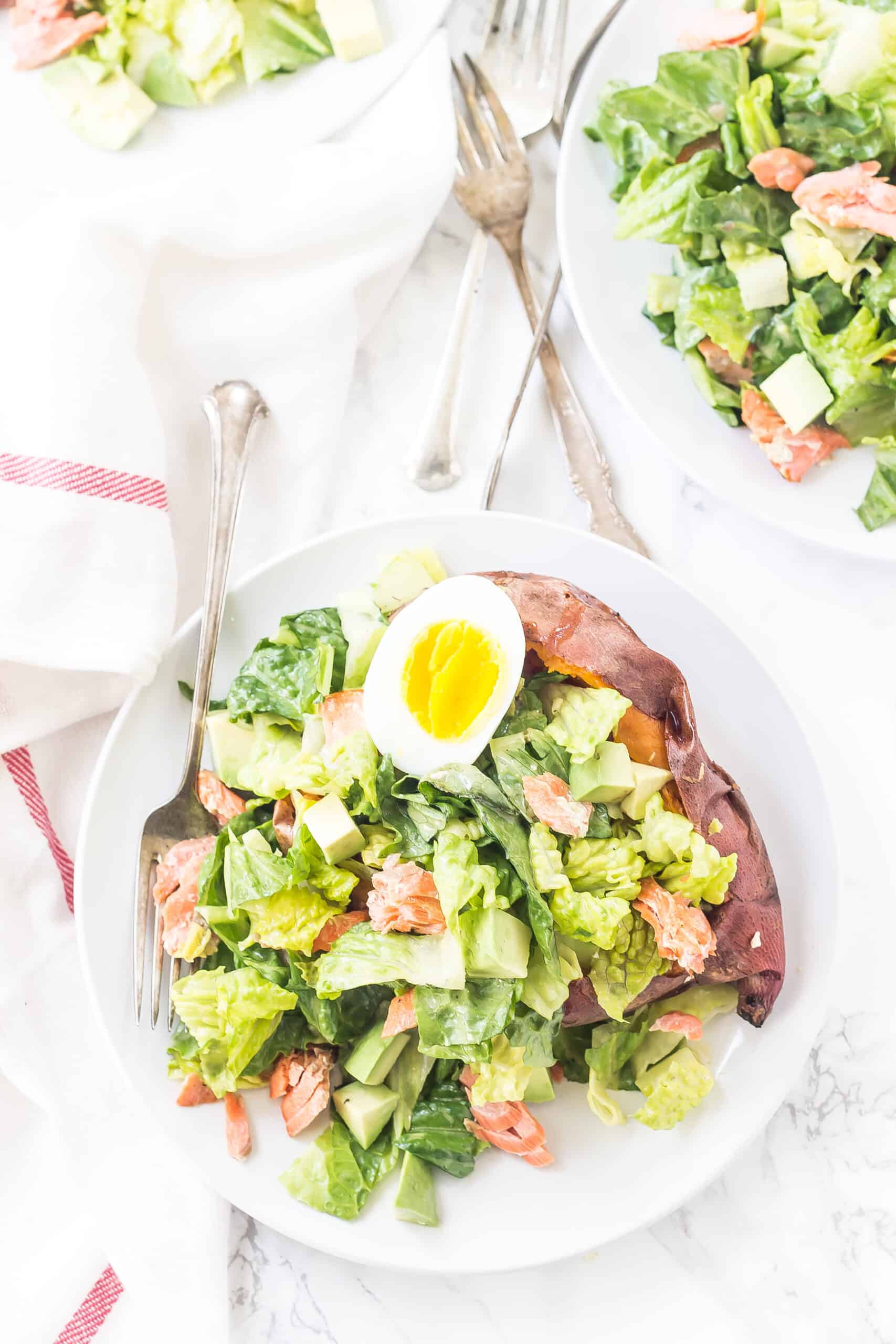 Caesar Salad Dressing
If you've never made homemade Caesar salad dressing before, you'll be surprised by how easy it is!
To make the dressing you need:
Minced anchovy filets
Egg
Olive oil
Lemon juice
Garlic
Dijon mustard
Apple cider vinegar
Make the dressing by whisking together the egg, lemon, anchovy, garlic, vinegar, and Dijon mustard. Stream in the olive oil while whisking until it thickens. Season with salt and pepper to taste.
This was one dang good salad; I would have been happy to just eat a big bowl of the salad on its own! Stuffing it into sweet potatoes just made it even tastier.
Swap out the anchovy fillets for some Worcestershire sauce if preferred.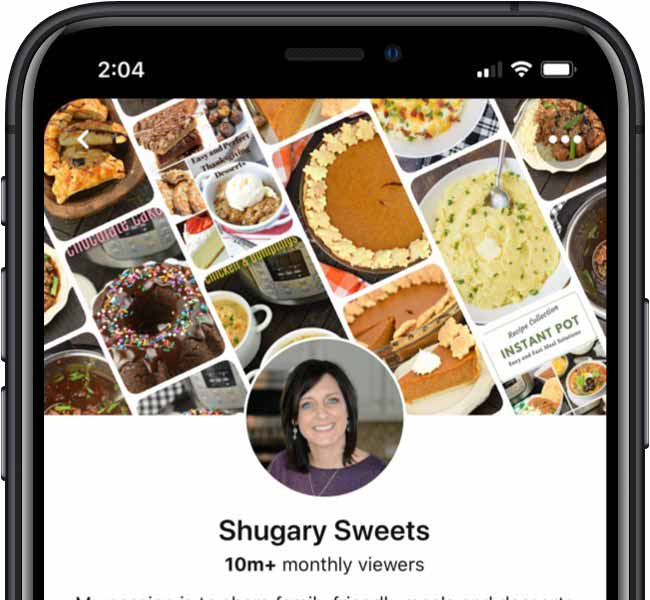 Stuffed Sweet Potato Recipe
Here's what I used to make my Stuffed Sweet Potatoes:
Baked sweet potatoes
Salmon
Caesar salad dressing
Romaine lettuce
Avocado
Hard boiled eggs
How to Bake Salmon:
Season your salmon with a little salt, pepper and olive oil then bake in the oven at 450 degrees for about 12 minutes.
If you have leftover salmon, feel free to use it here too–I recommend a salmon that's not seasoned with spices or herbs, since we're going to flavor it with the Caesar dressing!
You could also use chicken breasts if you prefer!
How to Bake Sweet Potatoes
I'm a big fan of my Instant Pot Sweet Potatoes recipe. You can also bake the spuds in the oven at 400 degrees for about 1 hour.
How to Hard Boil Eggs
I swear by my Instant Pot Hard Boiled Egg recipe! You can also boil them the old fashioned way by placing them in a pan with cold water, covering and then boiling them for about 6 minutes.
How to Assemble Stuffed Sweet Potatoes:
Toss the romaine lettuce with avocado, dressing and salmon. Cut the cooked sweet potatoes in half lengthwise, stuff with the salad filling and serve!
Swap out some of the romaine lettuce for baby spinach!
Easy Healthy Lunch
This whole 30 recipe can be made with more than just salmon! If you have chicken or shrimp on hand instead of salmon you can totally sub that out.
The point is to have a healthy and filling lunch that takes no thought to throw together.
If you want to make this even simpler you can prep everything ahead of time. Bake a few sweet potatoes at the beginning of the week and store them in the fridge to use as a starting point for all your weekday lunches.
The meat, dressing, and eggs can be made a day or two ahead of time as well. I like having ready to eat hard boiled eggs in the fridge for easy breakfasts and high protein snacks, so I always make more than I need at once.
Just be sure to plan enough ahead to be able to bake the sweet potatoes if you plan to bake them fresh. When it's time to eat, just assemble and serve. Easy as that!
Lunches that involve less time cooking and more time eating are my kind of meals.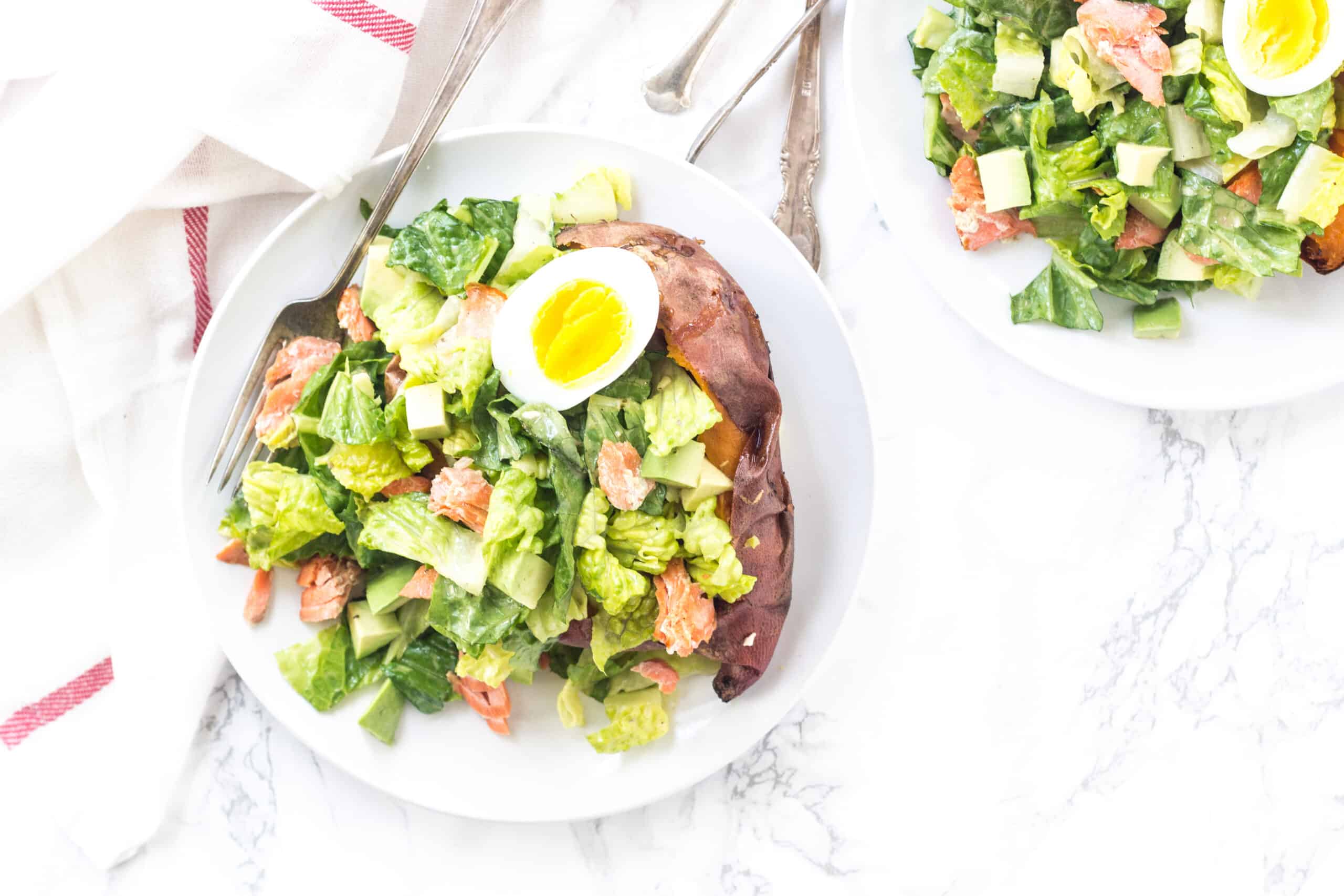 Whether you're looking for Whole 30 recipes or just on the hunt for new easy lunch ideas, you'll love these Stuffed Sweet Potatoes!