Chocolate Banana Muffins are two delicious muffins in one. You'll love the sweet flavor and duo of colors in this easy muffin recipe. Rich chocolate and moist banana combined.
If you love this flavor combination, be sure to try our rich and fudgy chocolate banana cake recipe! Or give our Chocolate chip banana bread recipe a try next!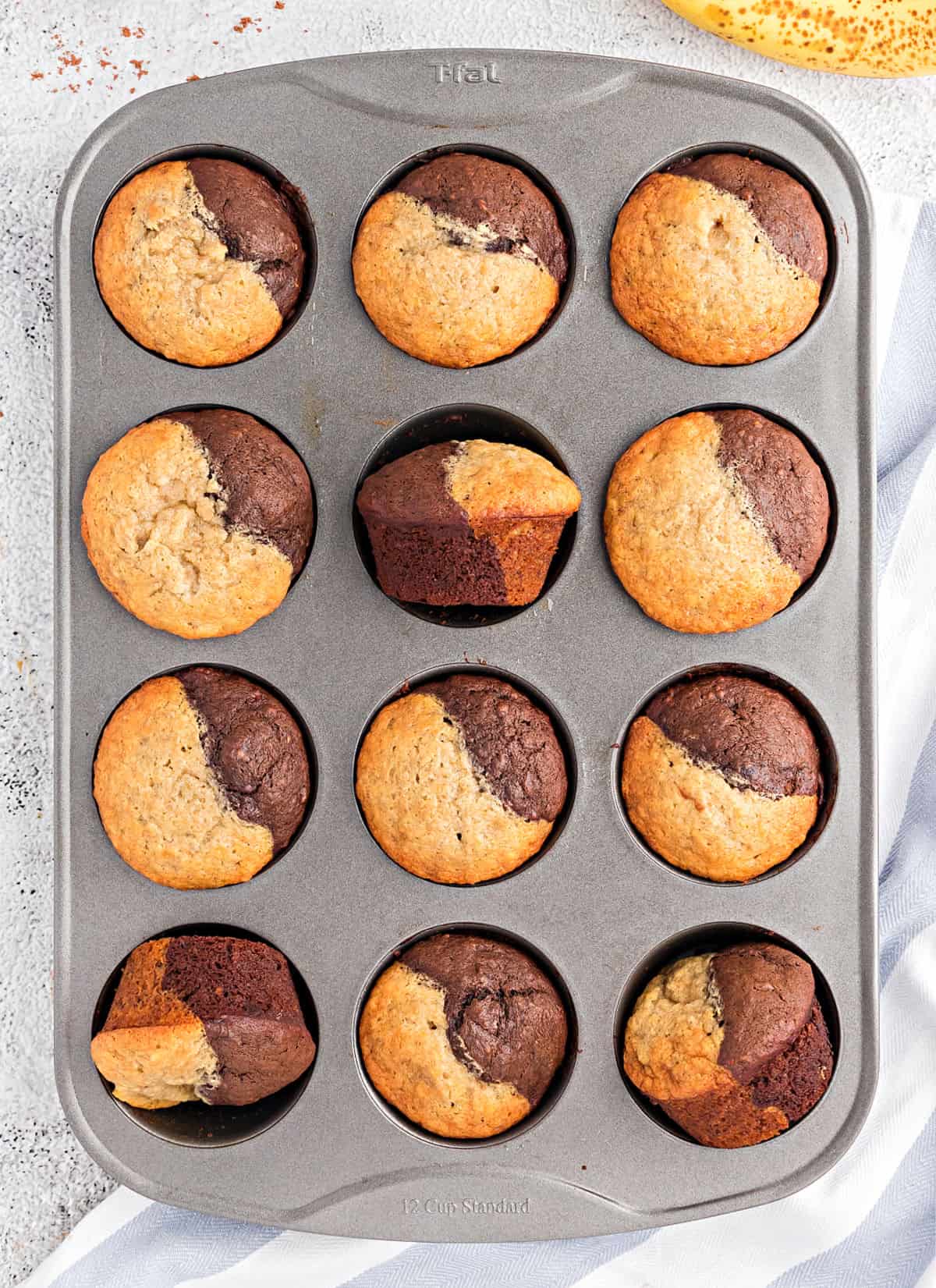 Why these Muffins Are Best
A few weeks ago I set out to make some banana muffins. And then it happened. Severe chocolate cravings.
That's how these chocolate banana muffins were born!
Part banana muffin, part chocolate muffin, wholly irresistible.
Extra delicious topped with a dollop of Nutella or creamy butter!
Easy to make and freezer friendly.
Add some walnuts like we did in these banana nut muffins for a crunchy addition!
Ingredient Notes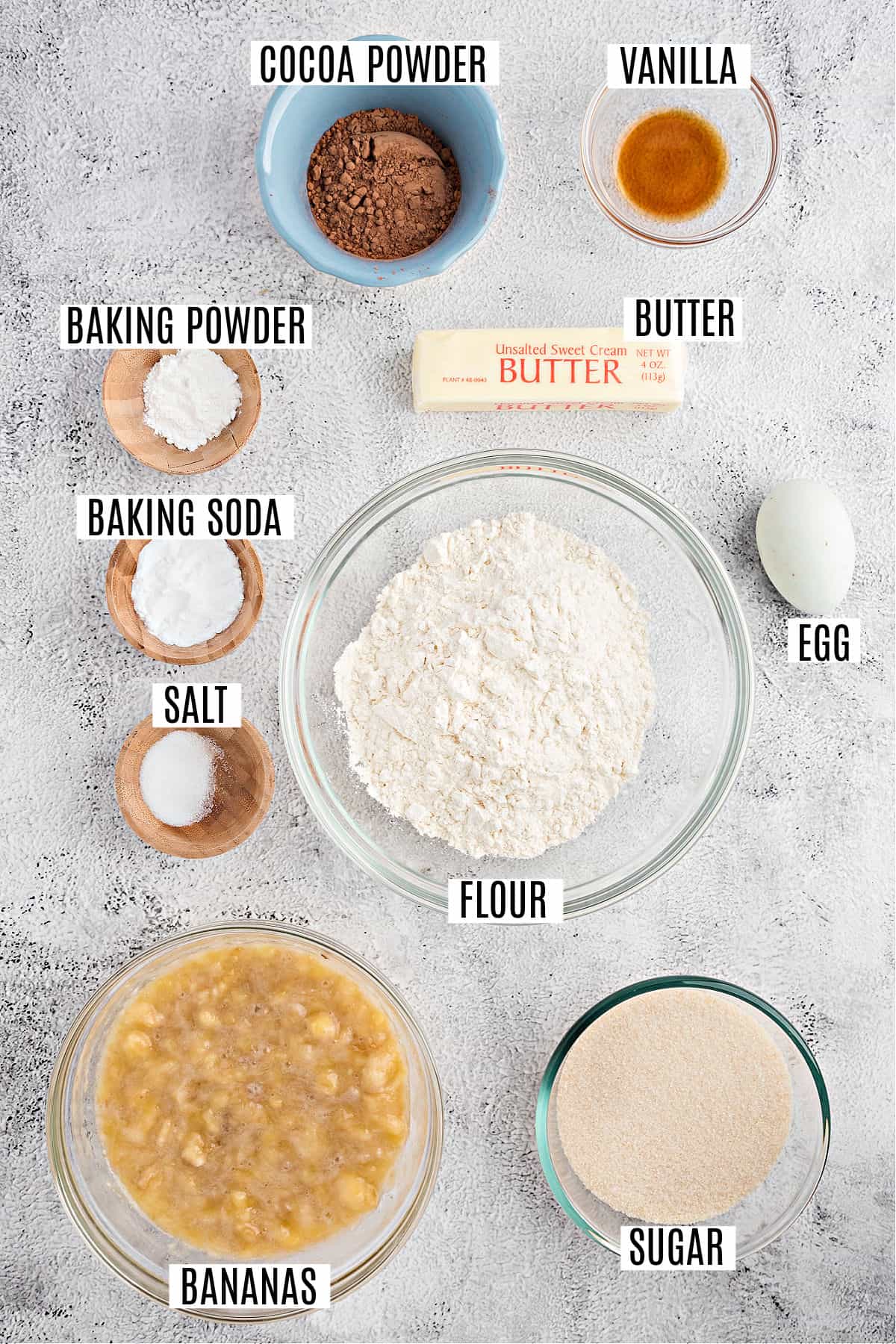 The batter for these chocolate banana muffins contains all the expected components including flour, sugar and eggs.
Banana. Use ripe bananas with speckled or brown skin. You can even ripen them yourself in just 20 minutes with this oven ripening method. That's the same amount of time you need to soften your butter!
Unsalted butter. If you only have salted butter, omit the added kosher salt in the recipe. Soften the butter using one of our tips to soften butter quickly!
Baking cocoa. Use unsweetened cocoa to add chocolate flavor to half of the muffin batter.
Easy to Make Instructions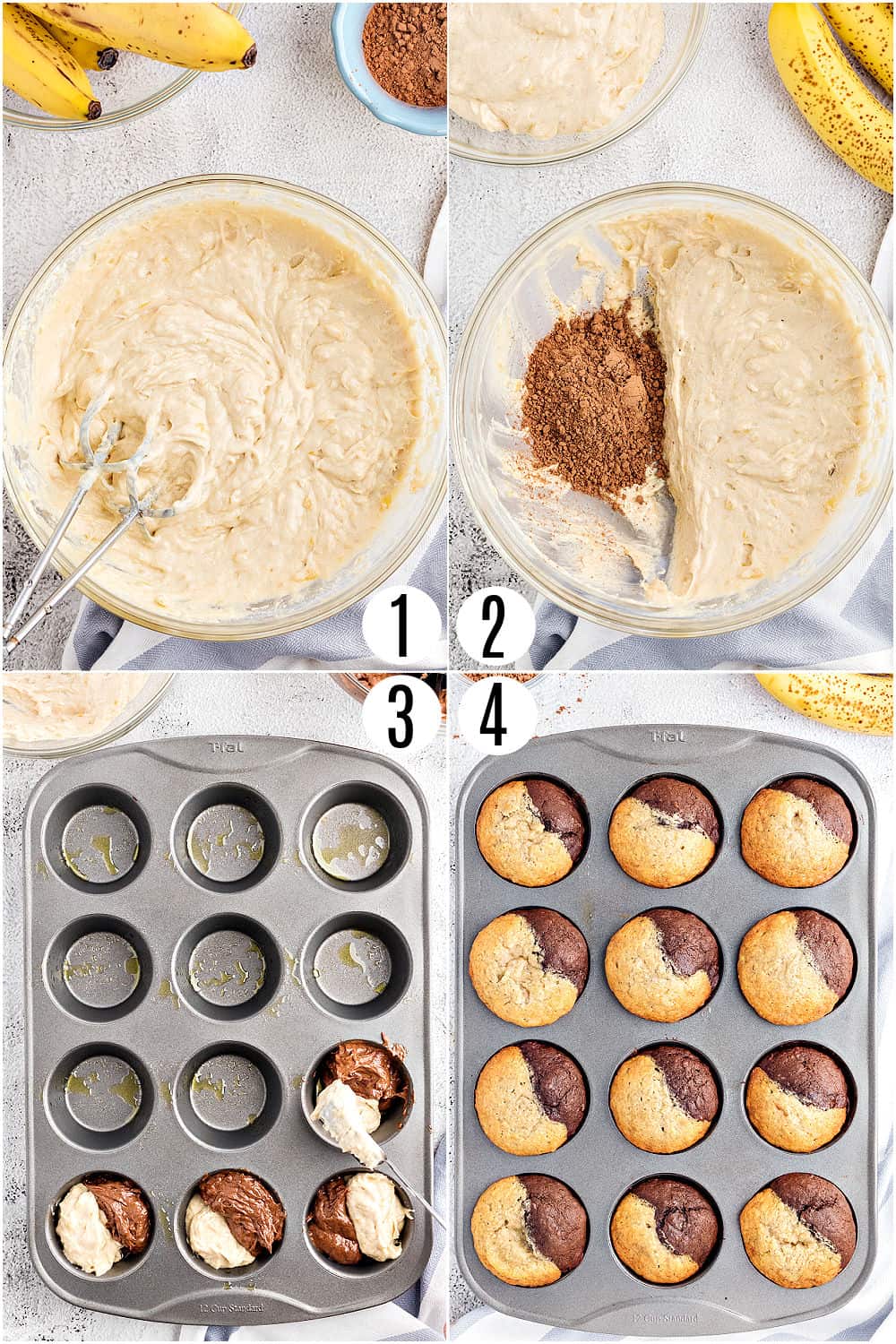 Chocolate Banana Muffins are just as easy to make as any quick bread or muffin recipe.
Start by making a simple banana muffin batter. Mix baking cocoa into one half of the batter. Then drop 2 tablespoons each of plain batter and chocolate batter in a greased muffin tin.
Bake, let cool and enjoy!
As delicious as these muffins taste plain, they're even more out of this world with a pat of Nutella on top. YUM. The taste is a lot like my Nutella Swirled Banana Bread but in the shape of muffin.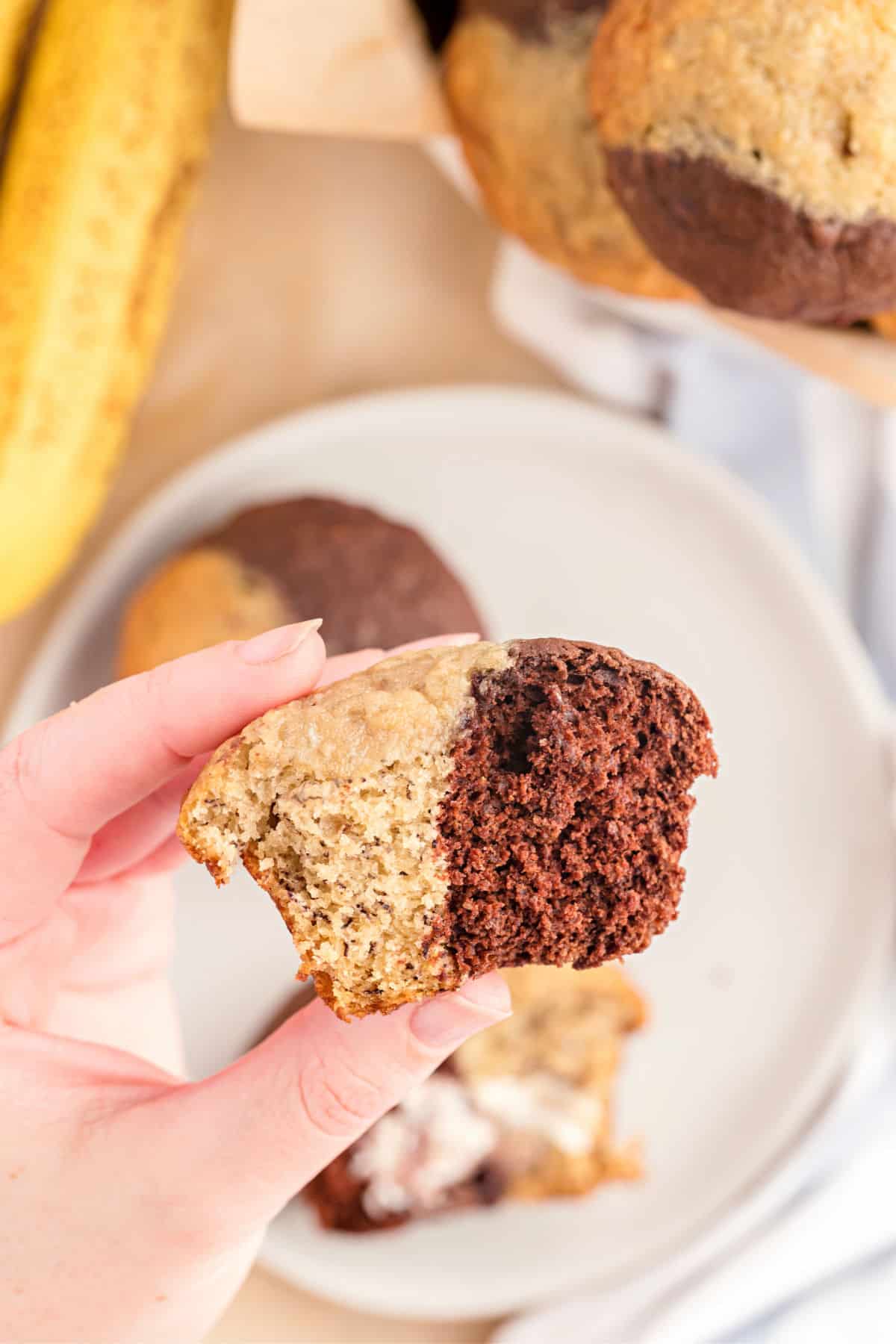 Recipe FAQs
How many muffins does this recipe make?
This recipe makes 14-17 regular sized muffins. For my family, I double the recipe and keep half in the freezer. It's nice to pull out a bag of homemade muffins for a quick breakfast treat.
Can I make this recipe as mini muffins?
Yes, it will make about 3 dozen mini chocolate banana muffins. You will need to reduce the baking time by several minutes. Smaller muffins bake more quickly.
What can I add to these muffins?
For even more chocolate indulgence, feel free to add 1/2 cup of of chocolate chips to the chocolate banana batter, the plain batter or both! Chopped walnuts would make a tasty addition to the banana chocolate muffins too.
How long do these muffins stay good?
Stored in an airtight container at room temperature, our Chocolate Banana Muffins stay moist, flavorful and delicious for about 5 days. In the freezer, they'll stay good for up to 3 months. Let frozen muffins thaw on the countertop or overnight in the refrigerator before eating.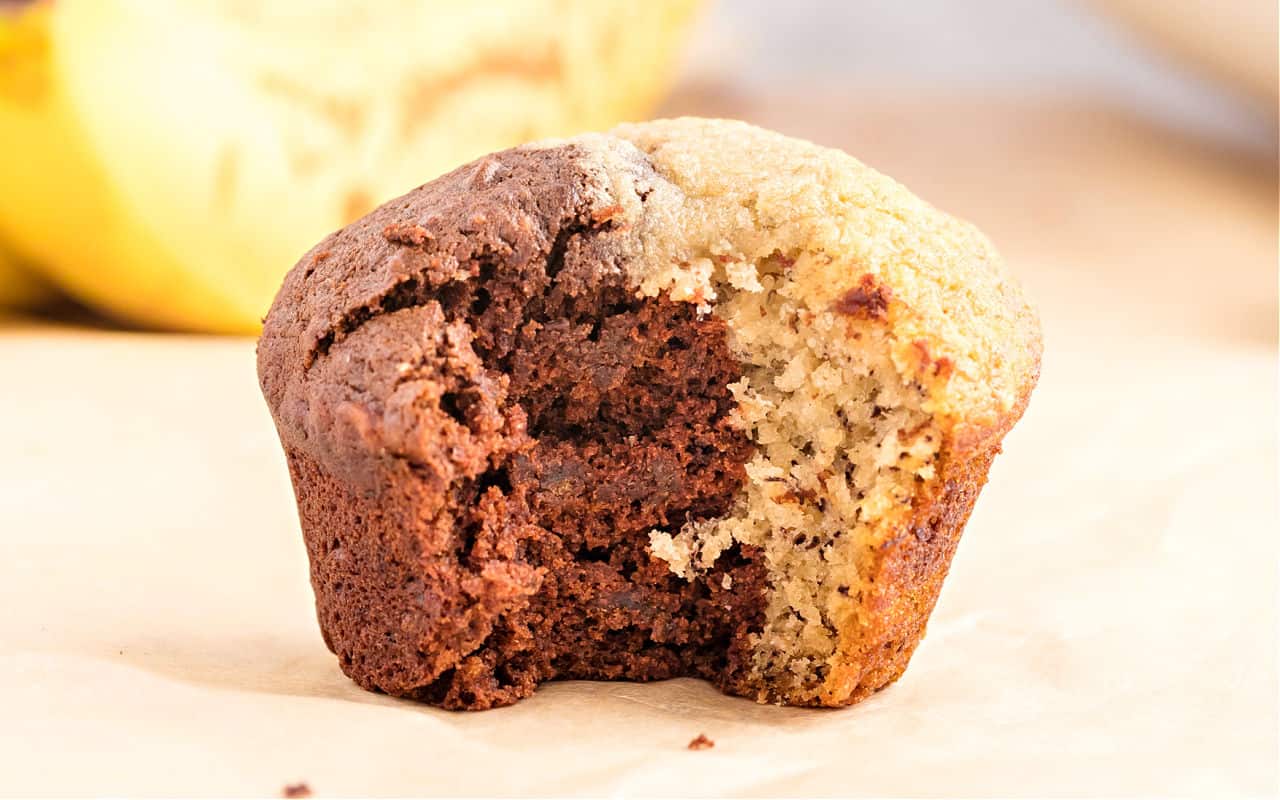 Easy Breakfast Recipes
Can't decide between chocolate and banana? Make both with this easy recipe for Chocolate Banana Muffins!