Chocolate and Banana in one tasty bite! These Chocolate Banana Muffins are delicious and freezer friendly.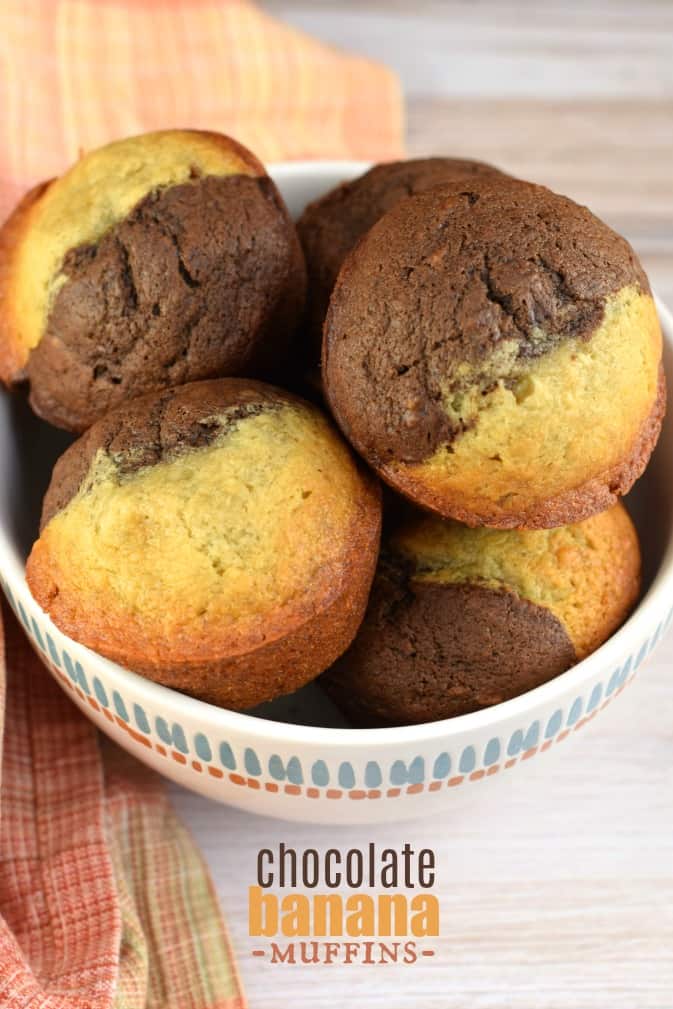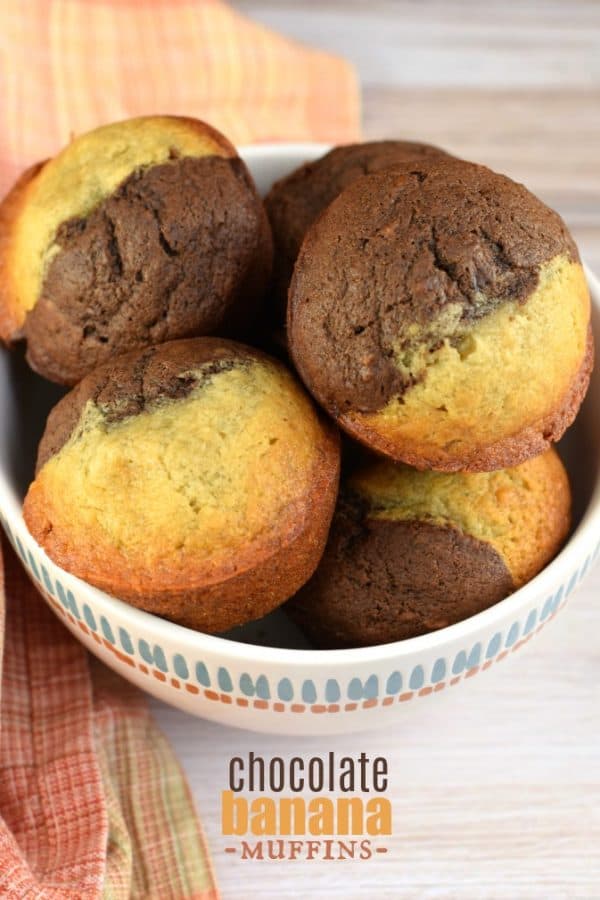 A few weeks ago I set out to make some banana muffins. And then it happened. Severe chocolate cravings.
That's how these chocolate banana muffins were born! This recipe makes 14-17 regular sized muffins. For my family we like to double it and keep half in the freezer. It's nice to pull out a bag of homemade muffins for a quick breakfast treat.
While they are absolutely delicious plain, they are over the top delicious with a spoonful of Nutella!
How to make Chocolate Banana Muffins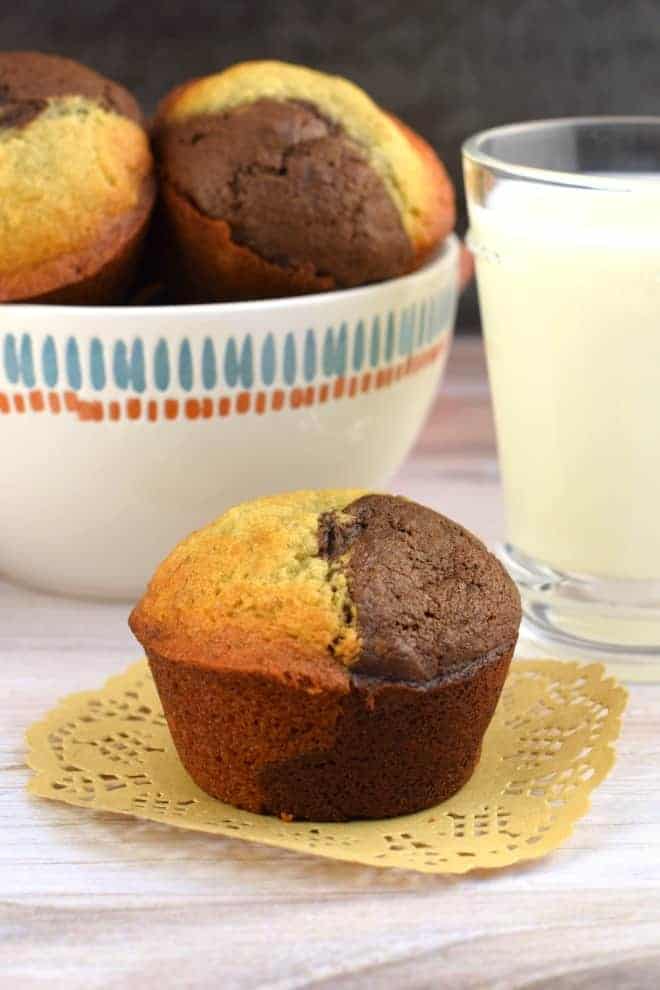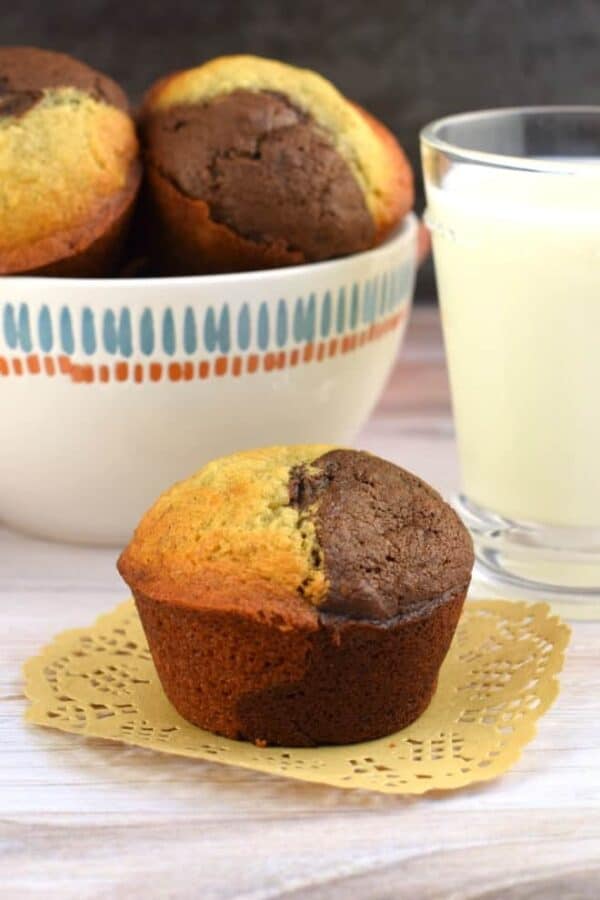 Preheat oven to 350 degrees F. Spray cupcake tin with non-stick baking spray (or use liners if you prefer).
In a large mixing bowl, beat softened butter with sugar until creamy. Add egg and vanilla extract. Add in mashed bananas.
To the banana mixture, add flour, baking powder, baking soda, and salt.
Divide the batter in half. You should have about 2 1/4-2 1/2 cups in each bowl.
To one half of the batter, mix in the cocoa powder.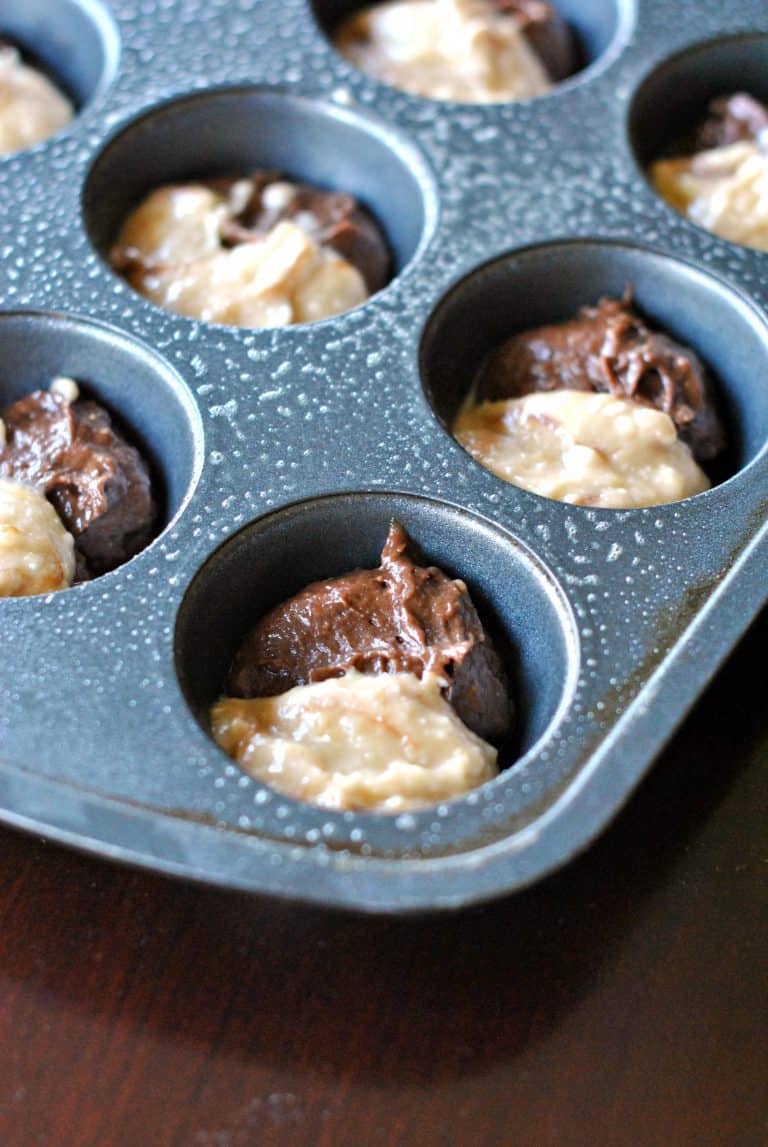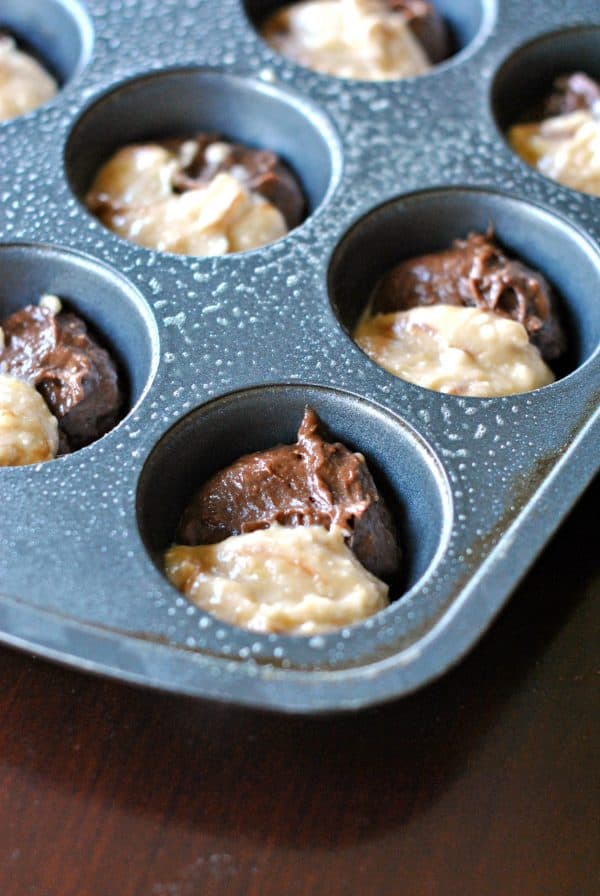 Drop 2 Tbsp of plain batter into each muffin tin, and 2 Tbsp of chocolate batter into the same tins. The recipe makes about 14-17 muffins.
Bake for 16-18 minutes. Remove and cool in pan 10 minutes before removing to wire rack to cool completely.
Store cooled muffins in air tight container for up to 4 days.

How to freeze muffins
Once your muffins have cooled, place them in a freezer safe container or freezer ziploc bag.
Store in freezer. When ready to use, allow to thaw on counter overnight (in bag). ENJOY.
More Chocolate Banana Recipes
Using this same delicious batter, you can create a Chocolate Banana Cake for breakfast or dessert!
Delicious and moist, this Nutella Swirled Banana Bread is begging to be made! It freezes well too!
These Skinny Banana Chocolate Chip muffins are full of flavor, with much less fat than the traditional version. Perfect if you're watching what you eat, but still crave delicious food!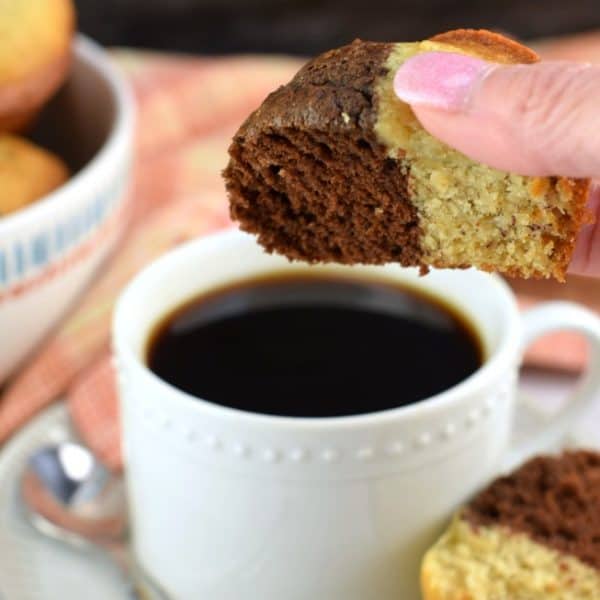 More Muffin Recipes
These Apple Spice Muffins with Caramel Glaze are insanely good!
Blueberry Muffins: We make these at least once a month and store extra batches in the freezer! Soft, moist bakery style muffins!

Easy Breakfast Recipes
Looking for more quick and easy breakfast ideas? Hard Boiled Eggs made in the instant pot are my all-time favorite way to cook boiled eggs. They come out perfect without any of the guesswork involved with stove top boiling.
A batch of Instant Pot egg bites is always handy to have in stock in the freezer for a portable breakfast that the kids love. On the weekends, I like prepping French Toast Casserole overnight so we can wake up to a delicious family meal!