If you're looking for an easy, no fuss meal idea, these Slow Cooker Beer Brats are a meat lover's favorite. Ten minutes prep and into the crockpot they go! Come home to a tasty meal that's ready to eat.
Crockpot recipes are amazing for cooking all kinds of meat dishes. My Slow Cooker BBQ Brisket and today's slow cooker beer brats and proof!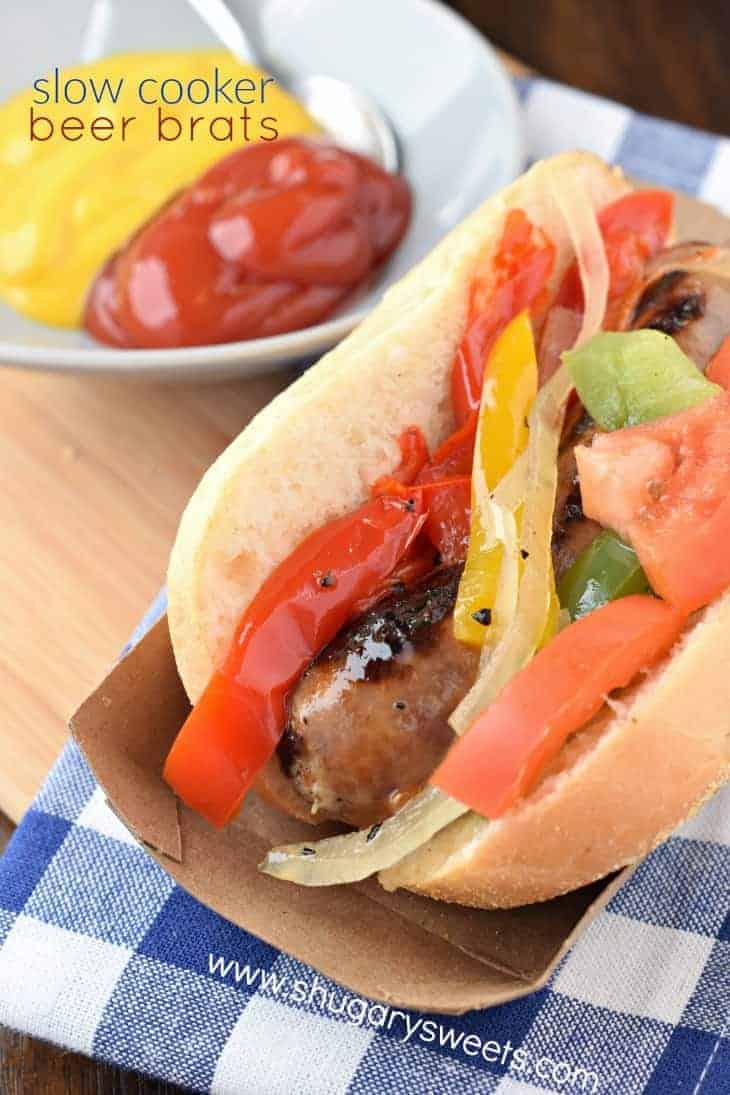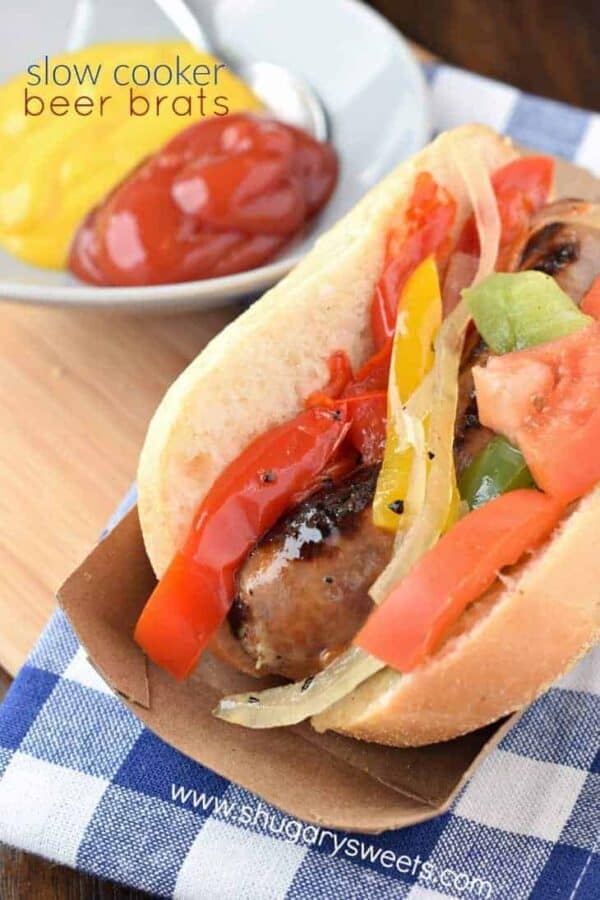 Why this Recipe Works
Slow cooking bratwurst in beer makes them unbelievably juicy and flavorful. Unlike some crockpot beer brats, this recipe has you searing the brats first.
Cooking the sausage for just 5 minutes on the stove or grill lightly caramelizes the skin. This makes your finished beer brats even more rich and flavorful.
We make beer brats on the grill all the time in the summer. This slow cooker version is based on that family favorite meal. Only I adapted it so we can make them all year long–even when the grill is covered in snow.
One note before we get cooking: this recipe is going to make your kitchen smell like a pub. The beer in the recipe becomes extra fragrant (or smelly depending on who you ask) as the brats cook.
But I promise you it's worth it! Crack a window and all will be well.
Even better: plug your crockpot in on the back deck to make this dinner!
And if you're a person who LOVES the smell of juicy sausage and beer? More power to you! Plug in your crockpot, walk away and come back later to the aroma of Slow Cooker Beer Brats.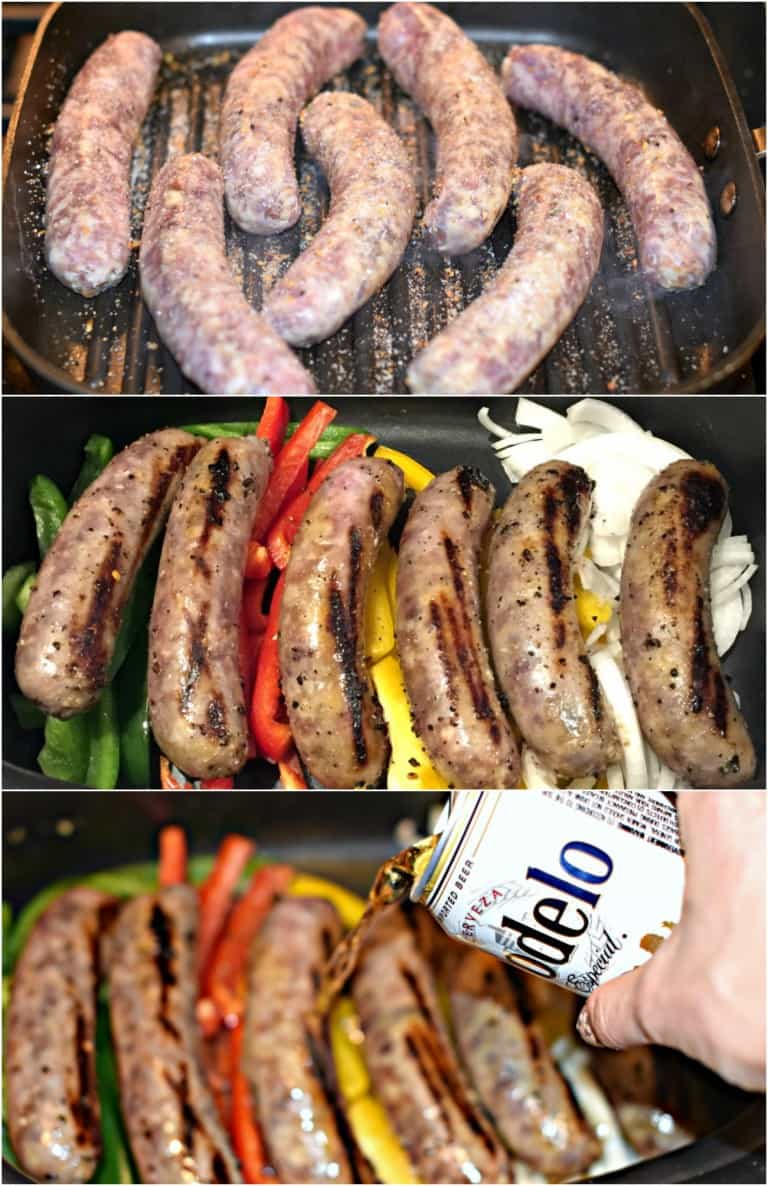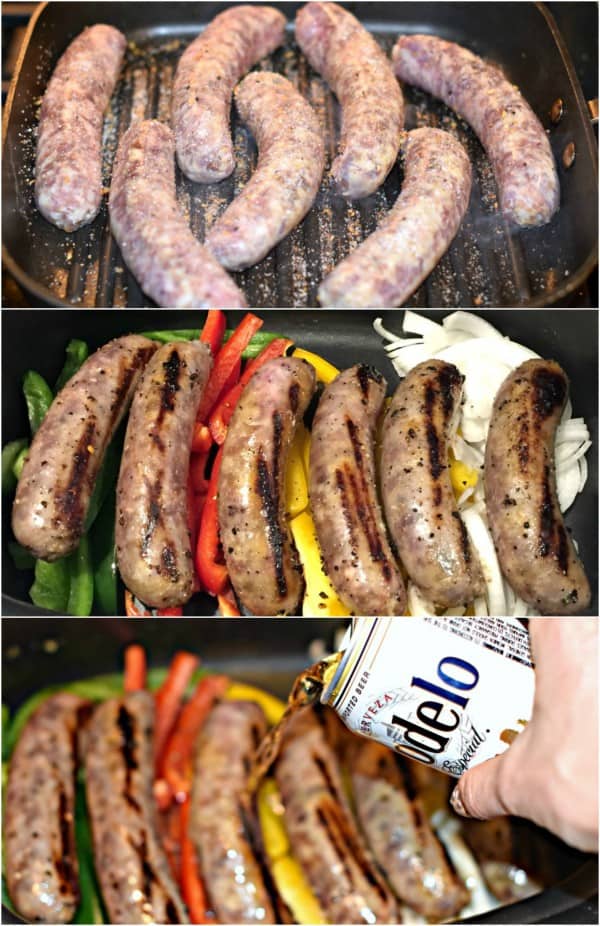 Ingredient Notes
Bratwurst sausages. Any type of brats will do. They should be fresh, not frozen, and uncooked.
Beer. I use 2 cans of Modelo beer. Any beer works, but I would recommend a light (or Pilsner) style beer.
Steak seasoning. Use a store bought spice blend or your favorite homemade version.
Easy Instructions
Grab an indoor grill pan or skillet and cook the brats for about 5 minutes per side. Sprinkle the brats with some garlic powder and steak seasoning.
While the brats sizzle, slice up some peppers and onions. When the brats are nicely charred, added them to the slow cooker with the sliced veggies.
Pour in two cans of beer (about 24 oz) and a cup of water. Simmer this on low heat for 6-8 hours (or high heat for 3-4 hours).
I love serving our brats on crusty french rolls, but any style hoagie or hot dog bun would work (even a pretzel bun, YUM). Add on ketchup or mustard (or other favorite toppings) and dig in!
If you like sauerkraut, it's a great match for these brats too.
Looking for side dish inspiration? This Hash Brown Casserole recipe or a delicious potato salad pair beautifully with bratwurst.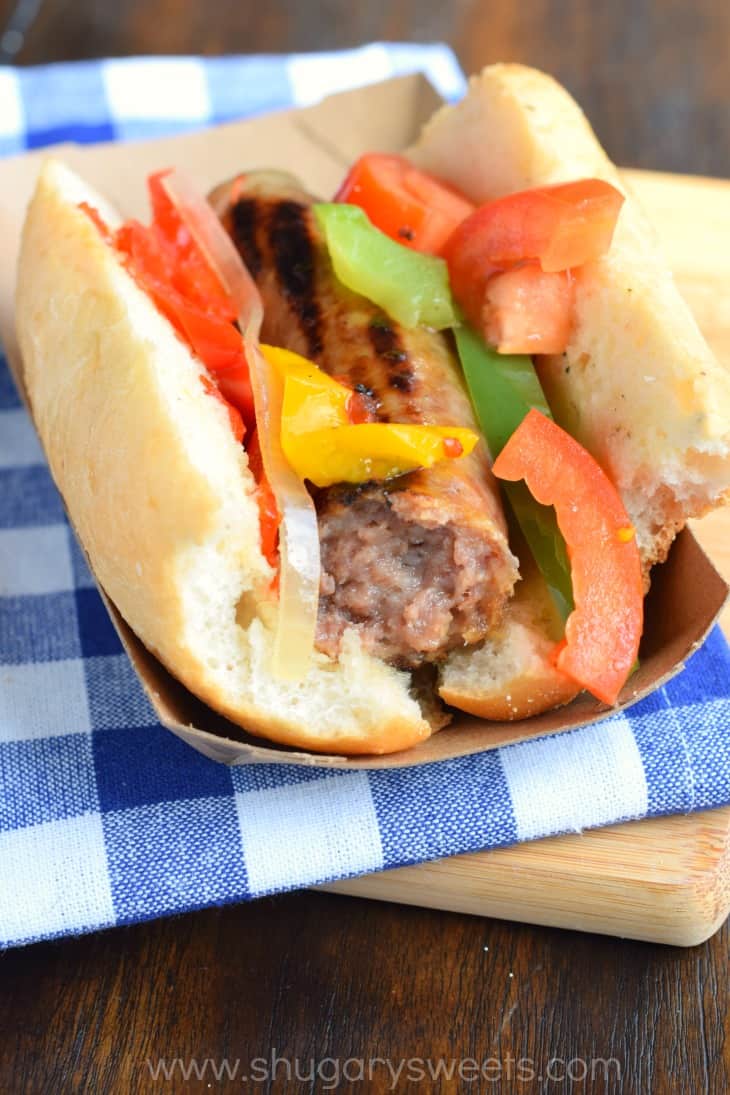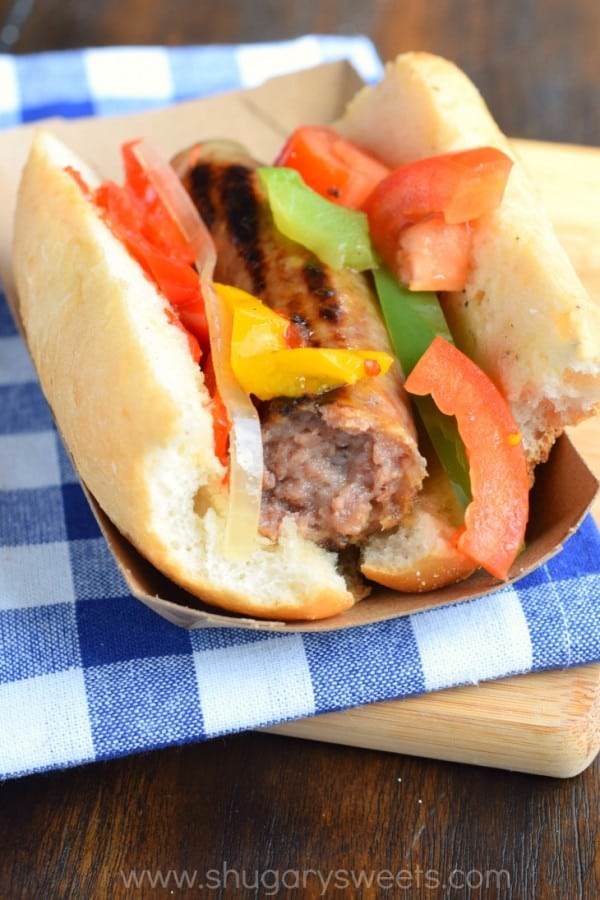 Tips and Tricks
Don't have brats? Swap out the bratwurst with another style of German sausage such as Frankfurters.
Feel free to mix up the colors of the bell peppers. Red, orange, green and yellow peppers are all delicious!
The sausage doesn't need to be cooked through when you add it to the slow cooker. It should be brown and charred on the outside. The inside will finish cooking in the slow cooker.
Recipe FAQ
Do beer brats have alcohol in them?
Virtually all of the alcohol from the beer cooks off of the brats during the slow cooking stage. Beer already contains a fairly low percentage of alcohol by volume. Factor in the long slow cooking time and any trace of alcohol left at the end will be insignificant.
Your home might smell like a college party after making these, but no one will end up with a hangover from crockpot beer brats!
Can I make this recipe with another type of sausage?
This recipe works best with brats or another similar German sausage. Bockwurst (also called Frankfurters) would work well. I wouldn't substitute Italian sausage or Kielbasa here. The taste and meat types are different from German sausages, and I haven't tested them with this recipe.
What beer is best for cooking brats?
I love Modelo beer for cooking brats! You can use any light, mild beer here. No need to get fancy. Bud Lite, Miller Lite or even PBR can all be used to make delicious beer brats.
Beer brats aren't just for summer grilling! With this Slow Cooker Beer Brats recipe, you can have delicious bratwurst for dinner all year long.