Birthday Cake Biscotti
Birthday Cake Biscotti: such a fun treat! Biscotti is so easy to make, and it's the perfect breakfast with a hot cup of coffee!
Be sure to sign up for my email…new recipes in your inbox!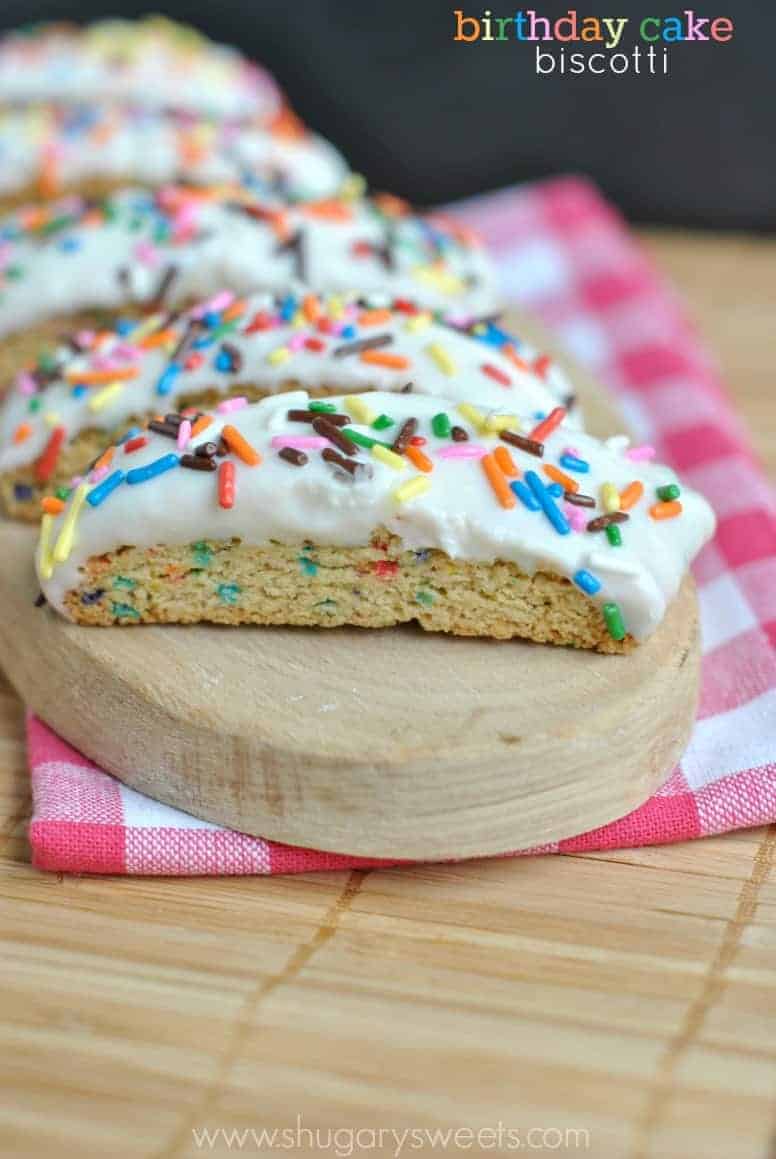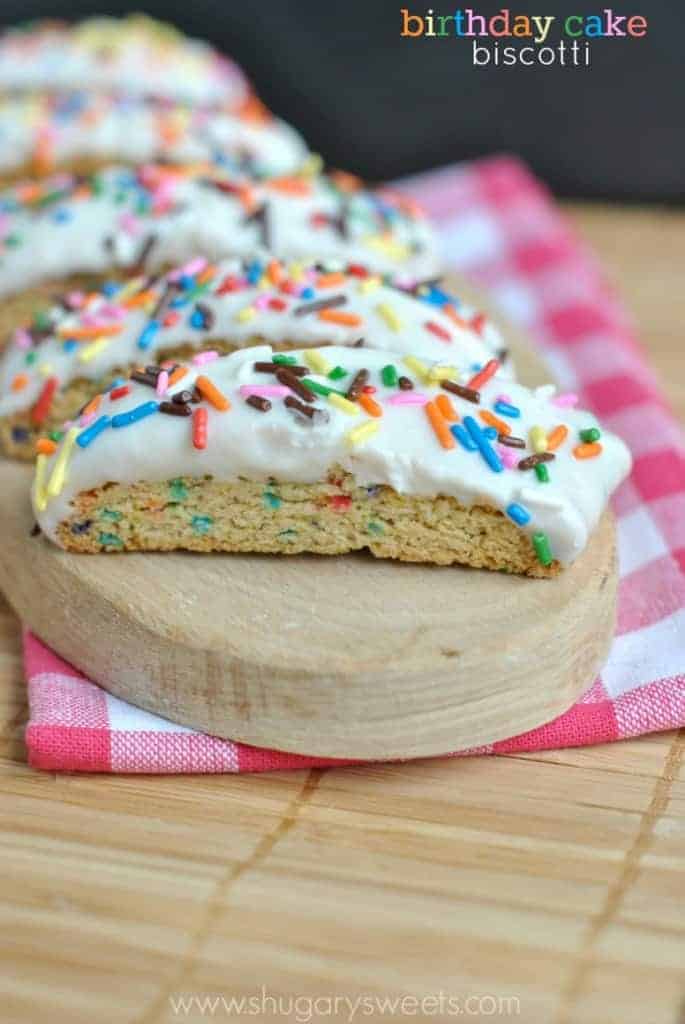 Today is my birthday! Whoohoo!
And of course today's recipe is perfect for me. Right? Since I am such a biscotti fan I think it's only fitting that I made a birthday version.
I have to be honest though. This birthday cake biscotti isn't an original idea. This spring I went on a blogger trip to an egg farm, and at the market there was a cute little coffee shop. They were selling….Birthday Cake Biscotti. Of course I didn't buy any, but I took a photo so that I would remember to make it!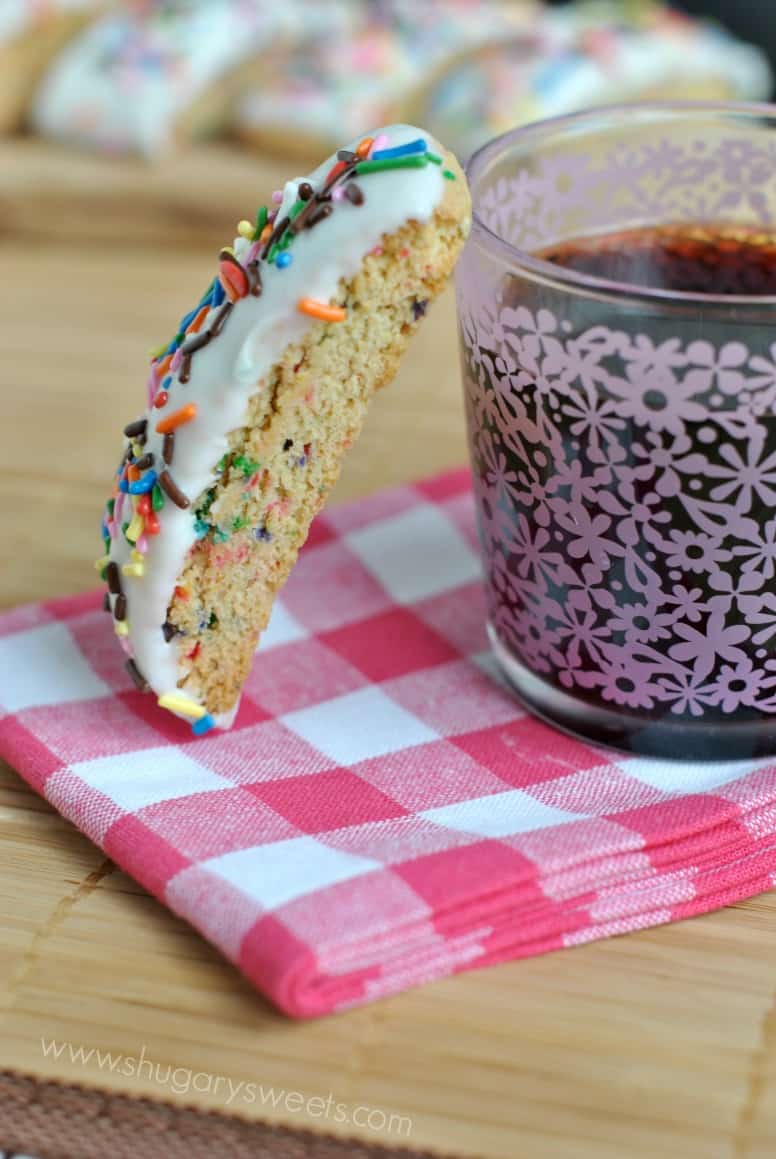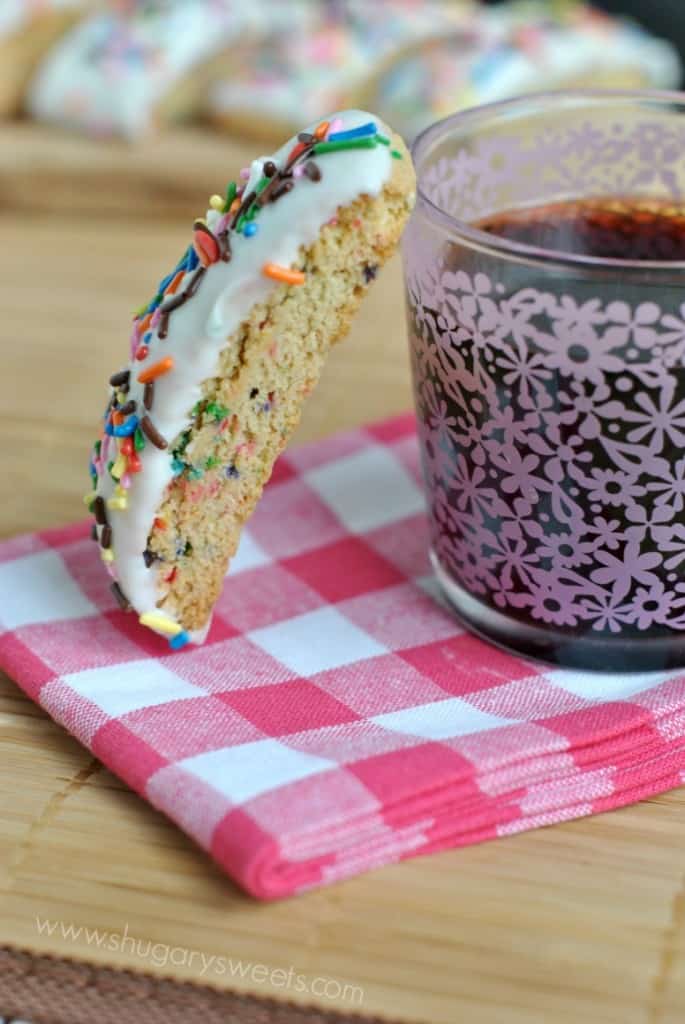 For months this idea has now been rolling around in my head. I was so excited to finally bake it, because I knew I wanted to share it on my birthday.
But as a special bonus, I was able to share the biscotti in real life with one of my best friends! Her birthday is a little over a week before mine, so dropping off a little package of biscotti  to her was so fun. Now that we have moved back "home" I love sharing the goodies from my kitchen with family and friends.
Anyways…for today's recipe I used my Snickerdoodle Biscotti recipe as the base (eliminating the cinnamon, of course). I also added butter flavoring (it's sold in the  baking aisle next to the vanilla extract). It adds a deeper, buttery flavor; much like yellow cake. And sprinkles, well, that was just a must!
Now, go bake a delicious batch of Birthday Cake Biscotti for one of your friends or family members. I'm pretty sure it will bring a smile to their face!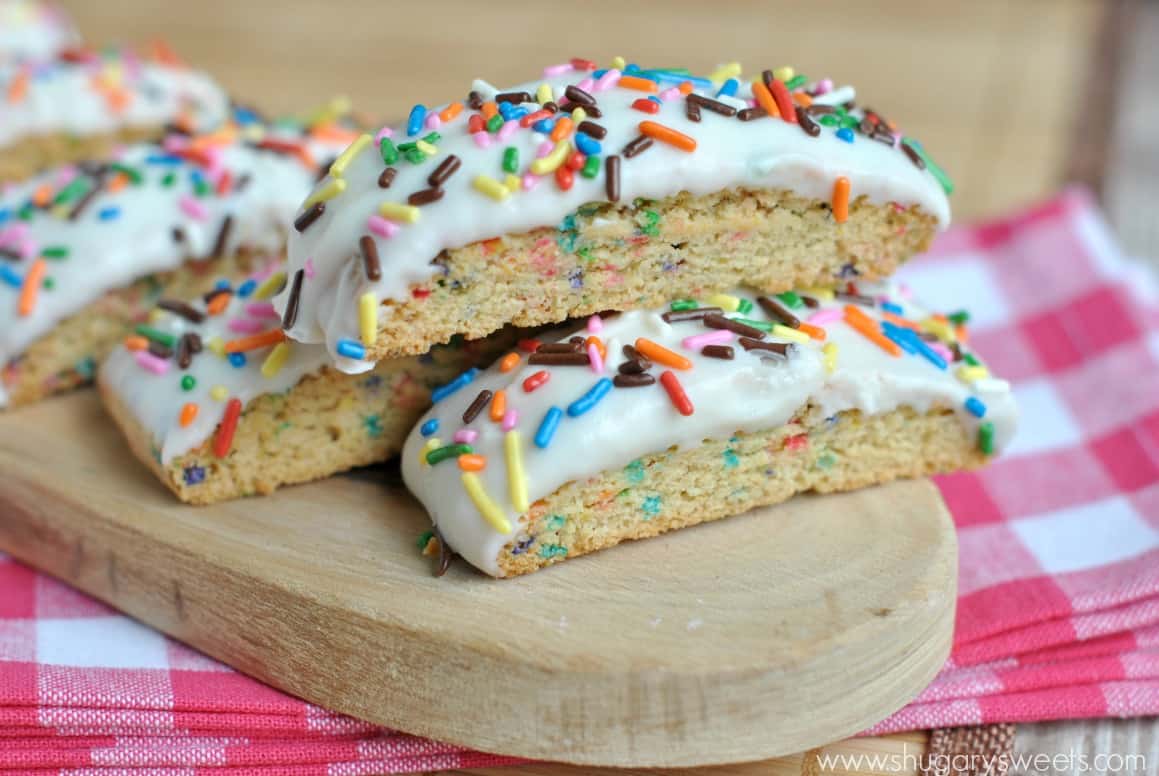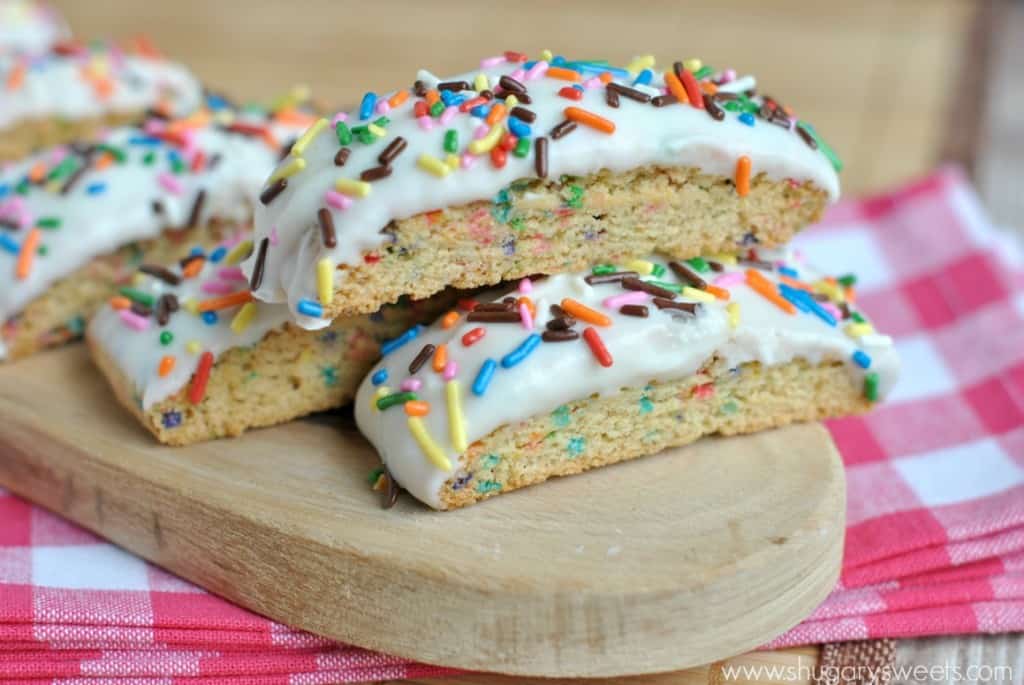 Connect with Shugary Sweets! Be sure to follow me on my social media, so you never miss a post!
Pinterest | instagram | Bloglovin'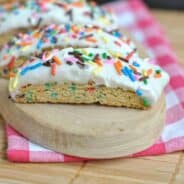 Birthday Cake Biscotti
Yield: 18-20 servings
Prep Time:10 minutes
Cook Time:45 minutes
Ingredients:
6 Tbsp unsalted butter, softened
3/4 cup granulated sugar
2 large eggs
1 tsp butter flavoring
2 cup all-purpose flour
1 tsp baking powder
1/4 cup sprinkles, divided
6oz vanilla candiquik, melted
Directions:
In a large mixing bowl, beat butter and sugar until creamy. Add egg and butter flavoring.
Add flour and baking powder and beat until combined. Fold in 2 Tbsp sprinkles.
Line a large baking sheet with parchment paper (or a silpat). Divide dough in half and shape into two 10inch x 2.5inch rectangles. Use flour on your fingertips to keep dough from sticking.
Bake in a 350 degree oven for 25 minutes. Remove and cool 10 minutes. Using a serrated knife, cut each rectangle into 9-10 slices each. Turn each slice onto it's side. Bake an additional 10 minutes. Flip biscotti onto opposite sides. Bake another 8-10 minutes. Remove and cool completely.
Once cooled, dip tops of biscotti into melted Vanilla Candiquik. Add sprinkles immediately. ENJOY.
store in airtight container for up to 2 weeks.
MAKING THIS RECIPE? Share it with me on Instagram using the hashtag #ShugarySweets so I can see what you're cooking up in the kitchen!
 It's my birthday, so how I about I share some of my favorite things….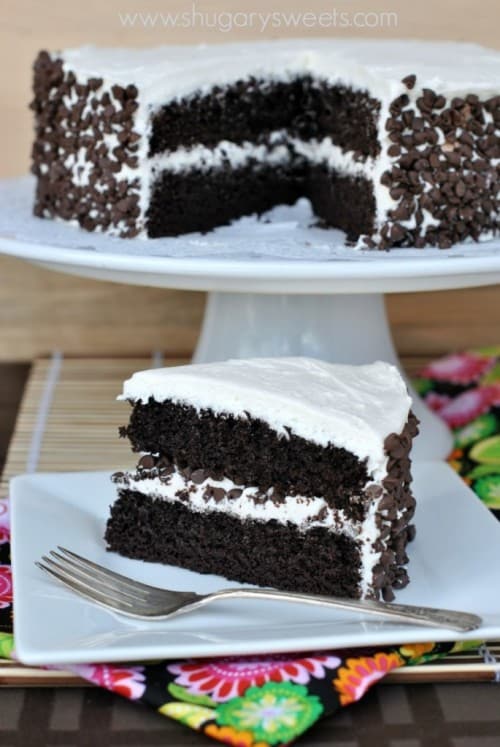 Dark Chocolate Cake: my ideal birthday cake. This one is absolutely incredible!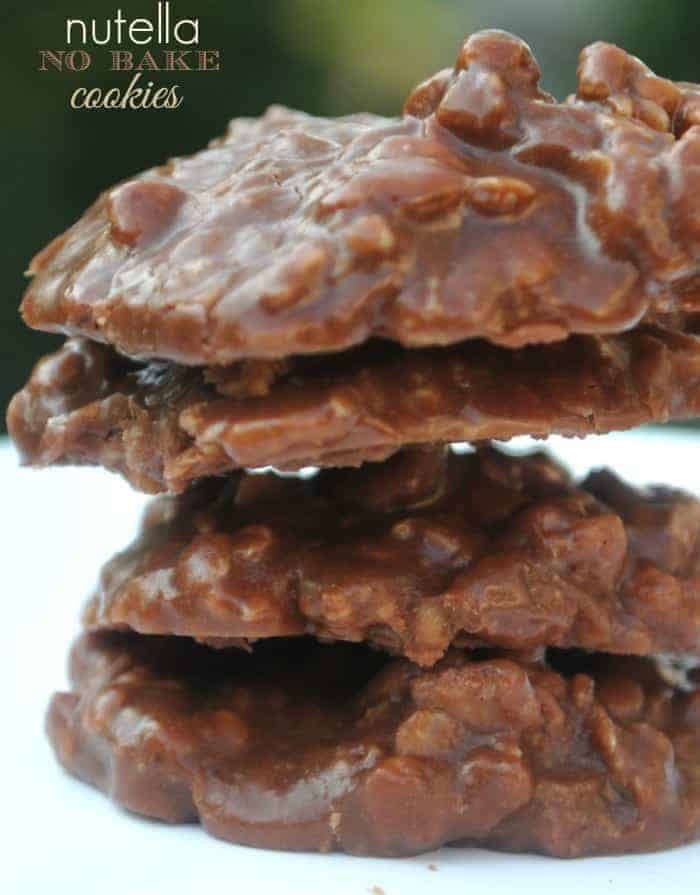 Nutella No Bake Cookies: these are little bites of heaven.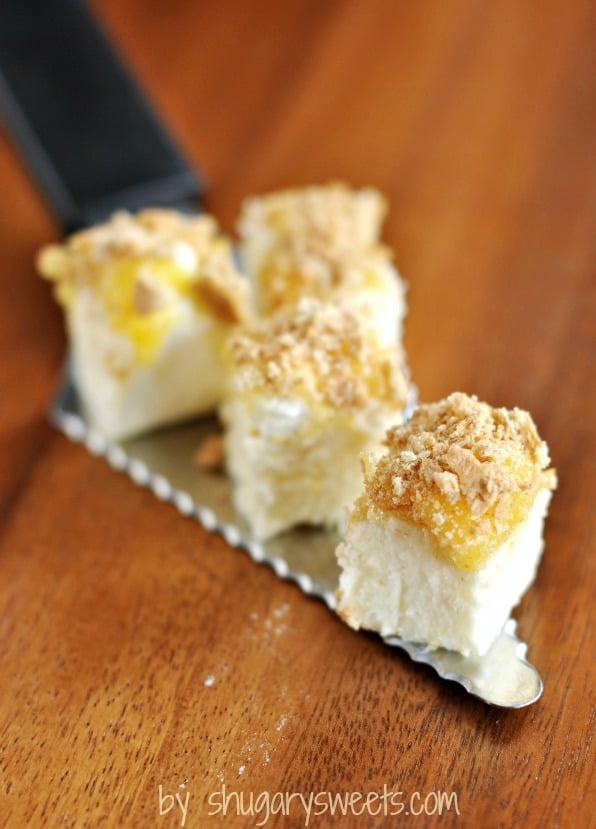 Lemon Meringue Fudge: this still ranks as my all time favorite fudge recipe!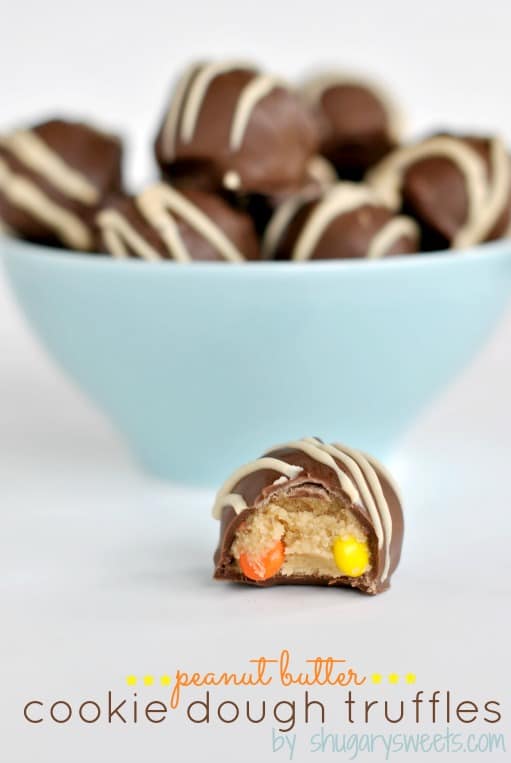 Peanut Butter Cookie Dough Truffles: eggless treats that are incredible.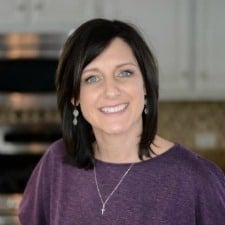 Aimee is a dessert lover (specifically rice krispie treats), workout enthusiast, self-taught foodie, and recipe creator. Her recipes have been featured in over 15 magazines, and her passion is to share her love of cooking with the everyday home cook! Learn more about Aimee.