Bite sized Blueberry Donut Muffins with a delicious vanilla glaze! Make these bite-sized breakfast treats and have a sweet start to your day.
Love blueberries? Our blueberry muffins are seriously the best. Or try our delicious blueberry pie for the ultimate dessert, from scratch!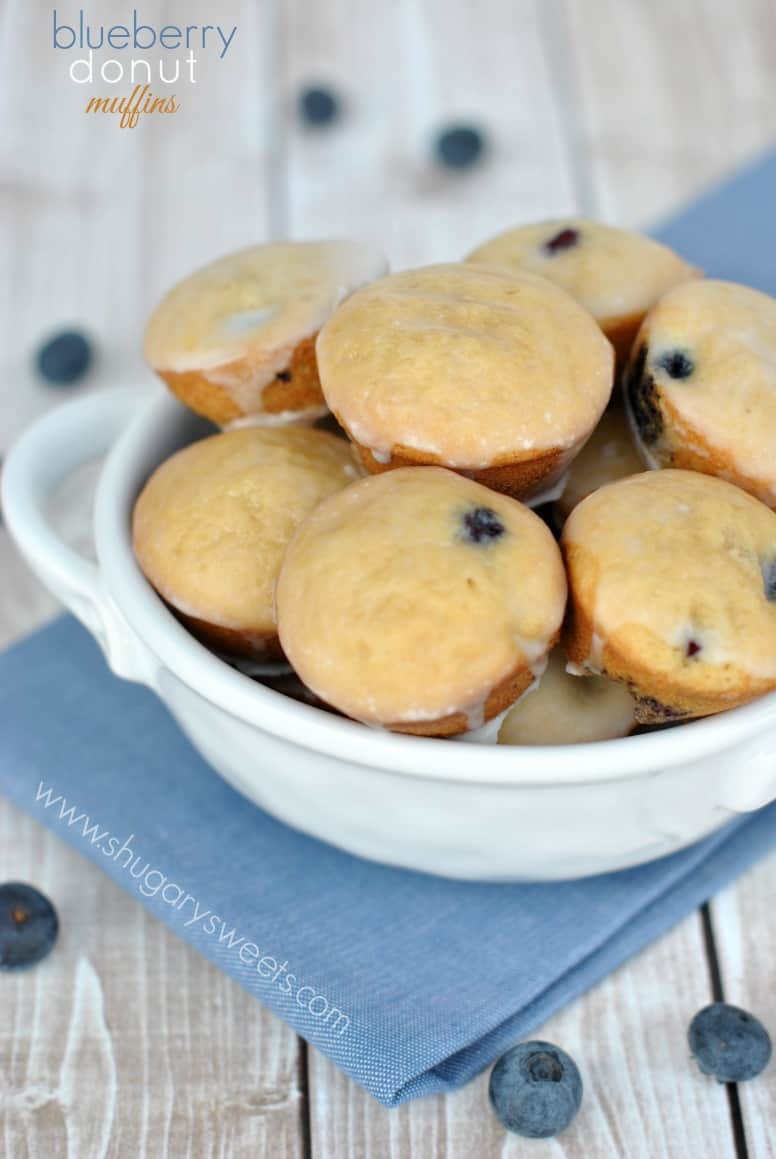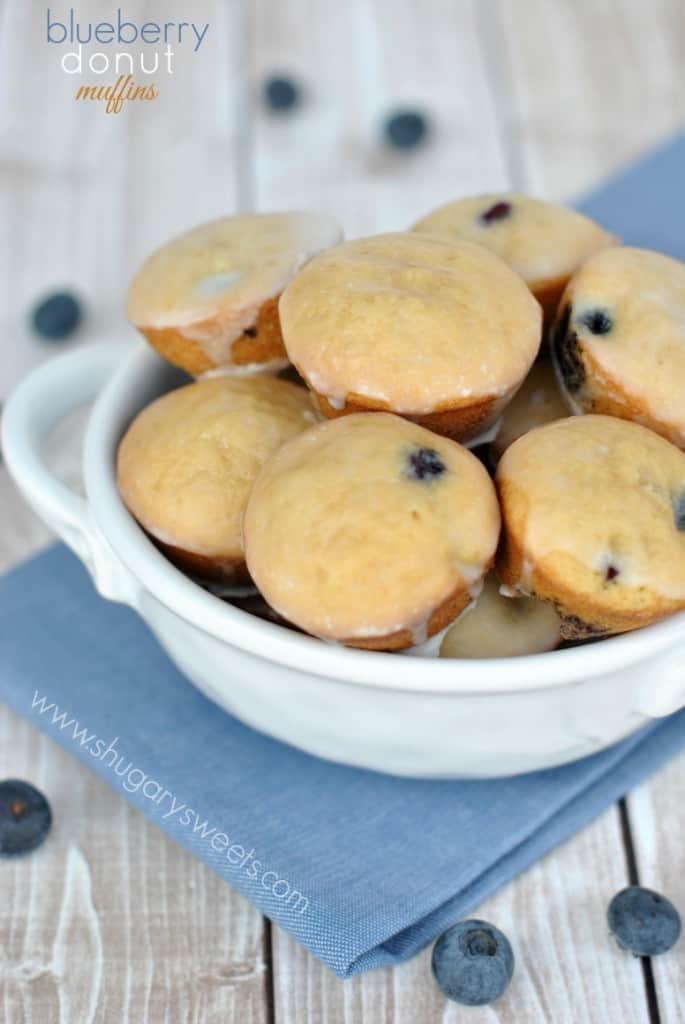 Blueberry Donuts
Donut Muffins are a genius invention. You get all the satisfying sweetness of biting into a glazed donut without any of the work–or the deep frying!
When I had a few fresh blueberries to use up at the end of summer, I could think of no more delicious way to enjoy them than baked into a muffin. By baking them in my mini muffin tin and adding a layer of my favorite vanilla donut glaze on top, I created Blueberry Donut Muffins!
Pour yourself a cup of hot coffee, bite into one of these mini muffins bursting with blueberries and you'll feel ready to take on your day.
Or, at least ready to eat another muffin. . . because these taste so delicious it's hard to stop at just one! When I have a container of these on my counter, I can never resist grabbing one when I walk into the kitchen.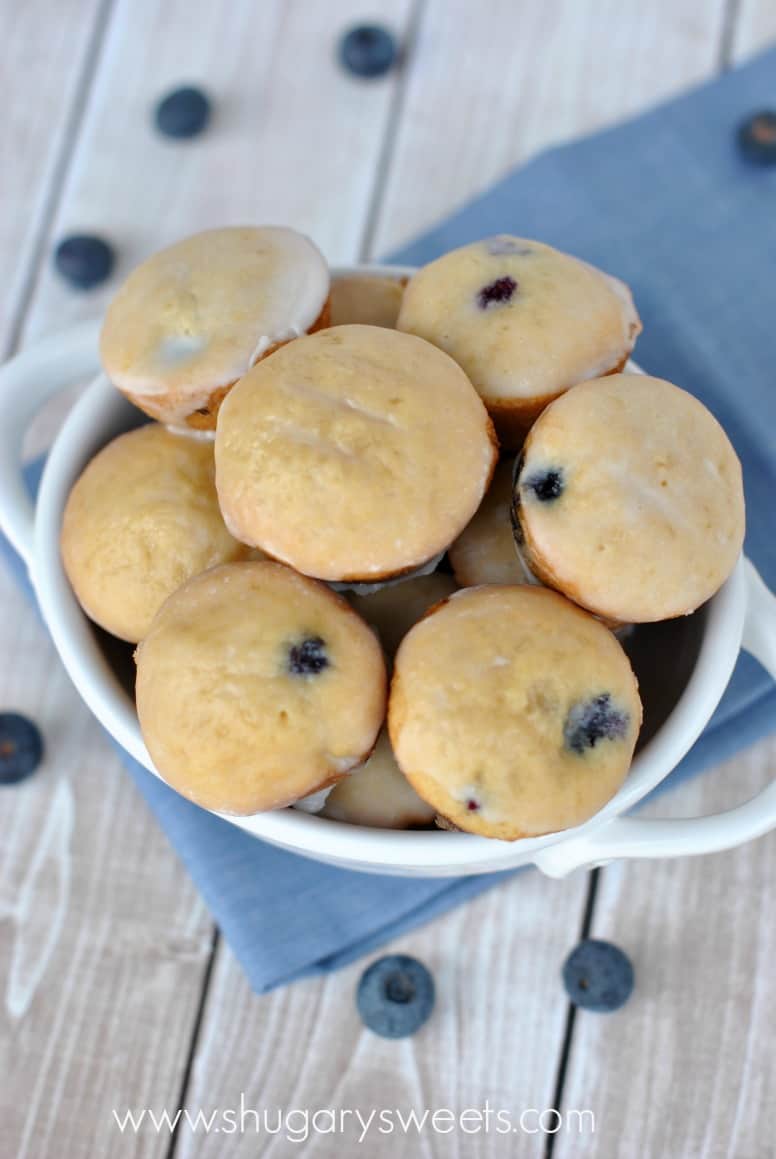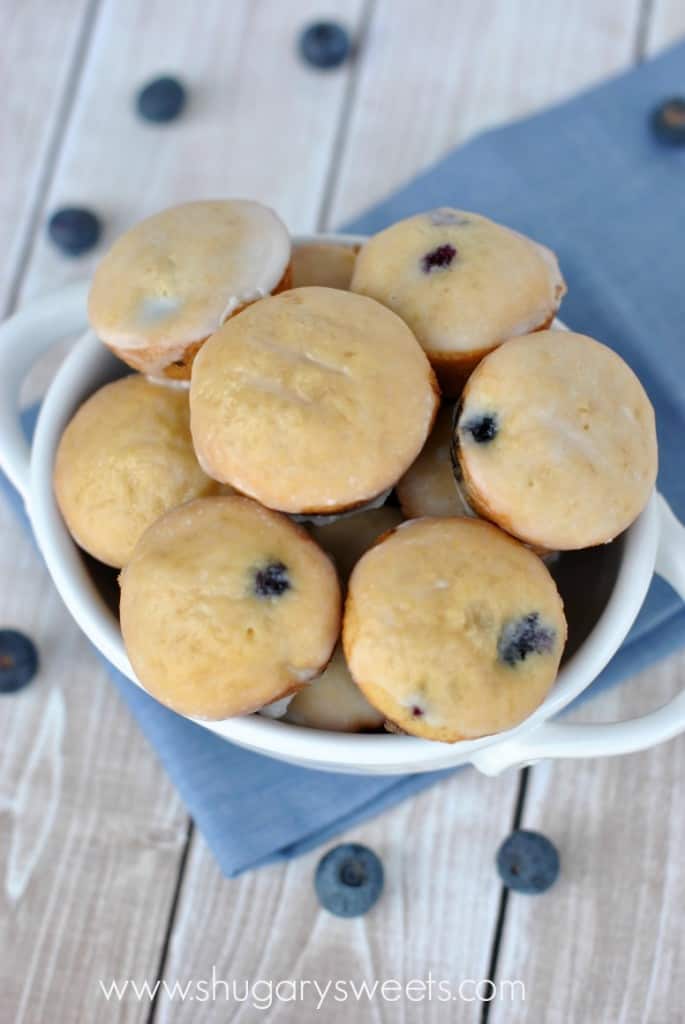 Ingredient Notes
Blueberries – Fresh are best! If you use frozen blueberries, they will release more moisture and "bleed" color into the muffin batter.
Butter – I always use unsalted butter in baking to control the amount of salt in my food. Use our tips and tricks on how to soften butter quickly.
Milk – Fat free milks works great here but whole or 2% can be substituted.
Flour – All-purpose flour works best in this recipe. I don't recommend substituting whole wheat here! We're making donuts after all. Be sure to measure the flour correctly, using our guide, so you don't result in dense, dry muffins.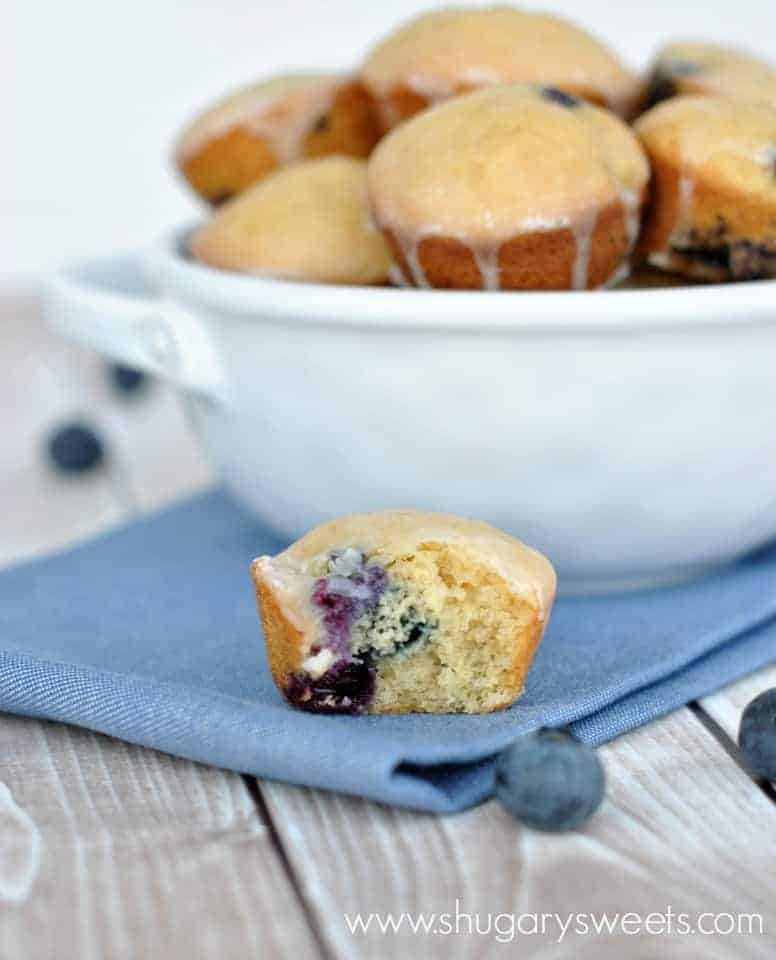 Step by Step Instructions
Make the batter.
Beat together the butter and sugar until fluffy. Add the eggs, vanilla extract, and dry ingredients, then pour in the milk and mix to combine. Gently fold in the blueberres.
Bake.
Scoop the batter by the spoonful into a greased mini muffin tin. Bake the blueberry donut muffins for 8 to 10 minutes, then remove and let them cool completely.
Glaze.
Whisk powdered sugar with vanilla and milk, adding a little more milk if needed to thin the glaze to your desired consistency. (I like mine thinner than a typical glaze so it's transparent when it sets!)
Dip the top of each muffin into the glaze. Let the excess run down the sides as the muffins set (about 10 – 15 minutes). Serve or store and enjoy!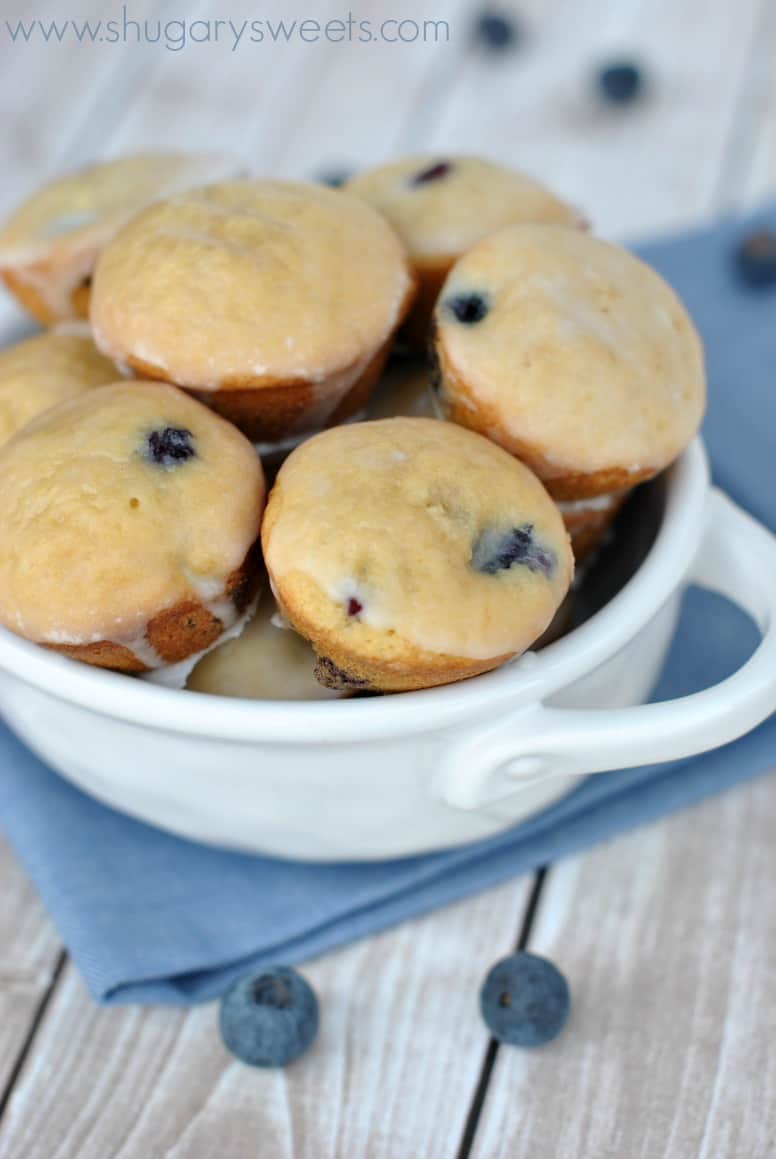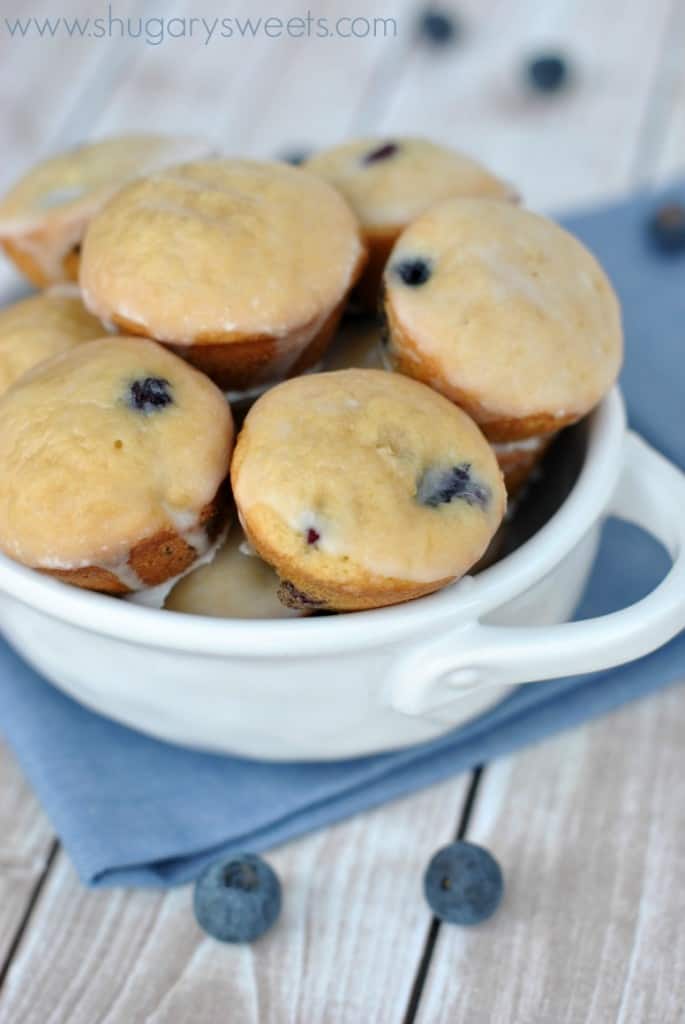 Recipe FAQs
How do you store blueberry donut muffins?
Keep these in an airtight container at room temperature. They'll stay good for about 5 days.
Can you freeze donuts?
Yes. Once cooled and glazed, transfer to freezer bags with layers of wax paper between the donuts. Let thaw at room temperature when ready to serve.
You can also freeze them without the glaze and add it to the thawed muffins about 15 – 20 minutes before serving.
Can this recipe be made in a regular muffin tin?
Yes, but you will need to add more baking time to bake full sized blueberry muffins.
Is it a blueberry muffin? A blueberry donut hole? It's both! These mini Blueberry Donut Muffins come together in a flash and make the perfect berry-filled addition to any breakfast or brunch menu.