These Nutella Stuffed Donut Holes are the perfect way to start your day. They're baked right in a muffin tin so you can have delicious homemade donuts any morning of the week!
Speaking from experience, these donut holes taste extra delicious paired with a hot cup of coffee or a Brown Sugar Latte. Pair with a delicious easy pistachio salad for the perfect wake up call.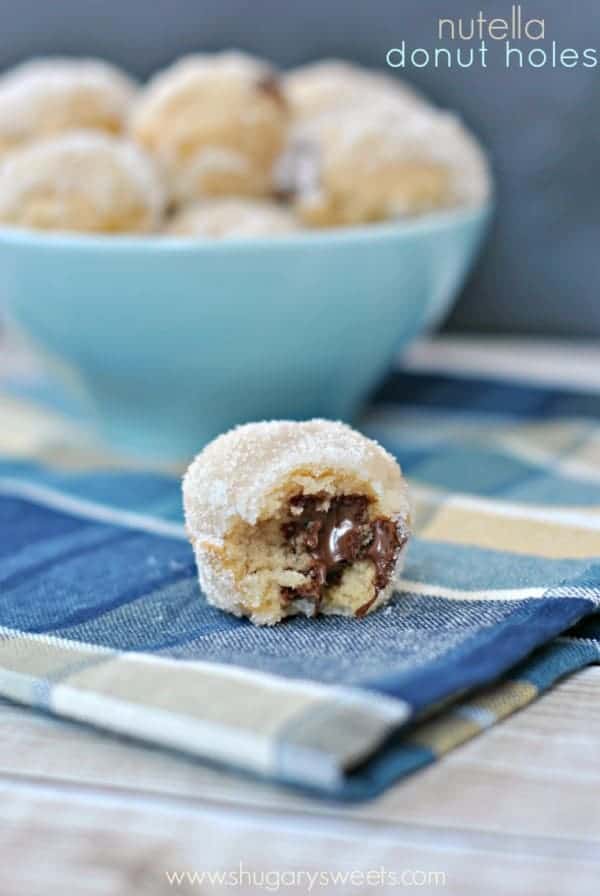 Why this Recipe Works
We love homemade donuts around here. Have you tried these Chai Donuts yet? I still dream about them.
These Nutella Donut Holes are a fun breakfast treat to enjoy at home or bring to any gathering.
Baked, not fried. We use a mini muffin pan to make our donut holes!
One bowl recipe. Fewer dishes to wash means more time to enjoy homemade donuts.
Nutella filling. Cocoa and hazelnut spread gives the donut holes a luscious creamy center.
Quick and easy donuts. They're ready in about 30 minutes!
Using a mini muffin pan is the perfect hack if you don't have a donut pan. I also love that donut holes bite sized so you can eat MORE of them.
Love bite size donuts? Try our jelly filled donut holes next. Or give our chocolate glazed donuts a try…they are better than DD Munchkins!
Ingredient Notes
Baking powder – This allows the donuts to rise as they bake, making them soft and fluffy, no yeast necessary.
Egg – Let your egg come to room temperature so it's easier to incorporate into the dough.
Kosher salt – I always use kosher salt in my baking. Here's why.
Sugar topping – A coating of butter and sugar gives these donuts a perfect sweet exterior.
Nutella – This is a decadent spread made from sweet chocolate and hazelnut. You can use the name brand stuff or a generic store brand version (sometimes labeled simply "hazelnut spread".) Either will be delicious!
Once you have your cabinet stocked with Nutella, you can make my other favorite Nutella recipes like these Nutella Swirled Blondies too.
Easy Instructions
Make the donut holes:
Blend the donut ingredients together with an electric mixer. Scoop the donut batter into a greased mini muffin pan. Bake for about 13 minutes, then let the donut holes cool slightly in the pan.
2. Fill with Nutella:
Remove the donut holes from the pan. They're easiest to fill if you flip them on their side. Use a frosting bag to pipe Nutella into each donut hole.
I puncture the side of the donut hole and squeeze in the filling until I see the donut expand slightly. Be careful not to overfill!
3. Roll in sugar:
Once all the donuts are filled roll them in melted butter. Then immediately roll each one in granulated sugar until well coated.
Tips and Tricks
Enjoy Nutella Donut Holes within 24 hours for best taste.
Once cooled, keep the donut holes sealed in an airtight container when you're not eating them.
Use a 1 tablespoon scoop to transfer the batter into the pan. This ensures the donut holes are equally sized and bake evenly.
Swap out the Nutella for another creamy sweet spread. Biscoff would be heavenly in these donut holes too.
These are just as tasty rolled in powdered sugar instead of granulated. Try it both ways!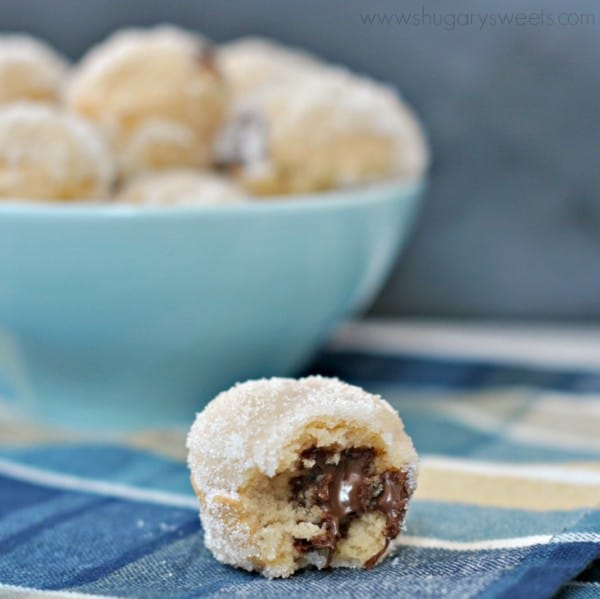 Recipe FAQs
I don't have a mini muffin tin. Can I still make donut holes?
If you don't have a mini-muffin tin you could make these in a regular muffin tin instead. They'll be more like donut muffins than true donut holes, but still taste great!
You will need to add some baking time if making these in a regular muffin tin.
Can these be fried?
I don't recommend frying these donut holes. They are more of a cake-style donut batter than a fried yeast donut dough.
Can I use table salt instead of kosher salt?
Yes, you can, but use only half the amount listed in the recipe.
Can I freeze Nutella Donut Holes?
Absolutely. These filled donut holes can be stored wrapped in freezer bags and kept frozen for 2 – 3 months. Let them thaw overnight and enjoy for breakfast the next day!
More Breakfast Recipes
What's the only thing better than donut holes? Nutella stuffed donut holes!