Soft and chewy, old fashioned Oatmeal Raisin Cookies with a hint of cinnamon and nutmeg! Delicious, homemade cookies like you enjoyed in childhood!
Love baking cookies? Try these soft and chewy Chocolate Chip Cookies for the perfect dessert. Or give our homemade Snickerdoodles a try today!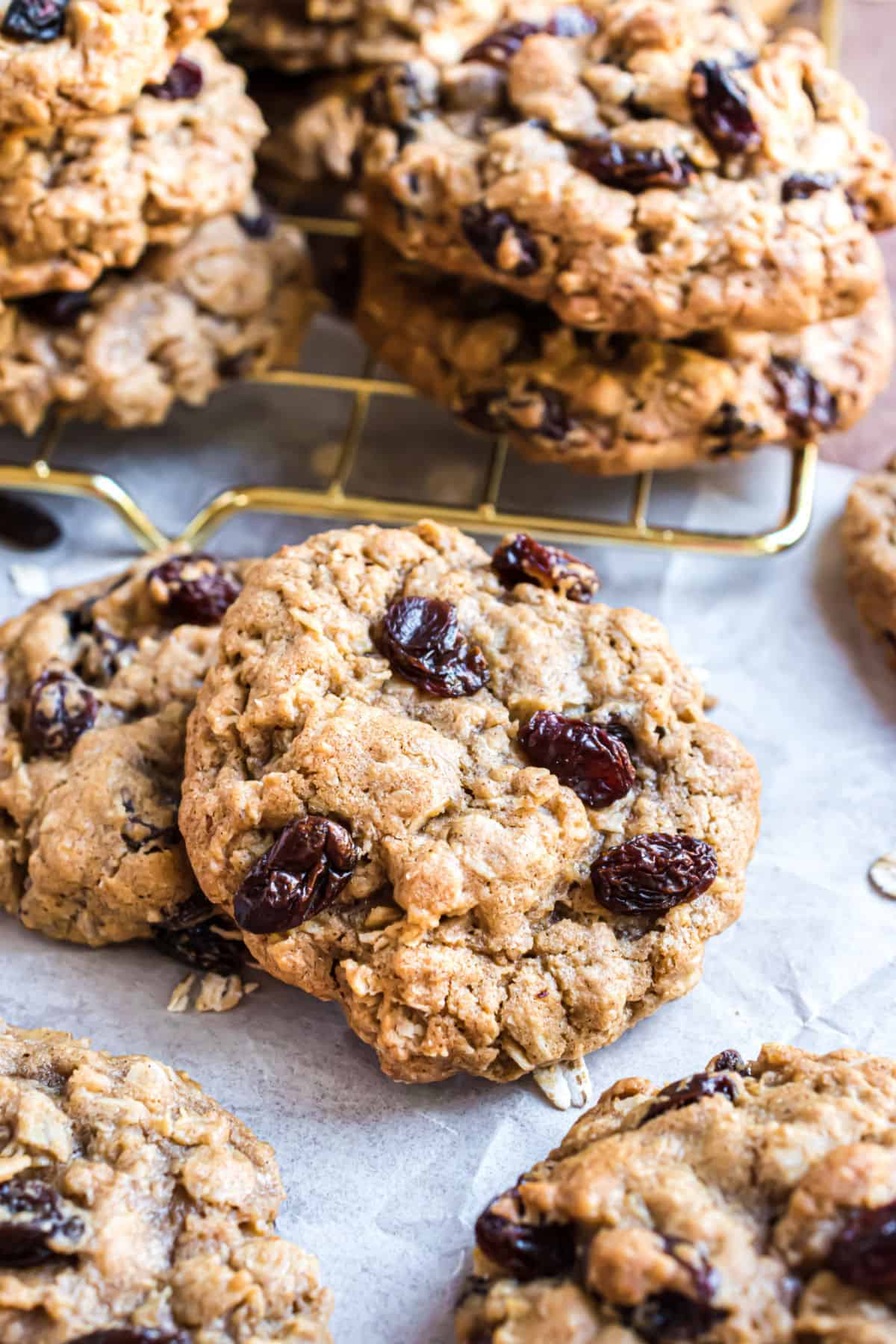 Why this Recipe is Best
There's not much to say when it comes to Oatmeal Raisin Cookies. You either love them or you hate them.
I personally love the soft and chewy texture, the plump raisins, and the sweet hint of spice!
Today's recipe is an updated version of my old oatmeal raisin cookie. I took that classic cookie and gave it a delicious upgrade.
Here's why it works:
Soft and Chewy middle
Slight crunch to the outside and edges
Cinnamon and Nutmeg spiced
No Chill time
Ingredient Notes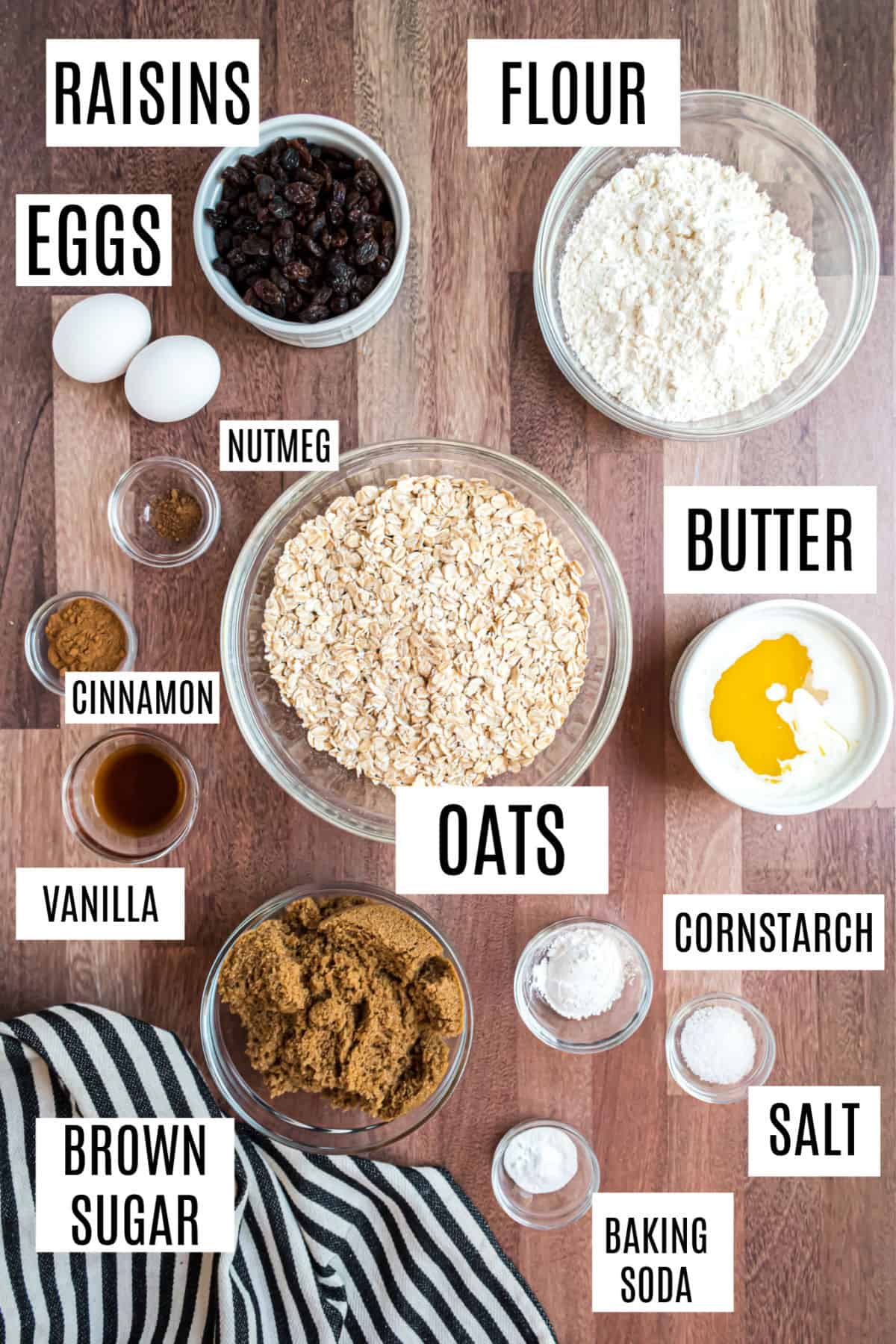 Just the basics here…with a few key ingredients:
Oats- we use old fashioned oats in this chewy cookie recipe. Don't swap for steel cut or quick cook…you'll end up with crunchy or dry cookies.
Dark Brown Sugar- the key to that molasses flavor that keeps these cookies moist! If you swap it out for light brown sugar, add a Tablespoon of molasses too!
Cornstarch- keeps these cookies soft for days!
Raisins- use fresh! Or soak the raisins in warm water while your mixing up the cookie dough. This helps them plump up! You can also use golden raisins, which are moist and plump too.
Cinnamon & Nutmeg- gives the perfect spice and flavor to these chewy cookies.
Tips and Tricks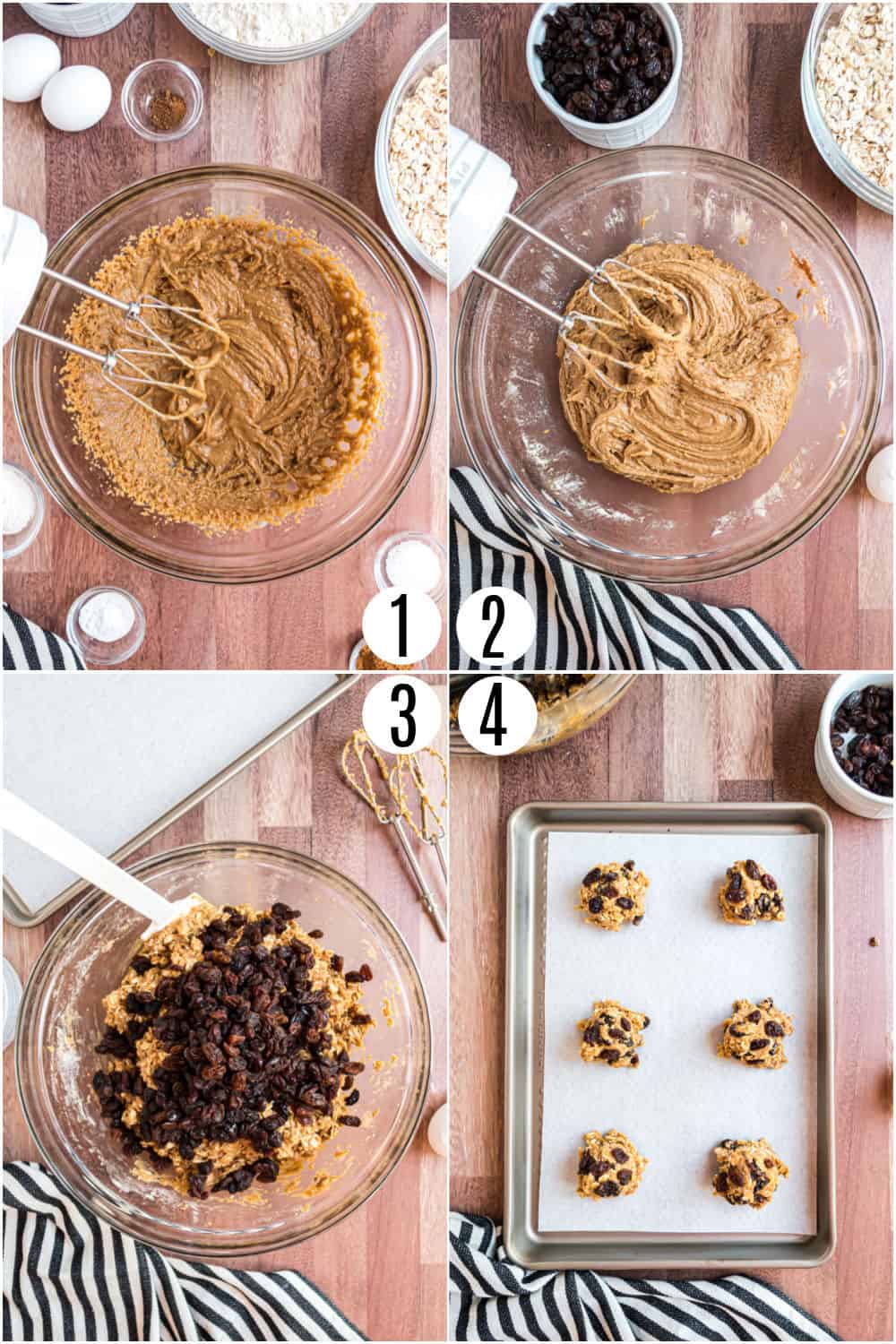 Start with melted butter and beat it with the sugar until fully blended and smooth.
Unsalted butter and Old Fashioned Oats. This combination gives these cookies the perfect texture.
Press extra raisins on top of the cookie dough balls before baking. Not only does this give extra raisin texture, but looks inviting too!
Use fresh raisins. If you start with stale raisins, you'll end with stale raisins. Using a combination of raisins and GOLDEN raisins is my favorite!
Parchment paper or silpat baking mats keep your cookies from browning too much on the bottoms!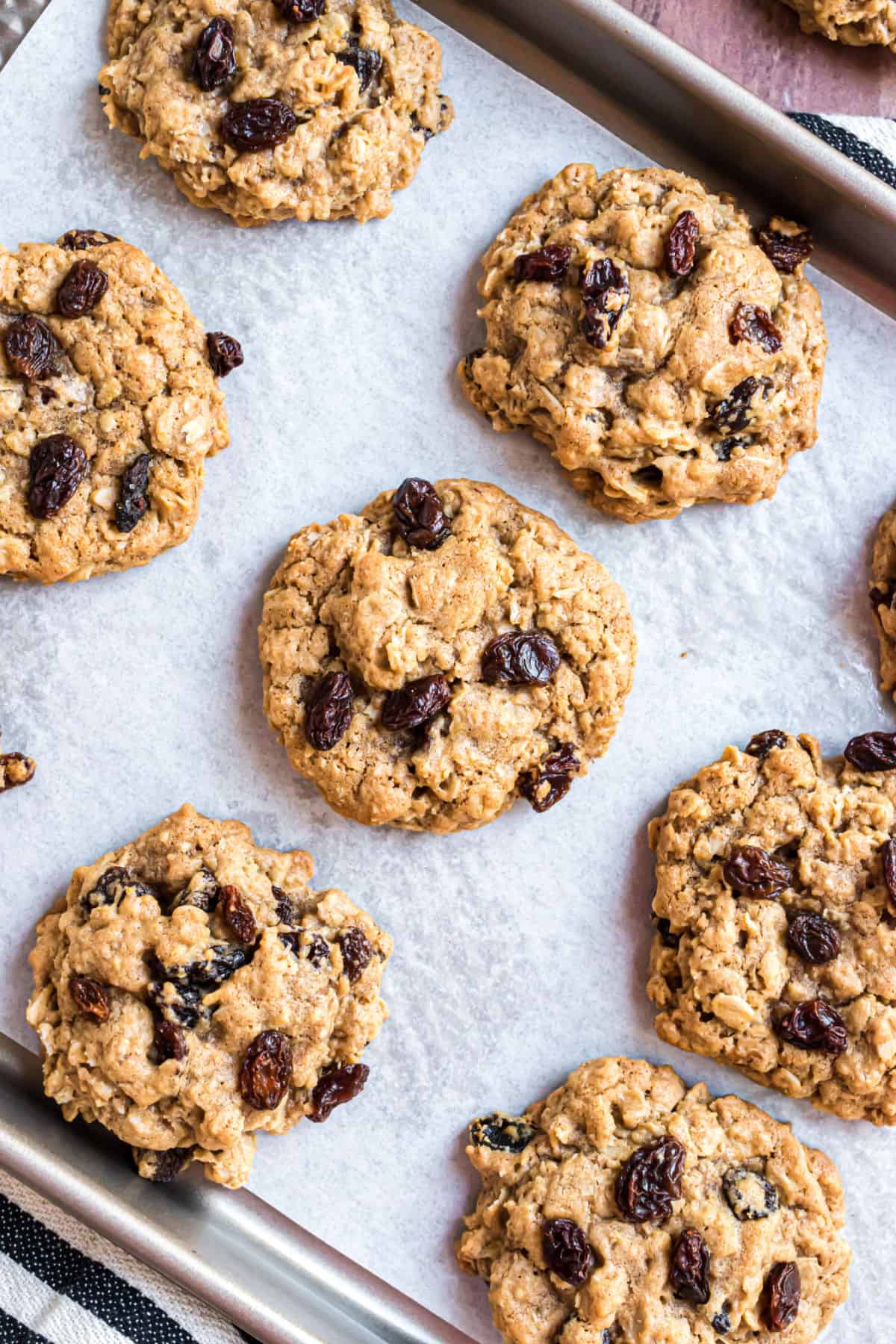 Recipe FAQs
How do you store oatmeal raisin cookies?
Store oatmeal raisin cookies in airtight container at room temperature for up to 4 days.
Can you freeze oatmeal raisin cookies?
You CAN freeze Oatmeal Raisin Cookies! Slide baked cookies into ziploc freezer bag and squeeze out excess air. Store in freezer for up to 3 months. Thaw at room temperature overnight and enjoy.
Why are my oatmeal raisin cookies hard?
Overmixing can cause gluten to develop in the flour which results in dry cookies. Using stale raisins can also cause your cookies to taste hard.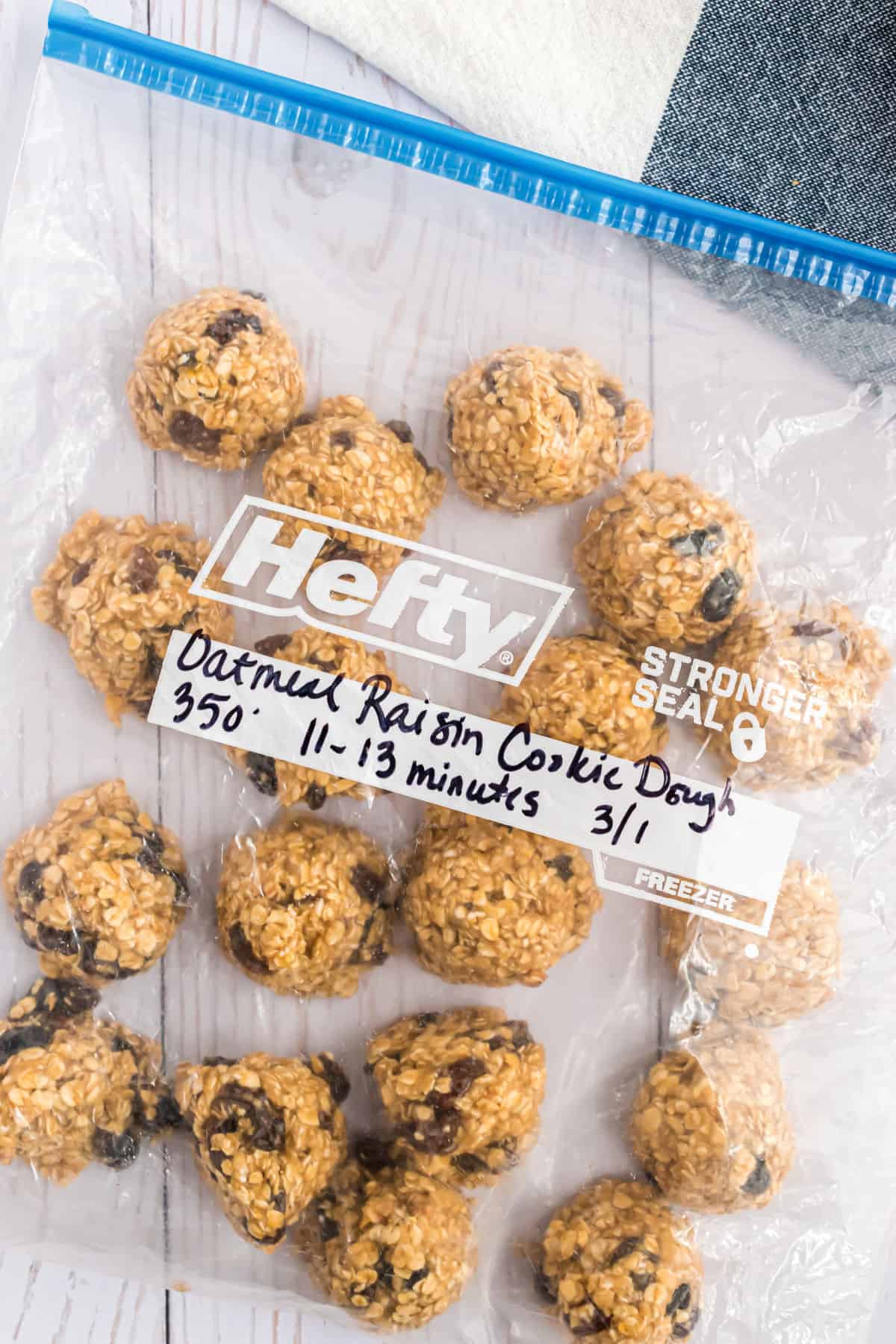 Freezing Cookie Dough
Whether I'm making pudding cookies or cake mix cookies, freezing cookie dough is something I do every time.
Why not double the cookie recipe and freeze half the dough? Or if today's recipe is too much for your family, freeze some!
Of course you can freeze the baked cookies, but have you ever frozen cookie dough balls instead?
Line a metal cookie sheet with parchment paper or foil. Drop cookie dough balls onto pan and freeze for 30 minutes.
Remove cookie dough from freezer and slide partially frozen cookie dough balls into freezer safe ziploc container (in a single layer).
Label ziploc with type of cookie and baking time.
Return to freezer.
When ready to bake, just place frozen cookie dough balls 1 1/2 inches apart on cookie sheet. Bake according to recipe directions. You may need to add a couple minutes for frozen dough.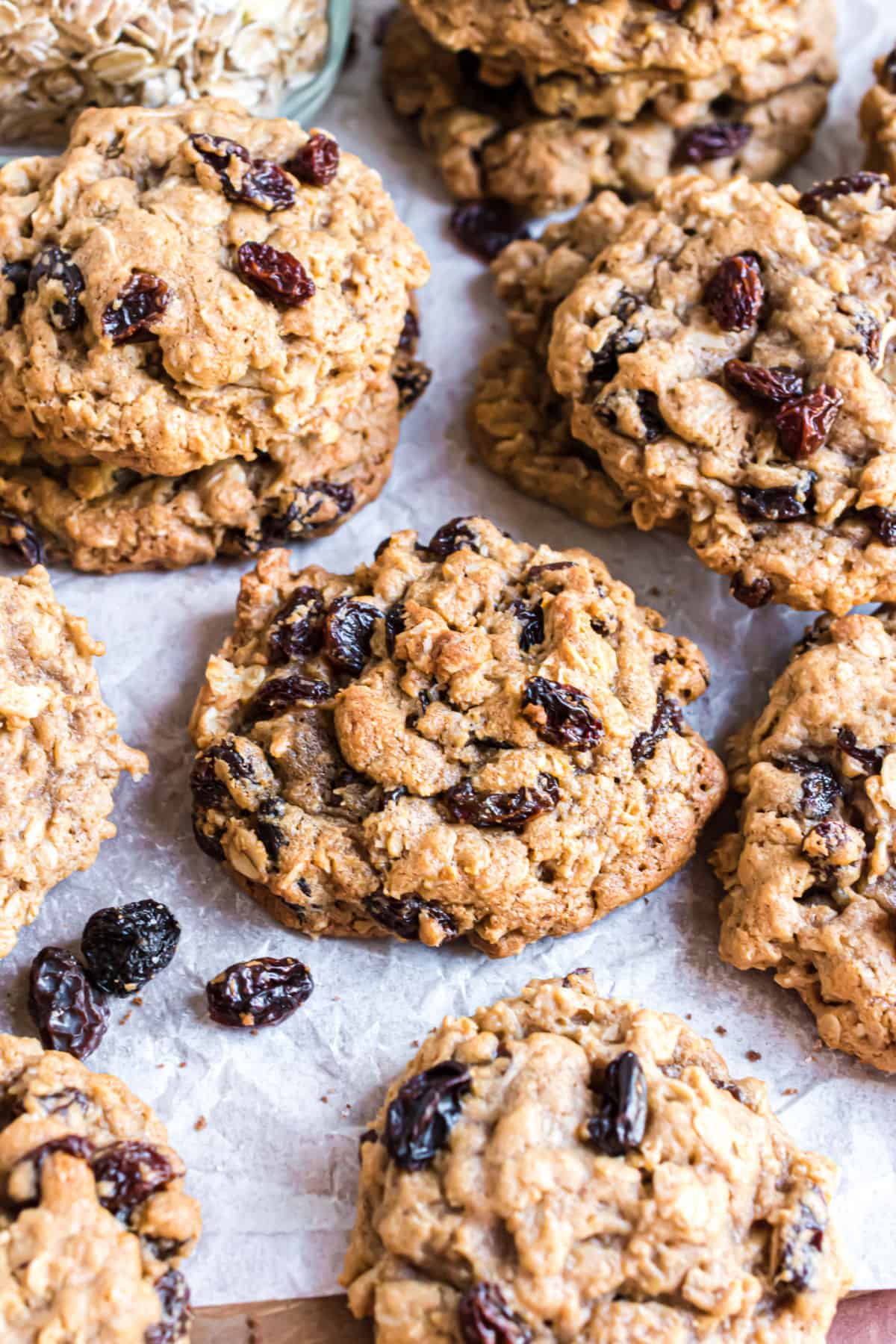 Substitutions
Using our favorite oatmeal cookie base, you can make some of my other favorite cookies!
Chocolate. Of course you could easily swap out the raisins for chocolate chips and make oatmeal Chocolate Chunk Cookies. Still soft and chewy oatmeal cookies, but without the raisins!
White Chocolate. You can also use dried cranberries instead of raisins if you'd prefer, and add in some white chocolate chips. YUM. These White Chocolate Oatmeal Cranberry Cookies are one of my favorites!
Butterscotch. Or use butterscotch chips and make yourself a batch of these classic Oatmeal Scotchies.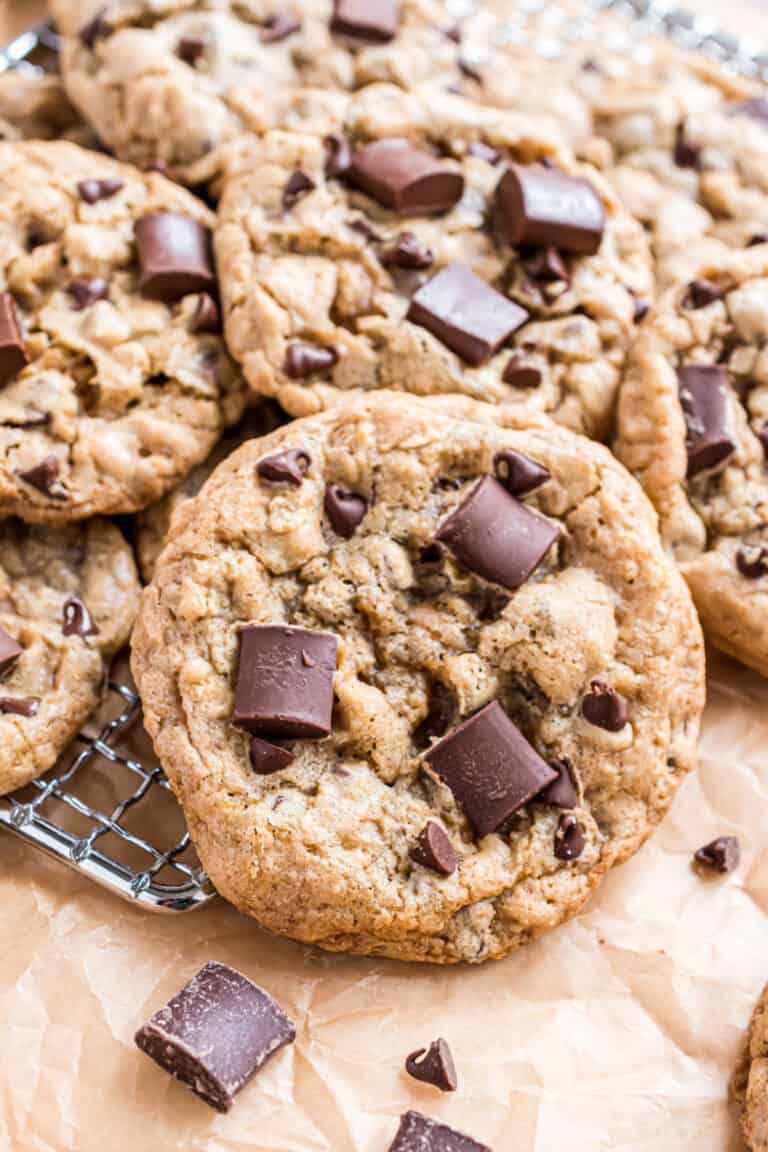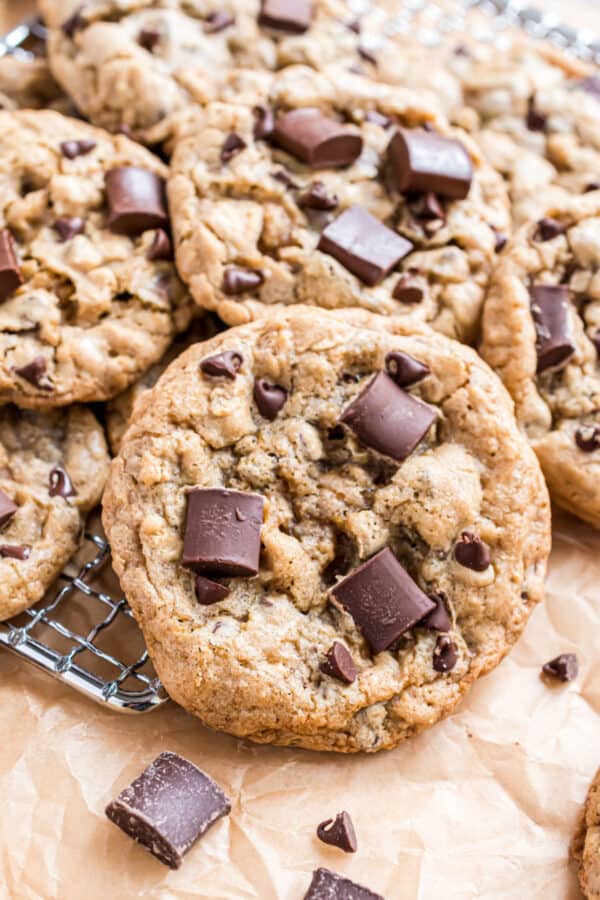 More Classic Cookie Recipes
The best, chewy Sugar Cookies with a no-chill dough. Topped with a creamy sugar cookie icing, you'll love this Copycat Swig Sugar Cookie recipe!
These Easy Traditional Kolachky Cookies Recipe for Christmas have a melt in your mouth cookie base and are topped with sweet preserves. Don't forget the extra powdered sugar!
This Monster Cookie recipe is full of M&Ms, chocolate chips, peanut butter and oats for a cookie that is fun, chewy and delicious! Easy to make and perfect for sharing or freezing!
Easy recipe for No Bake Chocolate Oatmeal Cookies! The peanut butter with chocolate and oats gives these cookies so much flavor!
Delicious, copycat Iced Oatmeal Cookies. Crunchy on the outside, chewy on the inside, these glazed Oatmeal cookies are a hit!