These incredible cupcakes have Oreos baked right in! Add a fluffy vanilla buttercream on top and these Cookies 'N Cream Cupcakes will have everyone asking for more.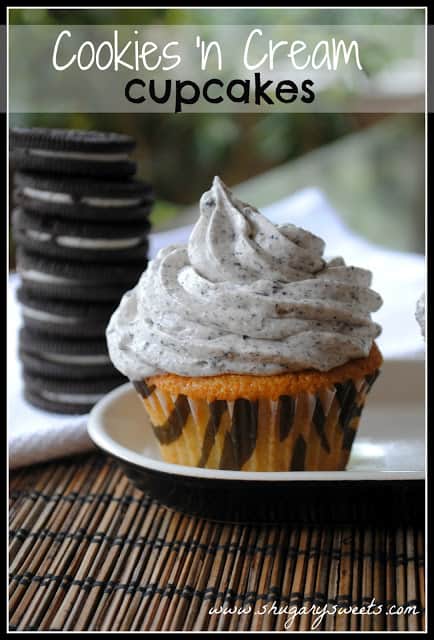 I really enjoyed baking cookie dough cupcakes using Chips Ahoy, so I thought why not turn them into an Oreo version?
Why this recipe is BEST
Have you ever had a cupcake that claimed to be cookies 'n' cream or Oreo flavored but it was just a vanilla cupcake with a few cookie crumbs scattered in?
I have and it was disappointing. Not that I don't love a plain chocolate or vanilla cupcake, but when I have cookies 'n cream I want to TASTE the cookies.
This recipe has a huge chunks of chocolate sandwich cookies baked right into the center of each cupcake. You break the cookies into fourths then fold them in with the batter.
The cupcakes themselves are moist without being heavy or oily. Each fluffy vanilla cupcake has the surprise of a big bite of Oreo at the center!
I also use vanilla bean paste to give both the cupcakes and the frosting a richer cream flavor and vanilla aroma. The frosting is perfectly creamy with more crushed cookies whisked in.
Ingredient Notes
Vanilla paste makes all the difference in Cookies 'N Cream Cupcakes. It's thicker than vanilla extract and adds so much more real vanilla flavor. You can find it in jars in many well stocked grocery stores or buy it online.
It comes in handy for all kinds of recipes, so picking up a jar or two is well worth it! I also use it in my Perfect Vanilla Cheesecake Recipe and Soft and Chewy Vanilla Bean Snickerdoodles, to name a couple.
If you don't have vanilla paste or can't find it, you can substitute the seeds of a whole vanilla bean. Scrape out the seeds and save the bean pod to make vanilla sugar.
Either store bought buttermilk or this homemade buttermilk substitute can be used to make the cupcakes.
Step by Step Instructions
STEP 1. Combine wet ingredients
Beat the butter and sugar together in a large bowl until fluffy. Add in eggs, one at a time, beating after each addition. Beat in vanilla paste.
STEP 2. Add dry ingredients
In a separate bowl, sift together the flour, baking powder, salt and baking soda. Add flour mixture to the butter mixture gradually, along with the buttermilk.
Fold in the chocolate sandwich cookie pieces.
STEP 3. Bake
Fill a muffin tin with cupcake liners, then pour batter into each cup to about half way full. Bake for 15 to 18 minutes. Remove the pan from the oven and let the cupcakes cool for 10 minutes in the pan before transferring them to a wire rack.
Let the cupcakes cool completely before frosting.
For the Oreo Frosting
Beat butter, cream cheese and vanilla paste with an electric mixer for about 3 minutes until fluffy. Add powdered sugar and milk and beat 3 more minutes. Beat in finely crushed cookies.
Pipe frosting onto fully cooled cupcakes and enjoy.
Tips & Tricks
Change up the flavors by using different flavored Oreos or use double stuffed cookies in the cupcakes to add even more cream filling.
Store in an airtight container in the fridge.
Freeze cupcakes before frosting for longer storage. Let thaw at room temperature while you make the frosting. They'll keep well in the fridge for up to 3 months.
Mini Oreos or chocolate sandwich cookies cut in half make a pretty garnish for these too!
Enjoy deliciously sweet Cookies 'N Cream Cupcakes with a glass of milk to feel like a kid again! If you love Oreos, this just might become your new favorite cupcake recipe.