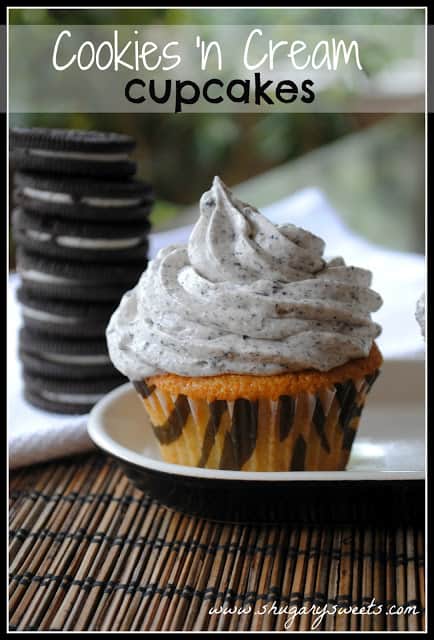 I don't buy packaged cookies often. 
But when I do, it's usually a package of Oreos. 
That I shove in the back of my baking cabinet.
(anyone else hide food in cabinets for baking purposes?)
Then one day, I stumbled upon those cookies, and instead of ripping them open and eating them, I brainstormed what to bake with them.
I really enjoyed baking THESE cupcakes using Chips Ahoy, so I thought why not turn them into an Oreo version?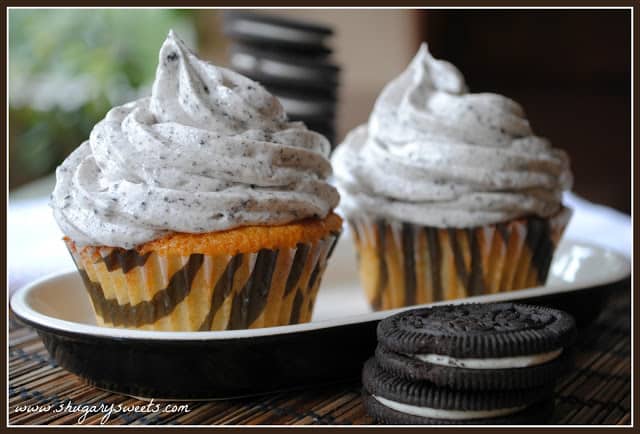 First I tossed some cookies (oooh wait, wrong image I want to create) into the batter. I then chopped up some Oreo cookies extra fine for the frosting. 
And then ate the extra frosting with a spoon.
And went on a 900 mile walk. (yes, I exaggerate)
And then ate another dozen cupcakes. (no, I don't exaggerate)
Like this recipe? You may want check out some other Cookies 'N Cream recipes…..
Cookies 'N Cream Fudge by Shugary Sweets
Yield: 17-20 cupcakes
Cookies 'N Cream Cupcakes
Ingredients
Cupcakes:
1/2 cup unsalted butter, softened
1 cup granulated sugar
1 tsp vanilla bean paste
2 eggs
1 1/4 cup all purpose flour
1 tsp baking powder
1/4 tsp kosher salt
1/4 tsp baking soda
1/2 cup buttermilk
9 chocolate sandwich cookies, broken in fourths
For the Frosting:
1/2 cup unsalted butter, softened
4 oz cream cheese, softened
1 tsp vanilla bean paste
5 cup powdered sugar
2-3 Tbsp milk
8 chocolate sandwich cookies, crushed fine
Instructions
For the cupcakes, in a large mixing bowl, beat butter with sugar until smooth and fluffy, about 3 minutes. Add in eggs, one at a time, beating after each addition. Beat in vanilla paste.
In a small bowl, sift together the flour, baking powder, salt and baking soda. Add flour mixture, alternating with buttermilk, in about 3 additions.
Fold in cookies. Fill cupcake liners about 1/2 to 3/4 full and bake in a 350 degree oven for about 15-18 minutes. Remove and cool 10 minutes in pan, then transfer to wire rack to cool completely.
For frosting, beat butter, cream cheese and vanilla paste about 3 minutes until fluffy. Add powdered sugar and milk and beat 3 more minutes. Beat in finely crushed cookies.
Pipe frosting onto cooled cupcake. ENJOY!