Looking for a delicious dinner recipe that's ready in about 30 minutes? This Cajun Chicken Pasta is colorful, spicy, and quick!
Love easy dinner ideas? Our skillet caprese chicken is ready in minutes, and oh so flavorful. Or try our pesto pasta for a main dish or side.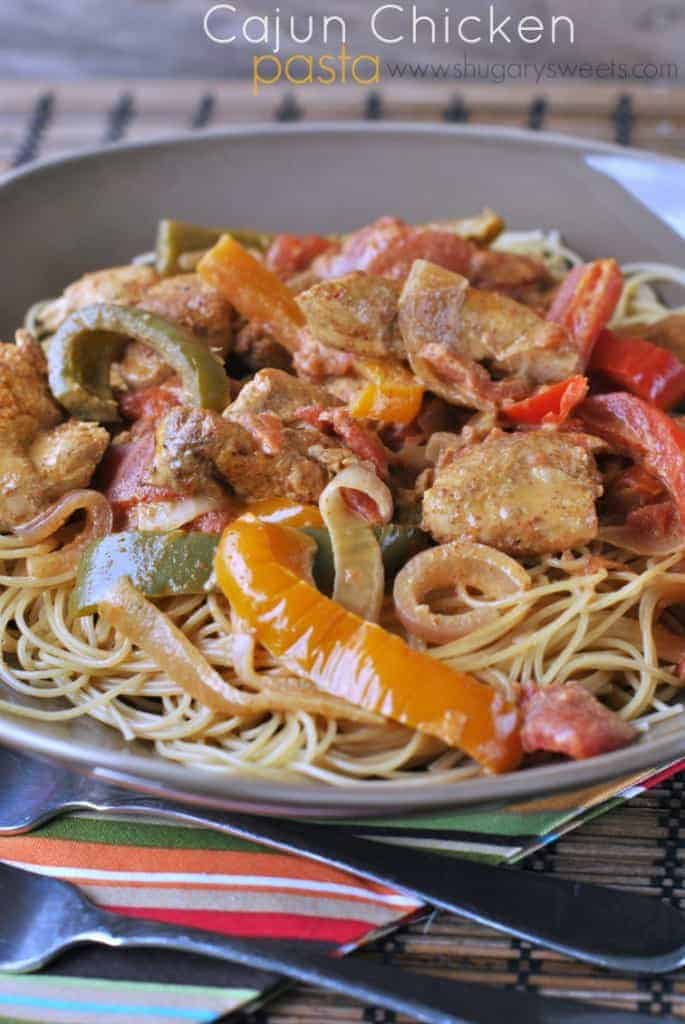 Why This Recipe Works
I could hardly be more enthusiastic about the quick and easy chicken pasta I made this week. It's a recipe I knew I needed to share!
I love dinner recipes that take less than 30 minutes. With school starting this week, this is the kind of recipe I like to keep on hand. Between homework and sports I don't have time to slave over the stove.
But no one wants to be stuck eating something boring or mediocre just because you're busy.
I was so impressed by this Cajun Chicken Pasta. It has amazing flavor but comes together FAST!
Cutting raw chicken into chunks before cooking saved so much time! This meal was ready in what felt like no time at all–and everyone at the table raved about it.
Plus, this chicken pasta is one of those delicious, "eat your rainbow", kind of meals!
All the gorgeous colors from the peppers and onion are inviting you to take a bite! All the goodness of those veggies with an incredible taste means everyone wins when Cajun Chicken Pasta is on the menu.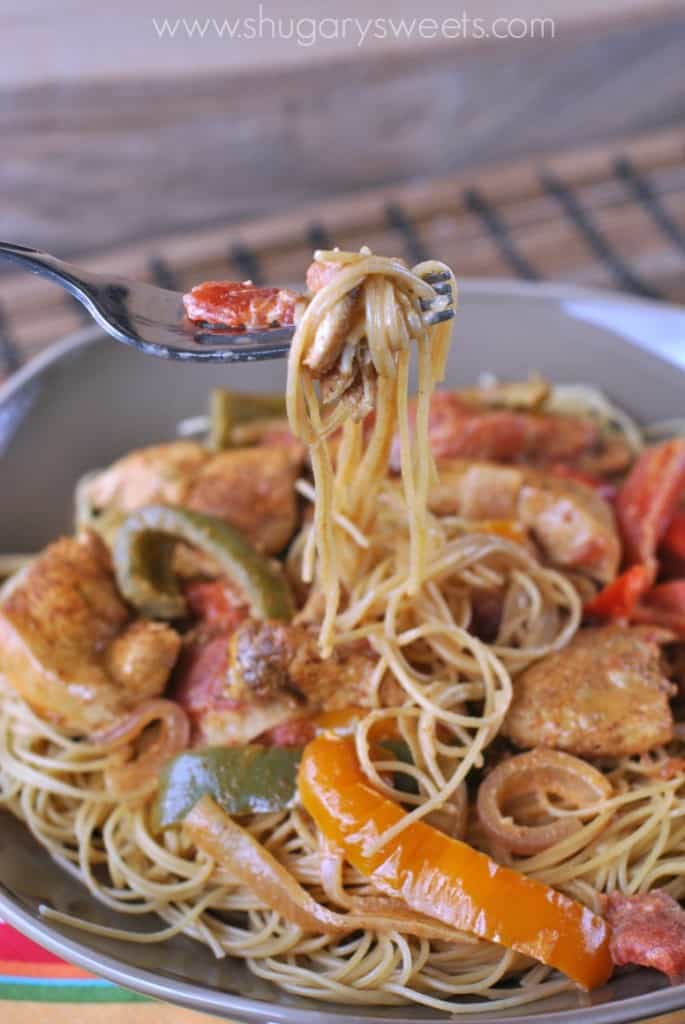 Ingredient Notes
To make this chicken pasta, we start by dicing raw chicken breast into small pieces. Boneless skinless chicken thighs would also work well.
While you cook a package of pasta according to the package directions, you can prepare the other ingredients.
Along with the chicken and pasta, you'll need. . .
Red, orange, green and yellow bell peppers (seeded and diced)
Red onion, sliced
Garlic, chopped
Canned tomatoes
Chicken broth
Cayenne pepper, cumin, black pepper and chili powder
Heavy cream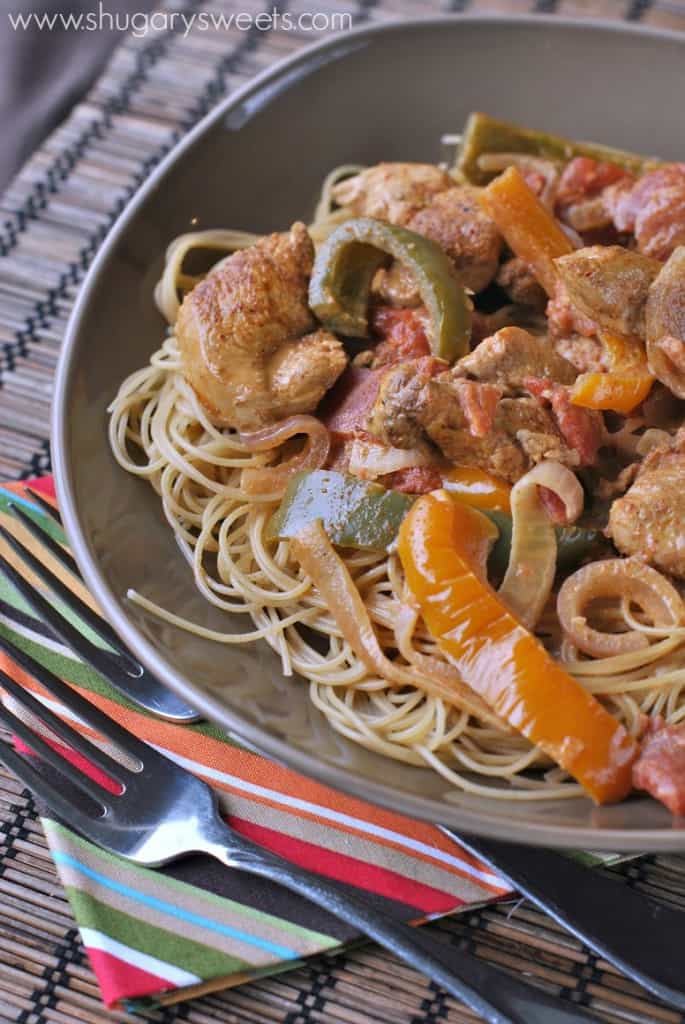 Step by Step Instructions
STEP 1. Cook the diced chicken breast in a pan with olive oil on high heat. Cook just until browned on both sides (about 2 minutes), then add in the peppers and onions, continuing to sautee everything together until the veggies are softened and the garlic becomes fragrant (3 -5 minutes).
STEP 2. Add the tomatoes along with their juices from the can. Then add the chicken broth and spices. Simmer for 10 minutes to allow the chicken to finish cooking and the flavors to combine.
STEP 3. Add the heavy cream and heat until warmed through, about 5 minutes. Combine the chicken mixture with the cooked pasta and serve.
Tips and Tricks
I love using angel hair pasta for this recipe.

Thin noodles made a great vehicle for the sauce and tender pieces of Cajun chicken. Fettuccine noodles hold up wonderfully to the sauce, too.

That said, really any variety of pasta will work. From macaroni noodles to bow tie to penne–feel free to use whatever you have (or whatever noodle shapes your family prefers.)

The cajun chicken in this easy pasta recipe has a little kick but no one in my household found it overwhelmingly spicy. 

Sensitive to heat or cooking for kids? Feel free to reduce or omit the cayenne pepper. The chicken pasta will still be flavorful, it just won't have that kick the cayenne provides.

You can always serve the cayenne pepper on the side so everyone can add their desired amounts of heat, too.

This recipe is so adaptable and versatile. It's hard to go wrong!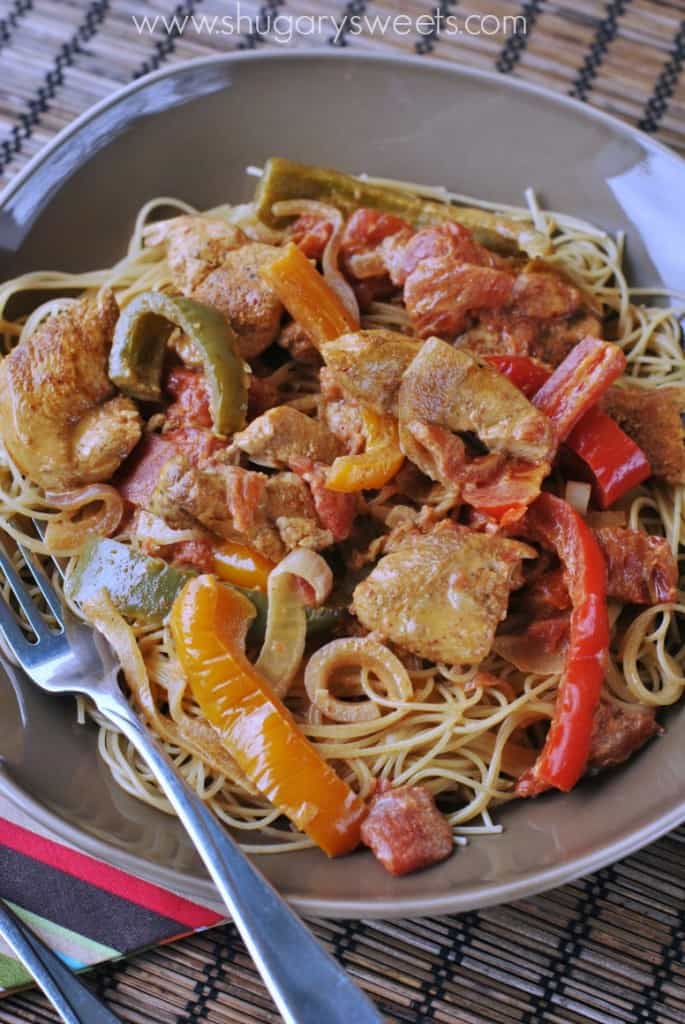 Baked Cajun Pasta
Love pasta bakes or need a portable meal?
This recipe is easy to adapt into a baked pasta cheese lovers will love. Use penne noodles and pour the whole thing into a oven proof dish. Sprinkle with cheese and bake for about 15 minutes until the cheese melts.
Cover with foil and you're potluck ready.
This family dinner recipe is perfect, even if your kids are skeptical of the vegetables. I've always found covering them with cheese is a great (and sneaky) option.
That said, all the kids who've eaten this pasta gave it two thumbs up served just as is.
Don't you just love how colorful this meal is?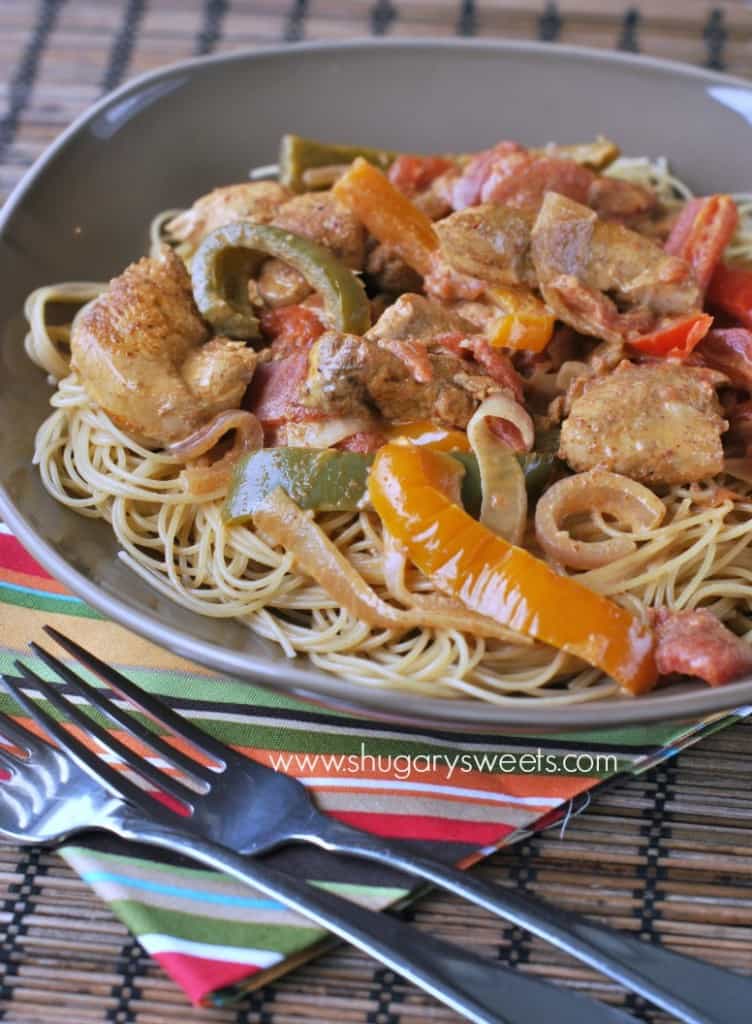 Recipe Notes
Seed and chop the bell peppers and onions on the weekend then store in an airtight container until you're ready to cook.

Dice the chicken and store separately. When you're ready to make the chicken pasta, proceed with the recipe as directed to have dinner on the table in under 30 minutes.

You can also make the chicken and sauce ahead of time! It keeps well covered in the fridge for a few days. When you're ready to eat, just cook your noodles, reheat the chicken mixture on the stove and serve!

The cajun chicken freezes well, too. Let cool completely before storing in an airtight container or sealed bag in the freezer. Thaw in the fridge and warm on the stove top before pouring over freshly cooked noodles to serve.
More Easy Dinners
This Lemon Pasta is great as a side dish, or add in some cooked chicken to make it a meal!
Jambalaya – in the Instant Pot!
Enchilada Beef rollups are a hearty, delicious meal. You can use Chicken instead of Beef too!!
I hope your family enjoys it just as much. When it comes to kid approved healthy weeknight meals for busy families, it doesn't get better than Cajun Chicken Pasta!