This Apple Cream Cheese Tart highlights the flavors of the holidays with an enticing combination of apples, nutmeg, and rum extract! Impressive to look at, easy to make!
Our readers LOVE apple recipes, including this delicious Apple Crumble! Or give these easy Apple Hand Pies a try for dessert tonight.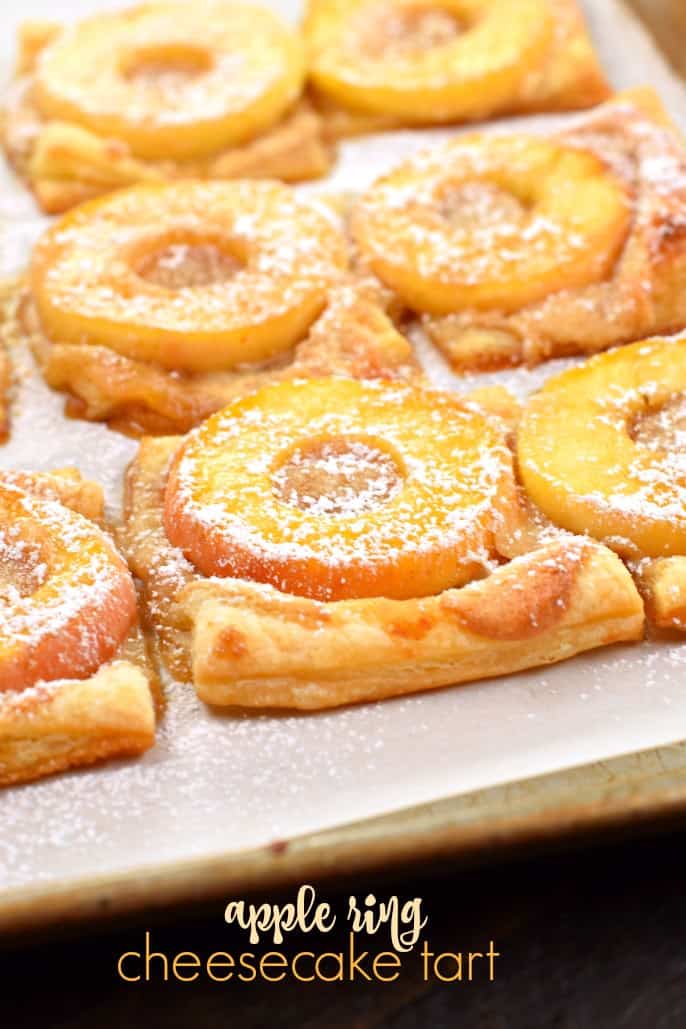 Why this Recipe is Amazing
There's something sneaky inside this apple cream cheese tart. Something that when you take your first bite, you dream of the holidays, and family, and cozy slippers.
Yep. It's the rum extract and nutmeg. Add those two together and you've got eggnog impersonators!
No actual eggnog is used, but that warm, comforting flavor paired with the brown sugar apples is such a delicious treat!
The star of this Apple Cream Cheese Tart are the beautiful Apple Rings.
You may remember first seeing these apple rings when I shared this Apple Ring Fritters recipe. Oh my gosh, those were so good. And I still can't decide which way I enjoyed them more…dipped in caramel or chocolate!
Today I'm sharing an EASY (yes E-A-S-Y) dessert idea. Using puff pastry and apple rings you'll LOVE whipping up this treat and impressing your family and friends.
The powerful flavors of rum and nutmeg shine in this apple fritter. This will the your go-to recipe this holiday season!
Ingredient Notes
Puff pastry – Frozen pastry should be thawed before using in the recipe.
Rum extract – You can find this in well stocked grocery stores (near the vanilla and almond extracts), or order it online .
Apple Rings – Use the crunchpak apple rings to make your life easier! Or, you can core whole apples and slice into 1/4 inch thick rings yourself.
Butter – Unsalted is best. Melt the butter before using in the recipe.
Step by Step Instructions
STEP 1. Unfold the pastry
Unfold the thawed pastry sheet on a rimmed baking sheet lined with parchment paper. Cut the pastry into 9 pieces.
STEP 2. Assemble the apple tarts
Beat cream cheese with the rum extract, half the brown sugar and the nutmeg until smooth. Spread a generous spoonful onto each pastry square.
Top each square with one apple ring.
Whisk together the other half of the brown sugar and the melted butter. Drizzle the butter mixture over the apple rings using a spoon or a ladle, distributing it as evenly as possible.
STEP 3. Bake
Bake the apple tarts for 20 to 22 minutes; they should look light golden brown. Let them cool for a few minutes on the pan before transferring to a serving plate.
Sprinkle each one with powdered sugar just before serving–enjoy!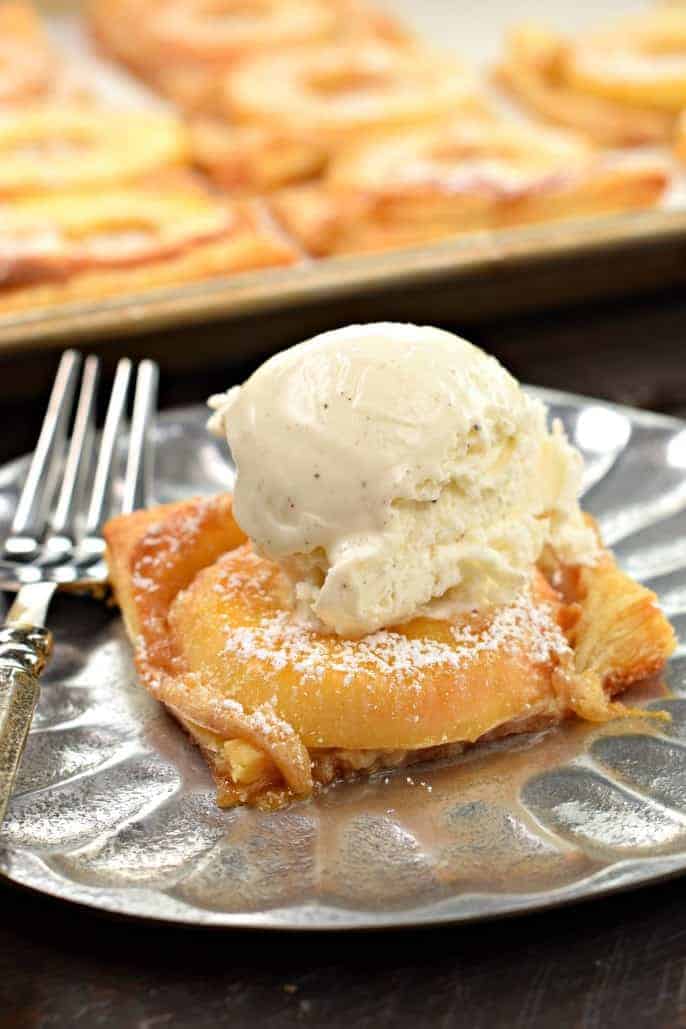 Recipe FAQs
What apples do you need for apple tarts?
I can't rave enough about Crunch Pak apple rings. They are sliced into perfect sizes, sealed and ready to use which is a huge time saver! You can find them in the produce section with the other pre-cut fruits (or sometimes near the whole apples).
Can you make apple tart without the rum extract?
Yes, the cream cheese apple tarts will taste good without rum extract but they won't have the same POP of eggnog-like flavor that makes these stand apart from the crowd. Trust me when I say it is totally worth picking up a bottle to make this recipe.
Can apple tarts be made in advance?
I don't recommend making cream cheese apple tarts ahead of time. They are at their best when the pastry is flaky and fresh from the oven! Thankfully they are so quick and easy to assemble that you can make them even when you're crunched for time.
Tips and Tricks
Make sure your baking pan has sides to it! You don't want the butter and brown sugar mixture to drip off the pan and into your oven.
Serve these the same day as baking for best taste.
You'll need to let your frozen puff pastry thaw for about 40 minutes on the counter. I place it (folded and frozen) on a silpat baking sheet. Now's a good time to hop on the treadmill, burn a few calories BEFORE you even take one bite, haha!
If you prefer a more GOLDEN color to your tart, beat an egg yolk and brush it onto your tart before baking.
Once these are done cooking, you'll wonder if they are done, as the melted butter and sugar will be all over the pan. Allow them to cool a few minutes, then use a metal spatula and move them from the baking sheet to a serving platter. You'll love that gooey cream cheese center.
Don't forget to add the powdered sugar and a scoop of vanilla ice cream. DELISH.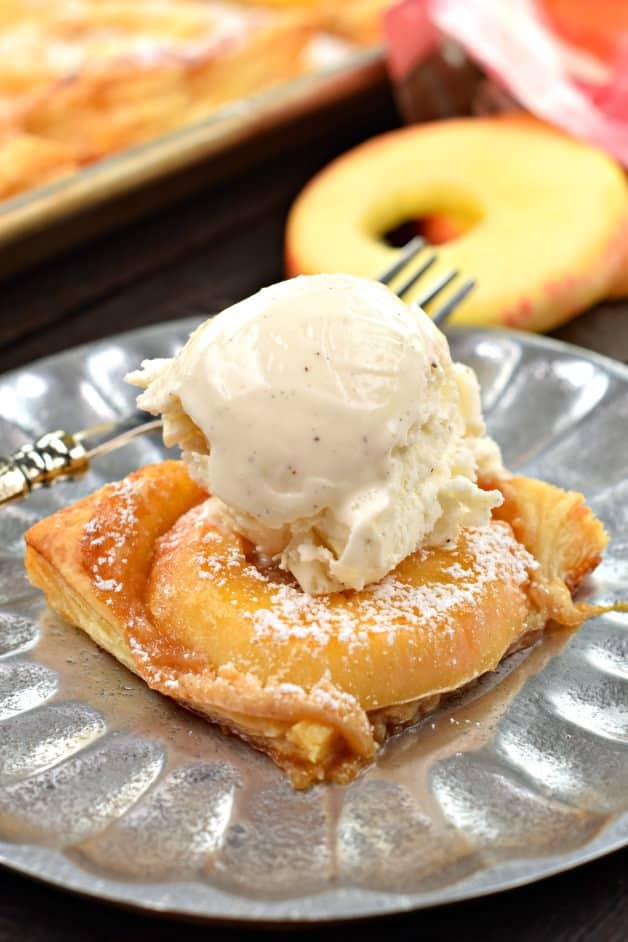 More Apple Recipes
Is there an Apple Cream Cheese Tart in the world that can compare to these? With the powerful punch of nutmeg and rum flavors, the soft cream cheese and the juicy apples, these easy holiday tarts will steal the show!