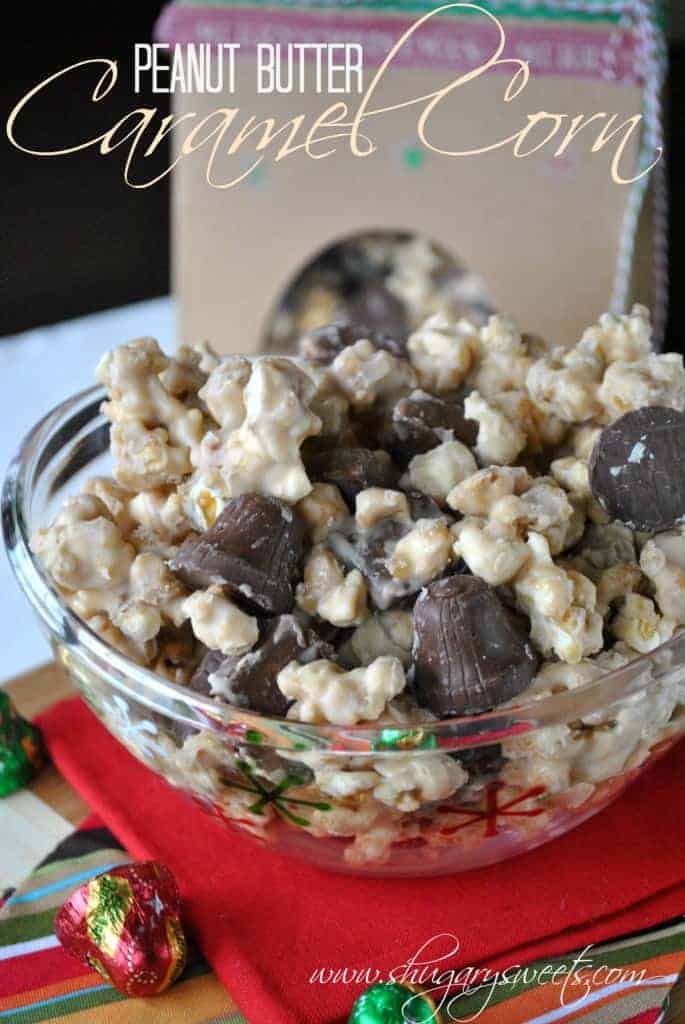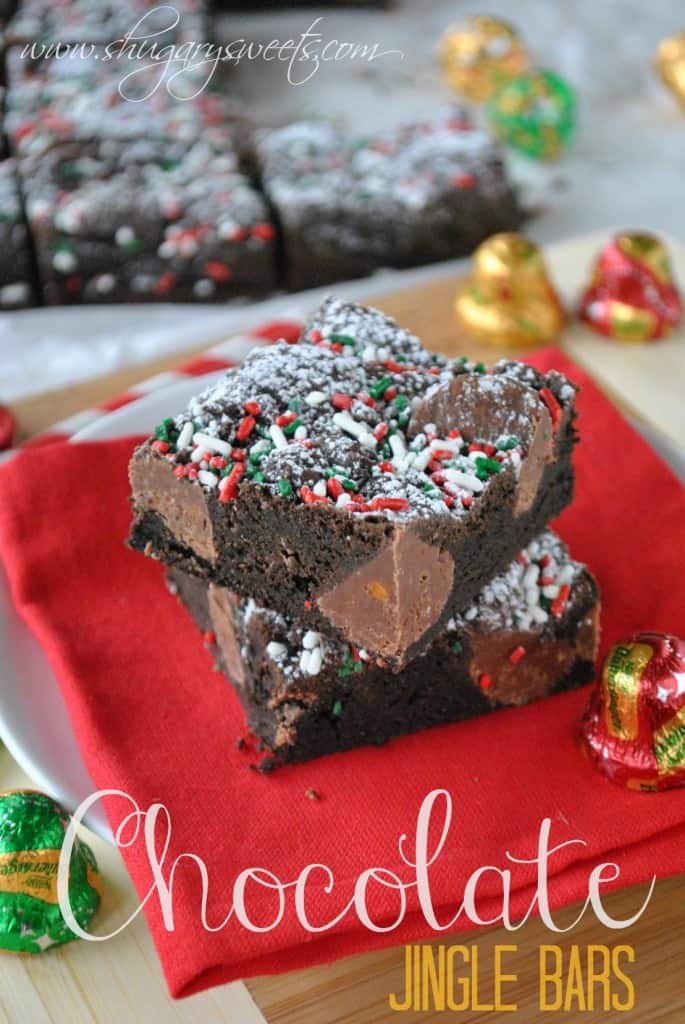 I've got two awesome recipes for you today! Just because I love you, and it's the season of giving!
As I've mentioned before, I have 4 kids.
When you add up all the coaches, teachers, Sunday School leaders, music instructors (and I'm sure I'm leaving someone out) it adds up to a lot of people we want to thank and show our appreciation to over the holidays.
So each year, I like to bake a special treat. My favorite teacher gift is popcorn. Not just any popcorn though…homemade chocolate covered caramel corn.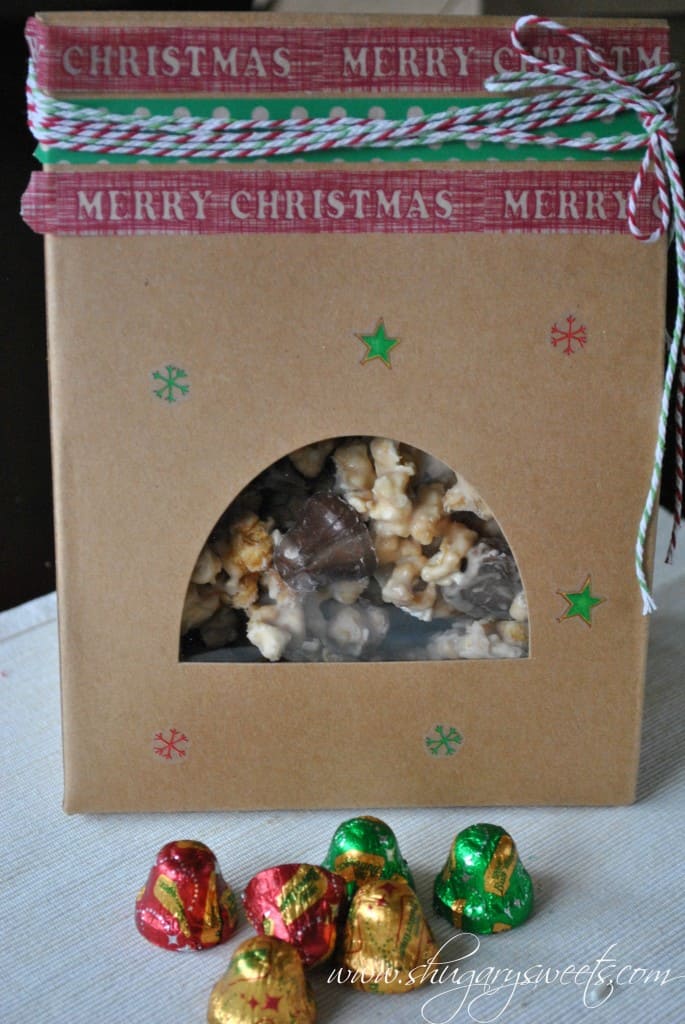 Only this year, I've thrown a little twist into this tasty treat. I added some peanut butter to my melted white chocolate, creating a delicious peanut butter coating. I also threw  in some Nestle Butterfinger Jingles (and some mini Butterfingers) to add to the Peanut Buttery goodness!
This recipe makes a BIG batch, perfect for separating into gift bags, boxes or tins!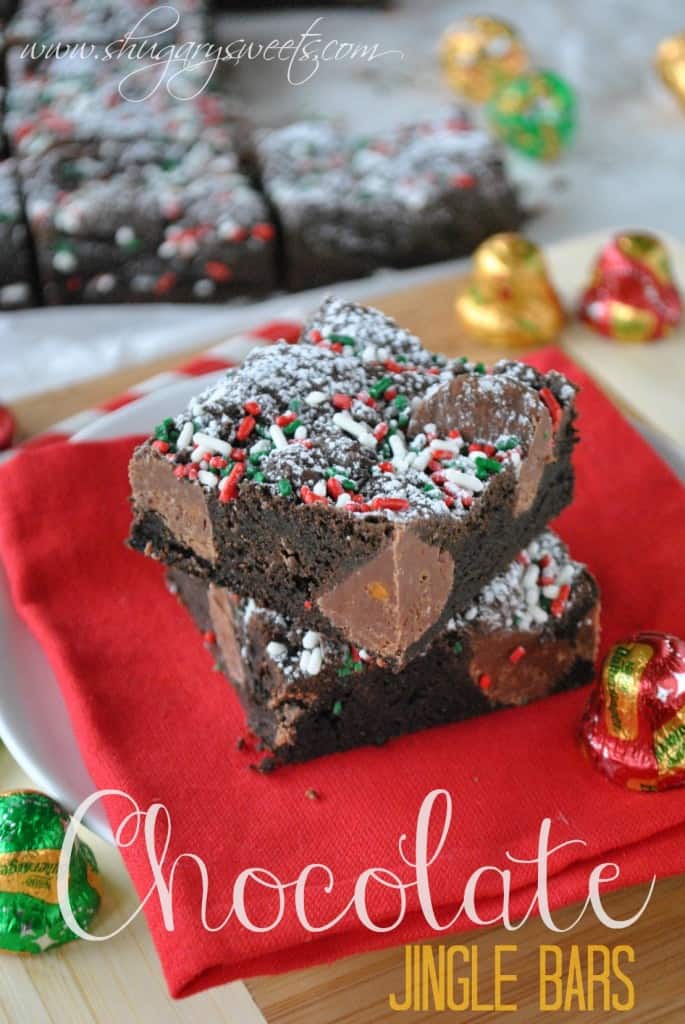 I also baked up a special batch of Jingle Bars for my kiddos. Nestle has a great website filled with seasonal recipes, which is where I found this awesome recipe for "Cakey Chocolate Jingle Bars."
The only addition I made to the recipe is I added some powdered sugar and sprinkles to make them a wee bit more festive!
Head on over HERE to check out the recipe!
Peanut Butter Caramel Corn with Butterfingers
Ingredients
1 cup unsalted butter
2 cup light brown sugar
1/2 cup light corn syrup
1 tsp kosher salt
1/2 tsp baking soda
1 tsp vanilla extract
3 bags of microwave popcorn, prepared (REMOVE SEEDS)
2 pkg (16oz each) vanilla candy coating
1 cup creamy peanut butter
1 pkg Nestle Butterfinger Jingles (about 30 candies, unwrapped)
1 pkg (10oz) Mini Butterfingers
Instructions
Pop 3 regular sized bags of microwave butter flavored popcorn. Remove all unpopped seeds. Place popped popcorn in a large bowl. Set aside.
Line two broiler pans (or large disposable foil pans) with foil. Set aside. Preheat oven to 250 degrees.
Melt butter in medium saucepan over high heat. Add in sugar, corn syrup and salt. Bring to a boil, stirring constantly. Boil one minute, remove from heat. Stir in baking soda and vanilla.
Pour over popcorn. Mix well. Pour evenly into two pans. Bake for one hour, stirring every 15 minutes. Remove from oven and pour onto a large piece of parchment paper to cool. Break into pieces. Return to large bowl.
Melt vanilla candy coating according to package directions. Whisk in peanut butter until creamy. Pour over popcorn. Mix gently until all popcorn has been coated. Add in Butterfingers.
Pour onto parchment paper again to cool and set, about 30 minutes. Store in covered, air tight container. ENJOY.