Sweet and salty with a satisfying crunch, Peanut Butter Caramel Corn makes a perfect snack and an even better gift! Add some holiday shaped chocolates and wrap in a jar with a bow to make someone's day.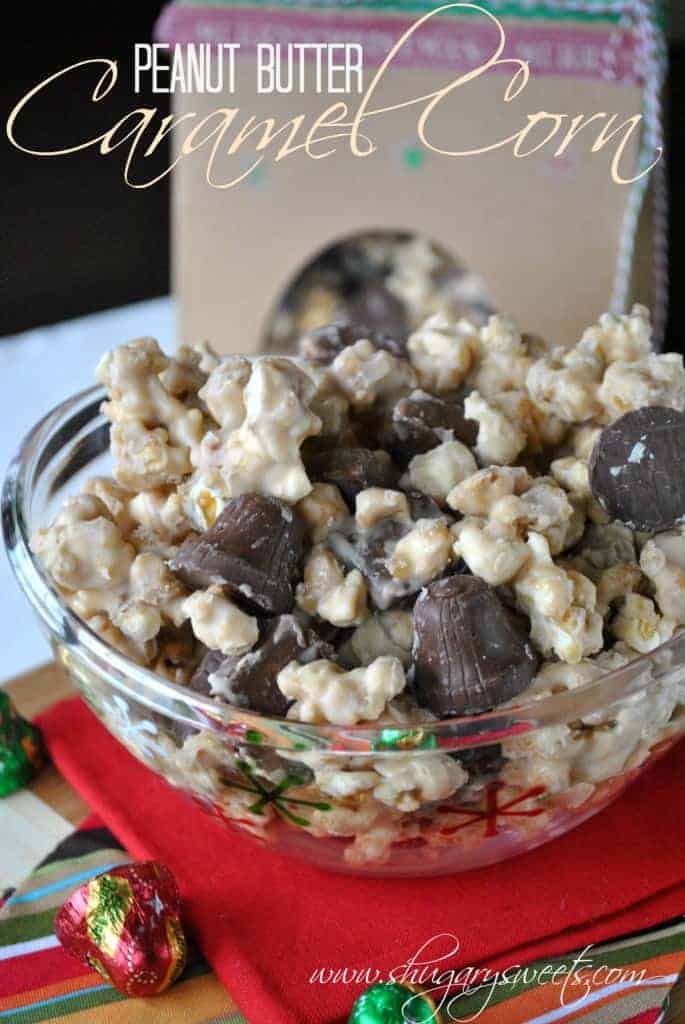 Peanut Butter Caramel Corn
Each year, I like to bake a special treat to give as gifts to teachers and school staff. My favorite teacher gift year after year is popcorn. Not just any popcorn though…homemade chocolate covered caramel corn.
It's always a hit! I've had more than one person tell me they look forward to getting their container of caramel corn more than any other treat this time of year.
This time, I've thrown a little twist into this tasty treat. I added some peanut butter to my melted white chocolate, creating a delicious peanut butter coating.
Since it's almost Christmas, I also threw  in some Nestle Butterfinger Jingles (and some mini Butterfingers) to add to the Peanut Buttery goodness!
This recipe makes a BIG batch, perfect for separating into gift bags, boxes or tins!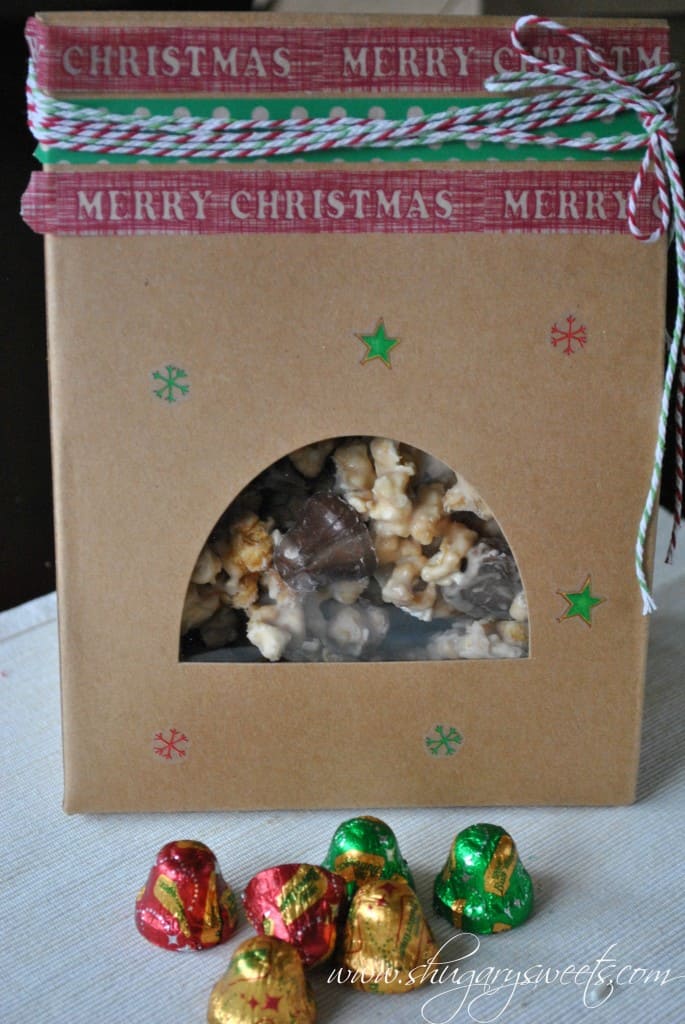 Ingredient Notes
Popped popcorn – Use bags of microwave popcorn or homemade popped corn. Remove any unpopped seeds before using popcorn in this recipe.
Nestle Butterfingers Jingles – These are the mini butterfingers shaped like bells. If you're making this when it's not the holiday season, substitute with regular mini butter fingers.
Vanilla candy coating – Ghirardelli white chocolate melting wafers are my favorite candy melts to use in caramel corn.
Easy Instructions
After popping all your popcorn (and removing the seeds), place it in a large bowl.
Make the caramel sauce on the stove top, then pour it over the prepared popcorn. Transfer to broiler pans lined with foil and bake the caramel corn for an hour.
Melt the vanilla candy wafers and stir in the peanut butter. Pour over the baked caramel corn and mix to coat. Fold in the butterfingers and jingles candies. Let the caramel corn cool for 30 minutes before enjoying or storing!
Tips & Tricks
Stir. You need to stir the caramel corn every 15 minutes while it's baking. This ensures the popcorn gets baked evenly and helps prevent the caramel from burning.
Break in to pieces. After baking, the caramel corn will likely have formed several large chunks (or even be stuck together in one big clump. Break it into pieces with your fingers BEFORE adding the melted white chocolate and peanut butter.
Storing and serving. Store Peanut Butter Caramel Corn in an airtight container at room temperature. When giving it as gifts, I transfer it to a paper gift bag or a decorative holiday tin!
Recipe FAQs
How long will caramel corn keep?
It should stay good for about 2 weeks–but it never lasts that long in my house. Caramel corn is too addictive!
Can I substitute white chocolate chips for the candy coating?
Yes, but I find that melted chocolate chips don't set nearly as smoothly as the wafers meant for melting.
Can I make this with other candies?
Of course! Reese's cups and mini snickers bars would be delicious substitutes for the butterfingers.
What peanut butter should I use?
I prefer creamy peanut butter that's shelf stable. The all natural kind has a different consistency and doesn't melt as smoothly to combine with the white chocolate.
Just try to say no to a handful of crunchy Peanut Butter Caramel Corn with soft bites of chocolate mixed in! Make this for a loved one this holiday season or whenever you want to show someone you care.