Cranberry Orange Fudge is homemade fudge like you've never tasted before. Dried cranberries and orange zest give this soft, sweet fudge an astonishing kick of flavor!
My Eggnog Fudge is another fudge recipe you need to make this holiday season. This Grinch Peppermint Fudge gets rave reviews every year too.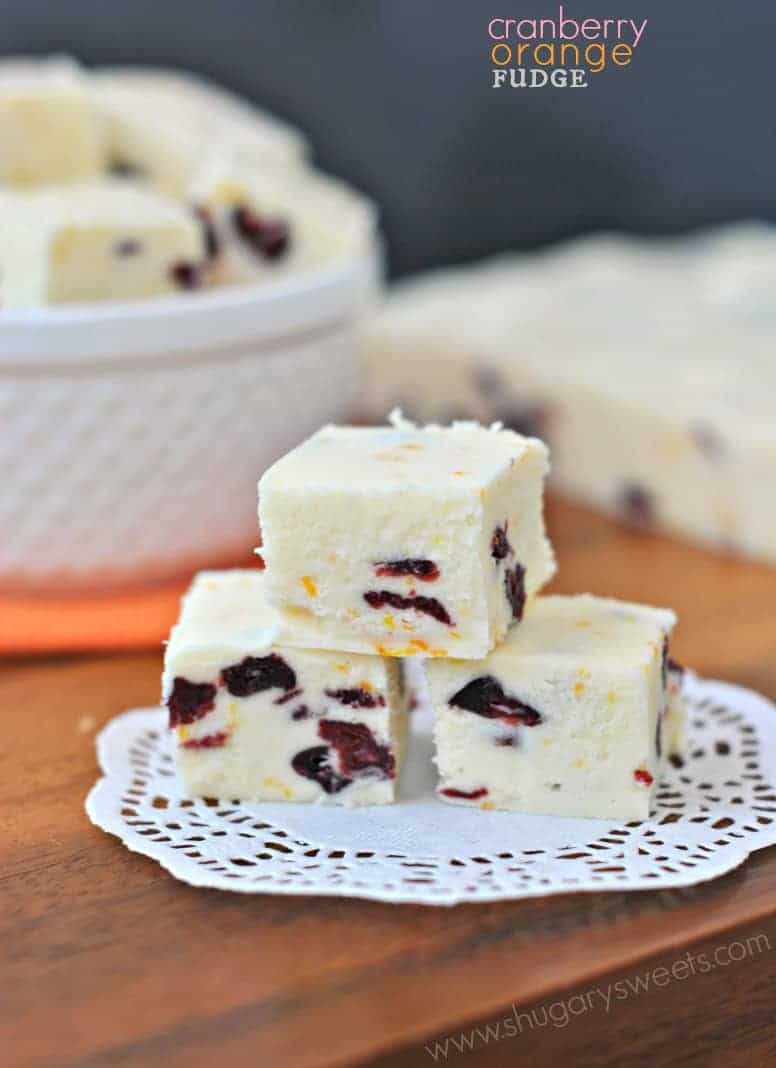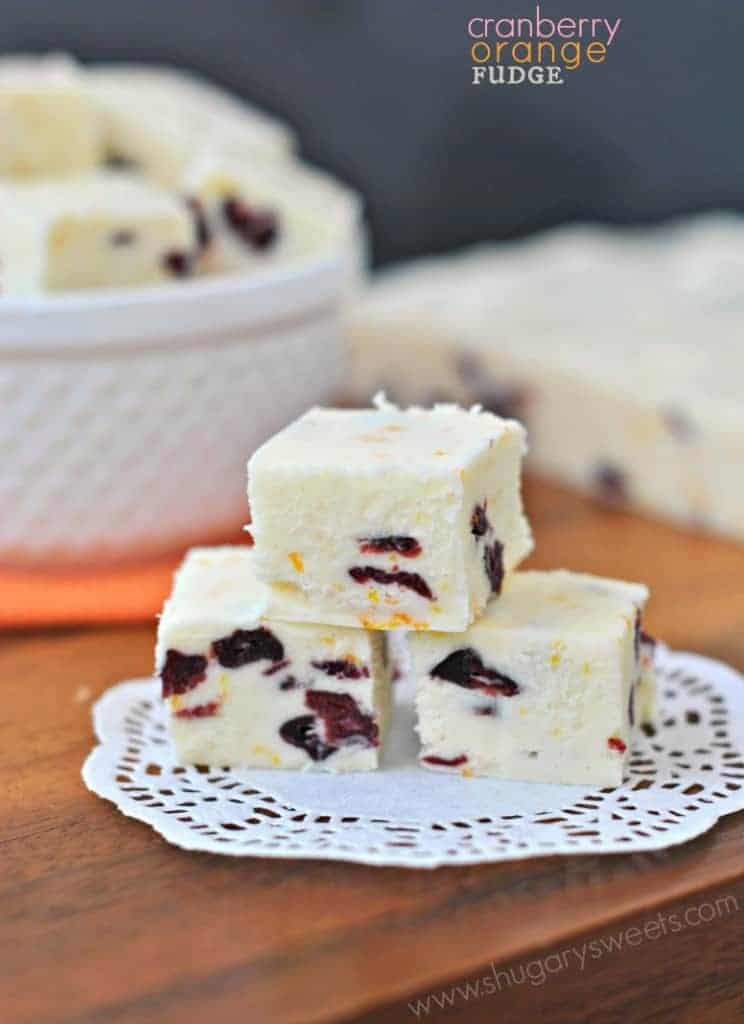 Why this Recipe Works
Is it even the holiday season if you don't indulge in a few (or a few dozen) squares of fudge?
This Cranberry Orange Fudge recipe makes a fun change from all the chocolate and peppermint you see this time of year. Classic winter cranberry flavor tastes even better when you add zesty orange!
Vanilla fudge makes the tart cranberries pop!
NO candy thermometer needed.
Perfect for the holidays. . . or all year long.
Best of all, this fudge is unbelievably easy to make. It's ideal for fudge making novices and experts alike.
Ingredient Notes
Orange zest – You will need the zest of three full oranges here. The zest is the outermost layer of the peel–the colorful part. It adds intense orange aroma and light citrus taste to the fudge. Use our guide on how to zest a lemon for best tips and tricks.
Marshmallow fluff – My secret weapon for home fudge making! Also called "marshmallow creme" it makes the fudge velvety soft and smooth.
White chocolate morsels – Use a good quality chocolate, such as Ghirardelli, for the best tasting fudge.
Dried cranberries – Sweet and bite sized, these are folded into the fudge mixture for beautiful color and cranberry flavor.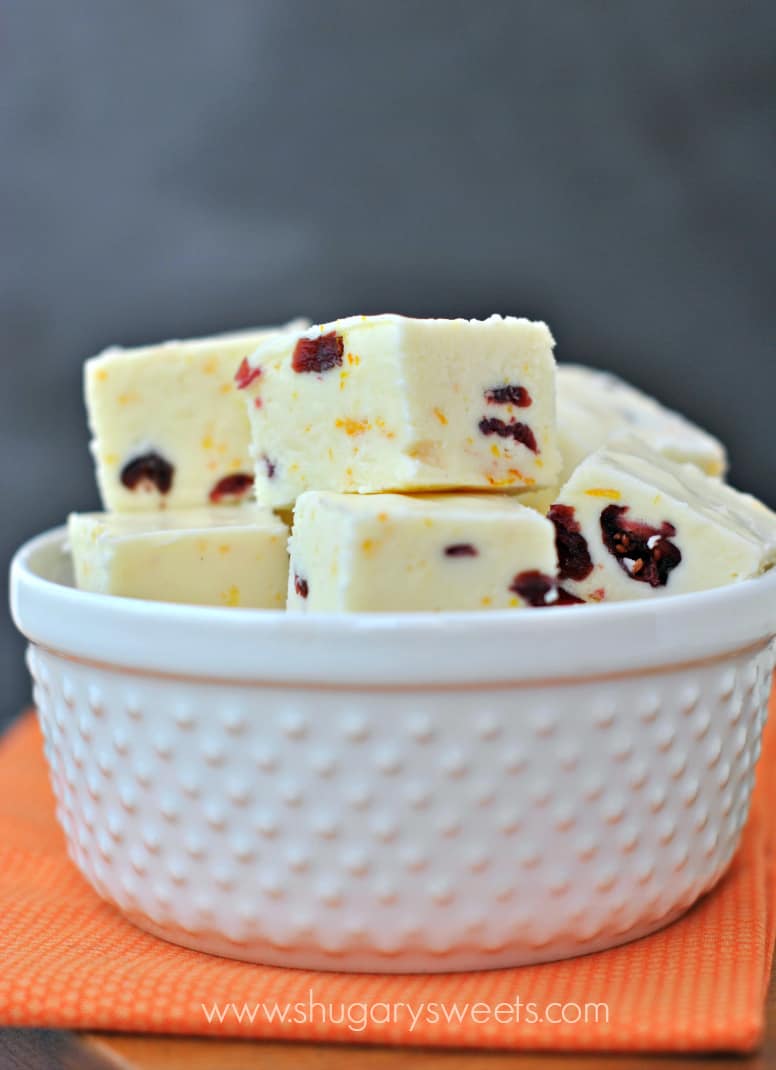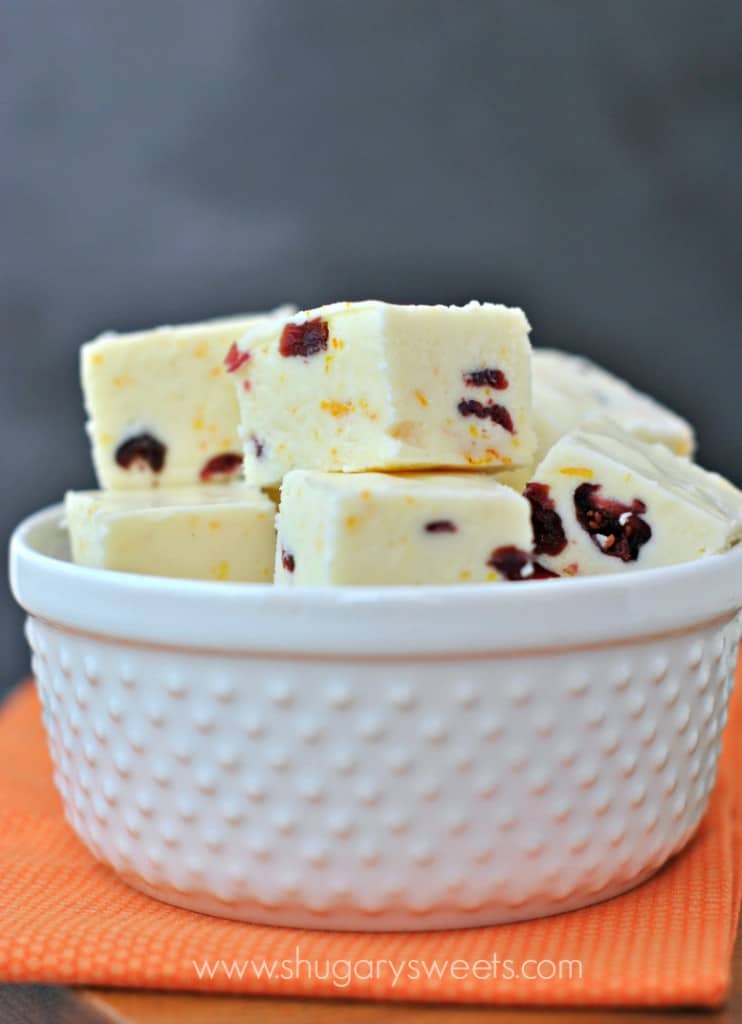 Tips and Tricks
Boil for four minutes: Set a timer when the liquid mixture comes to a boil. It needs to cook at a rolling boil for a full four minutes, while you stir it. Boiling time STARTS when there are bubbles all across the surface.
Use an electric mixer: Pour the hot liquid ingredients over the chocolate and marshmallow creme. Then use the mixer to mix everything until melted and combined.
Allow to set: After pouring the fudge into the baking dish, let it set at room temperature for at least 3 hours. Then, cut and serve!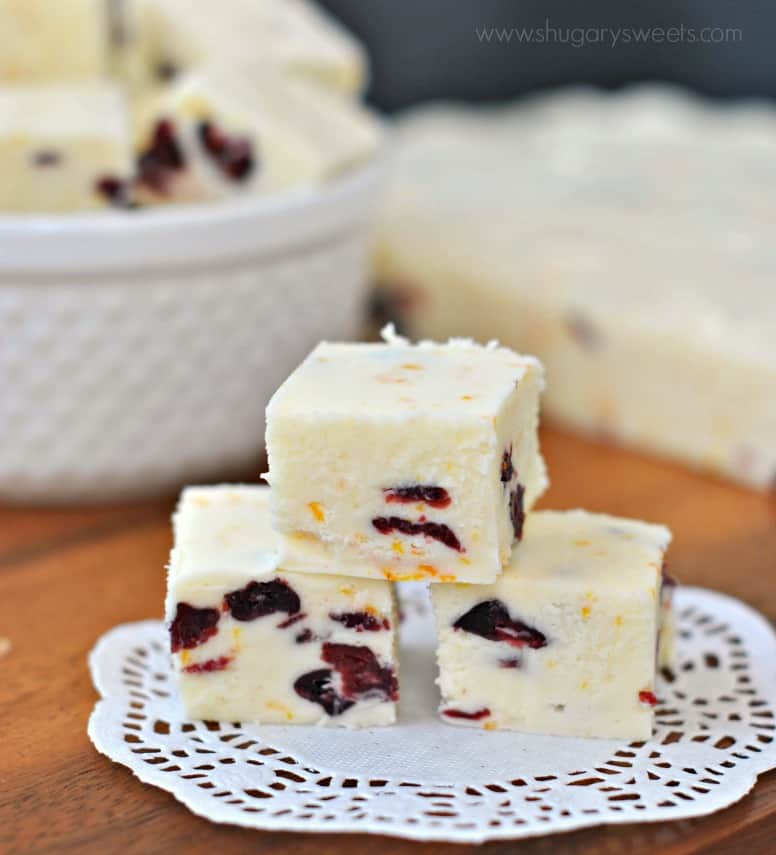 Recipe FAQs
How do you store this fudge?
Store in an airtight container. Cranberry Orange Fudge keeps well at room temperature for up to 1 week or in the fridge for 2 weeks. You can also freeze this fudge! It'll stay good in the freezer for about 3 months.
How do you keep fudge tasting fresh?
The key to keeping fudge soft and fresh is cutting it right before serving. If you won't be eating it all right away, slice off only what you need. Leave the rest in one big square to store.
Does this fudge taste like marshmallows?
No, this fudge has no marshmallow flavor at all! The marshmallow fluff gives the fudge its creamy texture but doesn't change the flavor. All you'll taste is white chocolate, vanilla, orange and cranberry!
More Easy Recipes
Perfect white chocolate fudge with a pop of color! Don't wait for the holidays to make this delicious easy Cranberry Orange Fudge.