Double Dark Chocolate Raspberry Cookies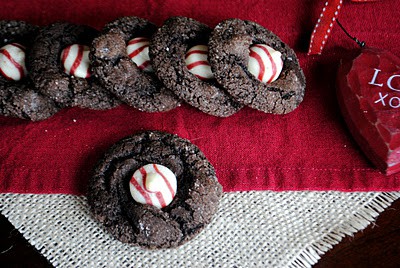 I was thrilled to go to my local grocery store this week and find some delicious Valentine's themed candy. I knew immediately that I wanted to pair the Raspberry hugs with dark chocolate. It just made sense.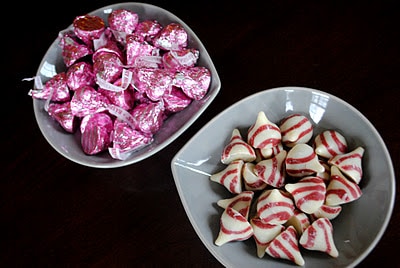 So I tweaked my Chocolate Macadamia Cookie recipe to accomodate the dark chocolate flavor I wanted.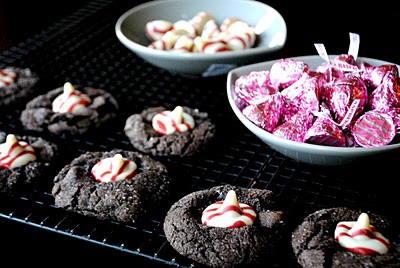 There are really no words to describe how delicious these cookies taste. From right out of the oven they are warm, and fudgy with a nice kick of Raspberry. But once they've cooled? They are a chewy fudge cookie with a raspberry center that's to die for. Oh my yummers.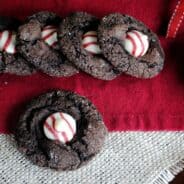 Double Dark Chocolate Raspberry Cookies
Ingredients:
1 cup butter, softened
1 cup brown sugar
3/4 cup granulated sugar
2 eggs
2 Tbsp milk
2 tsp vanilla extract
2 cup flour
1/2 cup dark chocolate cocoa powder
1 tsp baking soda
1/2 tsp salt
1 cup dark chocolate pieces or morsels
10 oz bag Hershey's Raspberry Hugs
1/4 cup granulated sugar for rolling
Directions:
Beat butter and sugars for 3 minutes. Add eggs, milk and vanilla and beat until well combined. Add the flour, cocoa, baking soda and salt and mix completely. Fold in the dark chocolate pieces.
Chill dough for one hour, covered, in the refrigerator.
Scoop chilled dough by tablespoon and roll into a one inch ball. Roll in granulated sugar and place on parchment paper lined baking sheet. Bake in a 375 degree oven for about 8 minutes (will appear slightly under cooked).
Immediately press in the Raspberry Hug in center of cookie. Allow to cool one minute on baking sheet and transfer to wire rack to cool completely. Enjoy warm for a chewy fudgy cookie, or allow to cool completely for a more stiff, yet chewy cookie.
MAKING THIS RECIPE? Share it with me on Instagram using the hashtag #ShugarySweets so I can see what you're cooking up in the kitchen!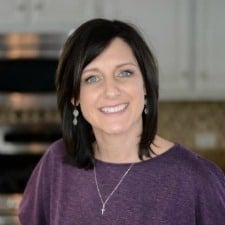 Aimee is a dessert lover (specifically rice krispie treats), workout enthusiast, self-taught foodie, and recipe creator. Her recipes have been featured in over 15 magazines, and her passion is to share her love of cooking with the everyday home cook! Learn more about Aimee.