Halloween Fudge Ring
Super simple, yet impressive looking Halloween Fudge Ring. Made with milk chocolate morsels, butterscotch morsels, Oreos, candy corn and White Chocolate Candy Corn m&m's. You can change it up using any candy on hand! Great use for those leftover Halloween candies.
Well friends. It's here. The month of October. The month when this mom becomes paranoid about what costume my girls will want to wear.
I don't hate Halloween (yes I do). Let me try again, I don't hate EVERYTHING about Halloween. I just hate the costume part.
I can bake for my kid's parties. I can create some delicious stews and dinners for the night. But I am not crafty when it comes to costumes.
I can't sew. Yet, I also hate the store bought stuff. I try to encourage my girls to come up with an idea with items from their closets (mummy's, old lady, hippie, etc…). This year, I'm thinking they are old enough to make their own costumes, right? 9 and 11? UGH. I seriously get the sweats just thinking about costume time.
Have I mentioned before that they tend to change their mind about 5 times before the actual date? I would say thank goodness for Pinterest, however my replica would end up being one those "nailed it" jokes. Let's hope they choose something simple. Like a zombie. Or a cat.
Anyways, if you have any great suggestions that I can implant into their brains (without saying they are my idea of course, because then they would never say yes), let me know!
What I can do?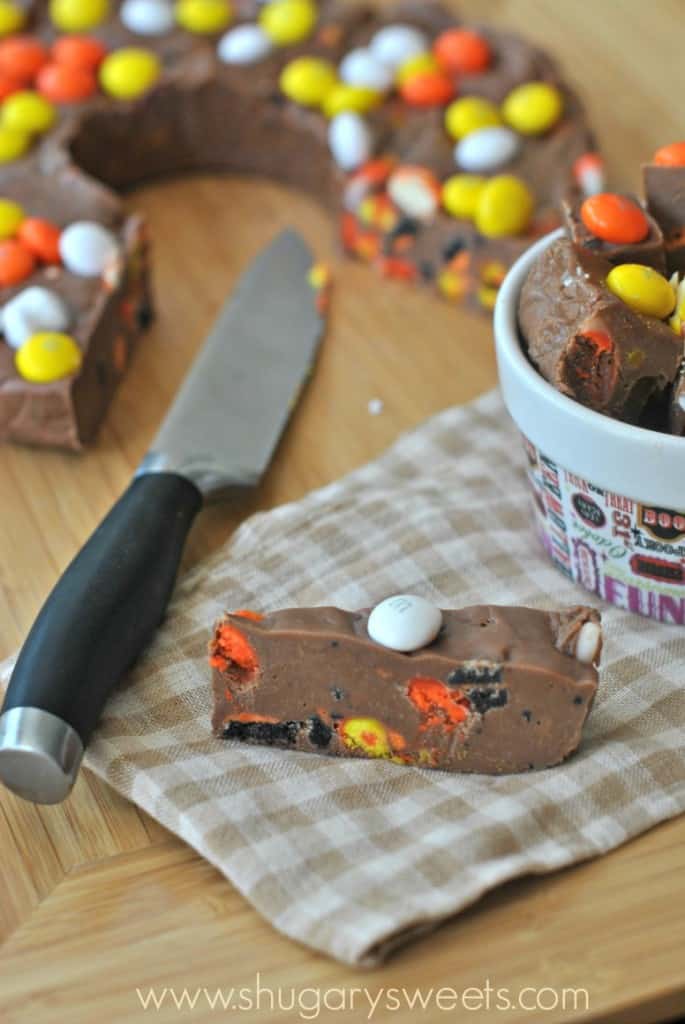 Fudge.
I saw this Fudge Ring in my Christmas with Southern Living cookbook from 2007. It's been that many years since I've wanted to try this recipe.
It turned out super simple. I lined my springform pan with foil. I also used the empty condensed milk can and lined that with foil. I used some softened butter and "schmeared" it all over the foil.
You can totally change up the flavor of this Fudge Ring by using different candies. I used the Halloween Oreos, candy corn and m&m candy corn. Some other great ideas would be to substitute the Oreos for Nutter Butters, substitute the butterscotch morsels for peanut butter morsels, and add in some Reese's. Oooh, actually, I think I may try that (don't take my idea, haha)!!! You can also just use whatever leftover candy in the trick or treat bags (not that anything is considered leftover in my house).
Connect with Shugary Sweets!  
Facebook | Twitter | Google+ | Pinterest | instagram | Bloglovin'
Ingredients
12oz milk chocolate morsels
1 cup butterscotch morsels
1 can (14oz) sweetened condensed milk
5 Oreo cookies, crushed
1 cup candy corn
1/2 cup White Chocolate Candy Corn m&m candies
Instructions
Prepare your pan by lining a springform pan with foil. Wrap foil around your empty sweetened condensed milk can too. Using a tablespoon of softened butter, grease the foil. Set pans aside.
In a small saucepan, heat milk chocolate, butterscotch and sweetened condensed milk over medium heat until all the morsels are melted. Stir constantly until smooth. Remove from heat.
Fold in crushed cookies and candy corn. Pour into prepared pan. Sprinkle immediately with m&m's. Cover with foil and chill until firm, about 3 hours.
To unmold, loosen latch on springform pan. Remove entire piece of foil. Remove can from center. Cut fudge into slices or bites. Store in refrigerator in a covered container for up to two weeks. ENJOY.
http://www.shugarysweets.com/2013/10/halloween-fudge-ring
Copyright Shugary Sweets 2011-2016