Nobody will guess that this sweet toffee starts with graham crackers. Brickle Bars are the next best thing to homemade candy!
If you have extra graham crackers, give this delicious Chocolate Eclair Cake a try soon! Or if you're craving chocolate, this Boston Cream Donut recipe is decadent and EASY.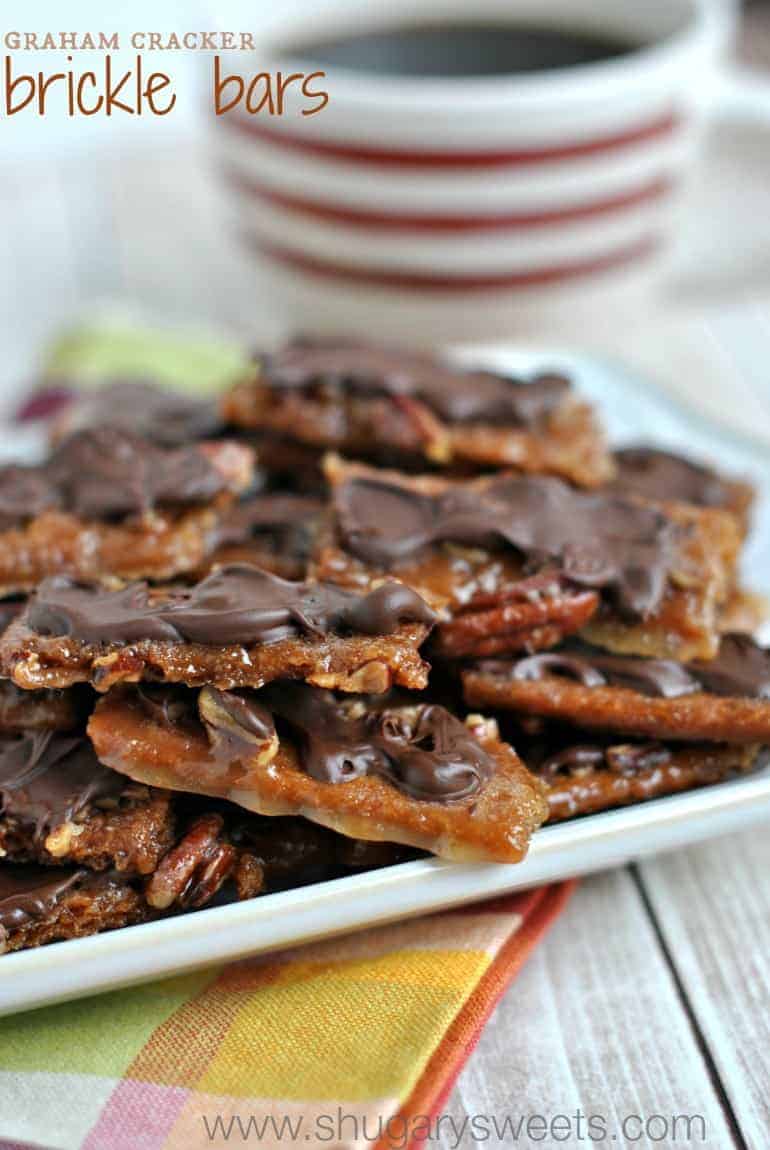 Why this Toffee Recipe is Best
I had a friend coming over for coffee at lunch today, and having no baked goods in the house, this is what I made!
These only take 10-13 minutes to cook, and in less than 20 minutes I had a very yummy treat to put out for us.
Unfortunately she only ate one, now I have about 3 dozen more to eat. Good thing there are plenty of people who happily take extra treats off my hands!
You'll love the buttery flavor, and surprisingly people will beg for this recipe, thinking you slaved over the stove making toffee.
Be sure to add it to your last minute Christmas candy list!
How to make Graham Cracker Toffee
STEP 1. Line your sheet pan with parchment paper or foil.
Break your graham crackers into fourths, along their natural perforated marks. Line your sheet pan with crackers.
STEP 2. In a small saucepan, bring your butter and sugar to a full rolling boil. Pour over crackers. Sprinkle with chopped pecans.
STEP 3. Bake in a 350 degree oven for about 12-15 minutes. Remove from oven and immediately use a small spatula to transfer hot toffee to a piece of parchment paper on the counter.
STEP 4. Melt chocolate according to package, spread over toffee. Allow to set and cool (about 15 minutes).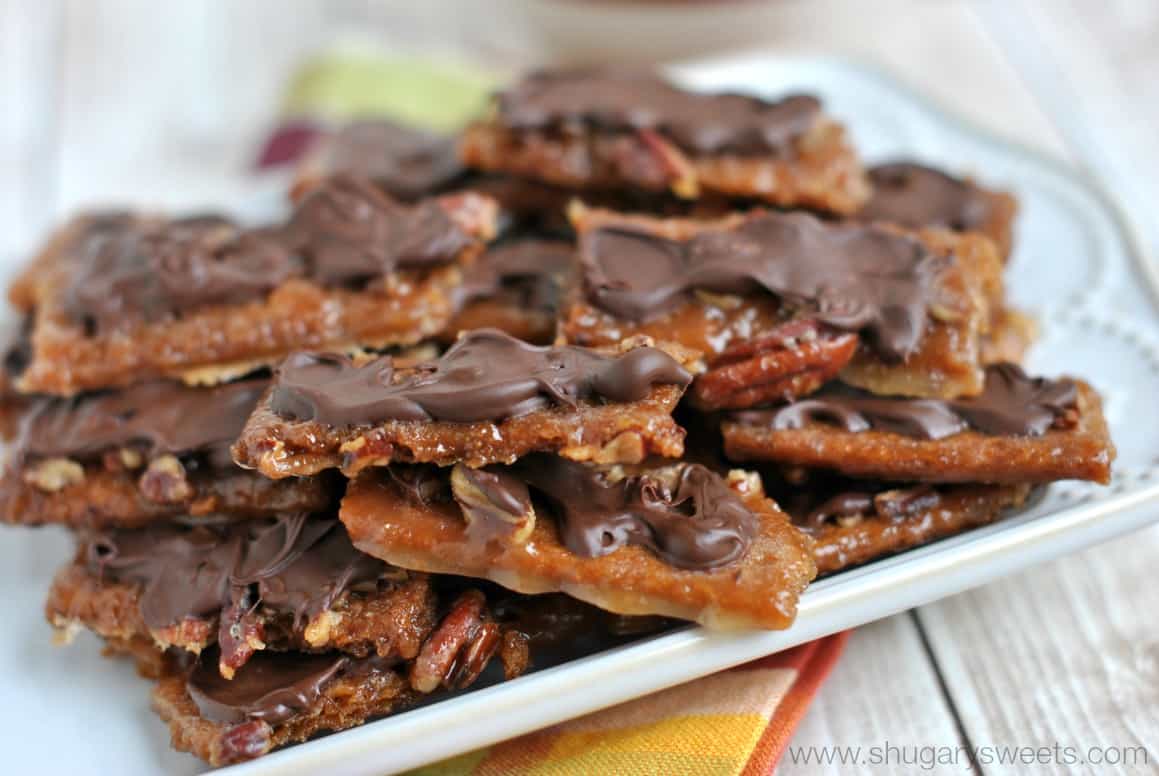 What tools do you need to make cracker toffee
A large baking sheet, approximately 15×10-1-inch. Make sure it has the 1 inch sides, so your gooey caramel doesn't drip into your oven! Our family calls this a jelly roll pan!
I use this small serve spatula to remove the toffee from the sheet pan.
Parchment paper. Do not skip this step or you won't be able to remove your crackers from the pan. You could use foil as well, but I don't like that it will sometimes rip. I buy my parchment paper in bulk either on amazon or at Sam's/Costco.
If you love this Brickle Bar recipe, you'll also enjoy these toffee recipes:
S'mores cracker toffee is a little bit of summer on a slice of toffee! So easy and delicious.
Here's my classic recipe for Saltine Toffee. You decide which type of cracker YOU prefer 🙂
Want traditional toffee? My English Toffee recipe is just perfect, everyone begs for the recipe!