This Chocolate Eclair Cake recipe is an old fashioned icebox cake with layers of graham crackers, pudding, and chocolate frosting. An easy no bake dessert recipe that everyone loves!
If you love no bake desserts, be sure to try this easy S'mores Icebox Cake and of course my no bake cheesecake recipe is always a hit!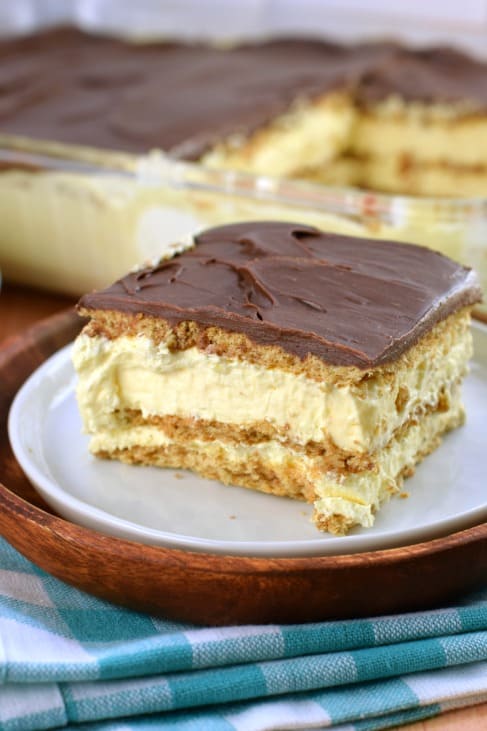 What is an Eclair Cake?
There are desserts on this website that I have created over the years, and then there are some that my family made that are childhood treasures.
For example, this zucchini bread is the only one I grew up eating, even though I have created dozens more zucchini bread recipe variations!
And these Pecan Tassies were at every holiday gathering. You'll love their buttery crust with pecan pie filling!
Today's Eclair Cake though is the one dessert that I knew how to make at a young age. It's easy enough for the kids to help make, and it tastes incredible.
Similar to our family's dirt cake recipes, you'll love the pudding filling!
A chocolate eclair cake is an easy, no bake dessert the resembles chocolate eclairs. Very similar to a Boston Cream pie.
Slightly different than my cream puff cake and cream puff desserts!
Ingredient Notes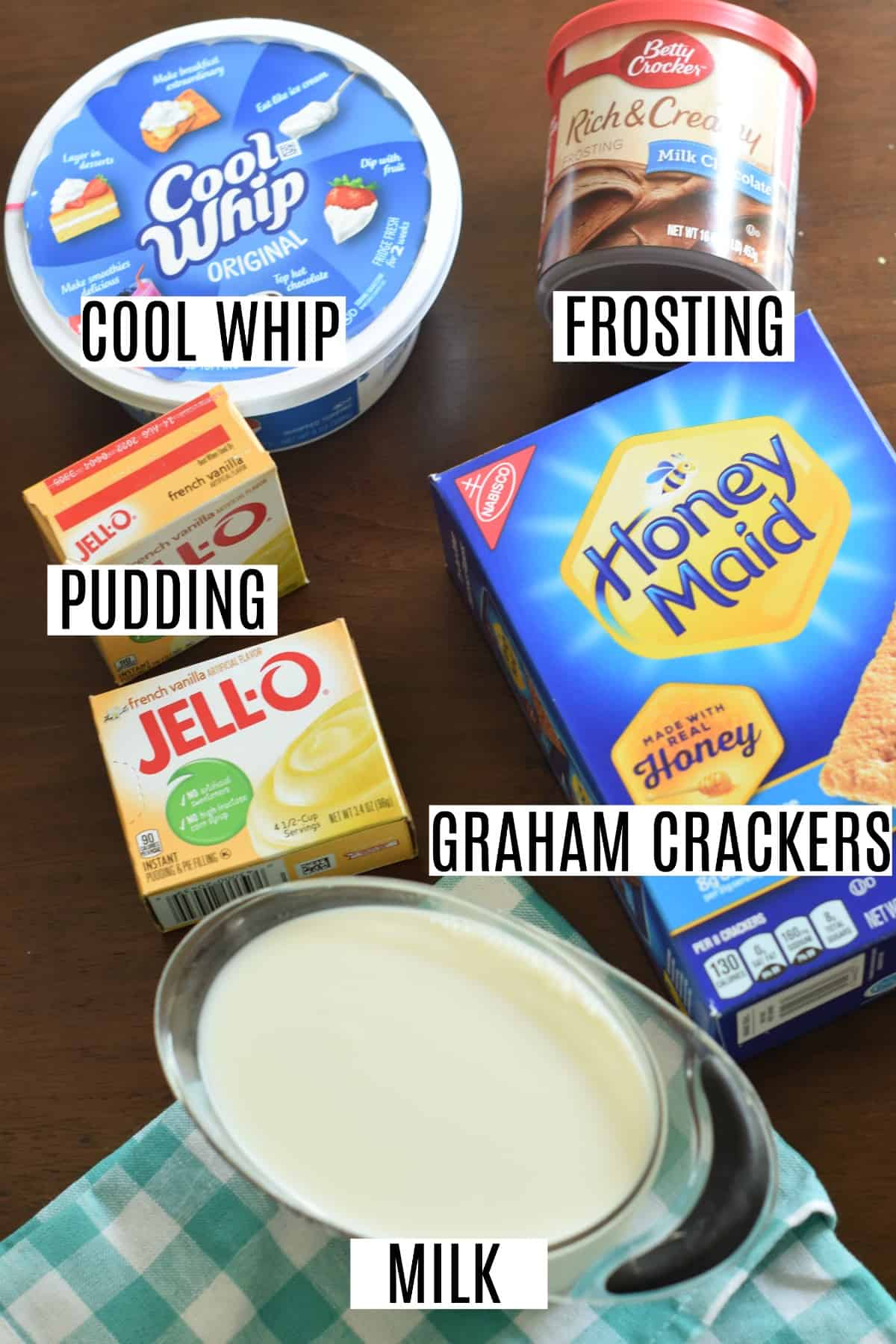 Today's recipe has layers of graham cracker with pudding and whipped cream filling. It's topped off with a homemade chocolate frosting!
Graham Crackers– you'll need a whole box for this recipe!
Pudding Mix– be sure to choose INSTANT pudding. I like french vanilla, but regular vanilla works great too!
Milk– any variety
Cool Whip– or homemade whipped cream
Frosting- you can use canned frosting, or follow my homemade frosting recipe below!
Step by Step Instructions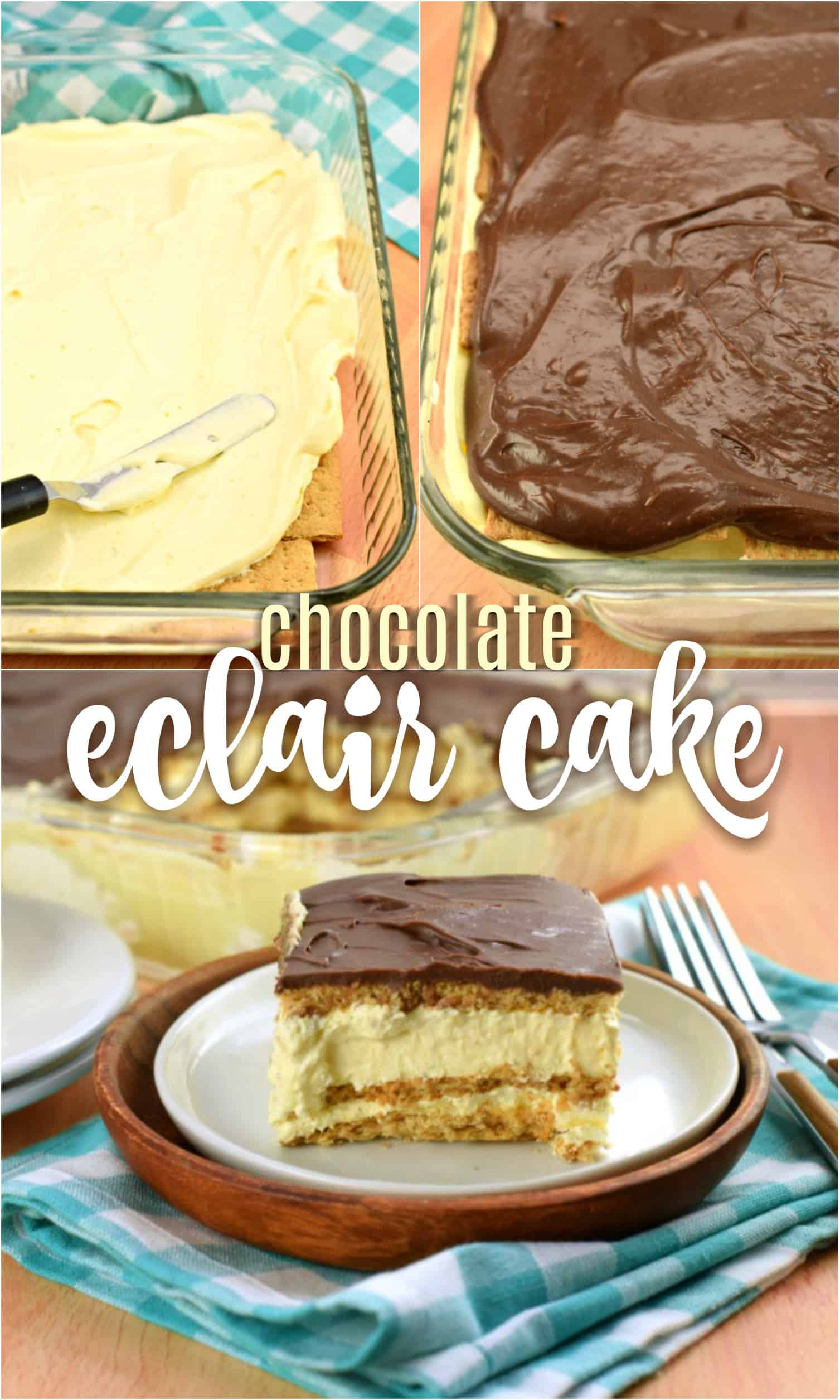 STEP 1: In a medium size bowl, whisk together pudding and milk. Fold in thawed cool whip and set aside.
STEP 2: In the bottom of a 13×9 baking dish, layer graham crackers, then half of the pudding mixture. Top with second layer of graham crackers and remaining pudding mixture. Finish with third layer of graham crackers.
STEP 3: Frost the cake by either making the homemade frosting recipe below. Or use a can of milk chocolate frosting. Remove foil liner, microwave 20 seconds. Stir and spread over the top of the cake.
STEP 4: Refrigerate cake for at least 8 hours. This is NON-negotiable. Refrigerating the cake allows the graham cracker layers to soften, which gives this dessert it's signature flavor and texture.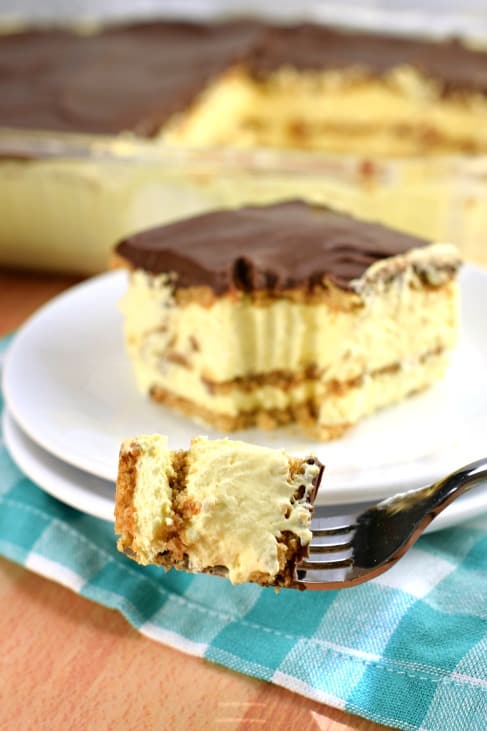 For the frosting
STEP 1: In a small saucepan, with double boiler, combine the baking chocolate with corn syrup. Heat on medium heat until chocolate is melted. Remove from heat.
STEP 2: Add vanilla, butter, milk and powdered sugar. Mix until thoroughly combined.
STEP 3: Frost the top layer of graham crackers. Cover and refrigerate until serving.
Or, heat up a can of chocolate frosting and pour over the top of the cake! Either way works!
Recipe FAQs
How many packages of Graham Crackers for an eclair cake?
You will need one box of graham crackers. Each layer is approximately one packs (9 crackers), and there are three packs in a box.
How to do you store Eclair Cake?
Cover cake with plastic wrap and refrigerate 8 hours before serving. Store leftovers covered in refrigerator for up to 5 days.
Can Eclair Cake be made in advance?
Yes! You can prepare and refrigerate eclair cake up to two days in advance.
Can you use canned frosting on eclair cake?
Yes. Instead of the homemade chocolate frosting, use one can of milk chocolate frosting instead. Remove lid and foil wrapper. Microwave 20 seconds. Stir and pour over top layer.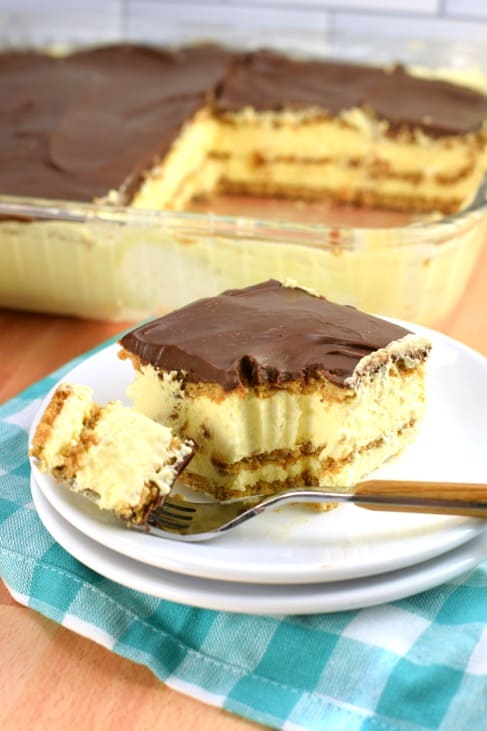 Flavor Substitutions
This Strawberry Eclair Cake is made using Cheesecake JELL-O in the filling. Plus there's no oven needed which means it's perfect for the warmer weather!
Layers of cinnamon graham crackers, vanilla pudding and fresh banana make this no bake Banana Eclair Cake a huge summer hit! To top it off, I literally topped it off a cinnamon glaze!
I couldn't resist making a No Bake Pistachio Eclair Cake recipe, using pistachio pudding mix! Topped with a classic chocolate frosting, you'll love this version.
Too hot to turn on the oven? Try making this No Bake Peanut Butter version of a Chocolate Eclair Cake! Packed with Reese's and peanut butter, it's a chocolate lover's dream.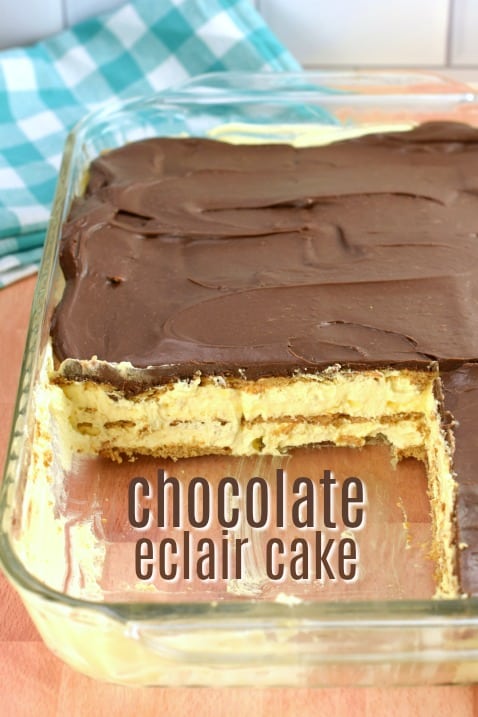 This Eclair Cake recipe is an old fashioned icebox cake with layers of graham crackers, pudding, and chocolate frosting. An easy no bake dessert recipe!