These Pumpkin Hand Pies are the perfect fall treat! The flaky crust and nutty pumpkin pie filling are the perfect combo in a hand pie, plus they've got a wonderful maple walnut glaze!
Love holiday desserts? Our Christmas Tree Hand Pies are a wonderful cherry filled treat! Or give our classic peach hand pies a try soon.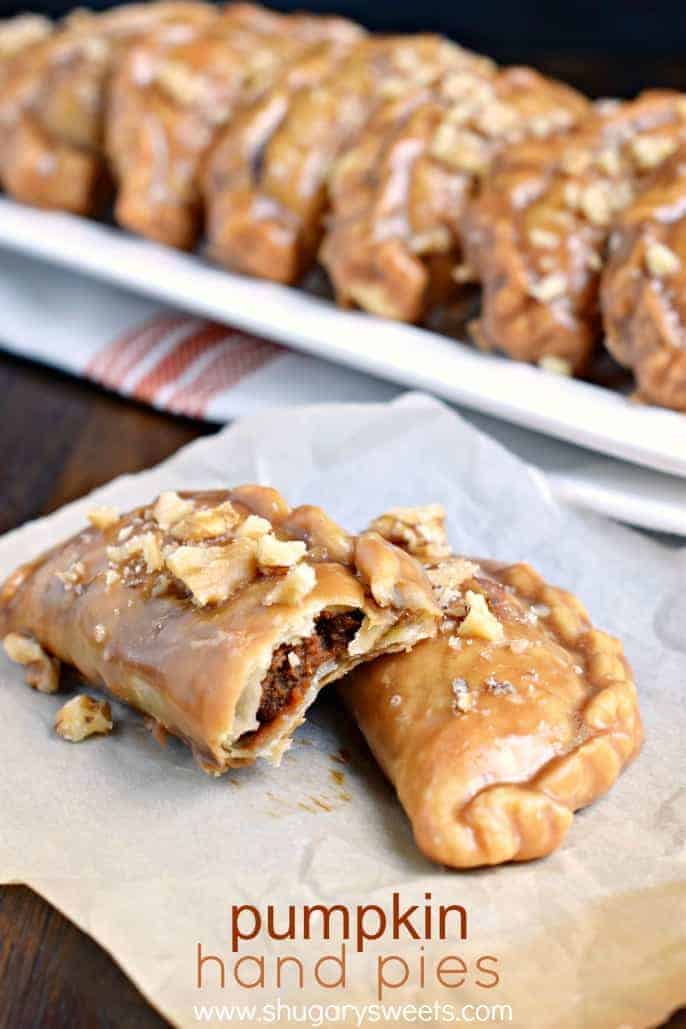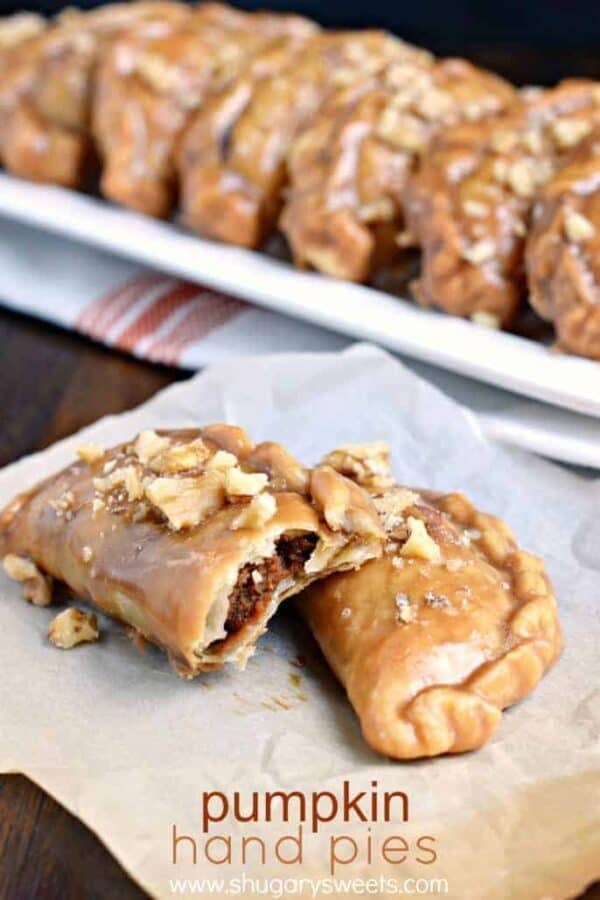 Why This Recipe is Best
Pumpkin pie perfection baked into individual servings.
This recipe is quick and easy with minimal ingredients.
We use real pumpkin and plenty of fall spices!
Chopped walnuts are baked inside.
Each hand pie is covered with a maple glaze!
Take homemade pumpkin pie anywhere you go with this pumpkin hand pies recipe. I love bringing these sweet, autumnal hand pies to potlucks and holiday parties. They disappear almost as soon as they hit the dessert table!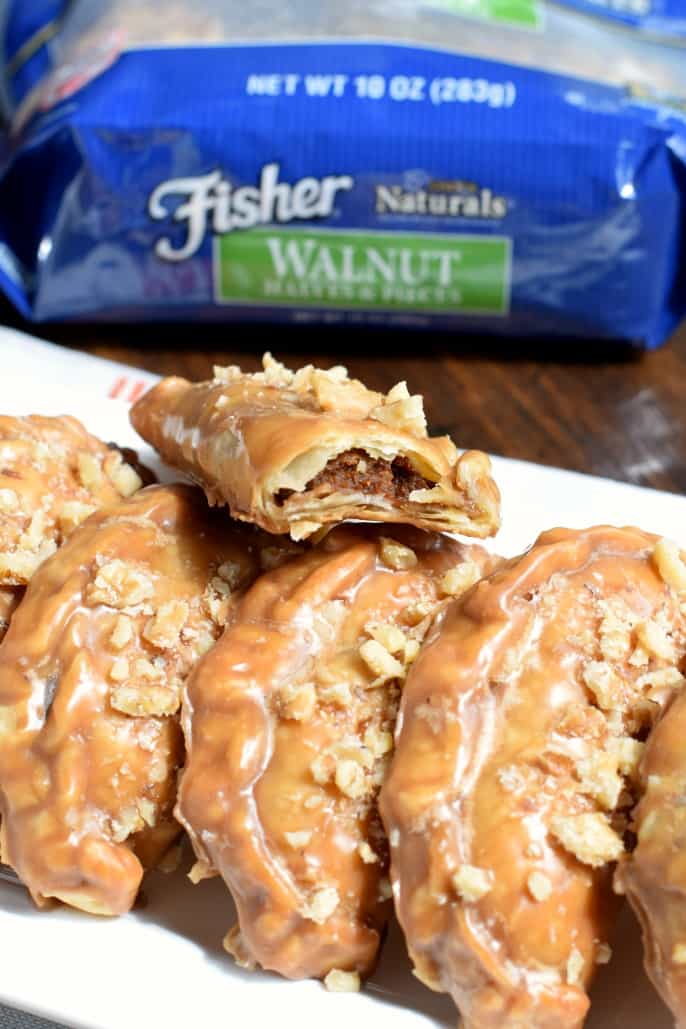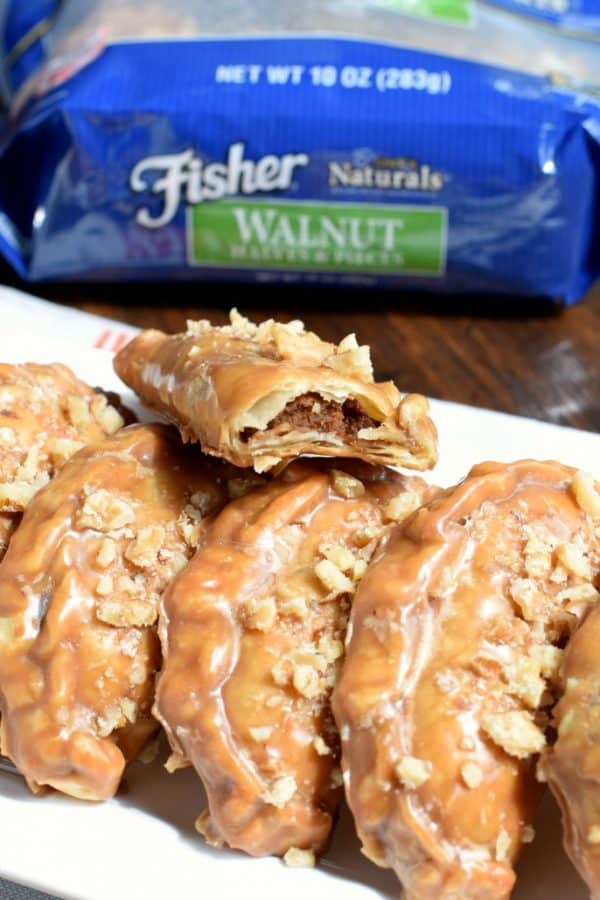 Ingredient Notes
Refrigerated pie crust – A convenient option for flaky, buttery crust. Or use our Homemade Pie Crust instead!
Pumpkin puree – Make sure to use PURE pumpkin, not pumpkin pie mix in today's recipe.
Spices – The recipe calls for a combination of cinnamon and allspice. Swap it out for pumpkin pie spice for a more traditional flavor.
Maple flavoring – A highly concentrated extract, it gives the glaze a wonderful maple flavor without adding excess liquid.
Easy Instructions
Pumpkin hand pies are so easy to make. Even if you've never made hand pies before, the process is quick and straightforward.
Mix together the pie filling ingredients and fold in the chopped walnuts. Cut your rolled out pie crusts into 4-inch circles.
Drop a tablespoon of filling into the center of each circle of crust. Fold the crusts in half, pinching the ends together to form a seal.
Now poke each hand pie with a fork once. This allows steam to escape the pies as they bake to prevent bursting.
Brush the tops of the hand pies with egg wash. Bake until golden brown.
While the hand pies are baking, whisk together the ingredients for the glaze. Coat warm baked hand pies with glaze. Sprinkle the tops with more chopped walnuts right away.
Let the glaze set for about 10 minutes.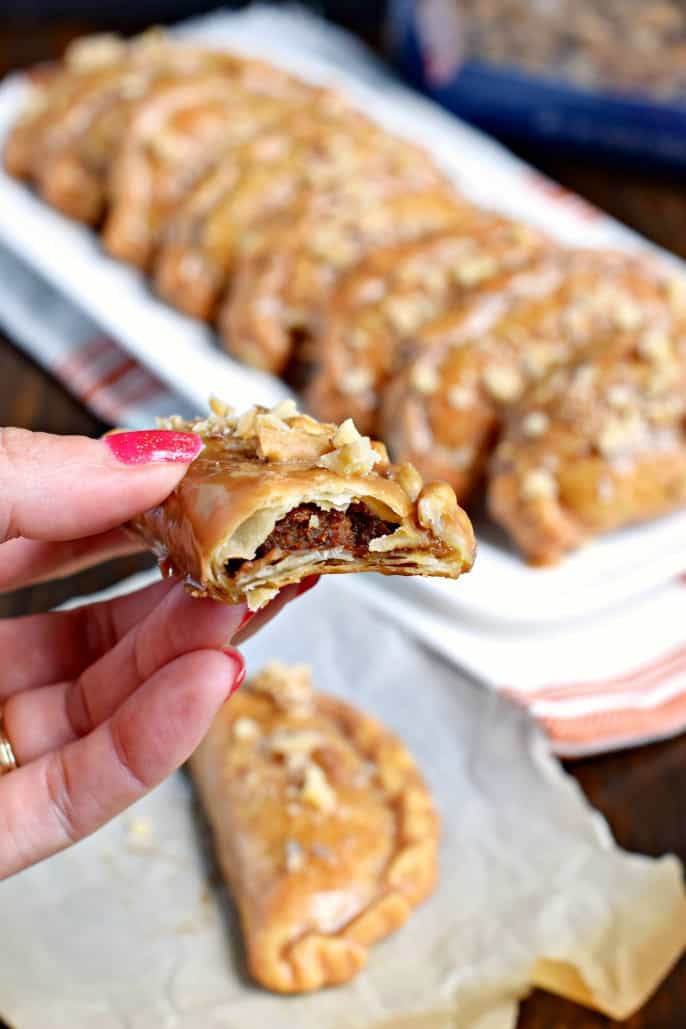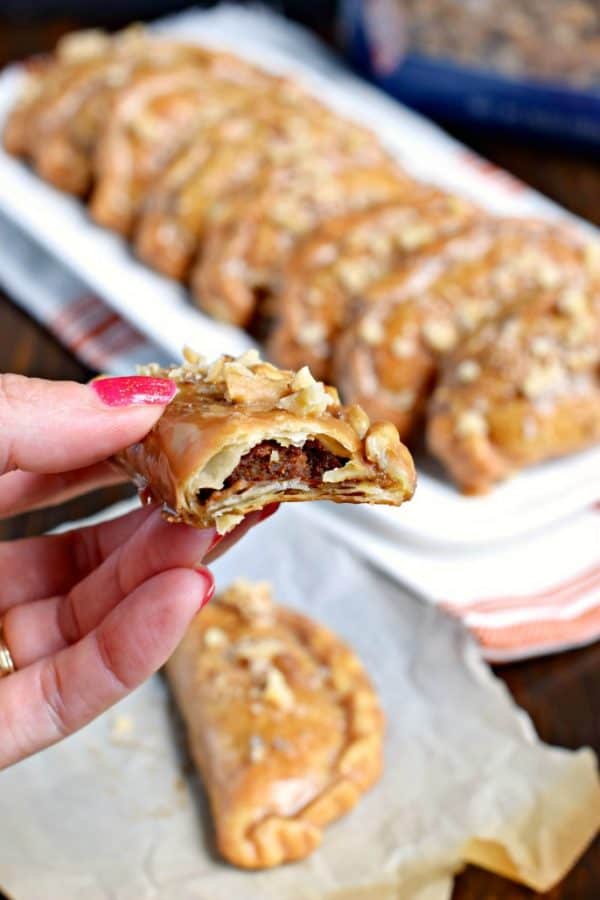 Tips and Tricks
You can enjoy the pumpkin hand pies warm, or chill them in the refrigerator like traditional pumpkin pie!
Store pumpkin hand pies in a tightly sealed container at room temperature or in the refrigerator. Refrigeration will extend the life of the hand pies by a few days.
You will need to reroll the crust a few times to get six circles from each one. I used a 4-inch diameter biscuit cutter for evenly sized hand pies.
Recipe FAQs
Are maple flavoring and maple extract the same?
Maple flavoring and maple extract can be used interchangeably in this glaze recipe. Maple extract is made from a concentration of real maple syrup, while most maple flavorings are an imitation. Both have a highly concentrated maple taste that give this glaze an recognizable maple flavor.
Can I use maple syrup instead?
No, maple syrup will not produce the same results. The flavor is much less concentrated and would not add a recognizably "maple-y" taste to this recipe.
Can I freeze these pumpkin hand pies?
Yes, you can freeze these. The crust will lose some of its flakiness when thawed. But they still taste good!
What other nuts could I use?
Pecans are a good alternative to the walnuts in this recipe. You can also omit the nuts if you need them to be nut free.
What is an "egg wash"?
Egg wash is beaten egg that's brushed over pie crust before baking. It gives them a light golden brown color and shiny top. In this recipe, we use an egg white only for the egg wash which gives the hand pies extra shine!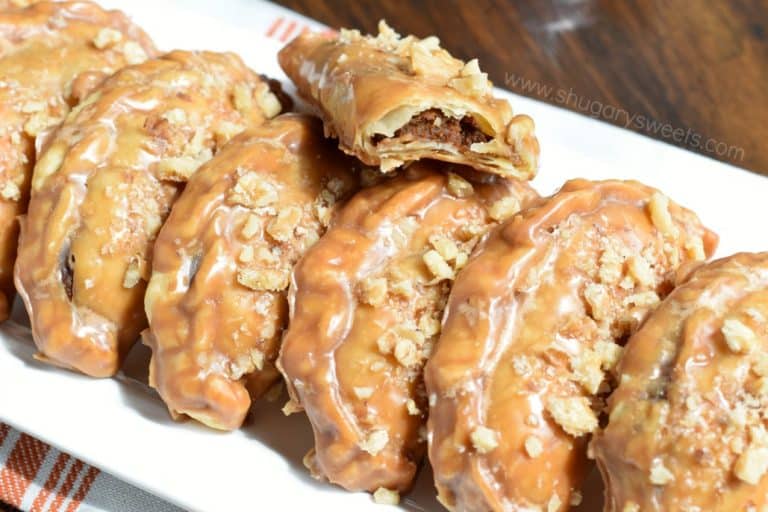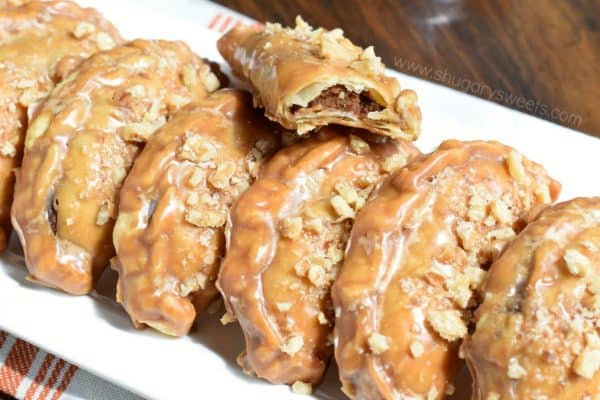 More Nutty Recipes