Classic Snickerdoodle Cookies that are soft and chewy and packed with cinnamon sugar flavor! You'll love this family favorite recipe that we've been enjoying for nearly 40 years!
Love cookies? Be sure to try our peanut butter cookies for a delicious twist. Our readers love them! Or give these oatmeal raisin cookies a try, one of my favorites!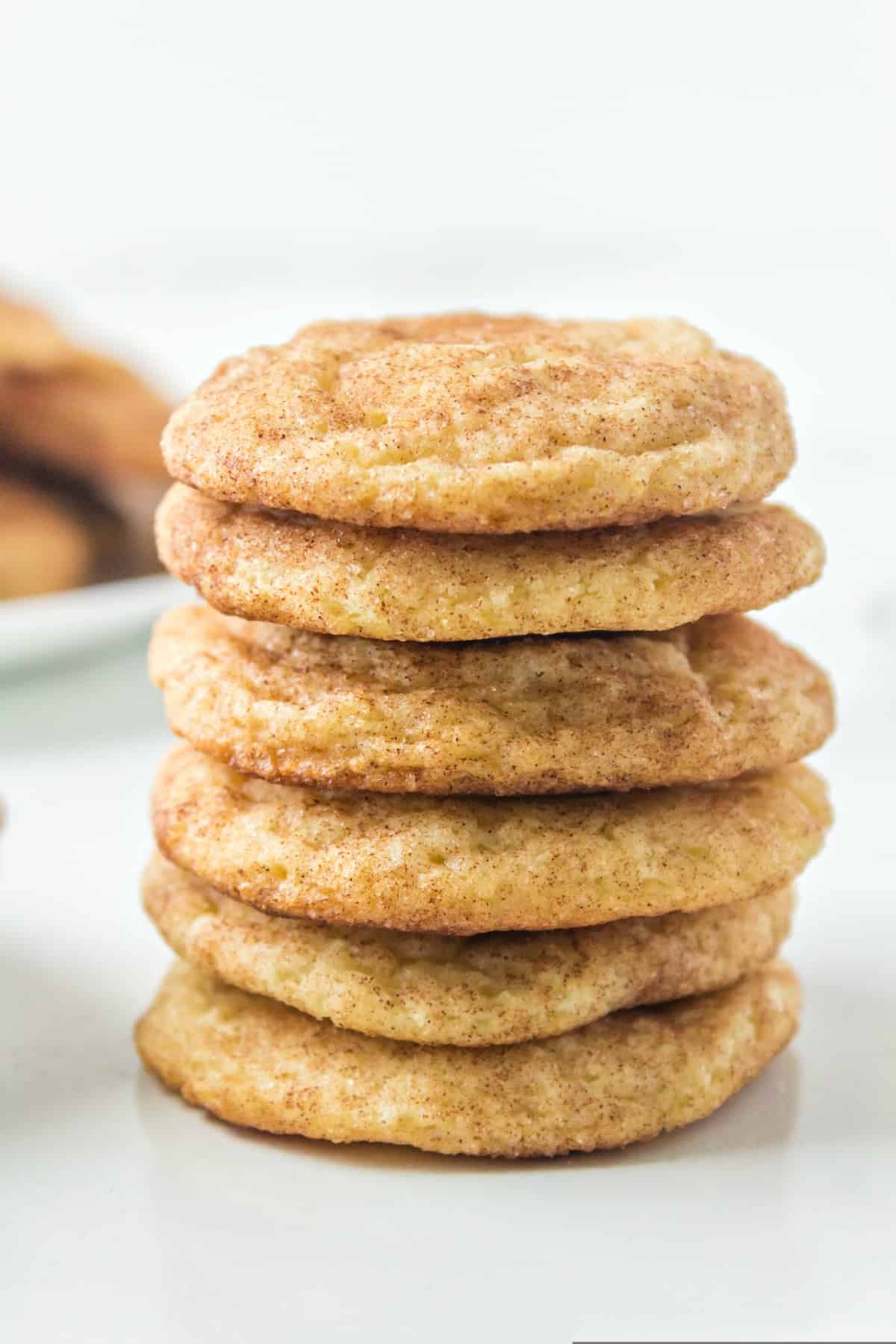 What Makes a Perfect Cookie
Soft and chewy cookies in my mind, are the absolute perfect.
These soft chocolate chip cookies stay soft for DAYS, and I wanted that same chewy soft texture in today's easy cookie recipe.
Thankfully, I planned ahead. As with most of my cookie recipes, I doubled this one.
One batch of the snickerdoodle cookie dough got baked immediately for our afternoon treat.
The second batch went into the freezer so we can have more Snickerdoodles (or Snickerdoodle Cheesecake Bars) whenever the fancy strikes!
Snickerdoodles remind me so much of childhood. A buttery cookie dusted with a hint of cinnamon, these have remained one of my favorite cookies.
Over the years I've also incorporated the cinnamon sugar element of Snickerdoodles into other treats, like Snickerdoodle Biscotti and Snickerdoodle Cookie Dough Truffles.
The Snickerdoodles recipe below is my go-to recipe from my mom and the one I ate growing up.
No need to chill the dough. One of the best parts of today's cookie, no chilling required!
This recipe is easy enough for kids to help with and produces delicious cinnamon sugar cookies each and every time. A good Snickerdoodle cookie is sweet but not rich.
Aside from all of that, the word "snickerdoodle" is just really fun to say. Go ahead, try it.
Snickerdoodles. You can't help but smile, right?
Ingredient Notes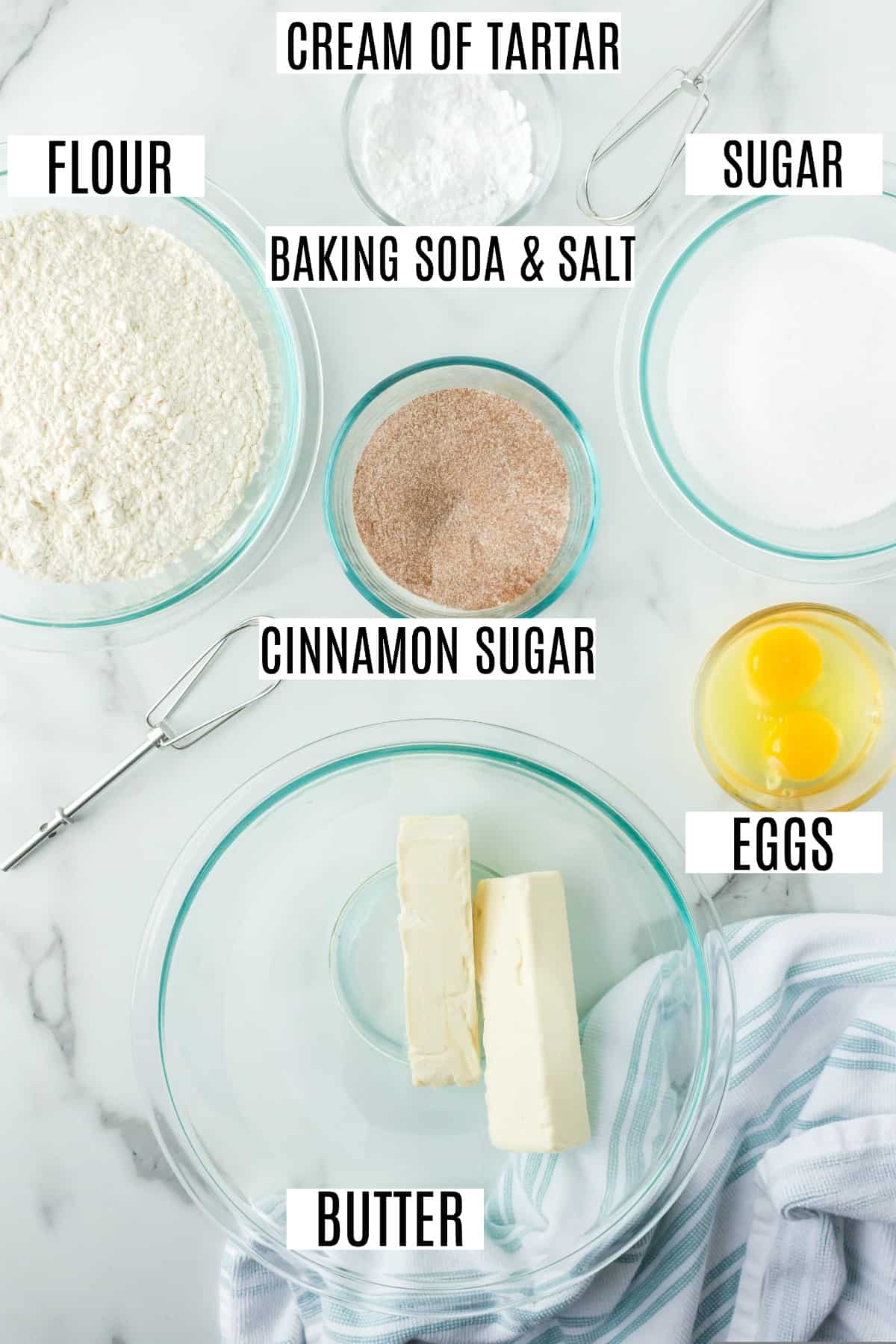 Baking soda and cream of tartar. You'll notice today's snickerdoodle cookie recipe is missing baking powder. The cream of tarter gives it that tangy flavor while still allowing it to rise into a chewy texture.
Butter. I choose unsalted butter in 99.9% of my baking and cooking. This allows me to control the kosher salt in a recipe.
Eggs. Binds the cookie dough together and gives a soft texture.
No need to chill the dough. One of the best parts of today's cookie, no chilling required!
Step by Step Instructions
These cookies start with a very simple dough.
After beating softened butter with eggs and sugar, add the flour, cream of tartar, baking soda, and kosher salt.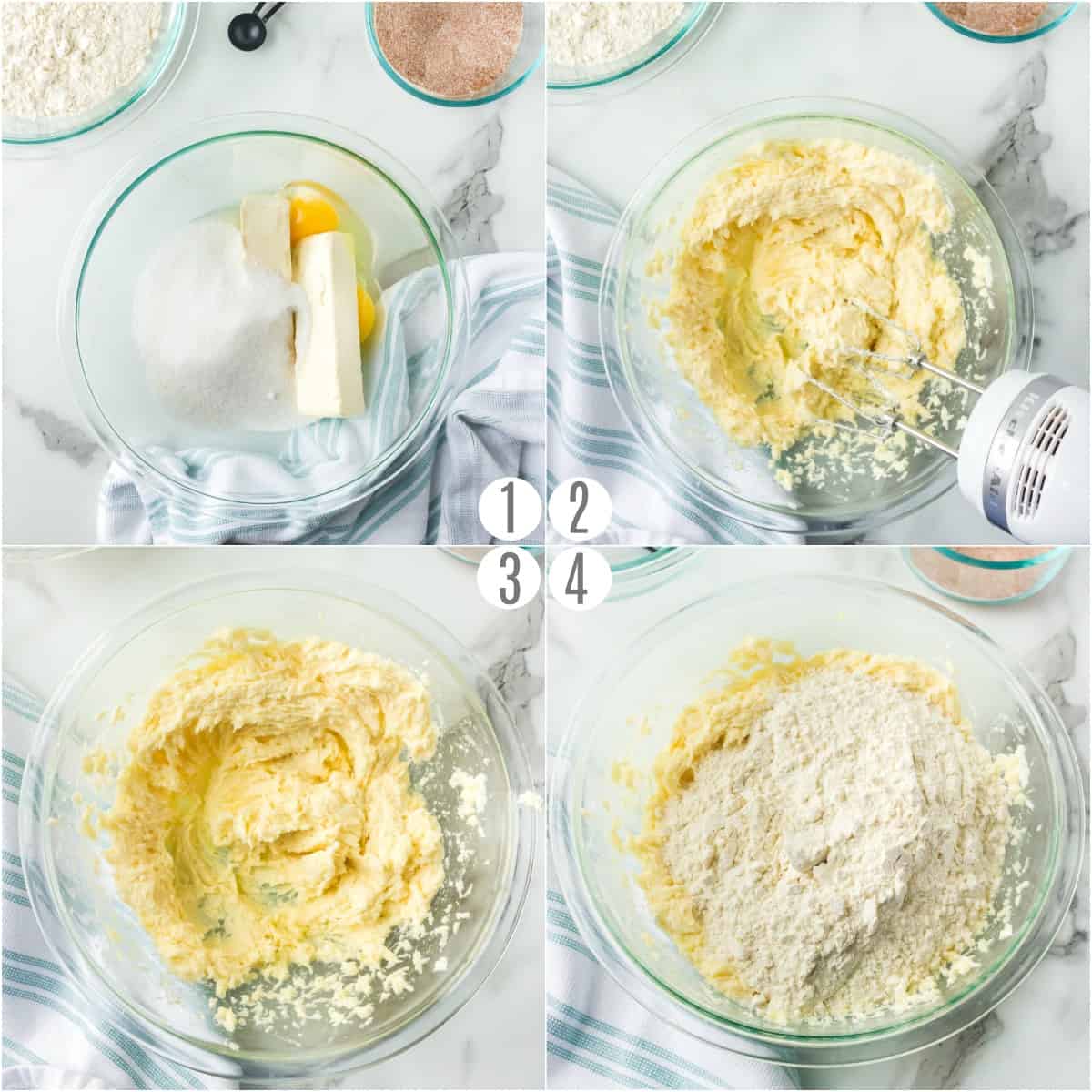 Note: The baking soda is key for achieving that chewy texture that spreads just enough! Do not try to substitute the baking soda with baking powder. The texture won't turn out right.
Now comes the most important part of making Snickerdoodles! The cinnamon sugar topping.
Before baking, you dip each ball of cookie dough into cinnamon sugar. When you pull them out of the oven, you'll have chewy buttery cookies with a crisp and slightly crinkly cinnamon exterior.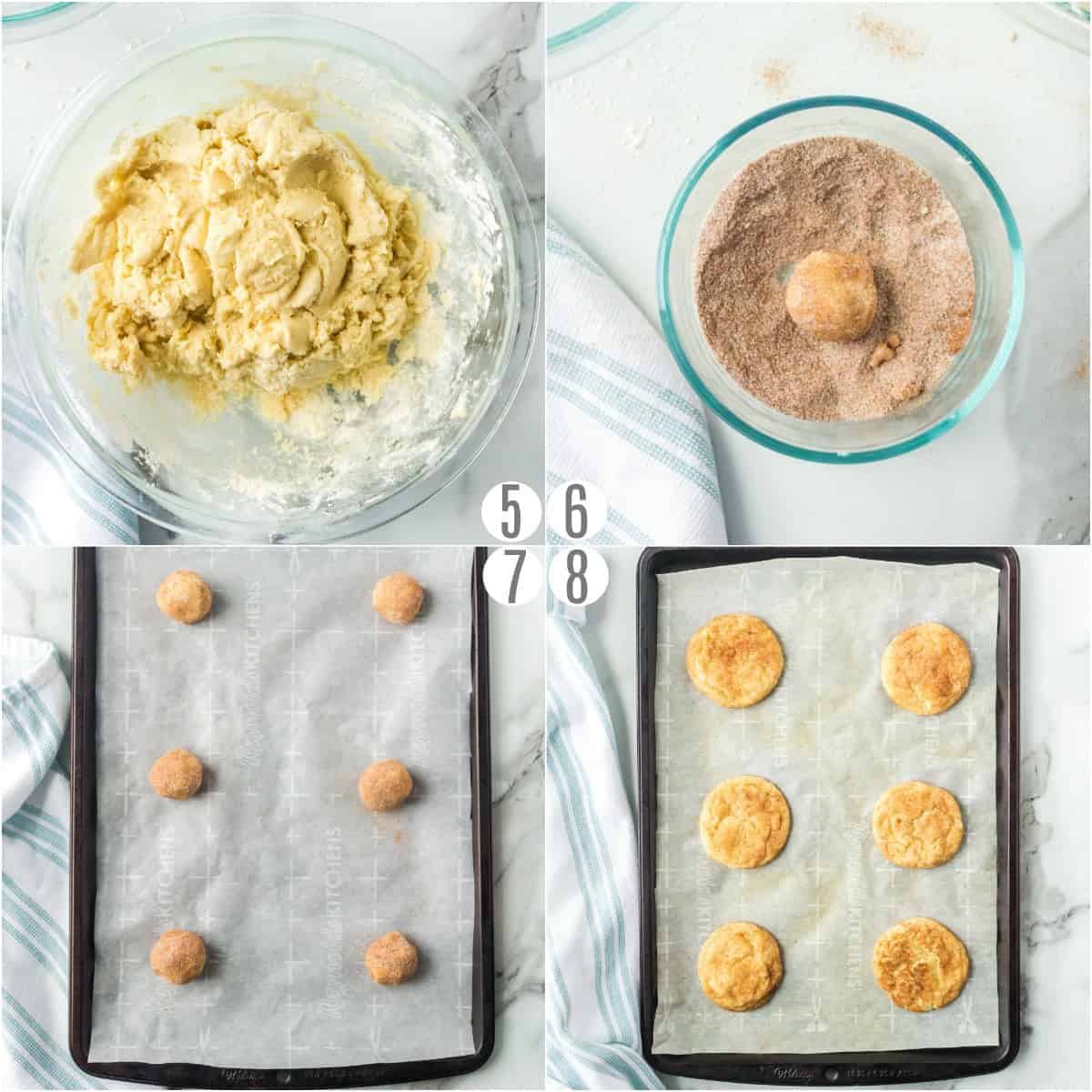 Recipe FAQs
Can you freeze snickerdoodle cookies?
Yes! Divide the dough into balls using a small scoop, dip into the cinnamon sugar then place on a baking sheet. Stick the baking sheet in the freezer for 1 hour, just until frozen. Immediately transfer the frozen cookie dough to an airtight container to avoid freezer burn!
What can I substitute for cream of tartar?
Swap the cream of tartar and baking soda for 2 teaspoons of baking powder instead!
How do I get fluffier cookies instead of flat?
Slightly underbaking the cookies will help, and if you must, refrigerate the cookie dough if your butter was TOO soft.
Why buy frozen snickerdoodle cookie dough when you can save yourself some money and prep your own?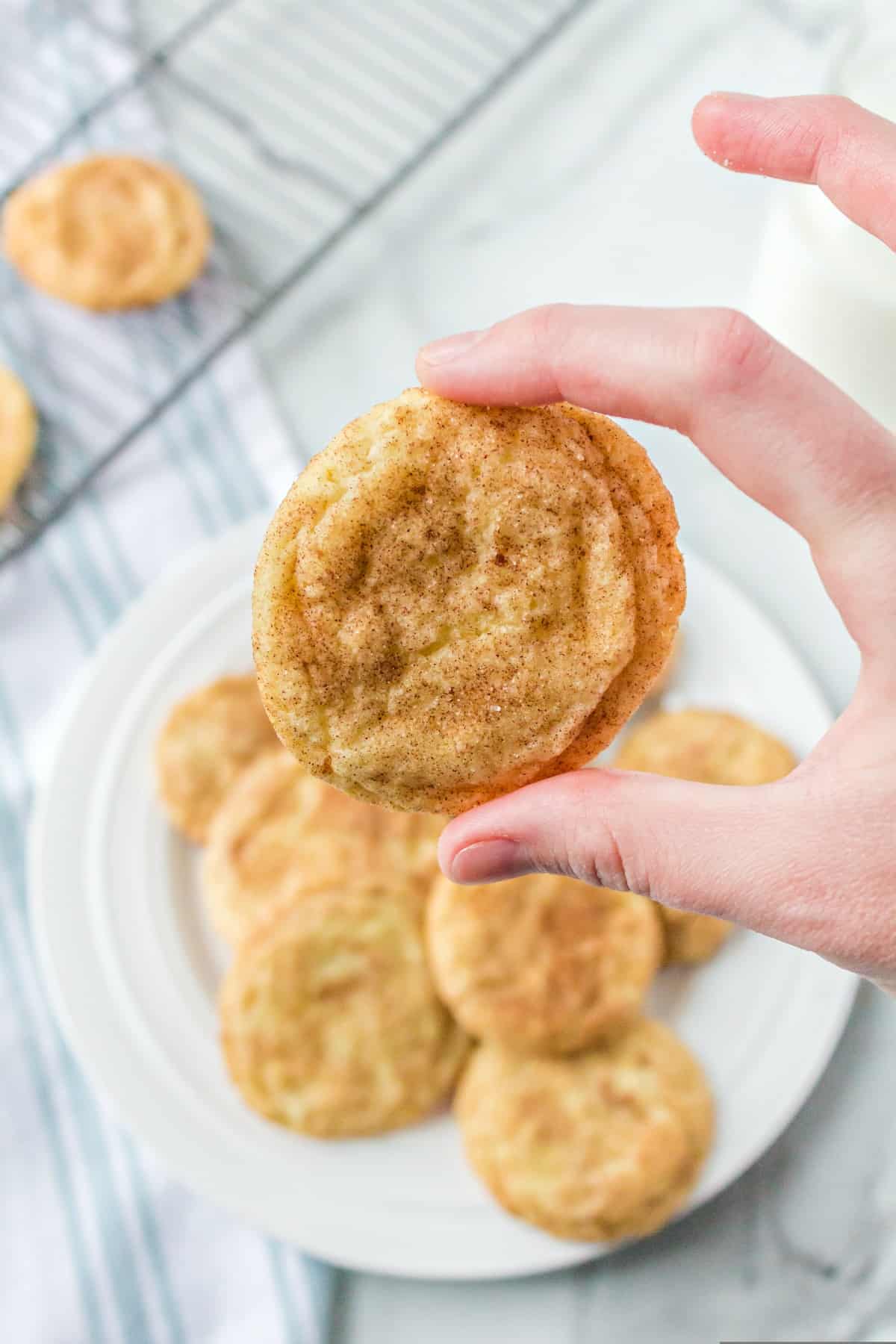 This is the only Snickerdoodle Cookie recipe you will ever need! Perfect as an afternoon snack, a dessert or a lunchbox treat, Snickerdoodles are the classic childhood cookie.