Easy, baked Cherry Almond Hand Pies! A flaky crust with a cherry almond pie filling, dipped in a sugary glaze and topped with sliced almonds. The perfect dessert!
If you're a pie enthusiast, this Blueberry Pie has everything you could be craving. Top it with some whipped cream and you have the ultimate dessert!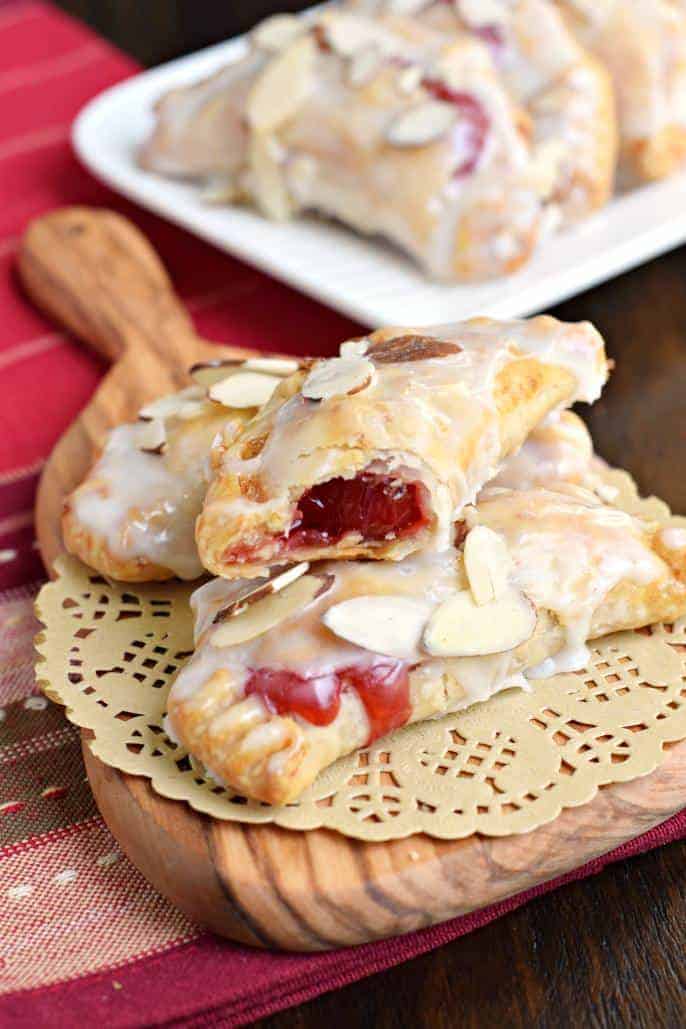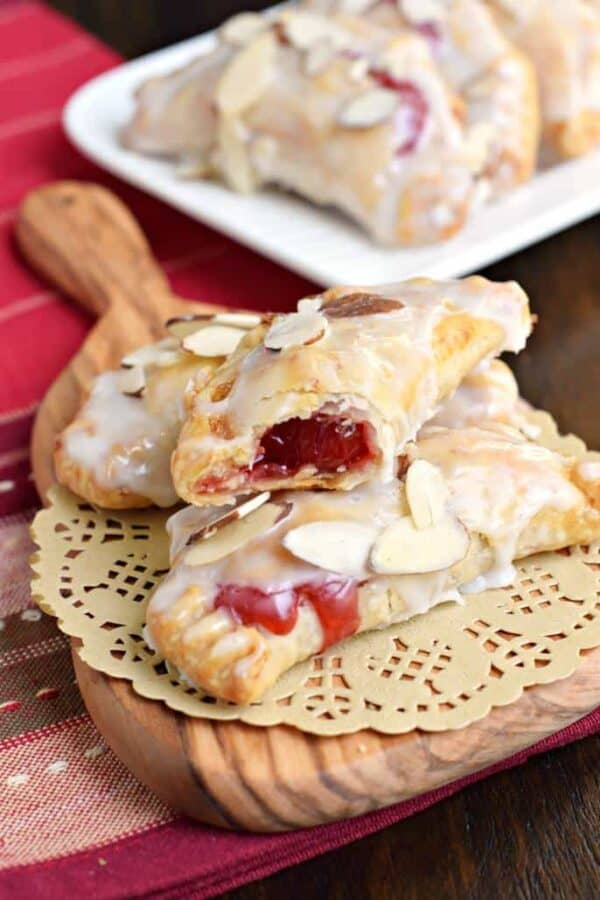 Why This Recipe Works
Pie. Beautiful, glorious, pie. I love everything about it. . . except one thing: making it.
Okay, that's not entirely fair. I like making pie filling and decorating pies. I just hate dealing with the pie crust. The shaping, the trimming, the fitting it into a pie plate without breaking it. I've gotten okay at it over the years but it's still not my forte.
That's why Hand Pies are a lifesaver! Using ready made pie crust dough, you cut and fold individual mini pies. No pie plate needed!
These SUPER EASY Cherry Almond Hand Pies were just the latest in a long line of hand pies to find their way to my dessert menu.
Starting with regular cherry pie filling, I stirred in some almond extract to give the pies a little boost in flavor. Wow! It makes a huge difference.
I could seriously add almond extract to all my baking. It just adds such a nice, nutty flavor without overwhelming this simple dessert.
For presentation, I sprinkled on some sliced almonds after dipping these hand pies in a sweet, sugary glaze.
Because these are baked and not fried, they're easy to make and not greasy. So go ahead and indulge. The flaky crust and juicy cherry almond flavor are to die for!
Ingredient Notes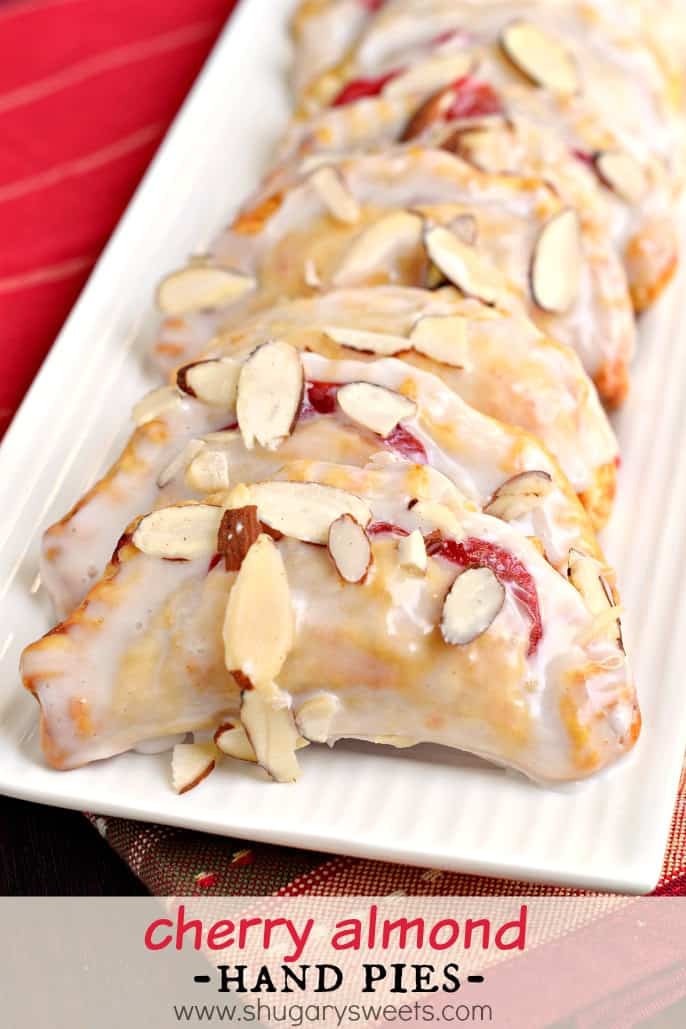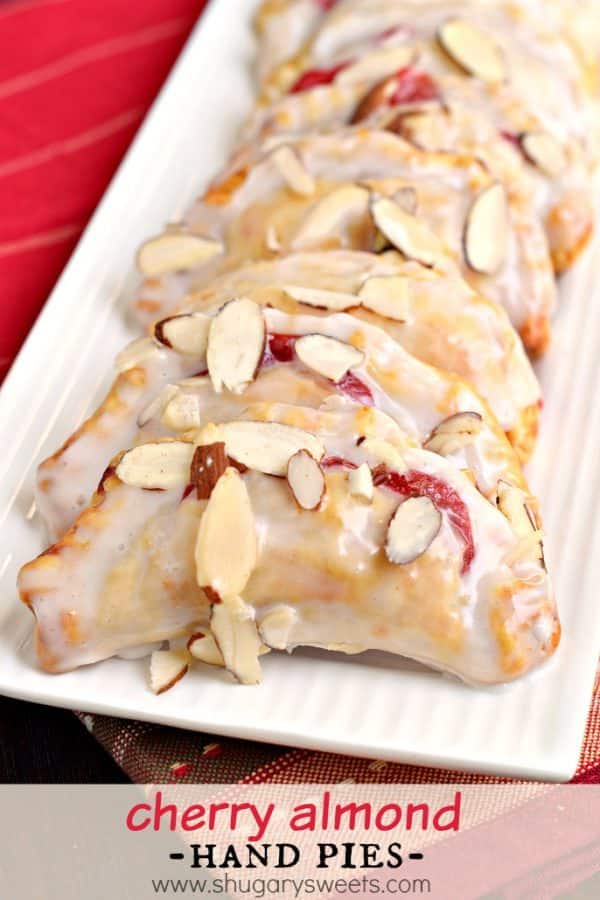 Try my Cherry Pie filling when you make these! You can certainly substitute a canned filling or your own favorite recipe for cherry pie filling.
For the dough, I used two boxed of refrigerated pie crust. Take it out of the fridge and let it come to room temperature before you using it in this recipe.
My from-scratch Homemade Pie Crust recipe works great for hand pies too!
Step by Step Instructions
STEP 1. The filling
Dump the cherry pie filling into a bowl. Add almond extract and mix to combined.
STEP 2. Cut the crusts
Unroll pie crusts and cut 6 circles from each crust using a 4-inch biscuit cutter.
STEP 3. Assemble the pies
Using a 1 tbsp cookie scoop or measuring spoon, drop a spoonful of cherry pie filling into center of each pie crust circle. Fold in half and pinch edges completely. Fold pinched edges over and press with the tines of a fork to seal. Poke hand pie with fork once, to prevent bursting.
STEP 4. Bake
Beat egg white in a small bowl until frothy. Brush over the tops of each hand pie. Bake on a parchment paper lined baking sheet (1 inch apart) at 450 degrees for about 15 minutes, until browned.
STEP 5. Glaze and garnish
While pies are baking, whisk together the powdered sugar and milk until smooth.
Remove the cooked pies from the oven. While they're still warm, drop each one into the the glaze, coating completely. Return to the parchment paper lined baking sheet and immediately sprinkle with sliced almonds.
Allow to set for about 5 minutes before serving.
Love cherry almond together? Try our cherry almond cupcakes next!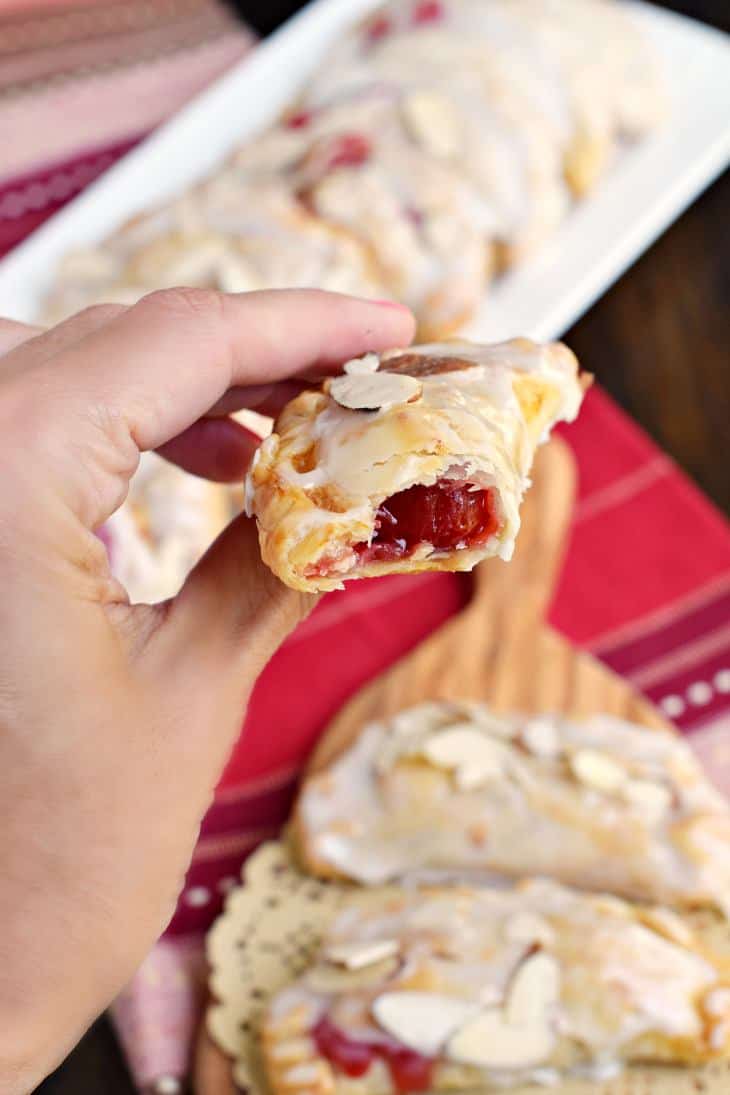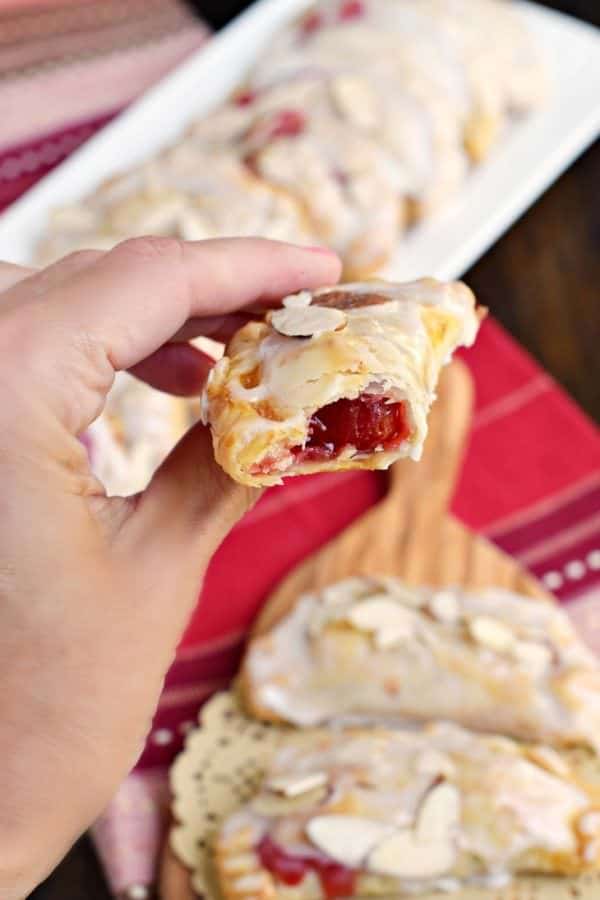 Tips and Tricks
Storing: I store these in an airtight container at room temperature for up to 3 days.
Freezing: Freeze in a freezer safe bag or tupperware container and they'll stay good for about 3 months. Thaw in the fridge overnight before eating.
If using refrigerated pie crust, remove the crust from refrigerator before you make the cherry filling. This gives it time to come to room temperature so you can unroll it without cracking.
You may need to re-roll the pie crust scraps to get the last circle out of each crust. Only re-roll the scraps once for best texture and flavor. The more you work with pie crust dough the tougher it becomes.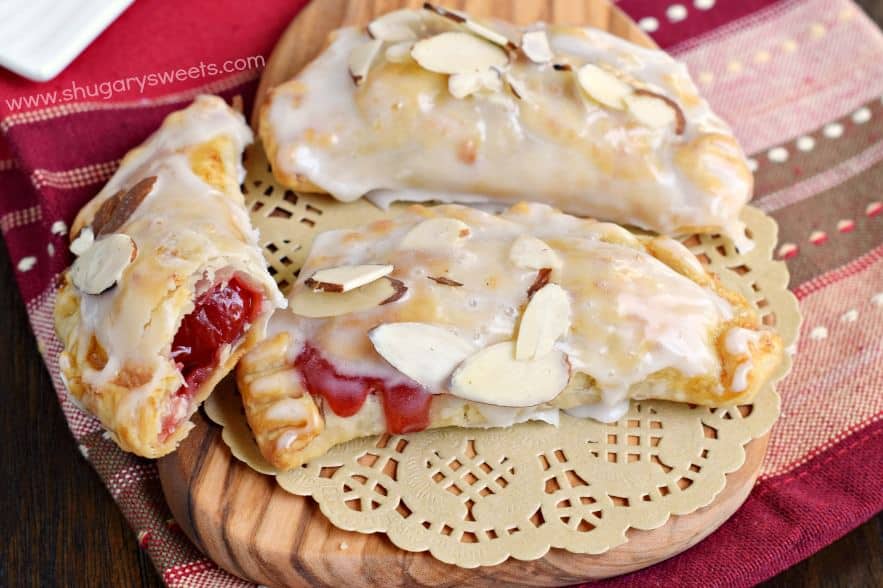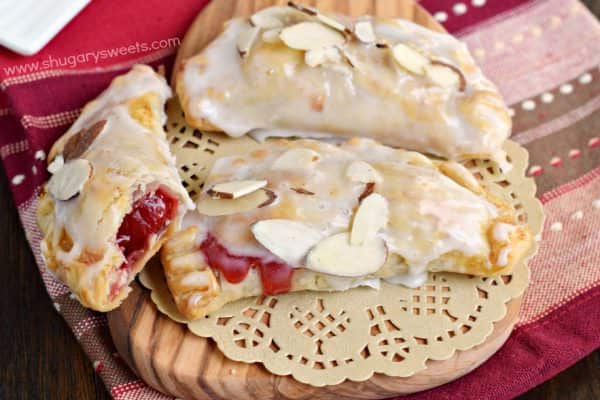 More Easy Desserts
No utensils needed to enjoy this cherry almond pie! Miniature hand pies are easy to share, transport and serve. Cherry Almond Hand Pies taste amazing and look pretty to boot. What could be better?