These homemade Iced Caramel Toffee Oatmeal Cookies are a fun spin on classic iced cookies. Made with toffee bits and topped with caramel, they're totally irresistible!
Remember these Iced Oatmeal Cookies? Today I'm giving them a toffee twist!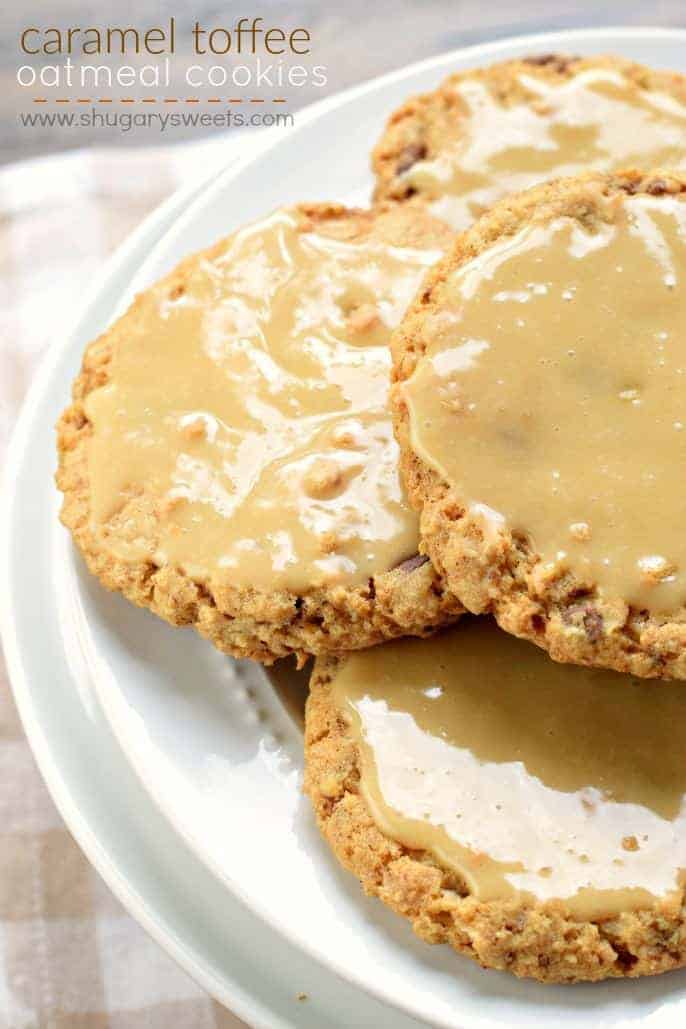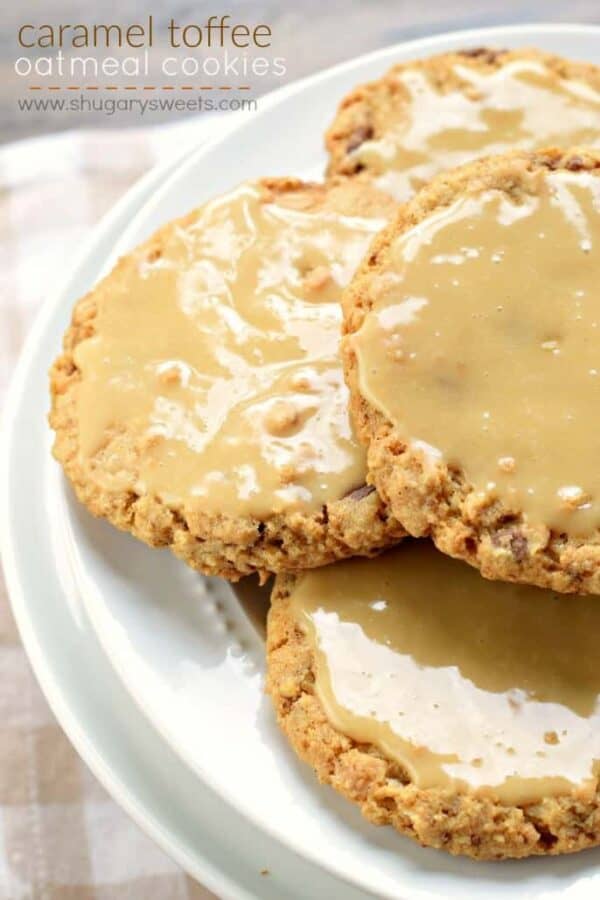 Why These Cookies are Best
I didn't know it was possible, but these Iced Caramel Toffee Oatmeal Cookies might be even better than the original!
Crunchy on the outside, chewy in the middle.
You taste crunchy Heath toffee bits in every bite.
Easy caramel icing for a shiny layer of sweetness on top!
If you love the buttery flavors of toffee and caramel like me, these cookies are made for you. Serve them with a glass of cold milk and you have a perfect dessert or after school snack.
As for me, I love them with coffee any time of day.
I think you'll agree the world's better than any cookie you buy at the store.
Ingredient Notes
These toffee oatmeal cookies are made with easy to find ingredients. Most are pantry staples I always keep on hand for baking.
Oats – Quick cook oats work best. They absorb liquid more quickly making these cookies a little crunchy on the edges.
Butter – Using melted butter gives the cookies a chewy center.
Sugars – We use both brown sugar and white sugar for perfect flavor.
Cinnamon – Adds a spicy sweet aroma that enhances the toffee flavors.
Toffee bits – Find these in the baking aisle near the chocolate chips. We use Heath brand in today's recipe.
Caramel sauce – This is whisked with powdered sugar to make the icing on these cookies. You can use any bottled or jarred caramel ice cream topping.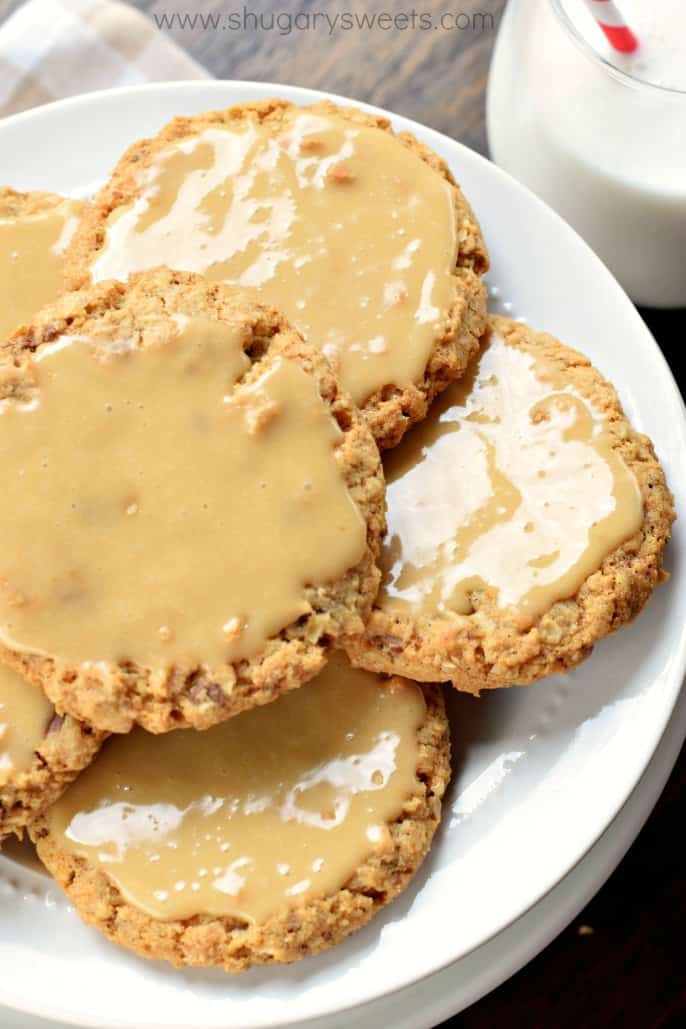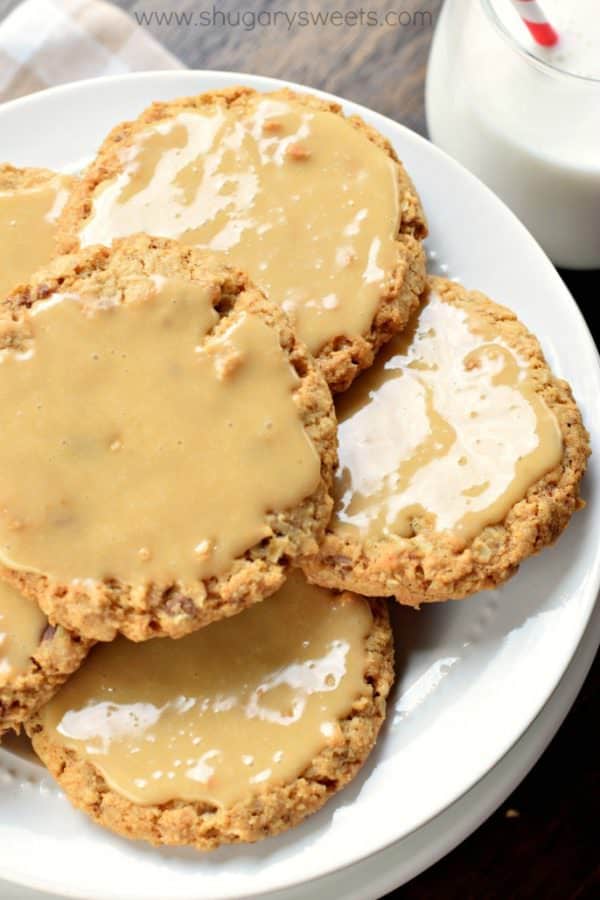 Tips and Tricks
Using a food processor or blender, pulse your oatmeal until it's partly ground (I do this about 6-8 times, for one second each pulse). This isn't a mandatory step, but I think it gives the cookies a better texture!
I use a 2 Tablespoon cookie scoop to portion out my cookies. Keeping them the same size helps them bake more evenly!
Use parchment paper. With these cookies I find it makes a big difference so that the toffee chips don't stick!
Bake for 14-16 minutes. I tend to go for the 16 minutes (as I like a little crunchy exterior to these cookies). Just remember, after putting the icing on these cookies, they will soften once you store them.
Recipe FAQs
How can I make the caramel icing thinner?
For thinner icing, add more caramel sauce or use less powdered sugar. Different brands of caramel topping will vary in thickness which can affect the consistency of your icing.
What's the best way to store these iced cookies?
Store these Toffee Oatmeal Cookies in an airtight container at room temperature. They keep for about 5 days.
Can I freeze them?
Absolutely! Although once you taste these you may have a hard time resisting eating them all at once.
If you have more willpower than I do, go ahead and stash them away in the freezer for up to 3 months. Put a sheet of wax paper between layers of cookies to keep them from sticking together.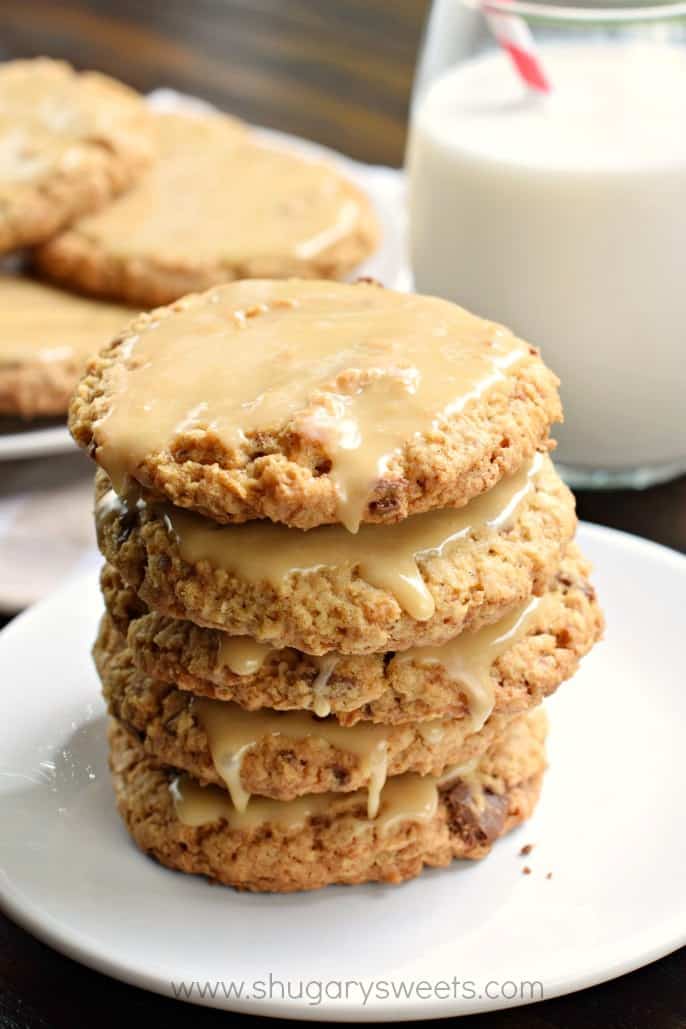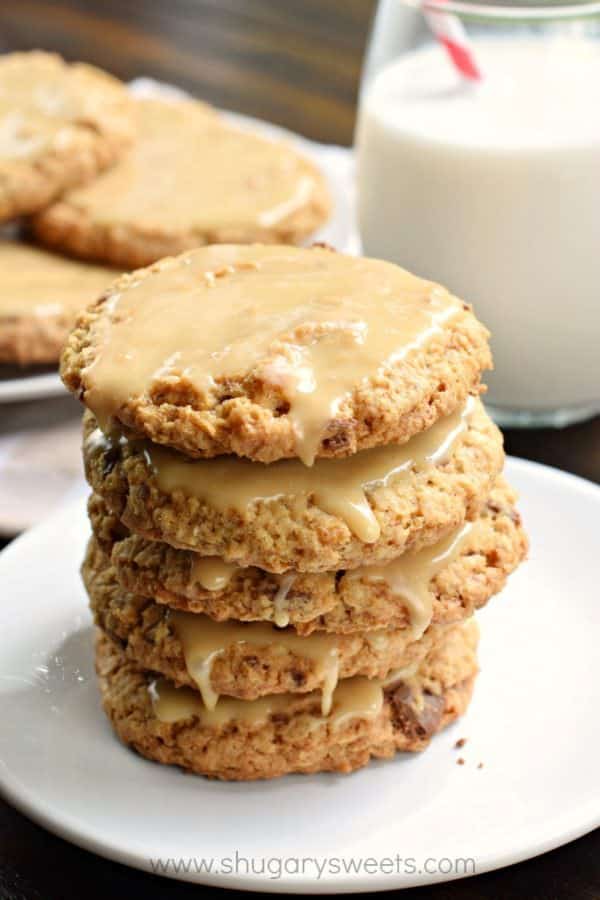 Iced Caramel Toffee Oatmeal Cookies are addictively delicious! Bake up a batch and watch how quickly they disappear.