Creamy Italian Chicken Pasta is your answer to "what's for dinner" tonight! I love easy casserole recipes like this one. Prep this in the morning and pop it in the oven at dinnertime.
Chicken dinners are a favorite in our house. From this classic chicken tetrazzini recipe to our easy caprese chicken skillet. Something for everyone!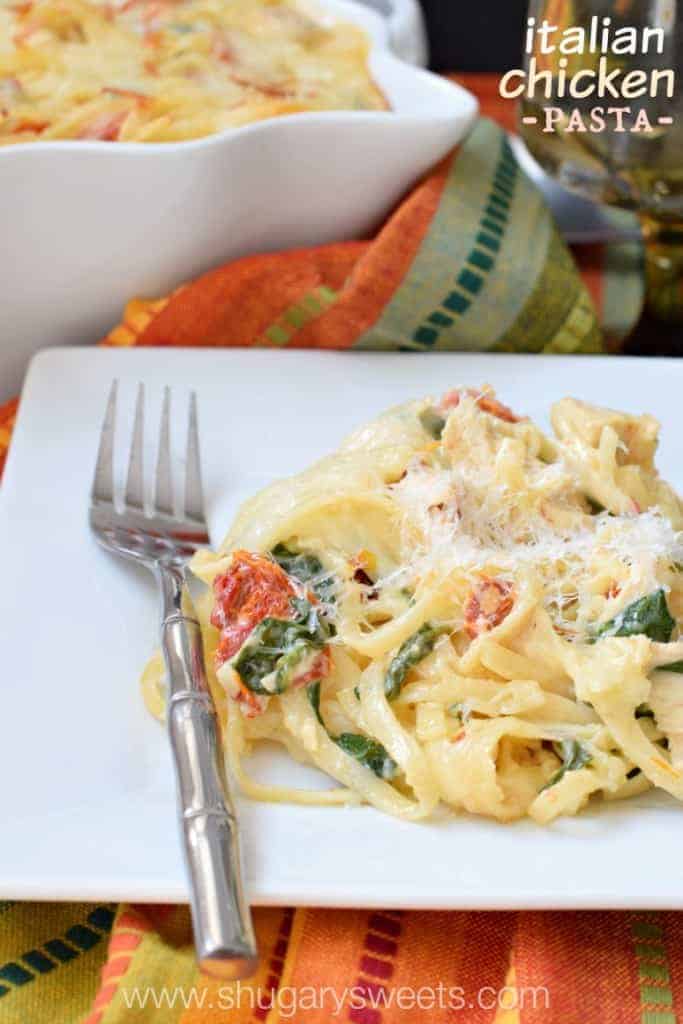 Casserole Recipes
The dreaded question. "What's for dinner." Sometimes it's like fingernails on a chalkboard.
I am either super prepared…or not. I either have a menu plan for a month…or nothing in the fridge. Hot or cold. It's how it works around here.
You would think as a food blogger that my menu is completely filled and organized for the month…or at least the week.
Ideally, you would be right (for the week anyways..never the month). If I don't have a menu planned, then dinners end up being pancakes or waffles. Which is fine every once in awhile but if you do breakfast for dinner every day it loses some of its appeal!
That's where casserole recipes like this one are a life saver.
This Italian Chicken Casserole can be prepped in advance, then everything bakes together in a single pan. No need to worry about side dishes to go with casserole–it's a meal in and of itself
With creamy sauce, Italian seasoned chicken and linguini pasta, this casserole is a big hit in our house.
A generous helping of spinach mixed in with the noodles and creamy sauce means you get a full serving of greens on your plate, too!
A kid friendly meal that satisfies the adults is always a win, especially when it doesn't take much effort at meal time.
There are so many ways to mix up the flavors and ingredients in your Italian chicken casserole, so this is really a few casserole recipes in one!
Italian Chicken Casserole Recipe
For the casserole, you need these ingredients:
Linguini noodles
Chicken breast – Cooked and cubed in advance, or grab a grocery store rotisserie chicken
Olive oil
Garlic cloves – pressed
Sun Dried tomatoes – Chopped
Cornstarch
Chicken broth
Heavy cream
Milk
Salt
Mozzarella cheese
Parmesan cheese
Black pepper
How to Make Italian Chicken Casserole
STEP 1. Cook linguine according to package directions. Drain and set aside.
STEP 2. In a large skillet, heat olive oil over medium high heat. Add garlic and sun dried tomatoes. Cook for about 2 minutes. Sprinkle with cornstarch and mix thoroughly.
STEP 3. Add chicken broth, heavy cream and milk to the skillet whisking quickly. Add salt and pepper. Heat for about 10 minutes, stirring occasionally.
STEP 4. Add spinach and parmesan cheese. Remove from heat. Pour sauce over cooked noodles. Add cooked chicken and pour into a large casserole dish (13×9 size). Top with mozzarella cheese.
You can bake your casserole immediately, or cover with foil and place in refrigerator until dinner.
To bake immediately: Bake covered with foil at 350 degree for 25 minutes. Remove foil and bake an additional 5 minutes until cheese is browned.
To bake after refrigerated: Bake covered with foil in a 350 degree oven for 45 minutes. Remove foil and bake an additional 5-10 minutes or until the cheese is browned. Serve and enjoy!
Casserole Recipe Variations
Mix up the flavors: This recipe provides the perfect canvas for customizing your casserole to your taste, mood or the theme of your meal. Try these ideas for changing up the flavors:
Add a pinch of Italian seasoning to the garlic and sun dried tomatoes for even more Italian flavor. Sliced black olives folded in with the chicken and noodles are another great addition.
Like a little heat in your creamy pasta? A bit of crushed red pepper goes a long way in this pasta!
Veggies: Feel free to add more than just spinach to your chicken casserole. Sliced peppers or zucchini would be other great additions.
Rotisserie Chicken Casserole
Cooking chicken breasts doesn't take long, but if you really want to save time, you can pick up a rotisserie chicken from the grocery store! Remove the breast and dice it before adding it to the recipe.
Have leftover turkey to use? It would be delicious as a substitute for the chicken breast here!
Can you freeze chicken casserole?
I do not recommend this is a freezer casserole. Dairy based sauced will not hold up well in the freezer.
Leftover Italian Chicken Casserole does keep well covered in the fridge for a couple of days! Rehear single portions in the microwave or put the whole pan back in the oven for a few minutes to warm it through.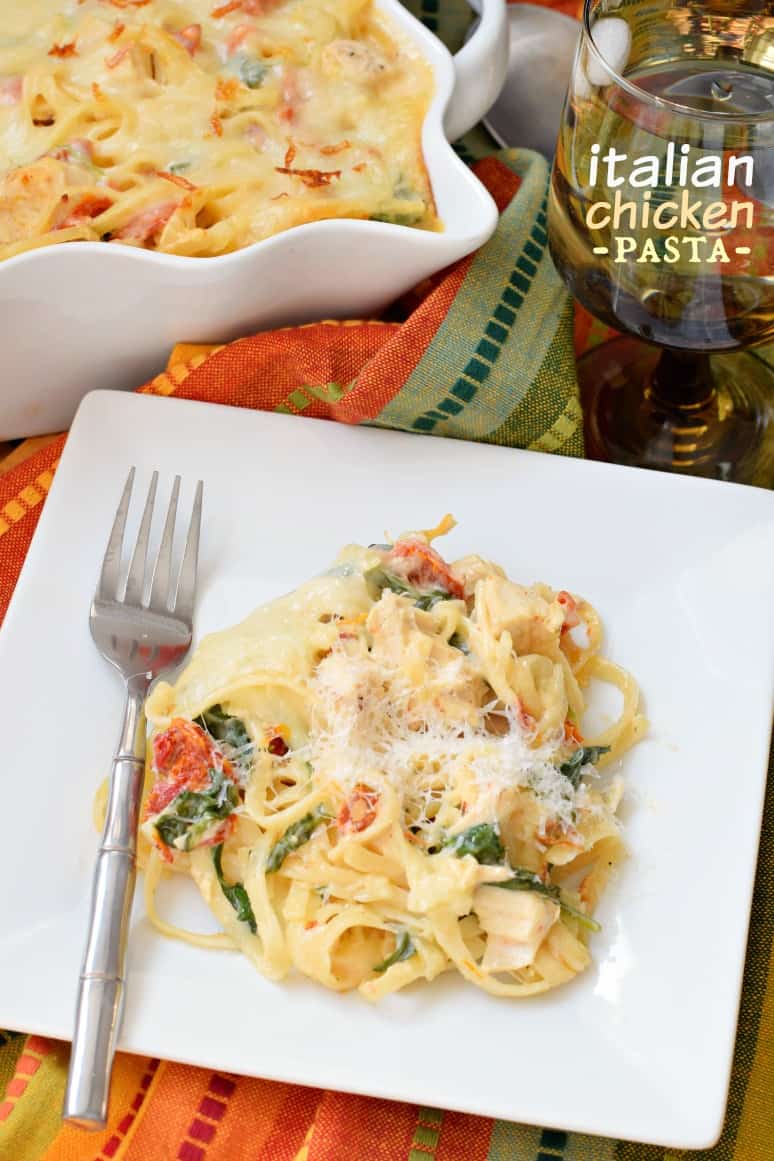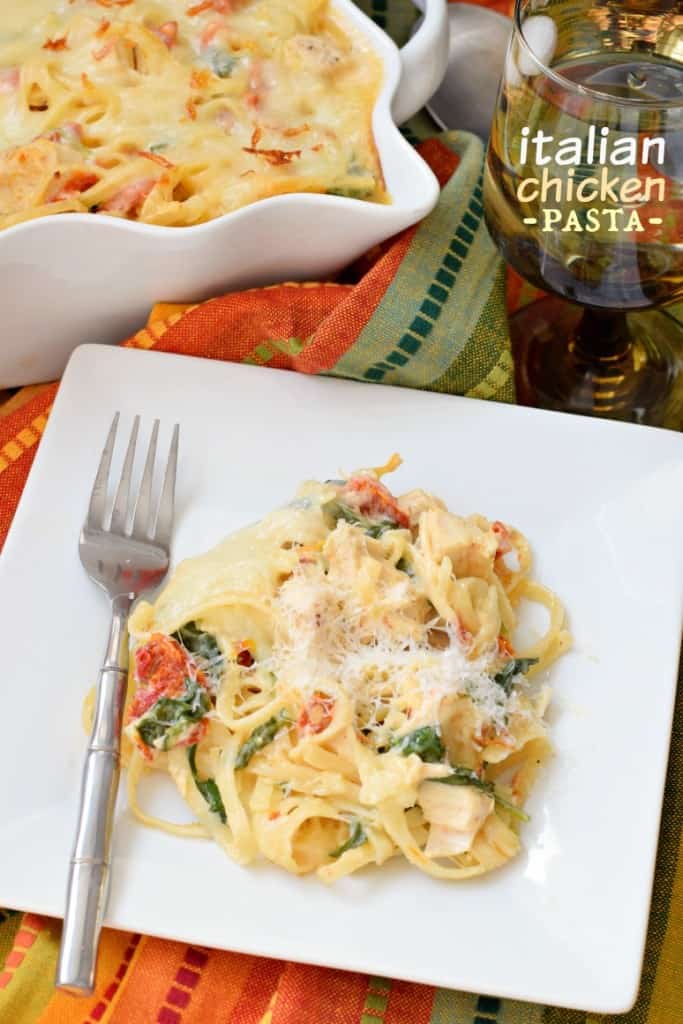 What to serve with pasta
If you have noodles, cooked chicken and a few other staples, you can make this creamy chicken casserole tonight!