Grab your slow cooker and make some Hawaiian Style Kalua Pork for dinner. The bold, smoky flavor paired with my broccoli slaw is a match made in paradise!
Love pork? Be sure to try our Instant Pot pulled pork for a flavorful dinner. Or give our easy baked pork chops a try next!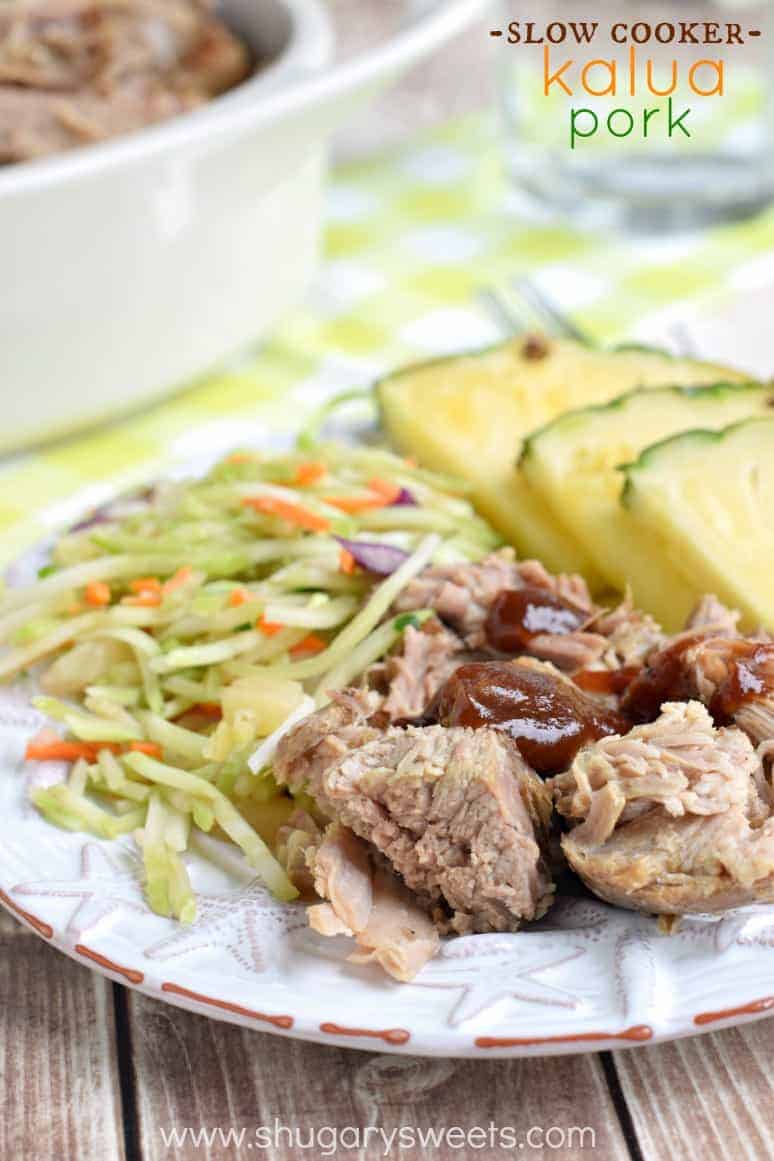 What is Kalua Pork?
Kalua Pork (or often times called Kalua Pig) is a Hawaiian staple.
Traditionally, Kalua Pork is made in a large pit in the ground. The pig is covered in banana leaves and cooked for hours and hours. The result is a tender, smoky shredded pork.
Obviously, I'm not digging a pit in my backyard, but after a quick search on google, it appears the modern way to make this (or should I say the "mainland" way to make this) is to use liquid smoke during the cooking process.
I love the smoky flavor it gives meat!
I make shredded pork often in my slow cooker. It's such an easy dinner idea.
However, it never occurred to me to add that liquid smoke. What a difference in flavor it gives to the pork.
Deep, hearty, bold, smoky flavor. And don't be shy on the salt either. I wish I had some pink Hawaiian sea salt…but I just used a very coarse sea salt instead, that I found at my local grocery store. Coarse, you guys. Don't be putting 2 Tbsp of table salt on your pork. Got it?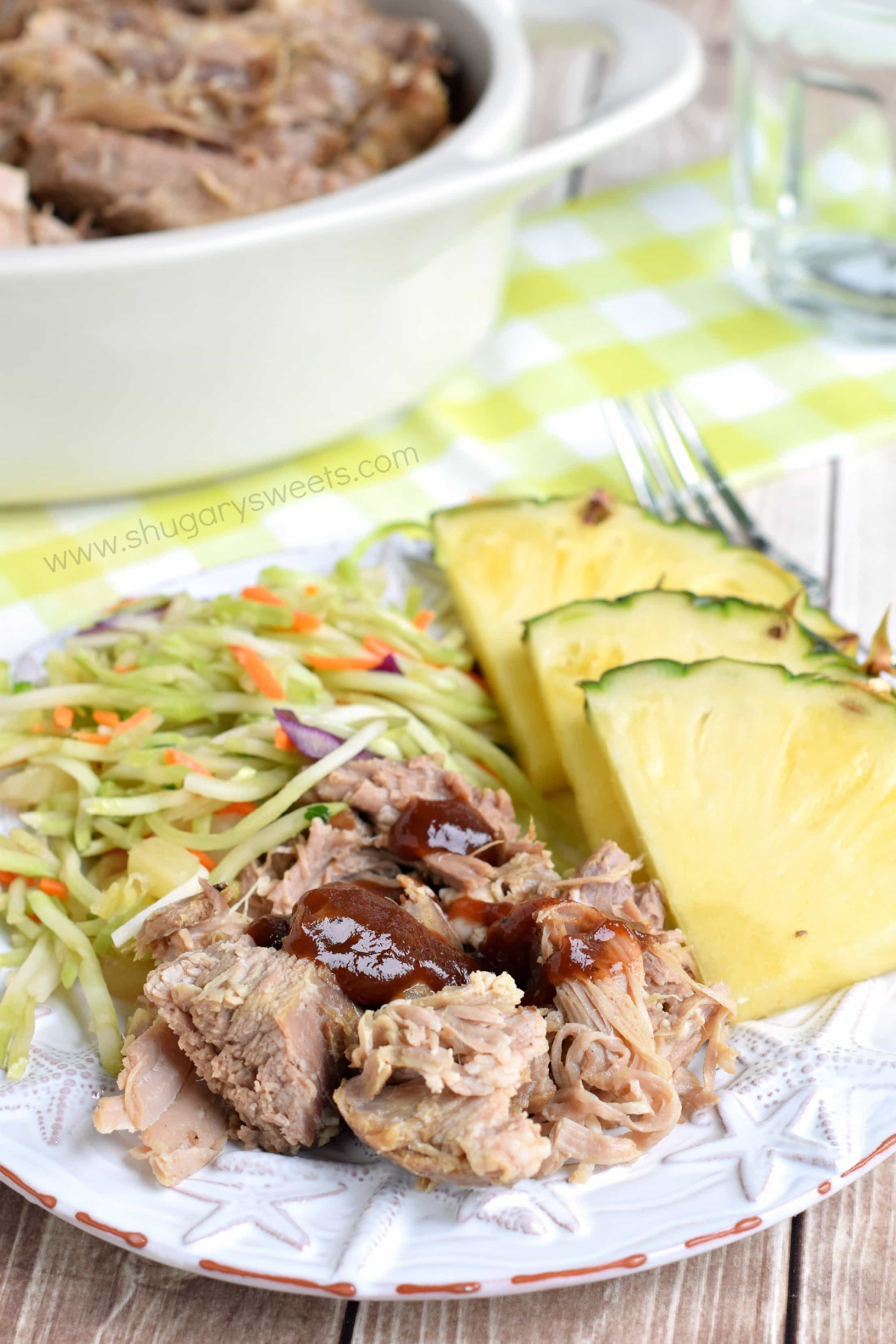 Ingredient Notes
The components of Kalua pork are simple. It's all about showcasing the smoky flavor of the pork.
Boston Butt Pork Roast – This is the portion of shoulder meat with the highest fat, making it ideal for the long slow roasting process.
Coarse Salt like sea salt or Hawaiian salt is sprinkled over the pork butt before cooking.
Liquid smoke gives the pork the smokiness of pit cooking with no fire, coals or banana leaves required.
To make the side slaw, you'll toss together a bag of broccoli slaw with crushed pineapple, a little olive oil, red wine vinegar and sugar. The fresh flavors pair beautifully with the hearty kalua pork.
Tips and Tricks
Cook on low: The longer the pork has to cook, the more tender and juicy it will be. We let it cook for a full 9 hours to get the perfect fall-apart consistency.
Serving: This Kalua Pork can be served as small chunks or shredded if you plan to eat it on a sandwich. It's tasty both ways.
Refrigerate the slaw: Just like the pork, the broccoli slaw needs a few hours for the flavors to combine and reach their full potential of flavor. I recommend making the slaw right after you add the pork to the slow cooker, then letting it chill in the fridge while the pork cooks.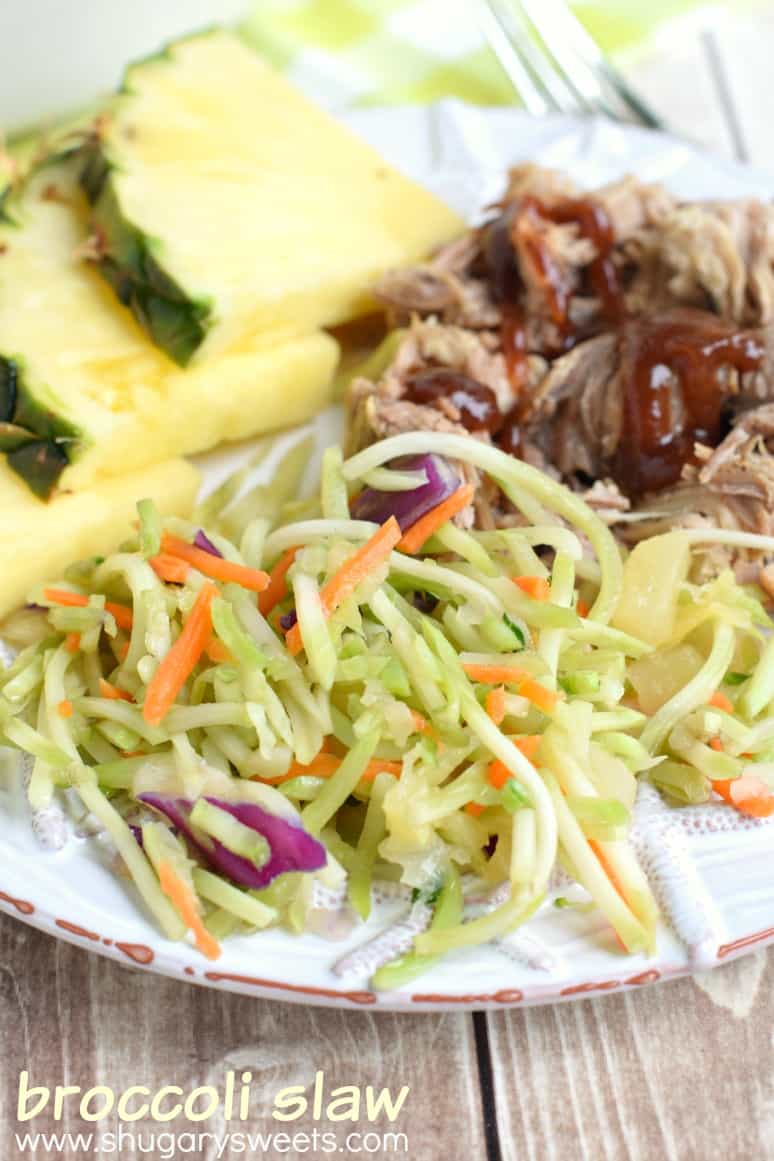 What to Serve with Pulled Pork
And today, it's a double whammy recipe. It's like you hit the bonus prize.
Because I've also got an easy broccoli slaw recipe that tastes amazing with this pork. Either serve it on the side, or pile it high on your Hawaiian Pizza!
You could totally opt for a classic Coleslaw recipe, however, the fresh citrus of this broccoli slaw takes you to a tropical location! Or try our delicious copycat kfc coleslaw recipe!
And unlike broccoli salad, today's slaw recipe is shredded and tangy!
As for the bbq sauce, this one is your call. I like to choose ones that are sweet and have a spicy vinegar flavor to it.
Pairs very nicely with this pork (without overpowering the smoky flavor). Admittedly, this Kalua Pork is also amazing with NO sauce. Fork tender and delicious.
Recipe FAQs
What is liquid smoke?
Liquid smoke is a natural flavoring made by condensing smoke into a liquid. The vapor produced by burning wood is cooled, condensed and distilled into a concentrate that's used to add a smoky taste to food without needing to cook it in a fire pit or smoker.
You can often find liquid smoke in the grocery store near the BBQ sauces.
Is Boston butt the same as pork butt?
Yes, boston butt and pork butt are two names for the same cut of pork. It's the meatiest portion of a pigs shoulder that's ideal for the slow cooking method in this kalua pork recipe.
How do I store leftovers?
Leftover pork should be stored in an airtight container in the refrigerator. Enjoy the leftovers reheated within 3 – 4 days.
This Slow Cooker Kalua Pork recipe is a vatiation on the Hawaiian luau staple you can make at home!