Classic Oatmeal Scotchie Bars are soft, chewy oatmeal butterscotch cookie bars topped with sweet cinnamon frosting. You'll love this updated take on an old fashioned favorite!
Looking for the perfect oatmeal scotchies recipe? I've got you covered with these original Oatmeal Scotchies! I even have a No Bake Oatmeal Scotchies recipe for those hot summer days.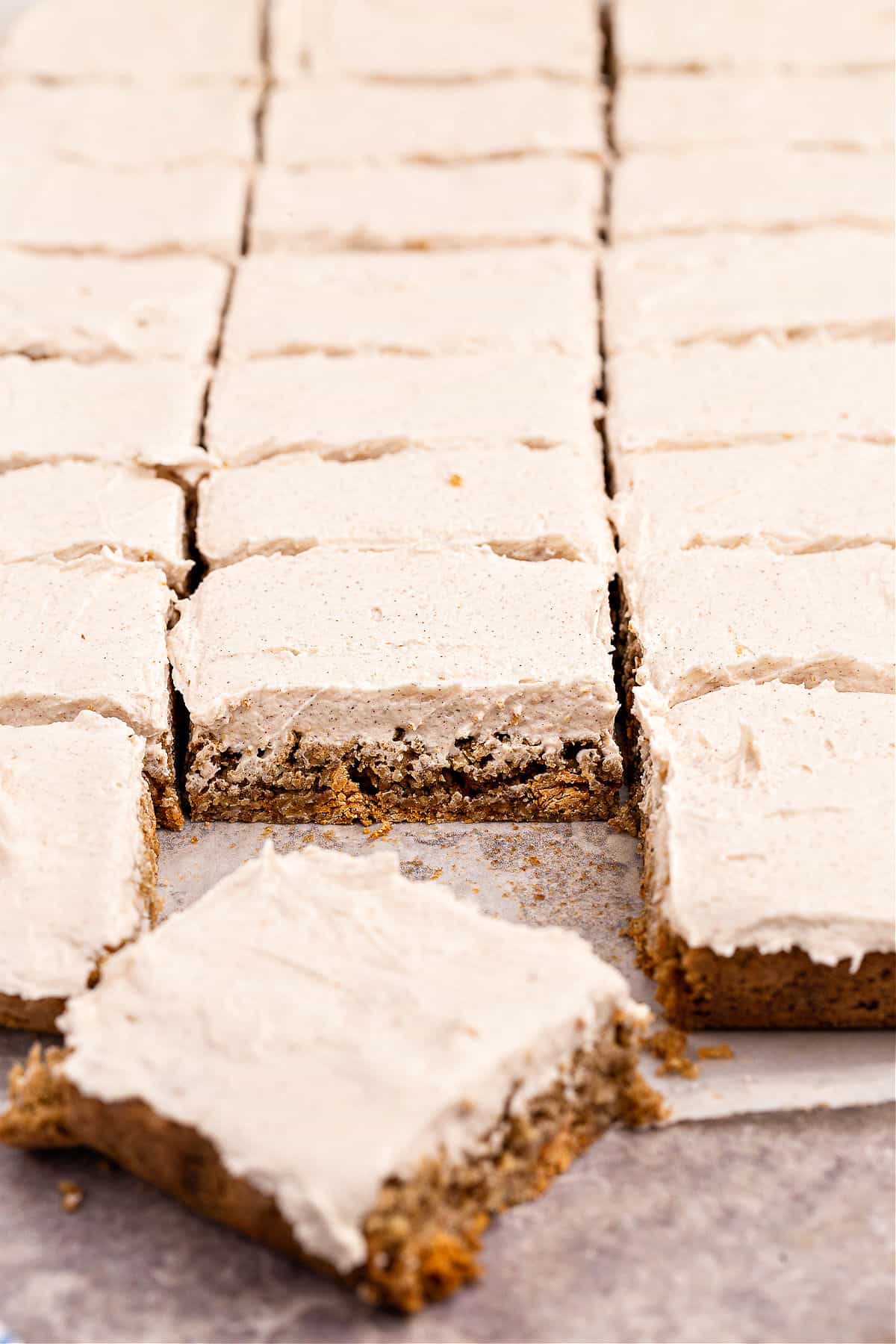 Why this Recipe is Best
If you love oatmeal cookies, butterscotch and FROSTING, these Oatmeal Scotchie Bars are for you.
A thick layer of cinnamon frosting takes Oatmeal Scotchie Bars to the next level!
Each bar is loaded with butterscotch morsels and toasty, chewy oatmeal.
This recipe is easy to make with no mess or fuss.
You can serve these for dessert, then enjoy leftovers with your coffee the next morning. Cookie bars for breakfast? Yes, please!
Ingredient Notes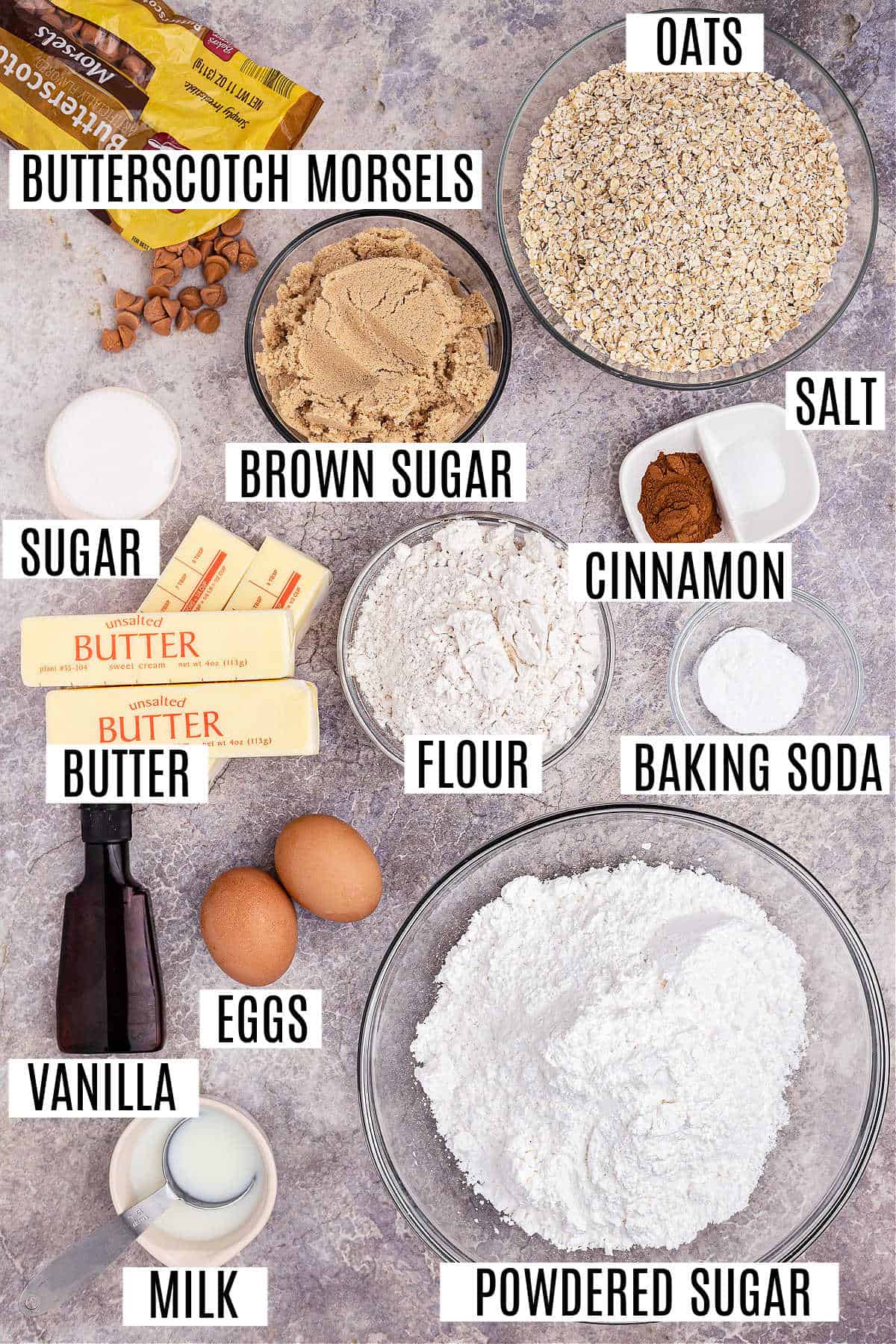 Quick oats. You need the quick cooking (instant) oats for these bars! Do not use old fashioned oats. They are not as finely processed and will affect the texture. If you only have old fashioned oats, pulse a few times in a food processor before measuring.
Unsalted butter. We use unsalted butter to control the salt levels in our recipes. If you only have salted butter, you can use it here instead. Just leave out the added kosher salt in the recipe.
Butterscotch morsels. Also called "butterscotch chips", you can find these in the baking aisle of your grocery store next to the chocolate chips.
Vanilla Extract. Always choose pure vanilla (not the imitation stuff). Or make homemade vanilla extract and save money!
Easy Instructions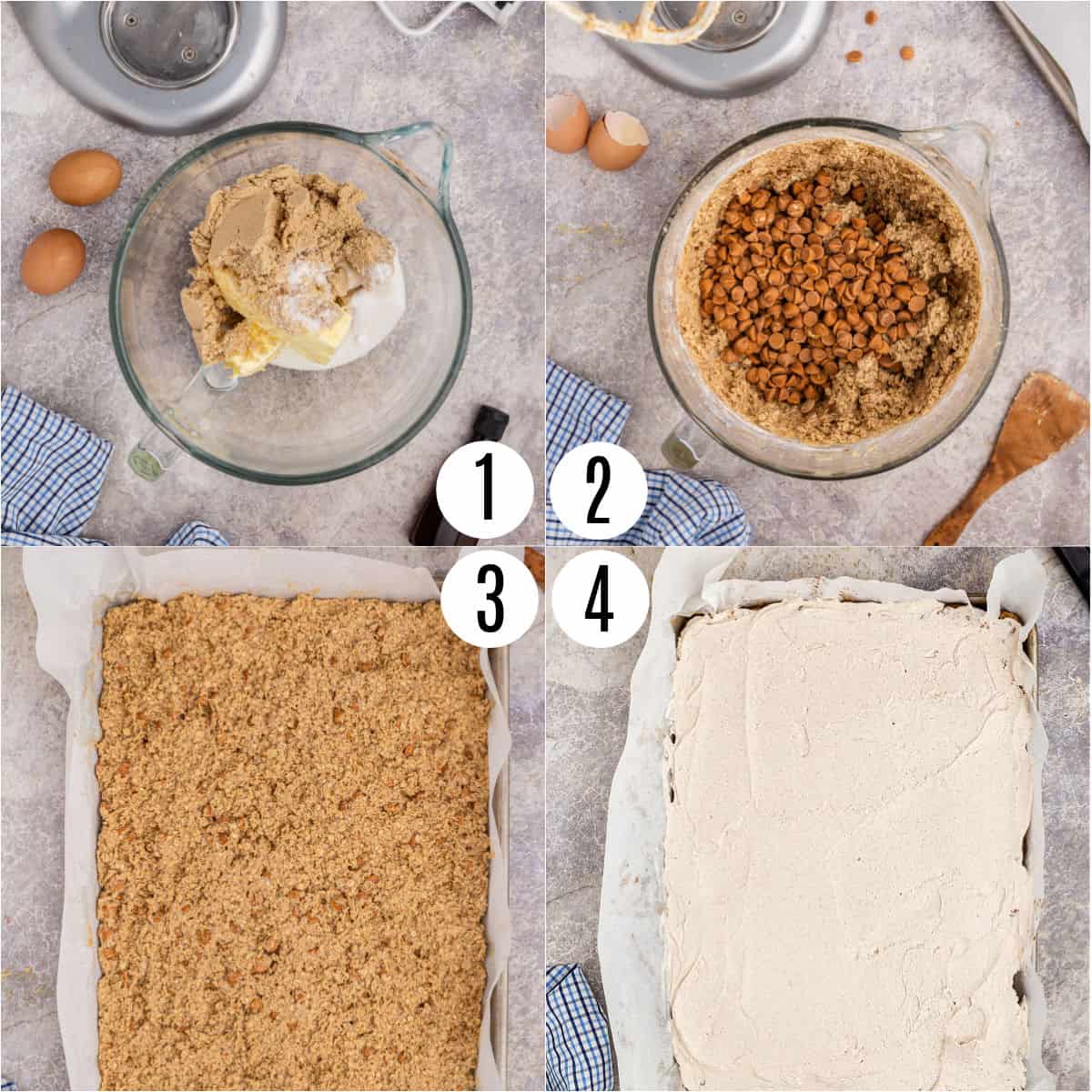 Make the batter.
Beat butter and sugars together until well blended. Beat in eggs and vanilla, followed by the dry ingredients. Fold in the butterscotch morsels.
Bake.
Press the thick cookie batter into a parchment-lined baking sheet. Bake for about 18 minutes.
Add the cinnamon frosting.
Beat butter with the whisk attachment of your electric mixer. When it's pale and fluffy, beat in powdered sugar, salt, cinnamon.
Add milk, a little at a time, until your desired consistency is achieved.
Spread frosting over the cooled Oatmeal Scotchie Bars. Slice into squares and serve.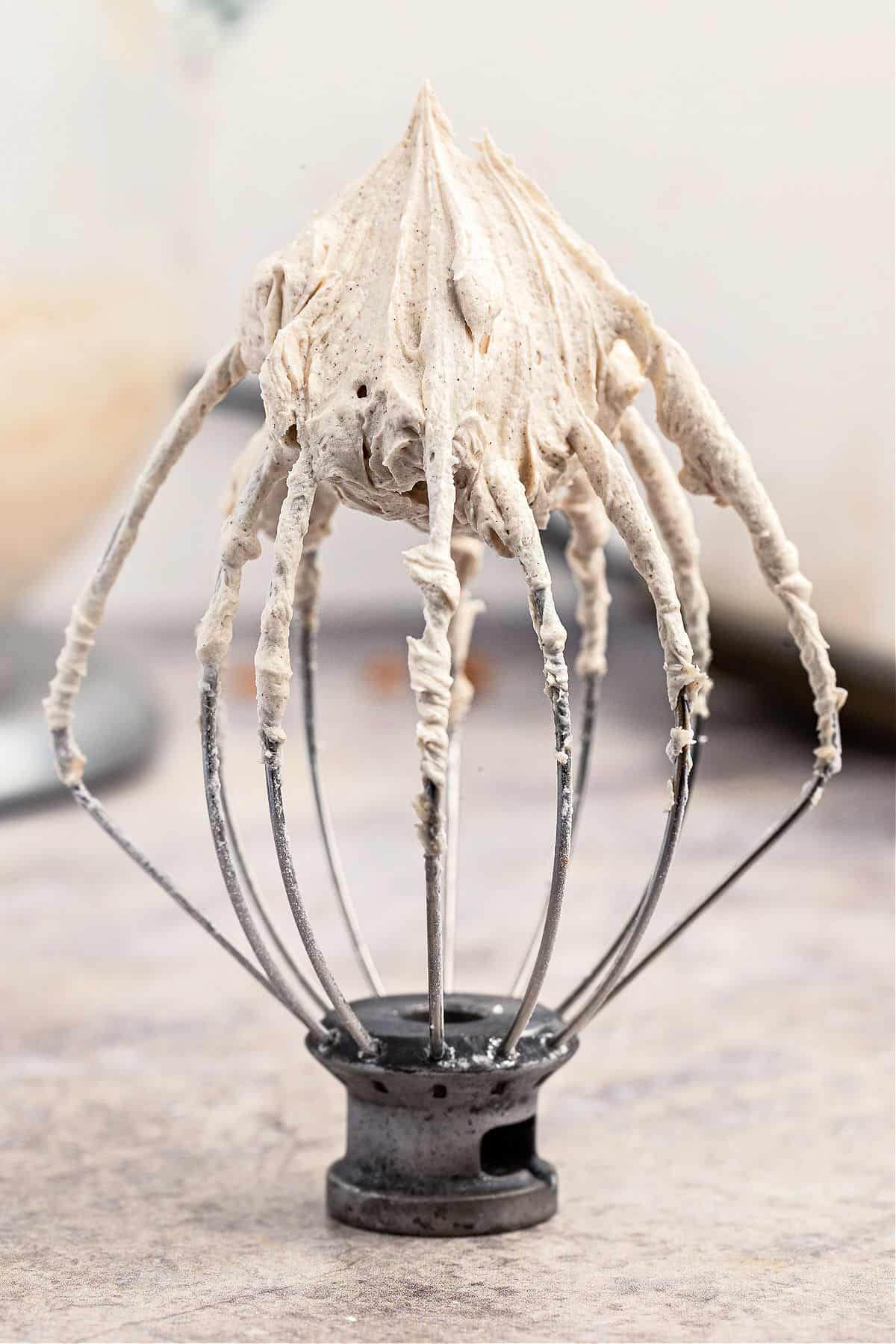 Tips and Tricks
Want a thicker frosting? Add less milk. Want a thinner, more pourable frosting? Add more milk!
Store bars in an airtight container at room temperature for up to 5 days. They're so hard to resist that they're likely to get eaten well before then!
I prefer these bars a little on the chewier side, so I take them out of the oven when they're still a little soft. For a crunchier bar, you can leave them in a bit longer.
Recipe FAQs
What size baking pan do I need to make these bars?
We tested the recipe in a 15 x 10 x 1 inch baking sheet. Using a different sized pan will affect the baking time and the thickness of the oatmeal scotchie bars.
Can you freeze oatmeal scotchie bars?
Yes, you can freeze these frosted or unfrosted! They'll stay good in the freezer for about 2 months. The dough freezes well, too!
Can I use dark brown sugar instead of light brown sugar?
Yes, dark brown sugar will work too.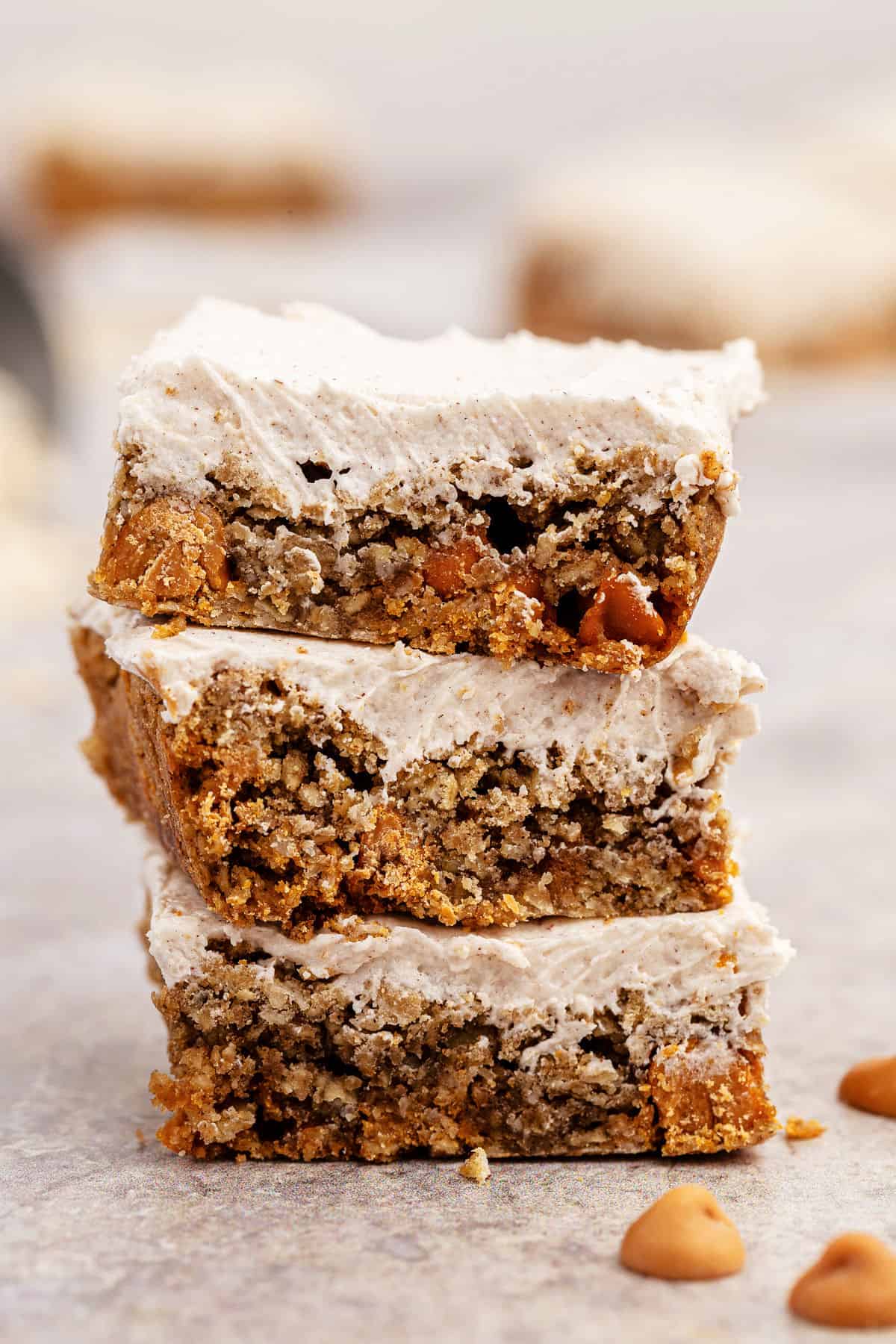 More Cookie Bar Recipes
Frosted Sugar Cookie Bars...of course frosting and sprinkles make these even better!
S'more Cookie Bars: grahams, marshmallows and chocolate in easy to eat cookie bars!
Cranberry Pistachio Cookie Bars: soft and chewy cookie bars topped with a white chocolate drizzle!
The perfect oatmeal cookie, now in bar form! These Oatmeal Scotchie Bars are begging to be sliced, served and enjoyed with friends over a fresh cup of coffee.