Spinach and Bacon Salad
This delicious Spinach and Bacon Salad is a breeze to prepare! The sweet dressing with the salty bacon keeps you wanting more!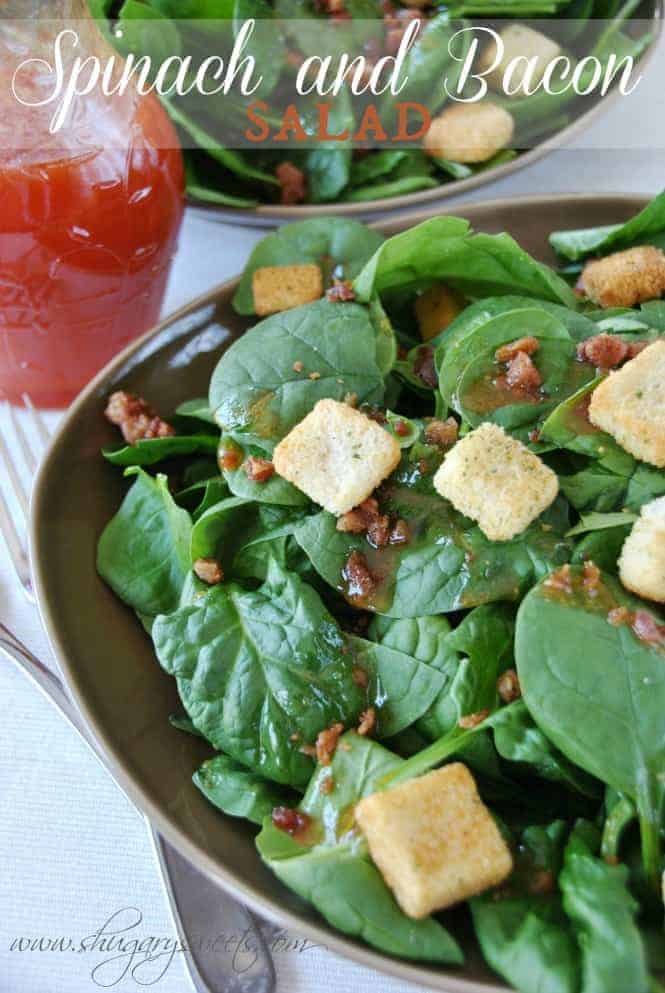 I'm not sure where this recipe originated. I only know that my mom would make this recipe for the family and we would DEVOUR it. I mean seriously, it has bacon on it!
My kids love this salad too, and I love that they are eating a whole bowl of spinach! The dressing can be made in advance to let the flavors mingle. You also may have leftover dressing, which happens in our house because my husband and a couple of my kids only like a little bit drizzled on their salads. But don't worry, this dressing is delicious on ANY salad. It's also great on pasta too. For a quick lunch, I have cut up some fresh veggies, added cold pasta and drizzled this dressing on top! YUM.
A delicious, healthy salad with spinach and bacon. The sweet dressing is a perfect pairing with the salty bacon!
Ingredients
For the Dressing:

1/4 cup olive oil
2 Tbsp white vinegar
2 Tbsp ketchup
2 Tbsp granulated sugar
1/2 tsp worcestershire sauce

For the Salad:

10oz fresh spinach, washed and stemmed
1/4 cup bacon, cooked and crumbled
1 1/2 cup croutons (any variety)
Instructions
In a bowl, whisk together the oil, vinegar, ketchup, sugar and worcestershire sauce. Refrigerate overnight or several hours to allow the flavors to combine. (Not required, but makes a little difference). To serve, add spinach and bacon bits in a large bowl. Top with croutons and serve with dressing. ENJOY!
http://www.shugarysweets.com/2013/03/spinach-and-bacon-salad
Copyright Shugary Sweets 2011-2016
Did you know Google Reader is going away soon? Be sure you follow Shugary Sweets in other places so you don't miss a recipe! I love using Bloglovin to follow my favorite blogs. You can find Shugary Sweets here:
 Bloglovin' | Facebook | Twitter | Google+ | Pinterest | Instagram
Want other great dinner and salad ideas? This Mandarin Salad is one of our family's favorites! Filled with romaine, sugar coated pecans and mandarin oranges.
This Spicy Grilled Fish and Citrus Slaw is a meal on it's own. And it's so pretty and colorful too!
These Turkey Meatballs are paired with a Bruschetta Sauce. No pasta required which keeps them on the healthy list! Can be your dinner or appetizer!
For more delicious, healthy meal ideas check out some of these….
Lean Mean Veggie Soup from Inside BruCrew Life
Spinach Salad with Roasted Grapes from Mother Thyme