Delicious, from scratch, Chocolate Cupcakes with M&M's frosting! Grab some M&Ms and pile the frosting high for more flavor and fun. With so many ways to customize these cupcakes, you'll want to make them again and again.
M&Ms make just about everything better! If you liked our M&M's Brownies recipe, today's cupcakes are right up your alley.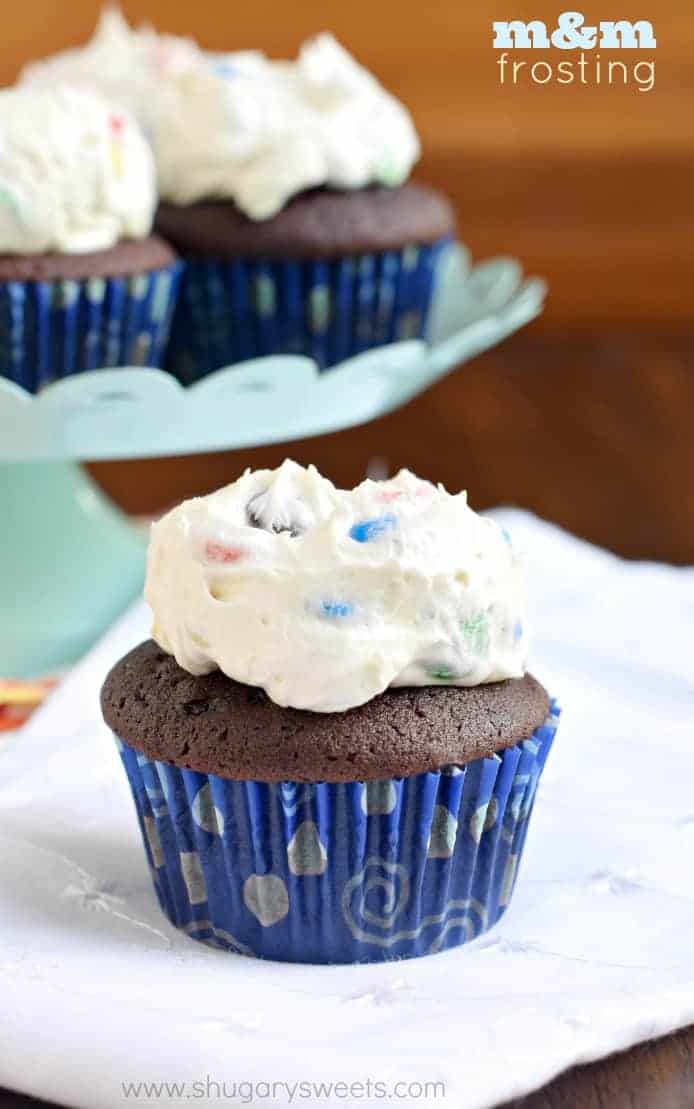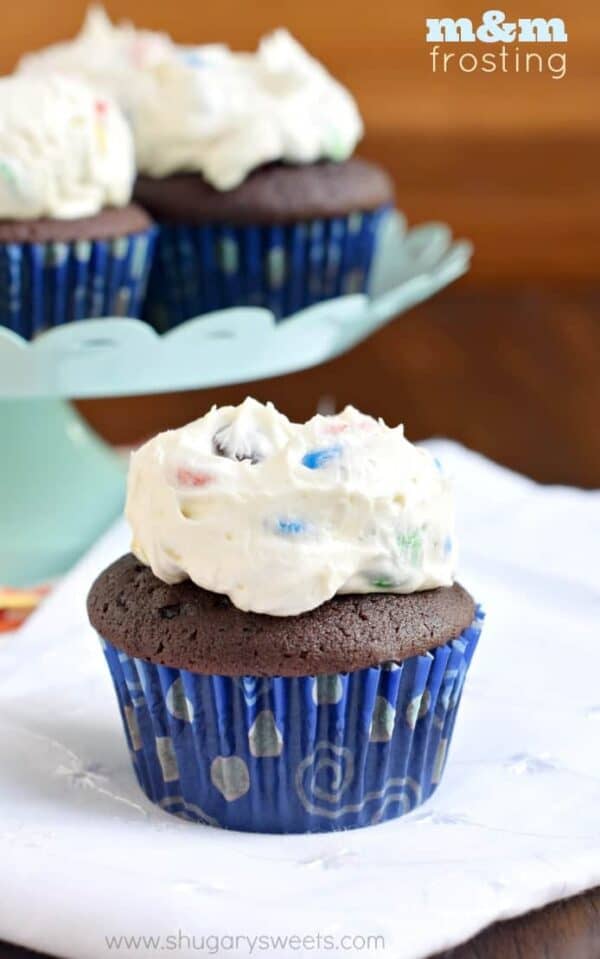 Why This Recipe Is Best
These chocolate cupcakes are made from scratch with real chocolate and cocoa.
Simple but festive! The white vanilla buttercream makes the colorful M&Ms standout.
You can make this frosting with any kind of M&Ms or candy pieces! Change up the colors and flavors for different occasions.
This is the only M&Ms cupcake recipe you'll ever need!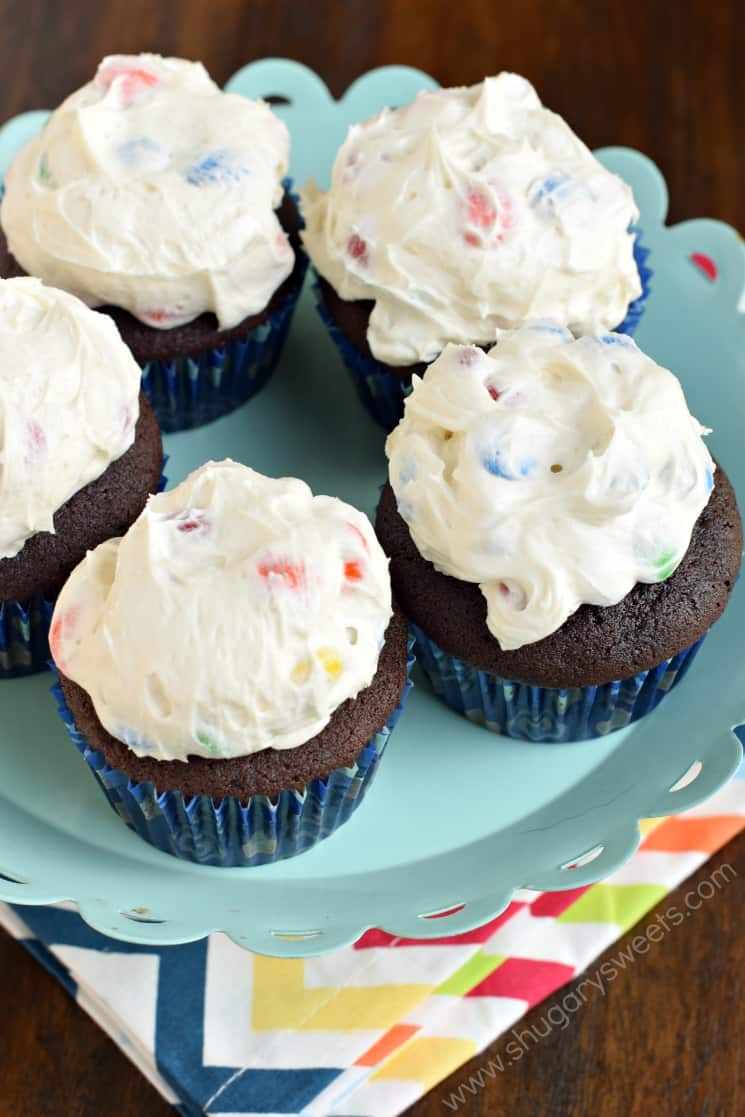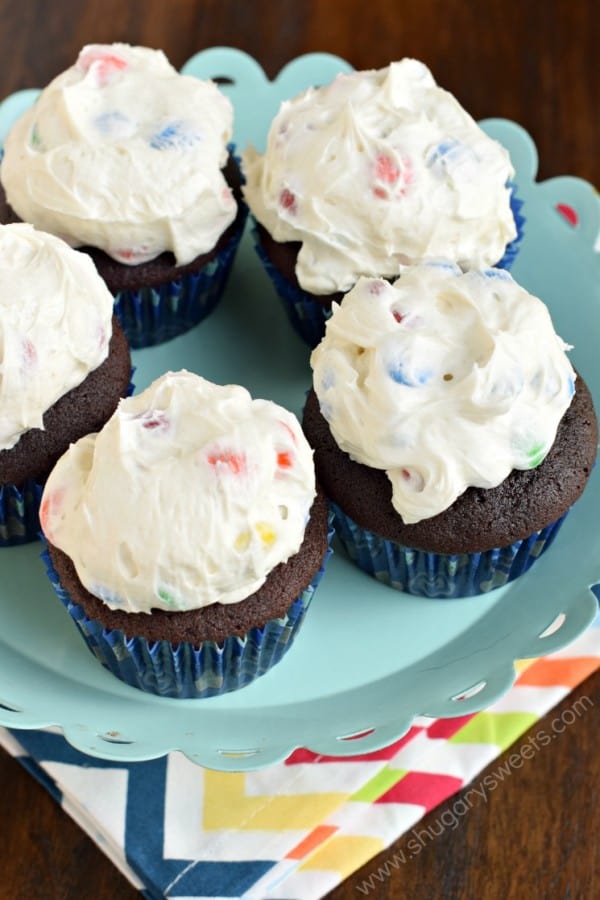 Ingredient Notes
M&M Candies. Regular milk chocolate candies, baking bits or M&M's minis can all be used. Other candies like Reese's pieces or even chopped candy bars would be delicious too.
Vanilla extract. Use a good quality real vanilla for best flavor! The frosting is the star of this recipe, so you want the richest, deepest vanilla taste. Our Homemade Vanilla Extract is especially delicious here.
Easy Instructions
First, make the cupcakes.
Put chopped chocolate and cocoa powder in a mixing bowl. Pour hot coffee on top and stir until the chocolate is melted and smooth.
Add the dry ingredients to the bowl and stir. Then add the vanilla, eggs, oil and buttermilk. Beat well for several minutes to form a thin batter.
Spoon into lined cupcake tins. Bake until the center of the cupcakes springs when lightly touched.
Remove baked cupcakes from the oven. Let them cool on a wire rack before adding the frosting.
How to make M&Ms frosting.
Beat butter with an electric mixer. Add powdered sugar, milk and vanilla and beat until fully combined. Fold in the M&Ms.
Frosting the cupcakes:
Use a large scoop to dollop the tops of each cupcakes with a thick layer of frosting.
Eat, share and enjoy.
Tips and Tricks
There are so many kinds of M&Ms on the shelves these days and just about all of them would taste good folded into vanilla frosting! Think caramel M&Ms, peanut butter M&Ms, white chocolate M&Ms. . . so many tasty choices.
This batter is very thin! That's totally normal. Do not add more flour or other ingredients to thicken it up. The cupcakes bake up perfectly.
Have another chocolate cupcake recipe you love? Feel free to us it as your base for the M&Ms cupcakes instead. The frosting is the star of the show!
Recipe FAQs
I see coffee listed in the ingredients. Do these cupcakes taste like coffee?
No, these don't taste at all like coffee! I use hot brewed coffee to deepen the flavor of the chocolate. The warmth of the coffee also helps incorporate the baking chocolate and cocoa for an amazingly rich, chocolate-y taste!
What can I add to the frosting instead of M&Ms?
Try folding in chocolate chips, crushed Oreos, butterfinger bits, or peanut butter morsels to this frosting. They won't be M&Ms cupcakes anymore but they'll still be delicious.
How can I tell when chocolate cupcakes are done?
Test cupcakes for doneness by pressing the top of the cupcake lightly with your finger. If it springs back right away, the cupcake is ready to come out of the oven. If it stays indented, give them more time to bake.
You can also insert a toothpick into the center of the cupcake. If it comes out clean, the cupcakes are done.
What's the best way to store Chocolate Cupcakes with M&Ms frosting?
Store these in an airtight container at room temperature. Enjoy within 3 days.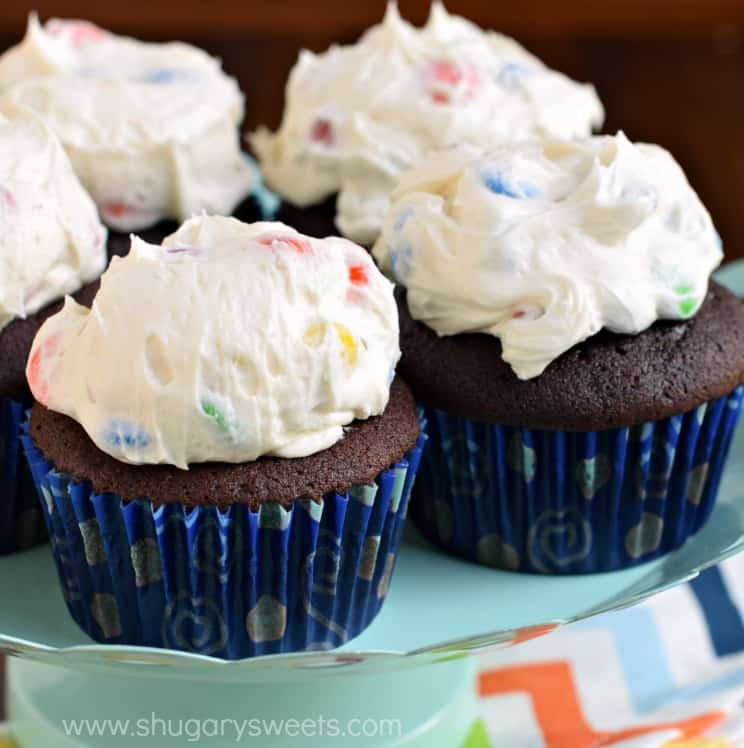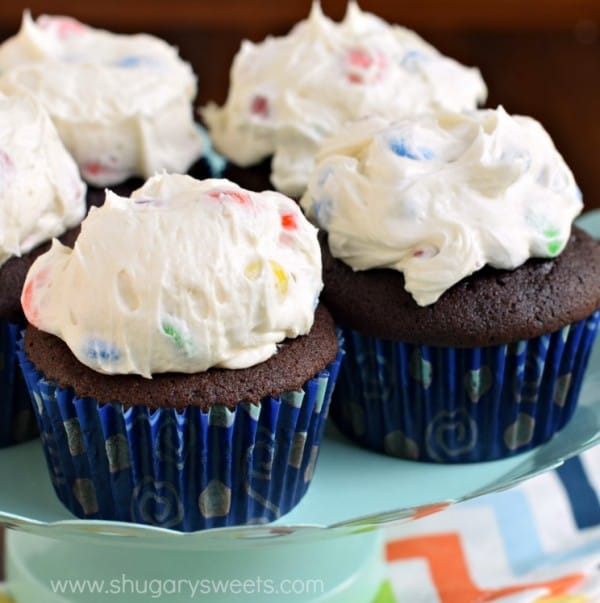 Recipes with M&M'S
Frosting so good you'll want to eat it with a spoon! M&Ms Cupcakes are easy to make and festively delicious.
Give Christmas dinner a decadent finish with this Eggnog Cheesecake Cake. A creamy center and plenty of spice make this the ideal dessert for a cozy holiday celebration!