Lasagna Soup brings all the good taste of lasagna together in a simple, hearty bowl of soup.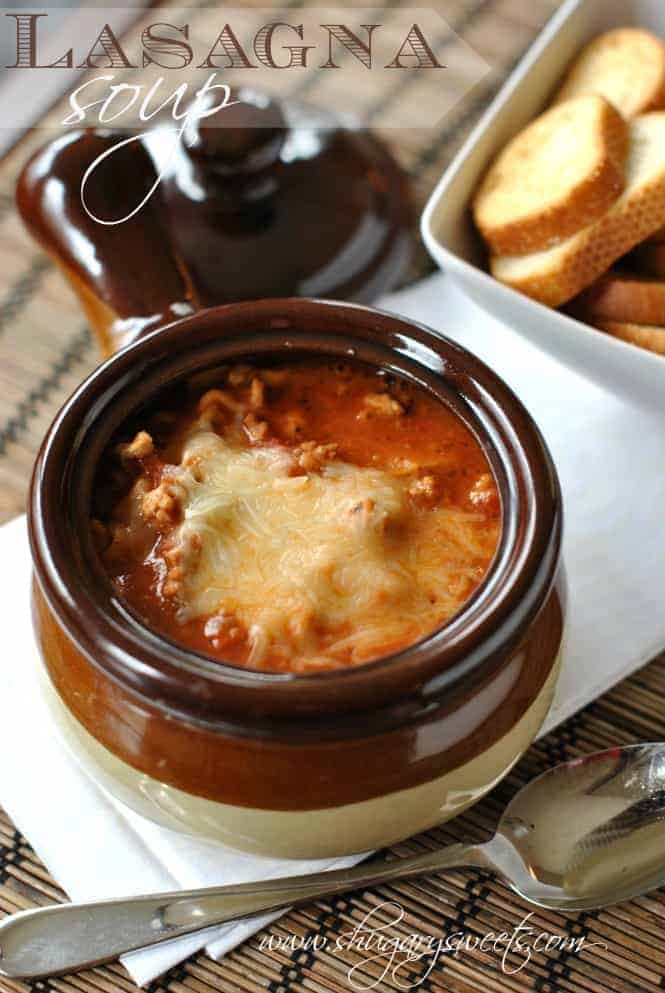 This Lasagna Soup surpassed my expectations. I wasn't sure how my family would like this lasagna soup with pork. And my family loves pork!
So why the hesitation?
My husband does not like lasagna. The ricotta cheese is the main culprit. I was a little worried about making lasagna soup, but it went over quite well! He actually loved it, and there was no ricotta cheese to scare him off!
Don't worry cheese lovers: this soup still has all the wonderful cheesiness you love in a good lasagna!
Instead of ricotta, I mixed grated parmesan into the warm soup and sprinkled shreds of mozzarella on top.
The flavorful pork simmered with tangy tomatoes, fragrant garlic, and all the Italian herbs I adore made for one tasty soup.
We all went back for a second bowl. I ended up making it again a couple of days later just so I would have some leftovers to pop in the freezer for the next week's lunches.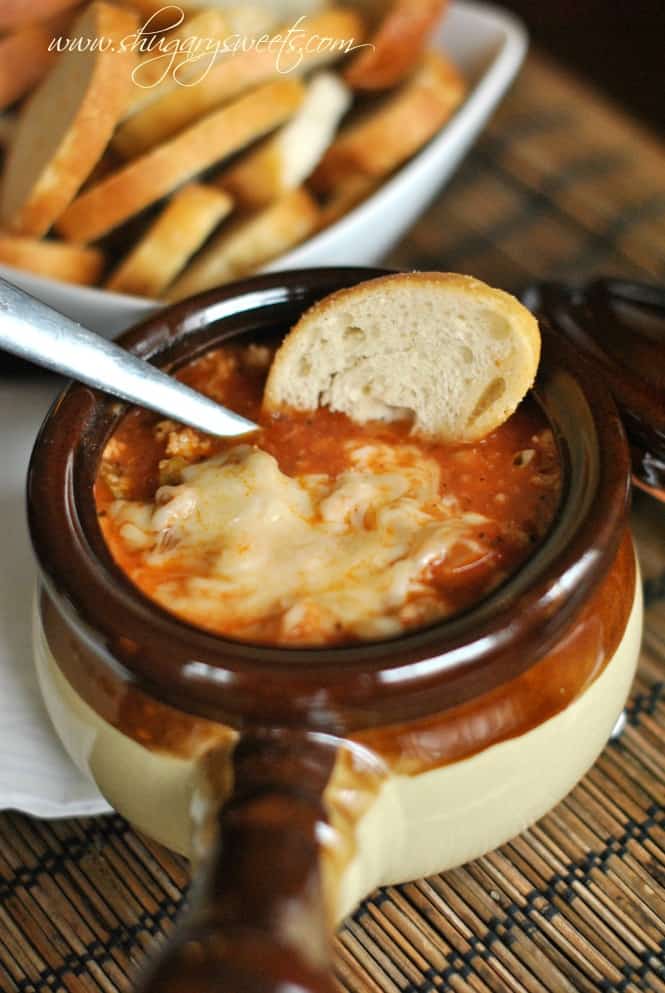 This soup was a big hit topped with plenty of melty mozzarella and parmesan cheese and served with slices of crisped sourdough bread.
Lasagna Soup is easy enough for a weeknight meal but definitely impressive enough to serve to dinner guests!
Everything in this soup comes together in one pot without any fuss and very little clean up.
I made my Lasagna Soup with ground pork and whole wheat lasagna noodles. Tomatoes, green peppers and Italian seasoning complete the hearty meal.
How do you make lasagna soup?
To make this soup, start by browning ground pork in a soup pot along with onion, green pepper and garlic. Add the tomatoes, chicken broth, and Italian seasonings then simmer everything for a half hour.
Break the lasagna noodles into bite sized pieces and add them to the soup pot. Continue cooking the soup along with the noodles for another 15 minutes, or until the noodles are tender.
Before serving the soup, I mixed grated parmesan cheese into the pot. The soup will soften and melt the cheese perfectly!
After ladling the soup into bowls, top with the shredded mozzarella cheese and enjoy.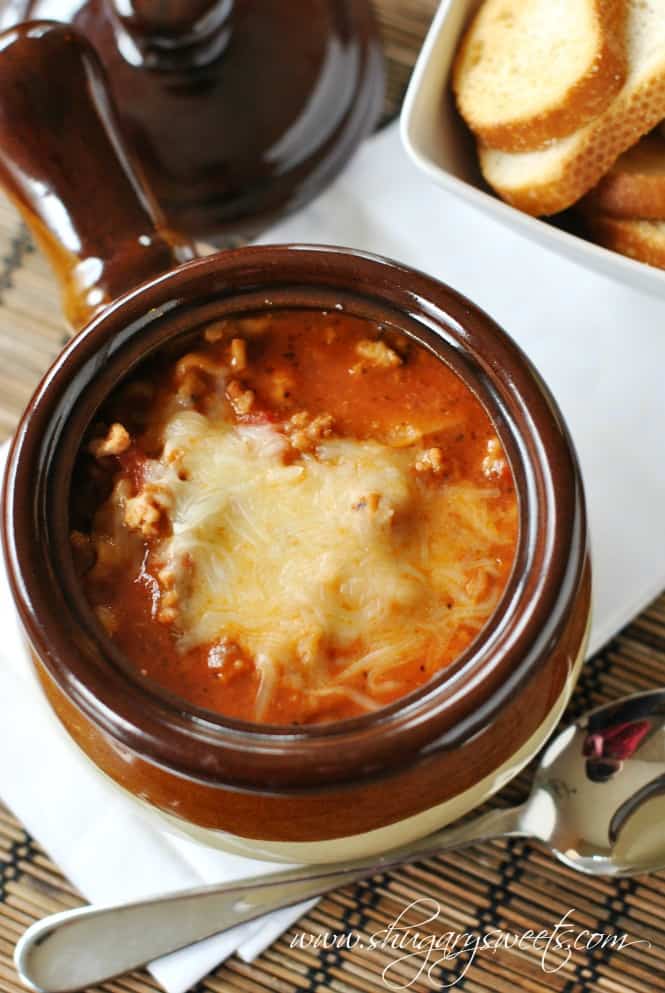 What to Serve with Lasagna Soup
We loved bowls of Lasagna soup with sourdough bread crisps for dunking.
It would also pair perfectly with slices of crusty Italian bread or your favorite dinner rolls. Next time I make it, I may try topping it with large croutons ala French Onion Soup!
This soup is definitely hearty and filling enough to serve as a full meal all on its own. Served in smaller cups, it would make a great accompaniment to any Italian meal, too.
We also love a fresh Italian Salad, just like Olive Garden. A thick slice of homemade bread and we've got a complete meal.
Quick and Easy Soup
I love soup and I love it even more when it's easy and quick to make. From start to finish, this Lasagna Soup recipe takes well under an hour.
Whether you're a fan of lasagna or a lasagna skeptic, like my husband, you're going to love this herby, garlicky pork soup! You can also make it quicker with this Instant Pot Lasagna Soup recipe.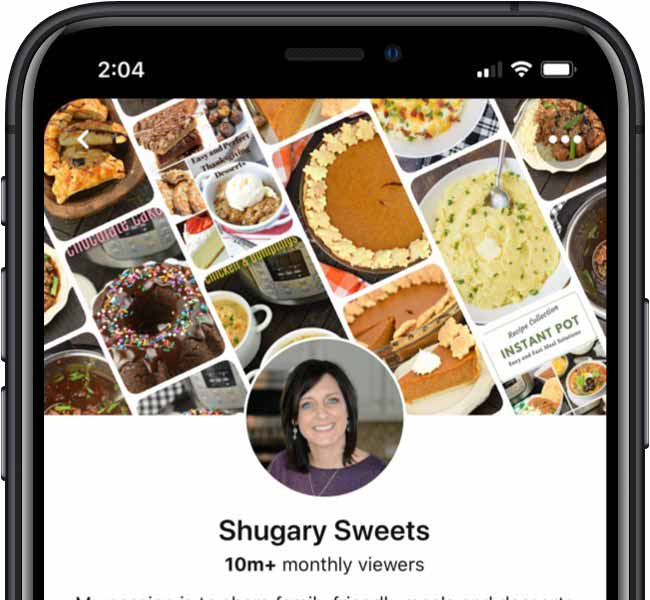 What kind of noodles should you use in lasagna soup?
When it comes to lasagna soup, lasagna noodles are the obvious choice. The whole wheat noodles added a heartiness I liked–and they're sturdy enough to hold up to the moisture in the soup without getting soggy.
Either no-boil or regular lasagna noodles will work just fine. Break them into pieces about 2 inches long before adding them to the pot.
That said, if you don't have lasagna noodles around, you can certainly use other types of noodles. Just be sure to check the pasta frequently as it cooks to avoid overcooking.
You want the noodles to be just tender, not mushy.
Pork Lasagna Soup
Ground pork is my favorite meat for lasagna soup because it's affordable, flavorful and browns quickly.
If you don't happen to have ground pork on hand, you can also try this easy soup recipe with ground beef or turkey. It'll still taste good!
Can you freeze lasagna soup?
Lasagna soup stores well in the fridge for a couple of days, but I prefer to keep the leftovers in the freezer to keep the noodles from getting soggy.
Store this soup in an airtight container (or in freezer bags) in the freezer, then thaw at room temperature before reheating on the stove or the microwave.
More Dinner Recipes:
Recipe originally published March 14, 2013.