Peanut butter caramel corn made even sweeter by the addition of caramel corn. This easy Halloween treat tastes just like a Pay Day candy bar.
Caramel corn is one of my favorite treats to make to give as a gift or party favor. I was craving Peanut Butter Caramel Corn recently and decided to make it a little more festive by adding in some candy corns.
Those little morsels didn't just add color–they made the popcorn taste like the Payday bars I loved as a kid!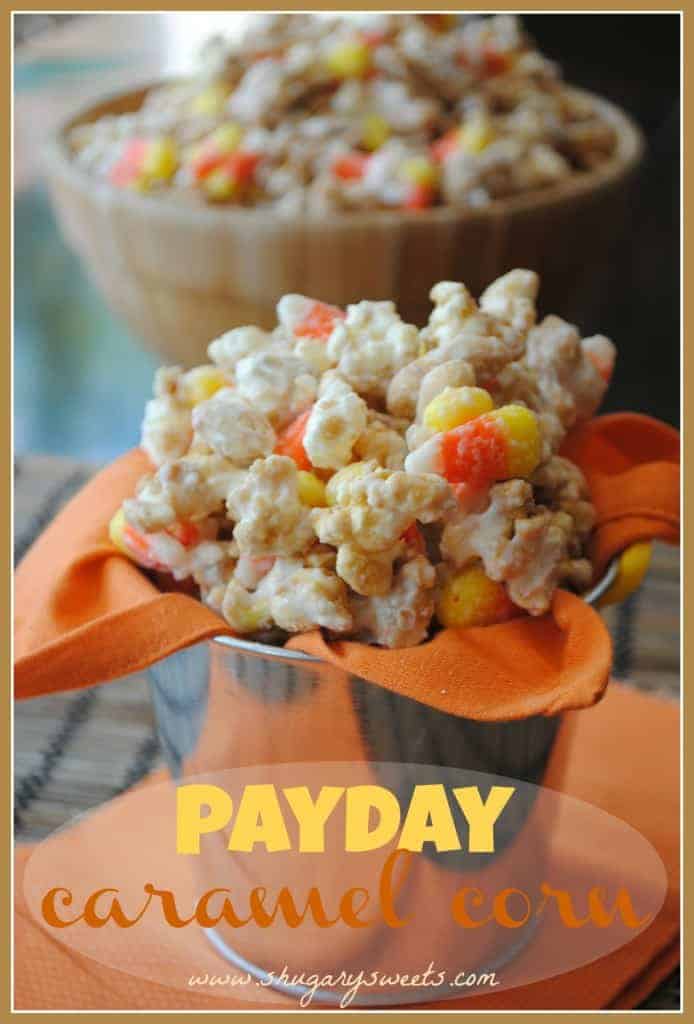 What is a Pay Day?
A Payday is a candy bar made with peanuts, nougat and a candy coating. Something about combining candy corn and peanuts together recreated the flavor almost perfectly.
I've been munching on bowls of peanuts and candy corn for years, especially when it's Halloween season and there's candy corn everywhere. That snack inspired payday truffles and this payday cookie recipe!
So adding candy corn to my peanut butter caramel corn to make Pay Day Caramel Corn was a no-brainer.
Ingredient Notes
Good caramel corn starts with freshly popped corn. Use your favorite microwave popcorn, make it on the stove top, or use your popcorn popper. Make sure to remove the unpopped kernels after the popcorn is popped.
This is a little tedious, but 100% worth it to avoid the unpleasant surprise of biting into a hard seed when you're enjoying your caramel corn. You'll need about 5 quarts of popped popcorn.
Peanuts in this recipe should be roasted and salted for best flavor.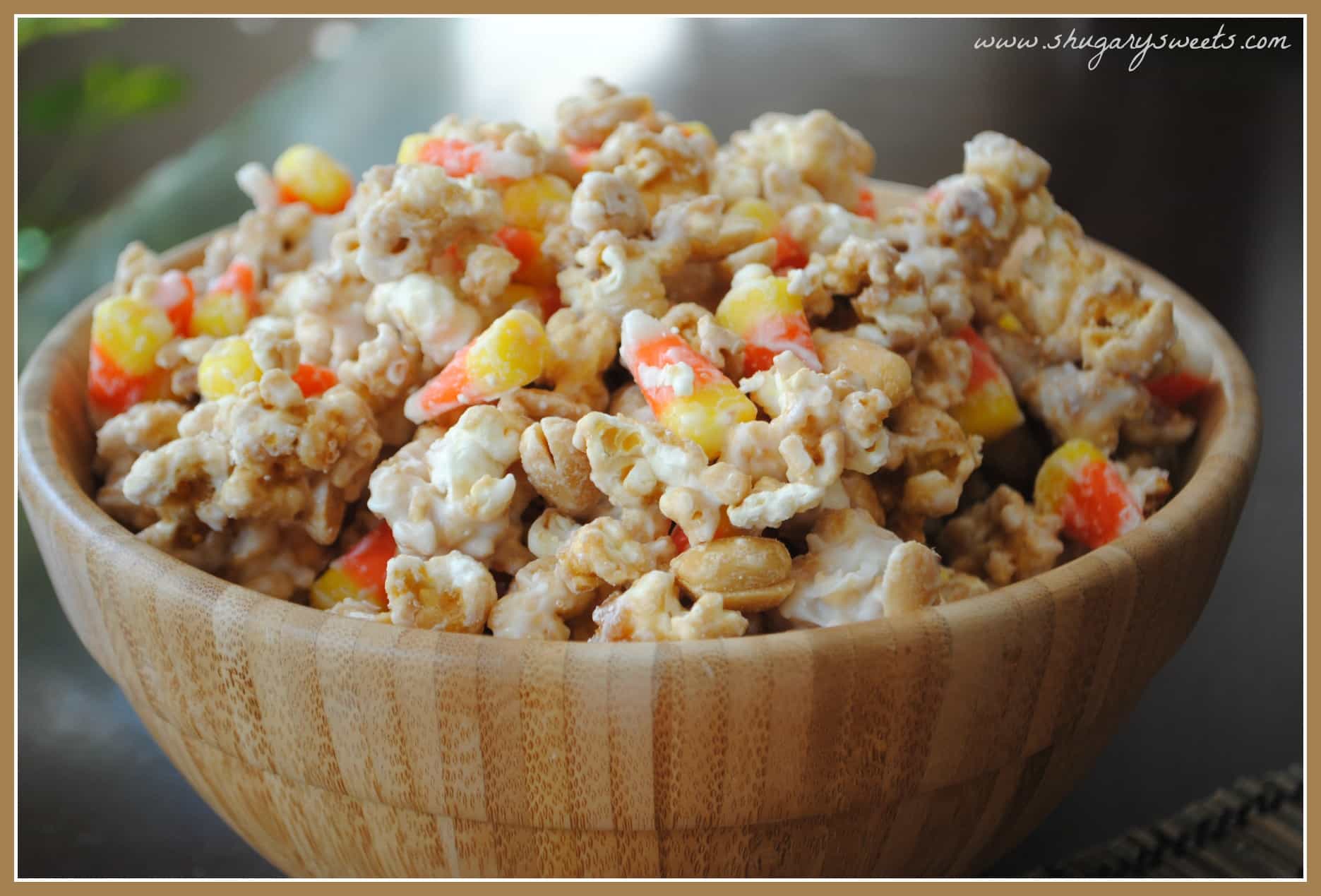 Step by Step Instructions
STEP 1. Pop the popcorn
Pop according to package directions or using your preferred method for homemade popcorn from scratch. Transfer the popped popcorn to a large mixing bowl being careful leave the seeds behind.
STEP 2. Make the caramel
Melt butter with sugar, corn syrup and salt. Bring it to a boil. Remove from heat. Stir in baking soda and vanilla. Pour over popped corn and mix well to coat every piece of popcorn with the caramel.
STEP 3. Bake
Divide caramel corn mixture evenly into two foil lined broiler pans. Bake in a 250 degree oven for one hour, stirring every 15 minutes. After stirring each time, rotate the pan 90 degrees so the popcorn bakes evenly.
STEP 4. Add candy corn and peanuts
Remove the caramel corn from the oven and return it to a clean mixing bowl. Melt your vanilla bark according to package directions and then pour over the caramel corn.
Add peanuts and candy corn, mix together and pour out on to a strip of parchment paper. Allow to set until the vanilla coating is firm, about 30 minutes. Transfer to large ziploc bags and seal to store. Enjoy!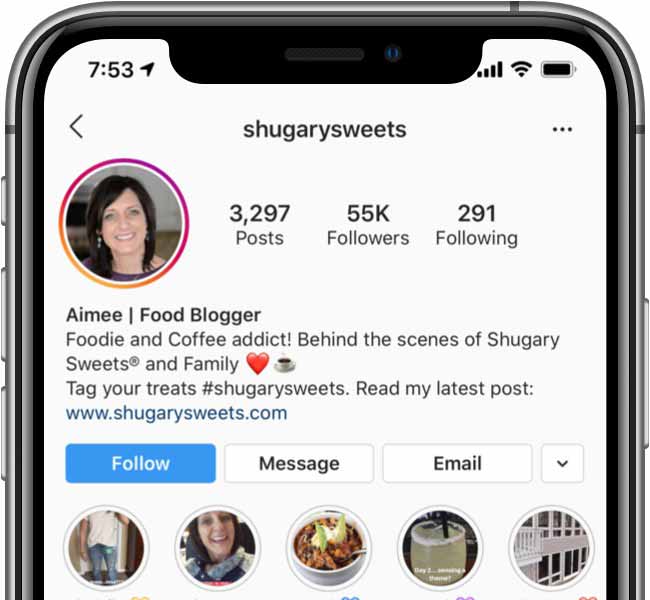 Tips and Tricks
Storing: This popcorn lasts about 2 weeks if stored sealed tightly at room temperature. In my house, we always eat it up long before!
Not a fan of candy corn? You can make this without to have a delicious peanut caramel corn recipe.
Broiler pans lined with foil are perfect for baking the popcorn. Disposable lasagna pans work too!
Store the caramel corn in individual portions by dividing it between sandwich bags instead of larger gallon sized bags. Easy to grab and go or hand out as a Halloween party favor!
Treats like this Pay Day Caramel Corn might just be my favorite thing about Halloween! This one is definitely part of our regular rotation, along with M&M'S® Peanut Butter Caramel Corn and Fluffernutter Caramel Corn.
I love the bright pop of orange and yellow color mixed in with the white candy coated popcorn kernels. The salty crunch of peanuts and the buttery caramel make this Pay Day popcorn a must try!