If you love peanut butter and jelly sandwiches, this Peanut Butter and Jelly Fudge is going to knock your socks off! Strawberry preserves are swirled into homemade peanut butter fudge in in this easy recipe.
Fudge isn't just for the holidays. Any time is a good time for sweets like chocolate peanut butter fudge and maple walnut fudge!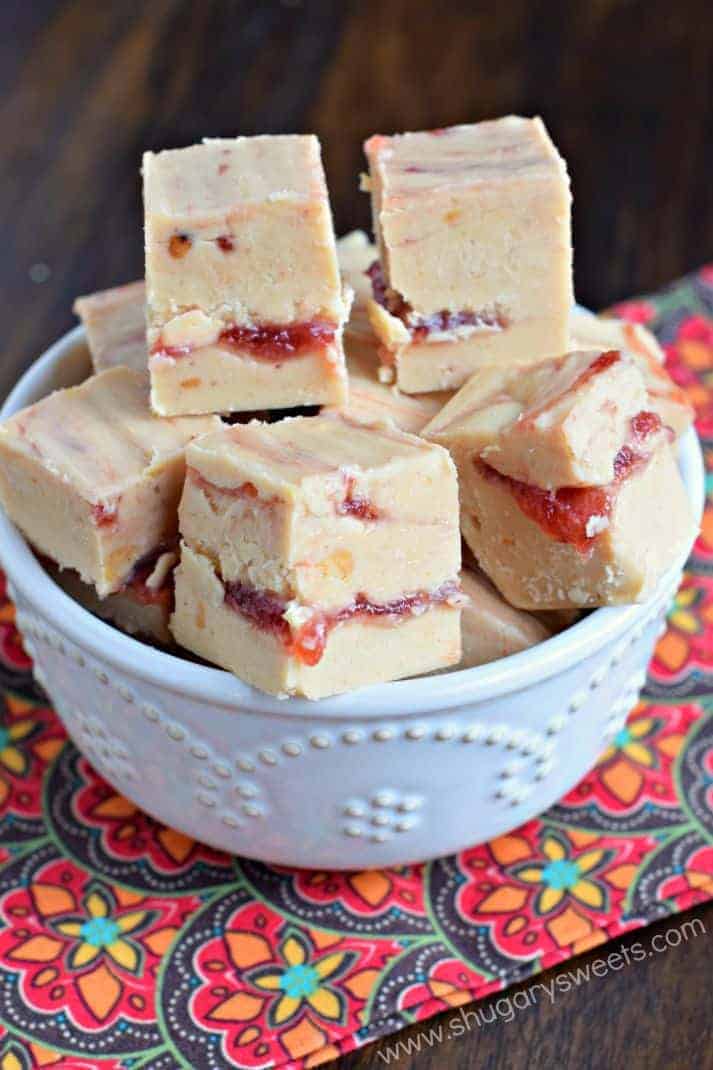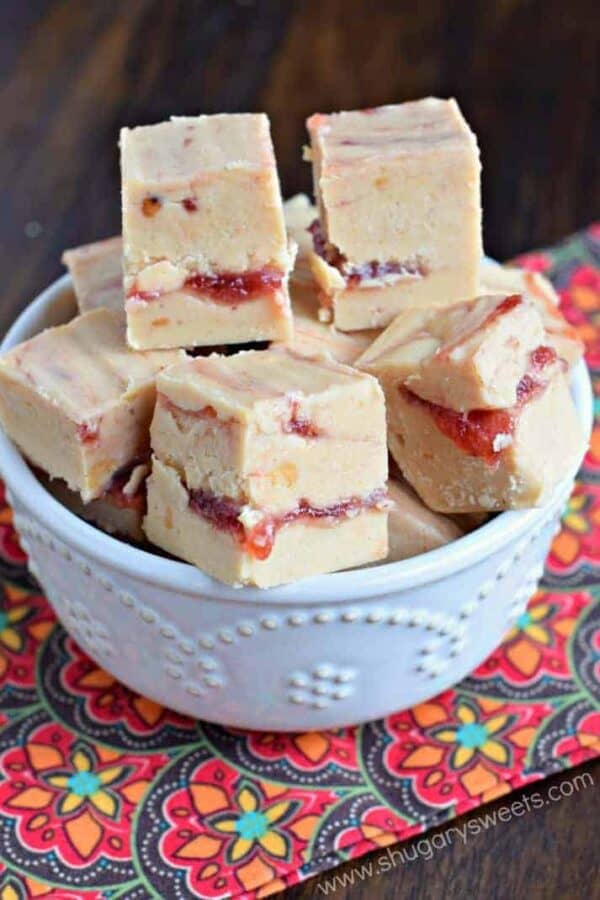 Why This Fudge is Best
Why do we suddenly stop eating peanut butter and jelly sandwiches when we grow up? They're delicious, easy and perfect for a lunch box. I love mine heavy on the peanut butter with just enough jelly or jam to add a sweet, fruity flavor.
This PB&J Fudge has an irresistible blend of sweet and salty flavors.
Crunchy peanuts add satisfying texture to the soft, smooth fudge.
NO candy thermometer needed.
It's an easy no-bake recipe for any occasion.
Adults love this peanut butter and jelly treat as much as the kids!
Like the sandwich that inspired it, today's peanut butter and jelly fudge is easy to make and totally delicious!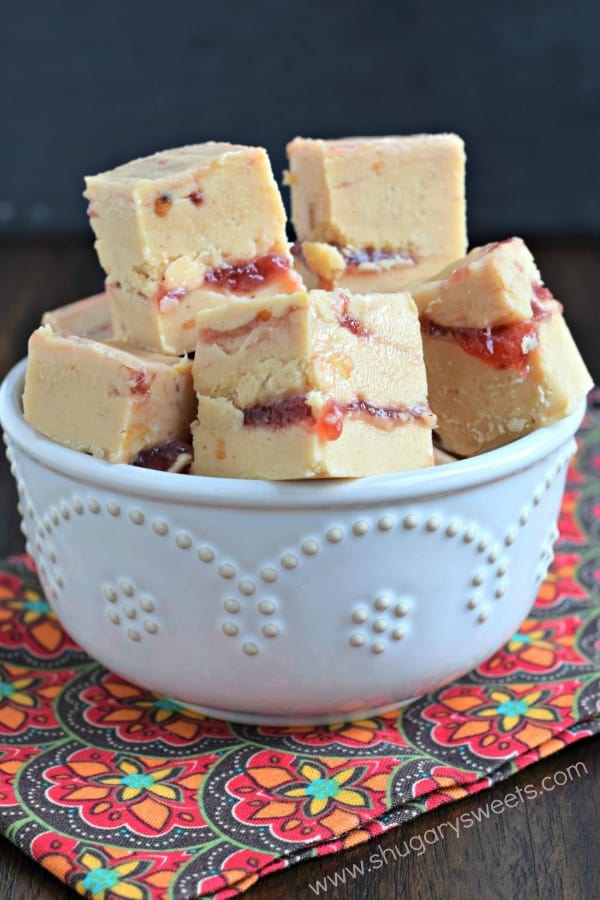 Ingredient Notes
Peanut butter – We used a combination of creamy AND crunchy peanut butter for this fudge. If you prefer a fudge without chunks of peanuts, use all creamy instead.
Marshmallow cream – This spreadable marshmallow product is the secret to soft fudge without needing a candy thermometer.
White chocolate morsels – Or use a white chocolate bar broken into small pieces!
Strawberry preserves – Feel free to substitute this for other fruit preserves you like in your PB&Js. Raspberry and grape are both popular choices that would taste wonderful in peanut butter fudge. Our homemade strawberry jam would be perfect!
Tips and Tricks
Making impressive fudge isn't difficult. But to get great results every time, here are a few key details to pay close attention to.
First, make sure to let your mixture of butter, heavy cream and sugar come to a rolling boil on the stove. Once it's boiling, stir it constantly as it boils for a full 4 minutes. This step ensures your fudge will set up to the right consistency.
After the boiling step, pour the mixture over the white chocolate chips and marshmallow cream immediately. The heat helps melt the chocolate as you combine all the ingredients together.
To add preserves to the peanut butter fudge, pour half of the fudge mixture into your baking pan. Spread preserves on top with the flat side of knife before adding the remaining fudge on top.
You'll also want to swirl the top layer so you can see the color of the strawberry jam peeking through.
Once the fudge has set, store it in the refrigerator in an airtight container. It keeps well for up to 2 weeks. That is, if you can resist diving head first into the whole batch right away!
Recipe FAQs
What kind of peanut butter is best?
You can use any kind of peanut butter in today's recipe. I tested the recipe with shelf stable peanut butter which contains added sugars and stabilizers.
If you use natural peanut butter, your fudge will be less sweet and may be more crumbly. That's why we general opt not to use it in recipes like this one.
If I love crunchy peanut butter can I make this fudge with all crunchy peanut butter instead of cream?
I don't recommend using only crunchy peanut butter for fudge. All the peanut chunks (while delicious) will make the fudge crumbly. That's why we use mostly creamy peanut butter with just enough crunchy peanut butter to give the fudge some texture variety.
Can I freeze this fudge?
Yes, you can. Store it well wrapped and sealed in a freezer safe container. Thaw frozen fudge in the refrigerator overnight before eating.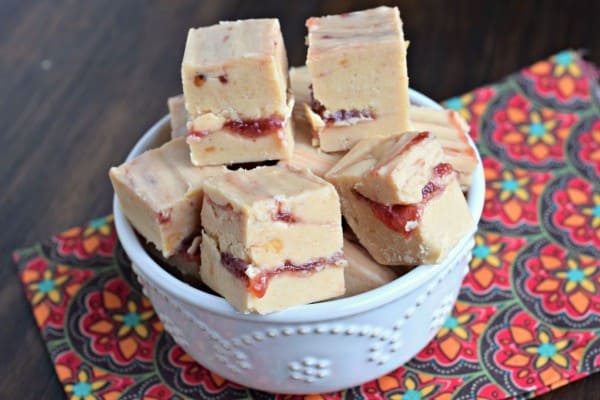 More Easy Candy Recipes
Your favorite childhood sandwich gets reinvented as dessert in this easy Peanut Butter and Jelly Fudge recipe.