Creamy Spinach and Artichoke Hummus is a delicious healthy dip recipe served with crackers, veggies or pita chips. You won't be able to stop at one bite!
Love artichokes? Be sure to try our classic artichoke dip. Warm and savory, and perfect for game day. Don't forget to give our spinach artichoke dip a try next.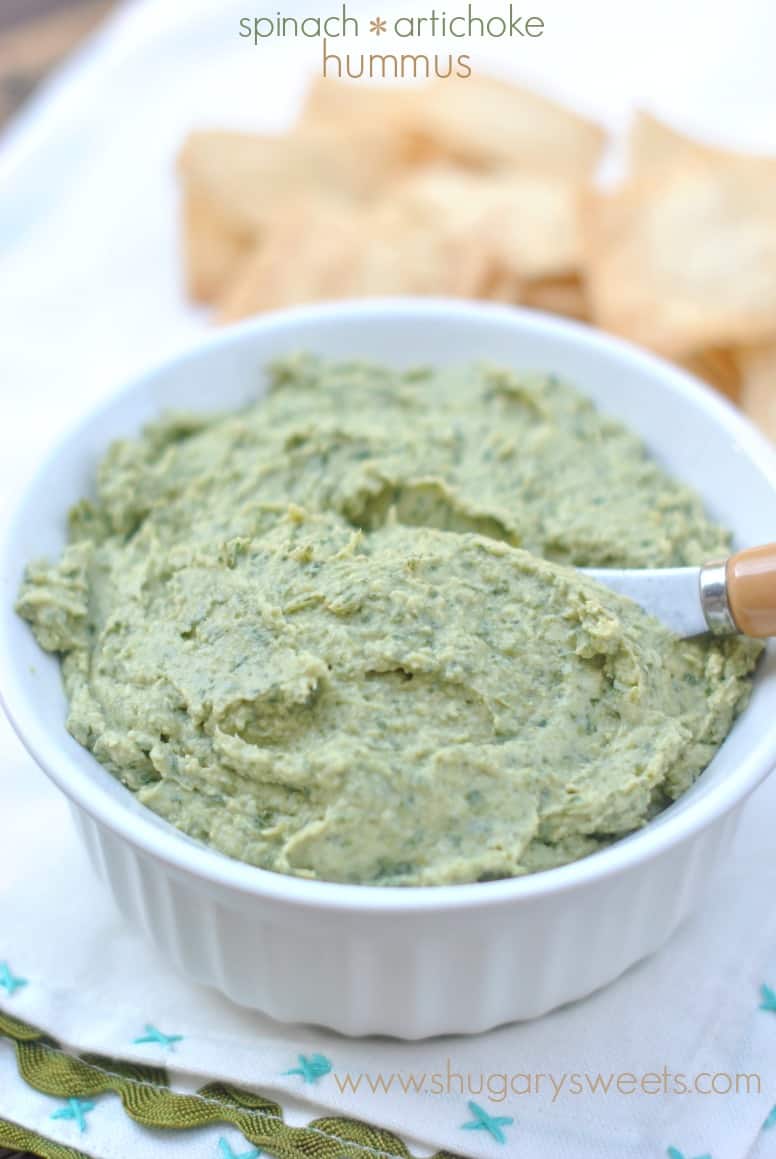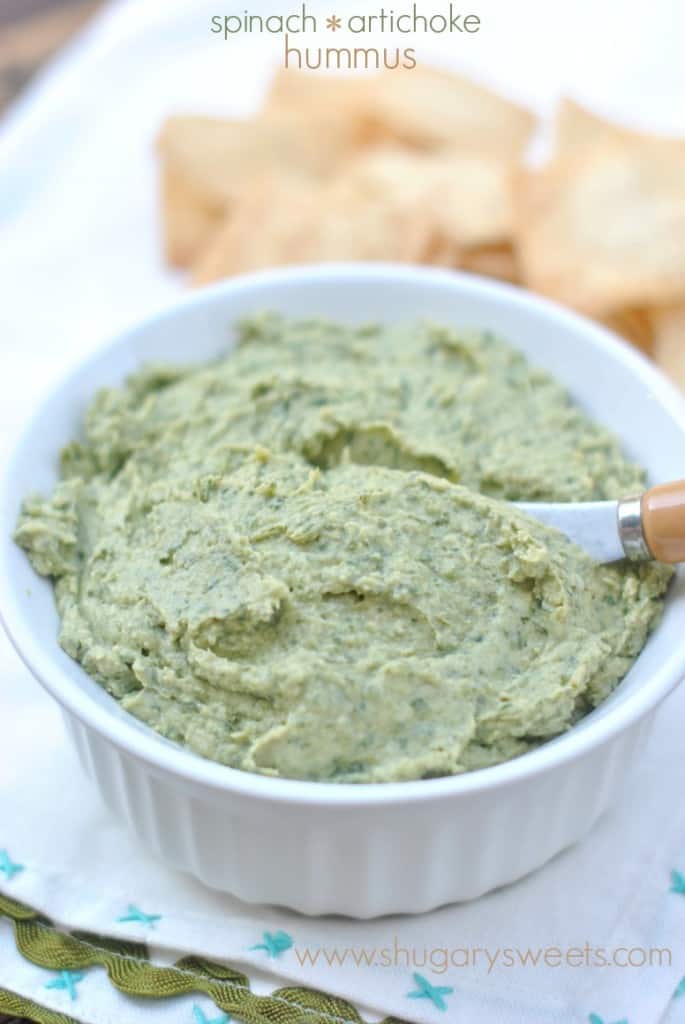 Why this Recipe is Best
One of my favorite dips would have to be Instant Pot Spinach Artichoke dip. Hot, garlicky and delicious!
I also love a classic hummus recipe.
Why not combine my two favorites into one tasty dip?
Spinach and Artichoke, meet your new BFF: garbanzo beans.These flavors are incredible together.
Tangy artichokes brighten the creamy hummus with incredible flavor.
Spinach adds color, texture and nutrients.
Plenty of garlic and a hint of cumin for spice.
All the great taste of hot spinach artichoke dip, without the dairy!
I hope you give this hummus recipe a try. Homemade hummus really does taste so much better than the store bought version! And so easy to make, too.
Ingredient Notes
Here's what you'll need to make this flavorful hummus recipe:
Garbanzo beans (a.k.a. chickpeas) – I recommend peeling the clear outer layer of skin for a smooth hummus texture.
Tahini – A spread made from pureed sesame seeds gives the hummus its creaminess.
Lemon juice – for brightening up the creamy flavor.
Spinach – I use fresh baby spinach leaves.
Artichoke hearts – The canned variety with the juices drained out.
Garlic – Freshly peeled and chopped for best flavor.
Olive oil – for cooking the garlic and vegetables.
Cumin – adds a touch of smoky spice to balance out the tangy artichoke and lemon.
Kosher salt – Add as much or as little as you need according to taste.
Tips and Tricks
Use fresh ingredients when possible. For this recipe, fresh spinach, fresh garlic and fresh lemons make a world of difference in the flavor of the finished hummus.
Set aside some of the liquid from the can of chickpeas. You can add this to the mixture as needed when processing the hummus. It adds more flavor and creaminess than water alone!
I use a food processor on high speed when processing my hummus. A high powered hybrid mixer like a Vitamix will work well too.
Add the ingredients to the food processor while it's running. This keeps the ingredients moving to prevent clumping.
Let spinach artichoke hummus sit for a bit before eating. I prefer a minimum of 4 hours, but overnight is best. It's not strictly necessary but the flavors meld even more when given the chance to rest.
Make an impression with your hummus! Drizzle an extra tablespoon of olive oil on top and add a sprig of parsley on top for a pretty appearance.
Recipe FAQs
What should I serve with this hummus?
I serve this Spinach Artichoke Hummus with pita chips and sliced veggies for dipping!

Crackers, toast points or fresh wedges of pita bread are other great choices.

Hummus is a perfect addition to sandwiches too. Try it spread on a wrap stuffed with grilled vegetables for a hearty vegetarian lunch idea!
Can I make hummus in a blender?
I have never had success making hummus in my blender. The mixture gets stuck and doesn't blend smoothly.
If you have a high powered blender like a Vitamix or Nutribullet, you may have better luck!
Do I serve this warm or cold?
I prefer to enjoy this hummus cold after it's chilled for a few hours in the refrigerator. It tastes good warm and at room temperature, too.
I have friends who swear that warm hummus is the way to go. So it's totally a matter of personal preference!
Can I eat it right away?
YES! The extra chill time is optional. Feel free to dig in to the hummus immediately if you don't have time to wait . . . or just can't resist sampling a big scoop of mouthwatering creamy spinachy hummus right away!