Soft, chewy Sugar Brookies are a delicious combo of Sugar Cookies and Brownies. Make a pan for dessert today!
Be sure to sign up for my email…new recipes in your inbox!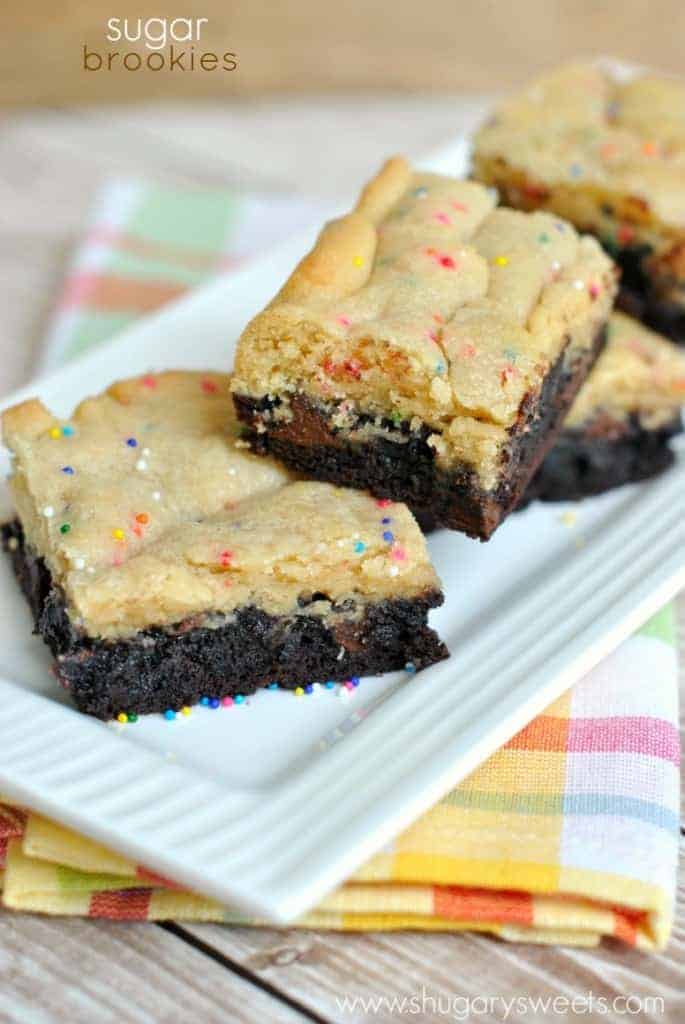 Hey friends! It's Aimee. Coming to you from Illinois.
Our move went smoothly. I forget how much work it is to unpack though. And sadly, I think I have less cabinet space at this new house! It's like a puzzle trying to figure out what will be stored where. And then I switch it around. I think I've rearranged my cabinets 4 times.
But, now I'm pretty sure I know where everything is. So much so, that I whipped up these Sugar Brookies the other day.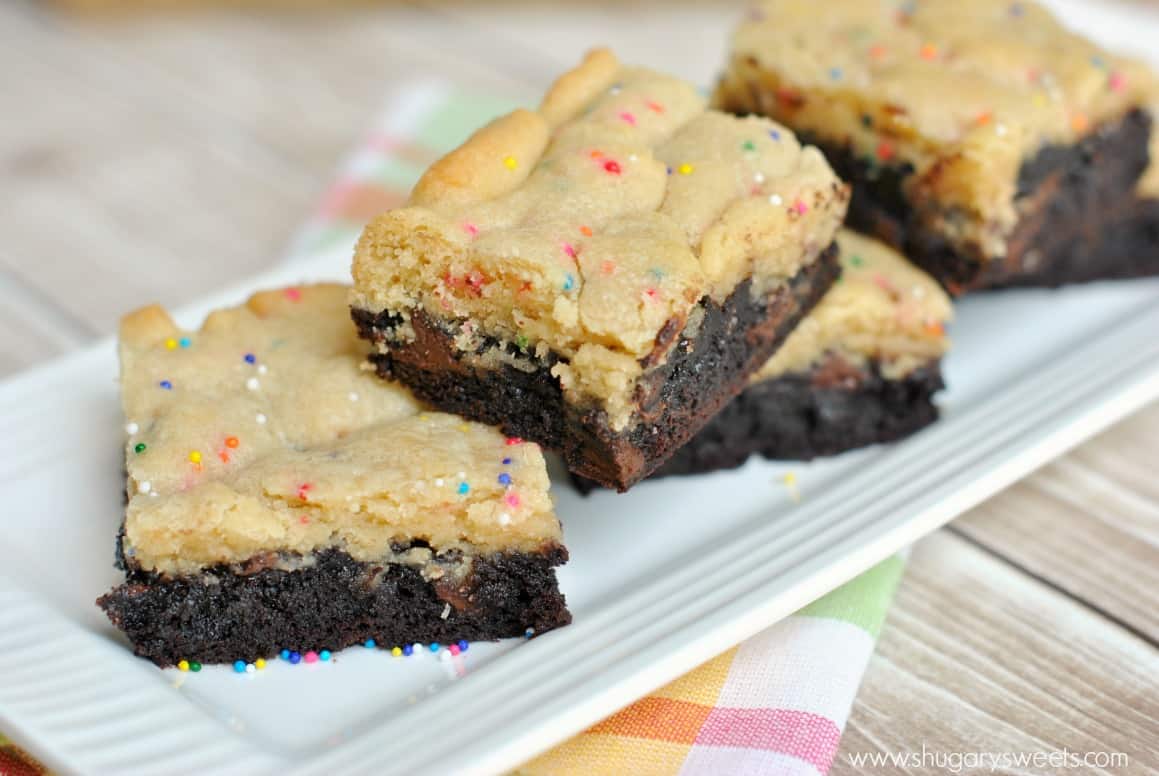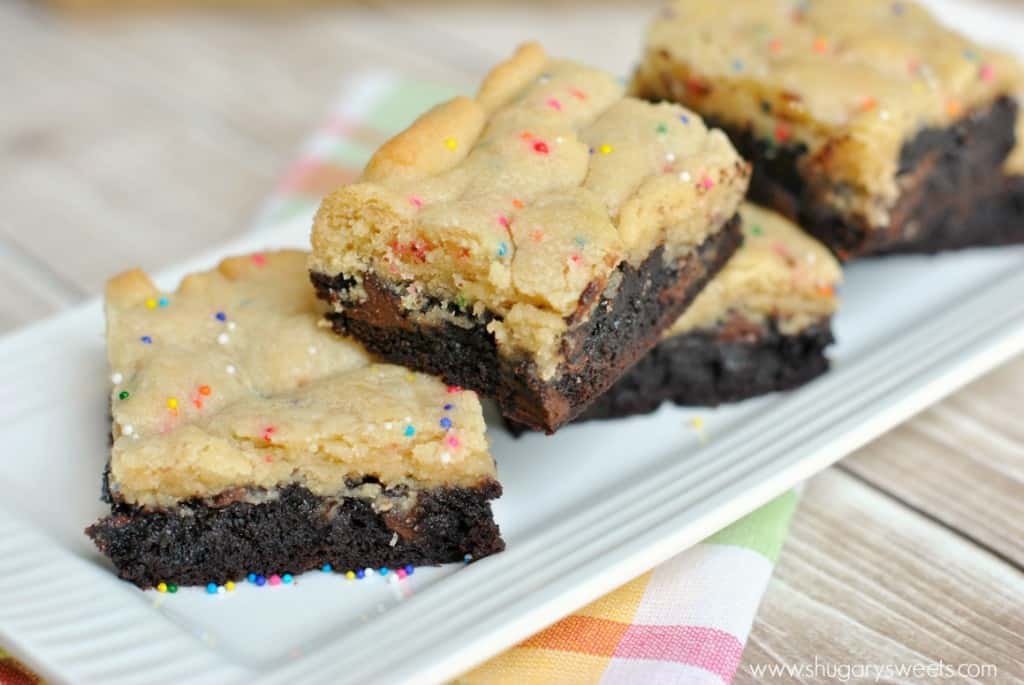 If you recall, brookies are a combo of cookies + brownies….a delicious combo if you ask me! Scroll down after the recipe and you'll see I'm a bit obsessed!
Today's recipe was inspired by the insane amount of sprinkles I unpacked. One whole cabinet of sprinkles. Priorities, right?
And, can I just say that I've typed SHUGAR (not SUGAR) twice now. It's a problem I have. I know how to spell sugar, honest. As a reminder (I'm asked frequently) SHUGARY is a play off my last name. Which is fun and perfect for blogging….not so great when you need to write the word SUGAR and you want to stick an H in there every time! Ha.
As for these Sugar Brookies…they are obviously a combo of sugar cookies and brownies. And sprinkles, of course. You can use a boxed brownie mix for the bottom layer if you prefer, I enjoy this easy, one bowl from scratch recipe below. And they end up being so moist and fudgy.
Also, these are REALLY good on day 2. Dare I say I think they may even taste better! Crazy how that is sometimes, right!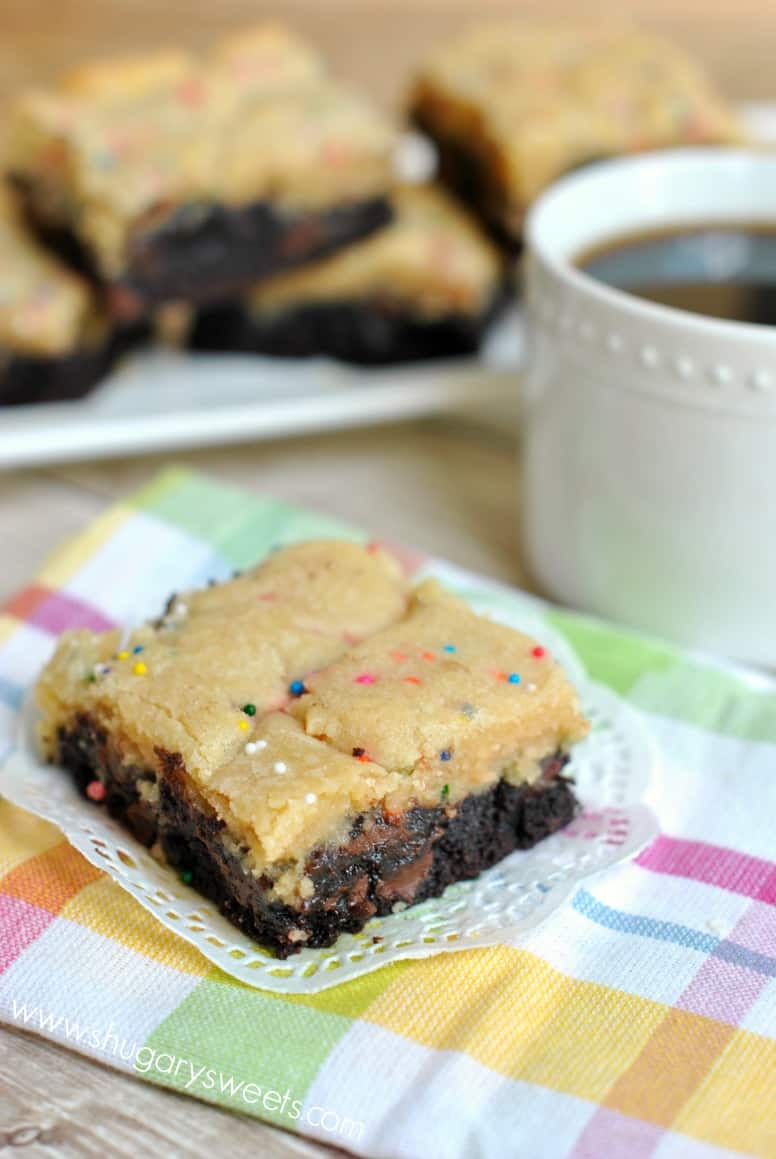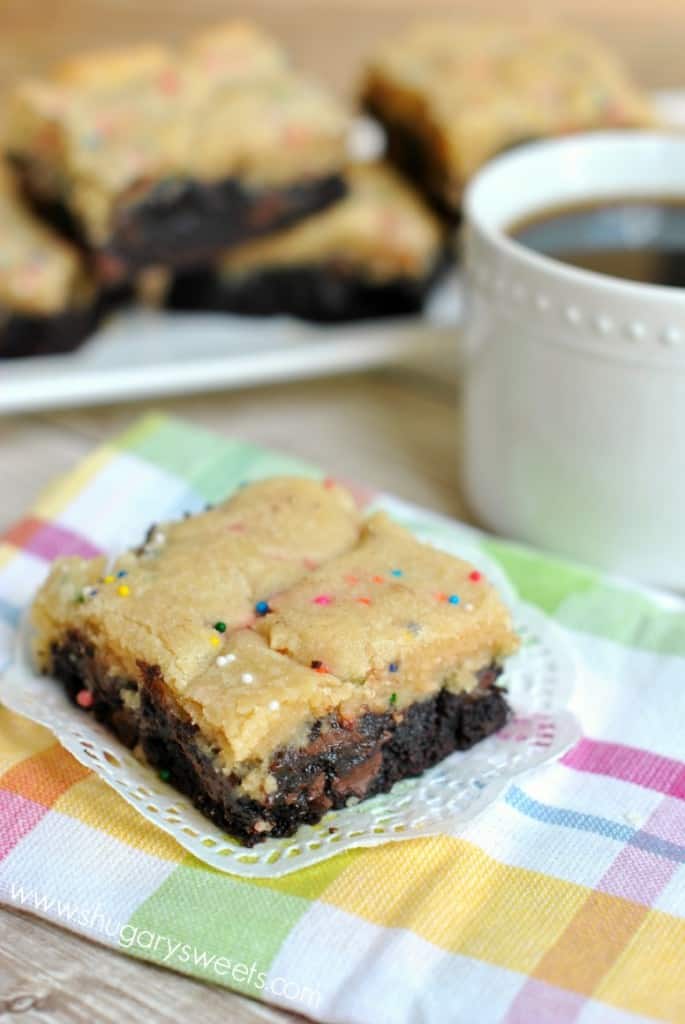 Connect with Shugary Sweets! Be sure to follow me on my social media, so you never miss a post!
Pinterest | instagram | Bloglovin'
Yield: 24 bars
Sugar Brookies
Ingredients
For the brownie layer:
1 1/2 cup granulated sugar
3/4 cup all-purpose flour
3/4 cup dark chocolate unsweetened cocoa powder
3 large eggs
3/4 cup melted, unsalted butter
1 cup semi-sweet chocolate morsels
For the cookie layer:
3/4 cup unsalted butter, softened
1 cup granulated sugar
3/4 tsp vanilla extract
1 large egg
2 cup all-purpose flour
3/4 tsp baking powder
1/4 tsp kosher salt
2 Tbsp sprinkles (optional)
Instructions
Line a 13x9 baking dish with parchment paper.
In a large bowl, combine brownie ingredients. Blend with a wooden spoon just until combined. Spread in bottom of baking dish.
For the cookies, beat softened butter with sugar and vanilla until blended. Add egg and combine. Add flour, baking powder and salt and mix until fully combined. Fold in sprinkles.
Drop by spoonful over brownie layer, trying to keep the cookie layer evenly spread.
Bake in a 375 degree preheated oven for 25-28 minutes. Remove and cool completely. Cut and enjoy.
Store in airtight container at room temperature up to 5 days.
Looking for more BROOKIES?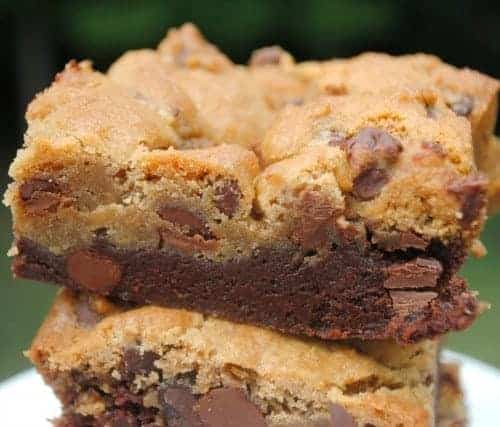 The original Chocolate Chip Brookies. A perfect recipe!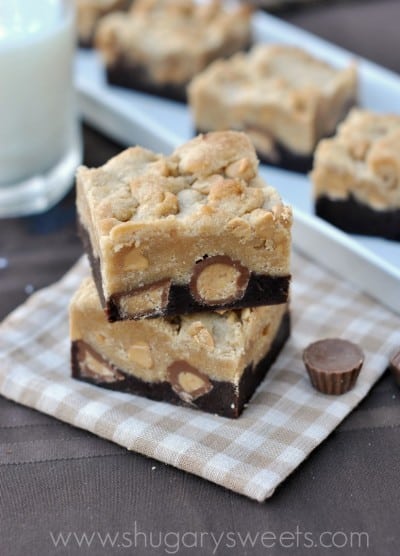 Peanut Butter Brookies. Of course a few Reese's minis make everything even better!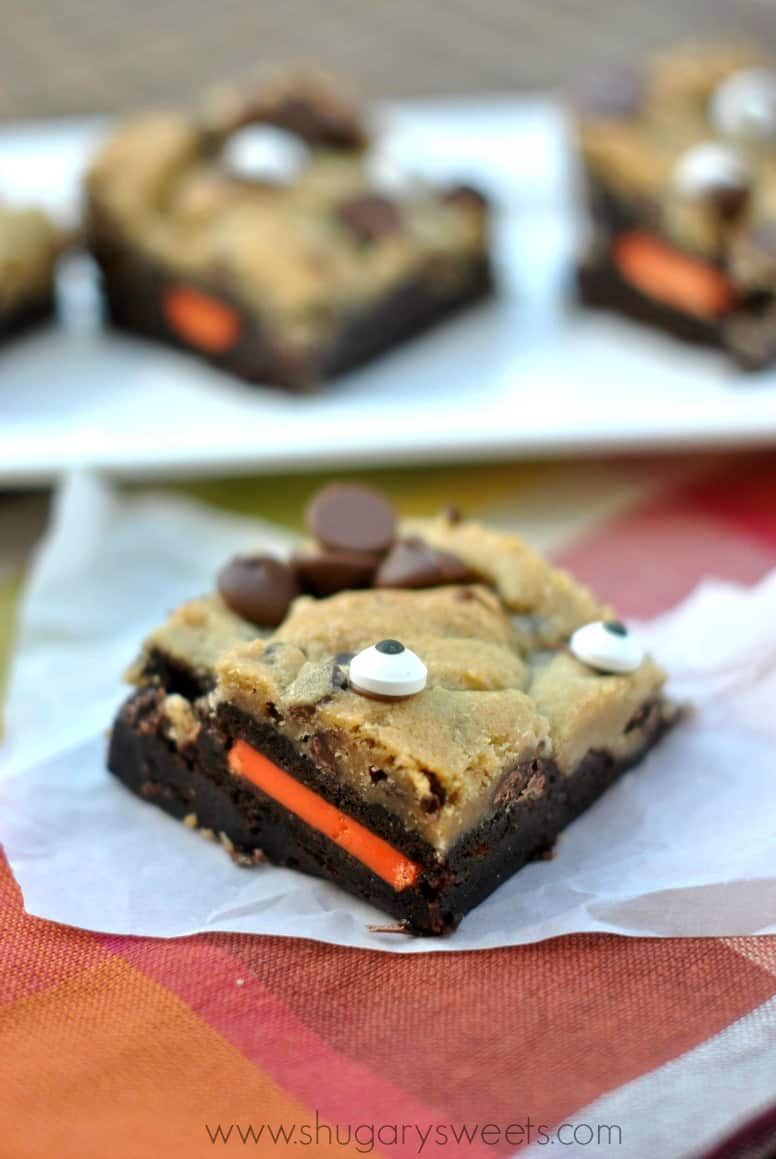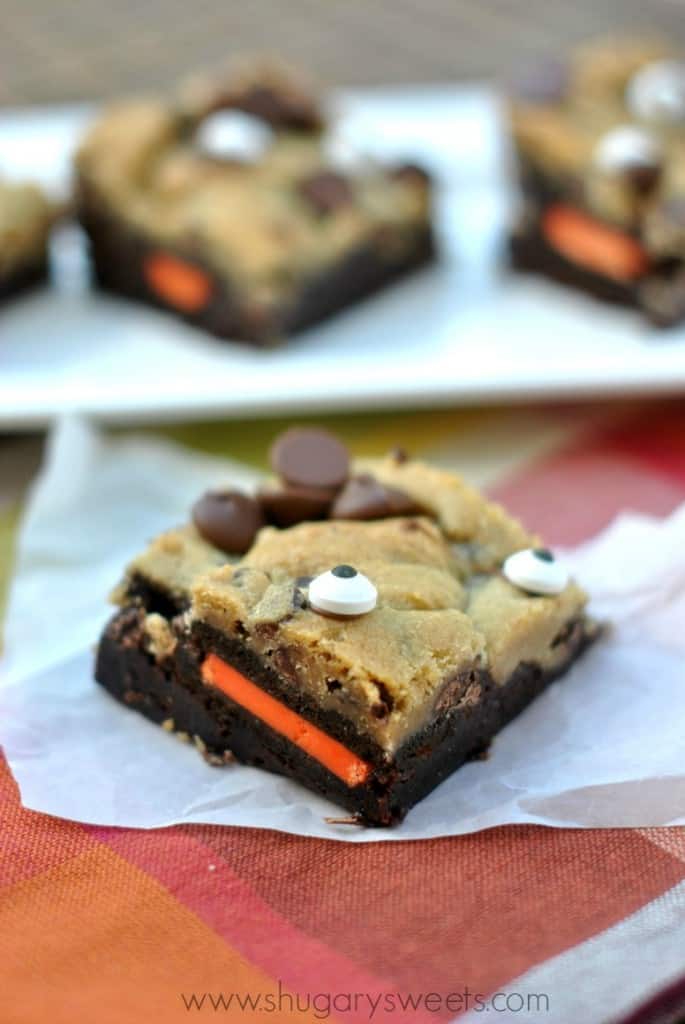 Spooky Brookies: a fun twist with some Halloween Oreos and monster EYES. You can use regular Oreo cookies any time of year!'