These sweet and festive Watermelon Cupcakes are a summer time delight! They're easy to make and swirled with pretty-in-pink frosting.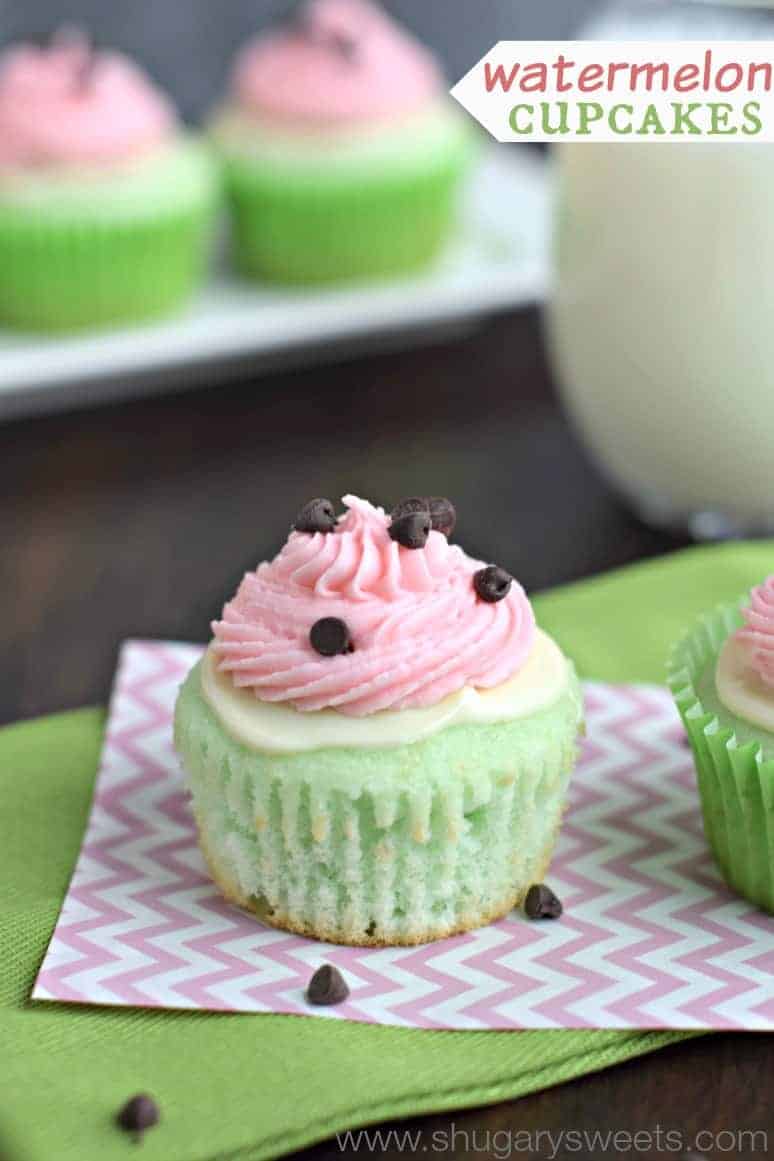 One of our favorite things we enjoy in summer is watermelon. We eat a whole melon every week in the summer, not even exaggerating.
Actually, I cut a melon in the morning and it's gone by bedtime. If we had an endless supply of watermelons, we would probably repeat the pattern daily. Even our dogs get in on the summertime watermelon fun!
To make sure we don't overdo it, I usually stick to just buying one melon at a time. So, we're forced to wait until my next shopping trip to gorge on the pink fruit again.
To tie us over until our next shopping trip, I whipped up a batch of these super cute and fun Watermelon themed cupcakes!
Nobody has to know they start from a cake mix…and the flavor is so wonderful, adults love this festive treat as much as the kids.
Now that the kids are done with the school and the sun is high in the sky, I think it's time to celebrate with a batch of these cuties!
How to make Watermelon Cupcakes
For the cupcake, I started with a basic white cake mix. Lime gelatin adds a hint of zesty flavor and green color that looks like a watermelon rind.
Egg whites, water and oil go in with the gelatin and cake mix to finish off the batter.
After filling cupcake liners about 2/3 of the way to the top, I baked these for about 15 minutes, until a toothpick inserted in the center came out clean but the tops were a bit soft to the touch.
Watermelon Frosting
I thought about making the cupcakes then just topping them with some watermelon flavored frosting. That would have been good but I wanted these to be AMAZING!
So, I turned to my trust friend: melted white chocolate. A thin layer of melted white chocolate on top of each cooled cupcake adds a bit of decadence and a pleasing white color to the watermelon cupcakes.
Finally, my favorite part: the FROSTING!
Watermelon Kool-Aid mix is my secret for giving fluffy buttercream its melon flavor.
In a mixer, you beat butter with powdered sugar, Koolaid mix and milk until it's fluffy and smooth. Pipe frosting on each cupcake with a decorator bag.
Want to take the Watermelon theme a step further? Sprinkle some mini chocolate chips on top of the frosting. They look like watermelon seeds and tie the picture together. Also, I'll never turn down a little extra chocolate!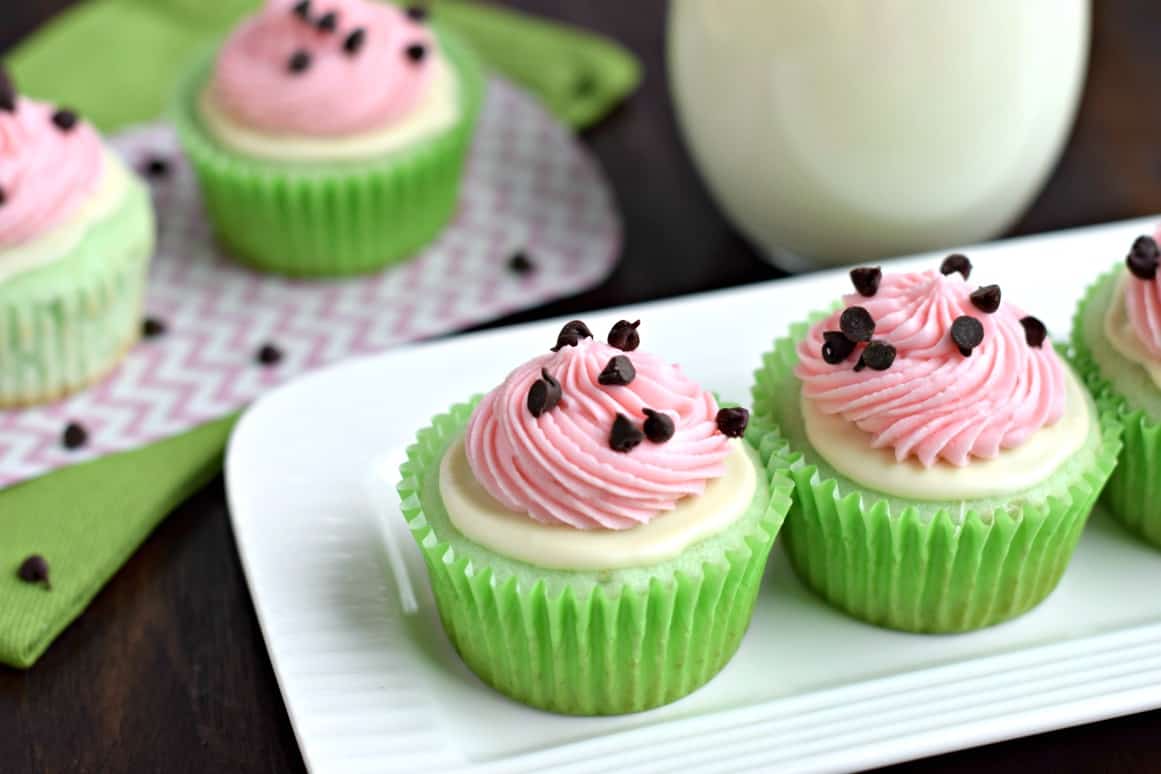 Tips & Tricks
If you can't find Watermelon koolaid mix, you can order watermelon flavoring on Amazon!
No decorator bag? Spoon the frosting into a ziploc bag instead. Cut out a corner of the bag and pipe the frosting onto the cupcakes.
I must say, these tasted perfect.
The lime flavored cupcake was so slight, but just enough to give a good base flavor. The melted white chocolate hardened and gives a little texture to your bite. I loved these.
Summer Desserts
When it comes to summer food and beverages, you're going to want to give this Watermelon Slush a try soon if you haven't gotten around to it yet. I also love a bowl of Watermelon Peach Salsa with tortilla chips for summertime snacking.
Despite the way this post sounds right now, I promise you I don't just eat Watermelon desserts in the summer. When the weather is warm, you can bet I'm making plenty of No Bake Lemon Cheesecake and Dole Whip too!
Watermelon cupcakes are sure to become as much a part of our summer dessert and snacking routine as a fresh cut Watermelon! I can't wait for you to give these a try.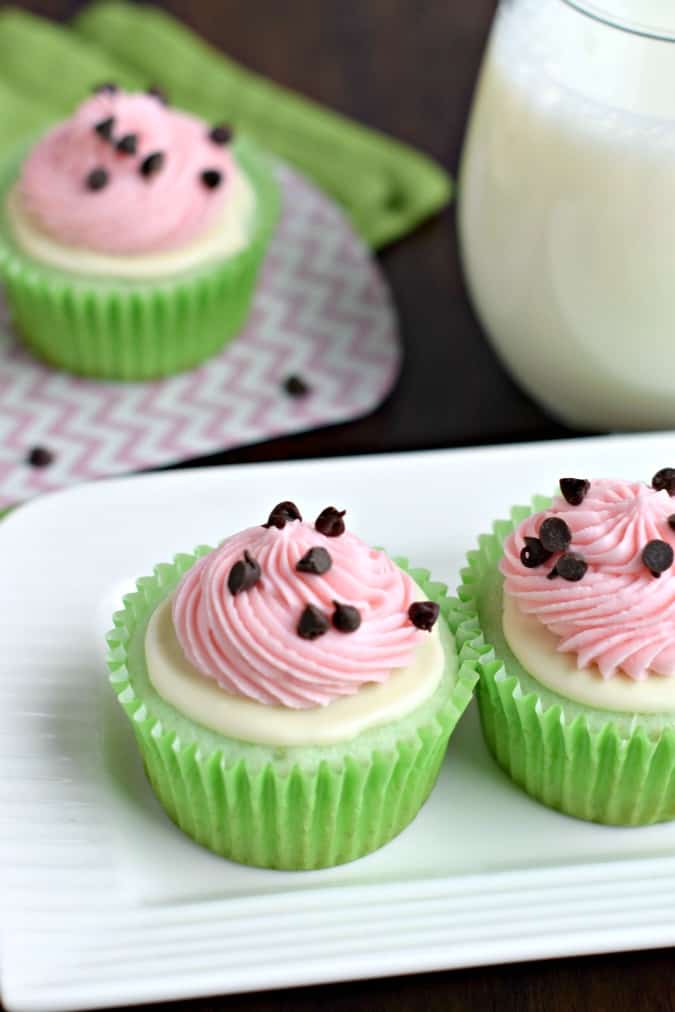 More Summer Dessert Recipes
Delicious Pink Lemonade Cupcakes. Refreshing and tasty, everyone will enjoy!
A light and refreshing Strawberry JELL-O cake. Add a twist of fun by baking up a Funfetti Cake!
A quick, refreshing slush made using frozen watermelon, lime juice, and water! You can even add a little vodka to make this Watermelon Slush adult friendly 😉
This No-Bake Strawberry Cheesecake Dessert from Fifteen Spatulas has layers of buttery graham cracker crumbs, fresh macerated strawberries, and a creamy cheesecake filling.