This Butter Pecan Fudge tastes just like the classic boardwalk treat. Buttery flavor and crunchy pecans come together in a creamy melt-in-your-mouth fudge that's easy to make.
Fudge isn't just for the holidays or vacation anymore. If you love fudge recipes with nuts, try this delicious Rocky Road Fudge and this Maple Walnut Fudge too.
Why This Fudge is Best
I have a little bit of an obsession with fudge. And don't ask me to choose just one favorite flavor because I can't.
There are too many delicious varieties to choose from, depending on my mood and the occasion.
I make Butter Pecan Fudge with real butter and brown sugar for pure flavor perfection.
Every bite is loaded with nutty pecan crunch.
Perfect as a homemade gift or party treat.
No candy thermometer needed!
How to Make Butter Pecan Fudge
Today's Butter Pecan Fudge recipe is wonderful. The texture is closer to these Pecan Pralines, but the flavor is exactly what you would expect. Buttery. Nutty. Just perfect.
And, like nearly every other fudge recipe I make, it's easy. Which means, no candy thermometer required! I promise, knowing how to make fudge really is easy!
STEP 1: Line an 8-inch square baking dish with parchment paper. Set aside.
STEP 2: In a large saucepan over medium high heat, combine sugars, cream, butter and salt. Bring to a boil. Stirring constantly, boil for a full 4 minutes (ROLLING BOIL). Remove from heat.
STEP 3: Pour hot mixture into a mixing bowl and add in the vanilla and powdered sugar. Beat until smooth (several minutes). Fold in chopped pecans and pour into prepared baking dish.
STEP 4: Refrigerate for 3-4 hours until firm. Before cutting into pieces, allow to come to room temperature.
PRO TIP: I refrigerate it to get it to set up quicker, however, it's best to let it come to room temperature when you want to slice it into pieces. Otherwise, if it's too cold, it will begin to break into smaller shards. Which, if that happens, just toss it onto your ice cream sundae. See what I did there?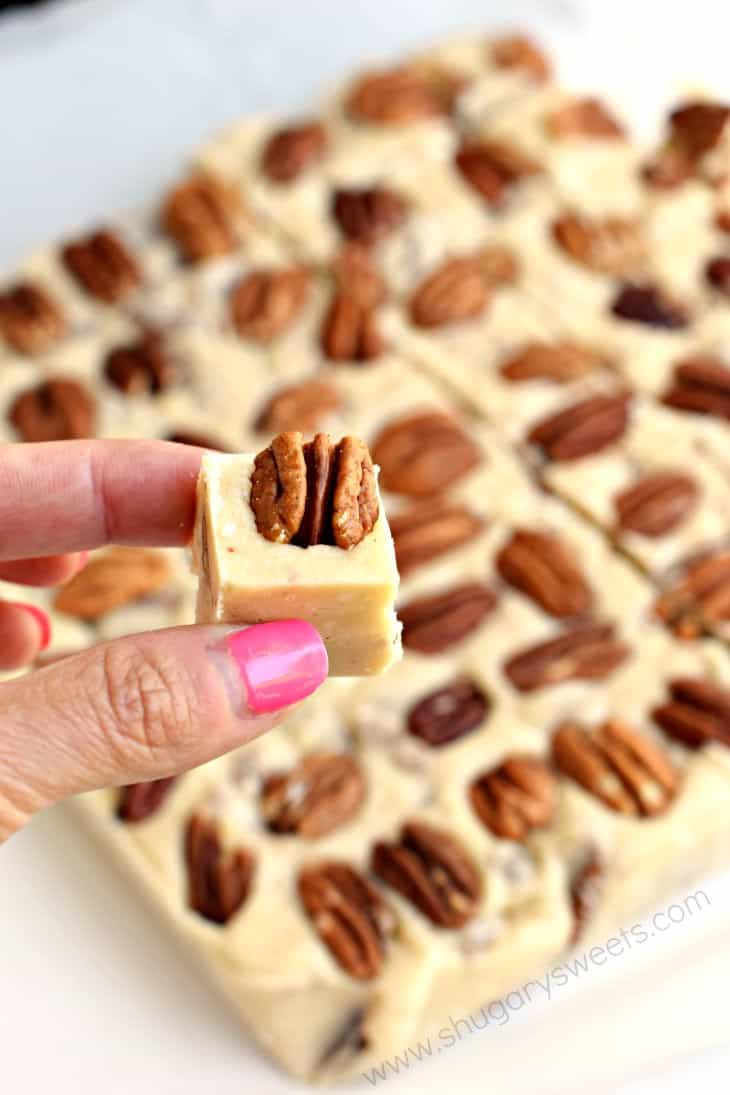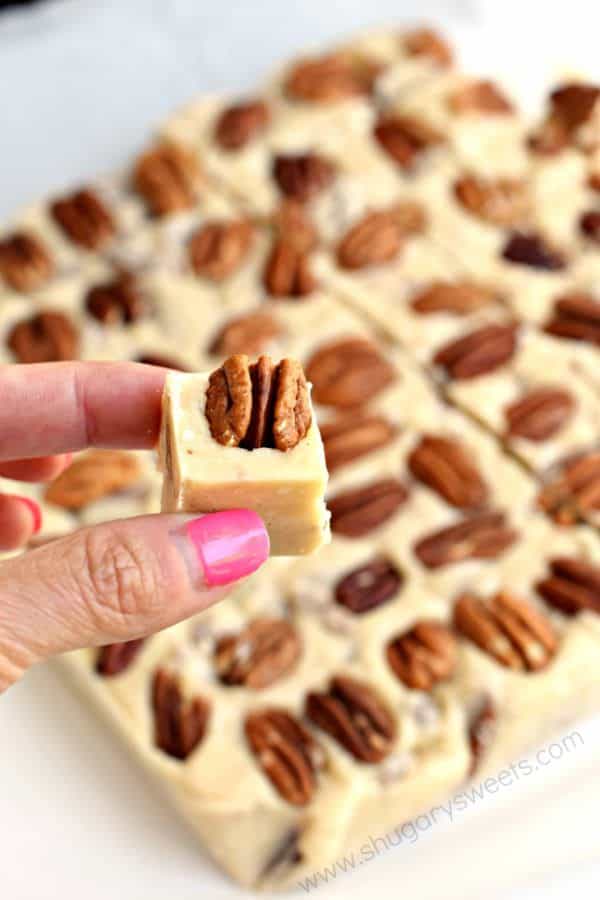 Tips and Tricks
Substitution ideas: Try making this fudge with almonds or peanuts instead of pecans to change things up. Who says butter almond fudge or butter peanut fudge can't be a thing?!
Cut as you go. When serving fudge, I cut off only as many squares as we plan to eat at once. That way the rest of the fudge stays soft and fresh, without drying out. Remember, you can always cut more!
Garnish. Do what I did and set aside a few pecan halves to press into the top of the fudge before it sets. This is especially useful if you're serving it alongside other fudges and want to be SURE everyone knows what flavor is what.
Recipe FAQs
Why is my fudge not setting?
If your fudge does not set up to a sliceable consistency, it may not have been boiled for long enough. Make sure to boil the sugar mixture for a FULL 4 minutes for this butter pecan fudge recipe.
Can I make this without an electric mixer?
I recommend using either handheld beaters or an electric stand mixer with a whisk attachment for this recipe. You need to work quickly to incorporate the hot fudge mixture with the powdered sugar and vanilla before it starts to cool down.
Mixing vigorously by hand might work but I haven't tested it this way and cannot vouch for the results.
Should I measure the pecans before or after chopping?
For this fudge recipe, I chopped the pecans before measuring them.
How do you store butter pecan fudge?
Once the fudge is set, it should be stored at room temperature in an airtight container for up to one week. For longer storage, keep the fudge in the refrigerator and bring it to room temperature before cutting and eating.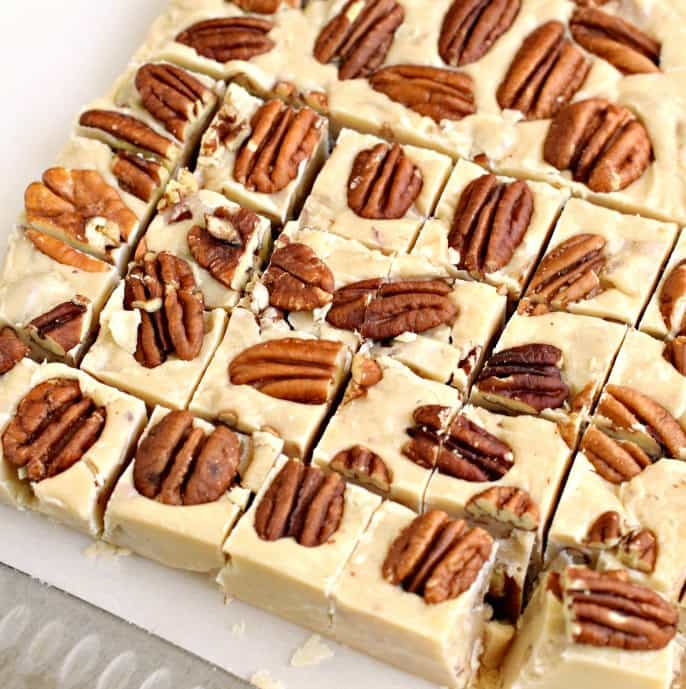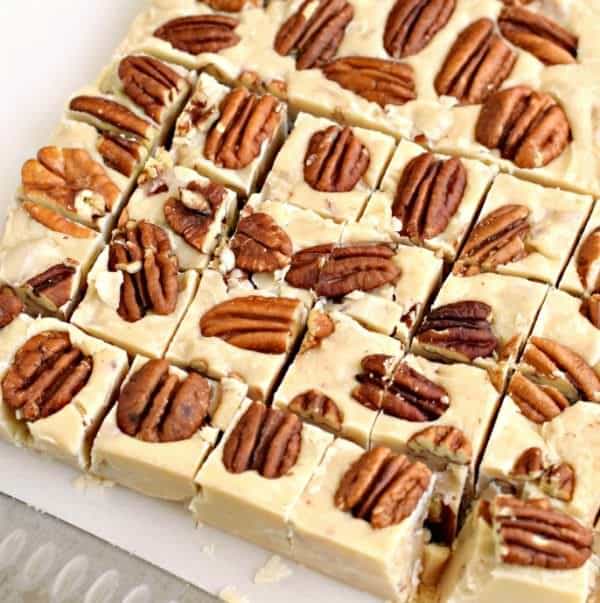 More Fudge Recipes
Butter Pecan Fudge is an easy fudge recipe packed with pecan crunch!