This easy Butter Rum Fudge recipe is packed with flavor! Your family and friends will think you slaved in the kitchen making this special treat!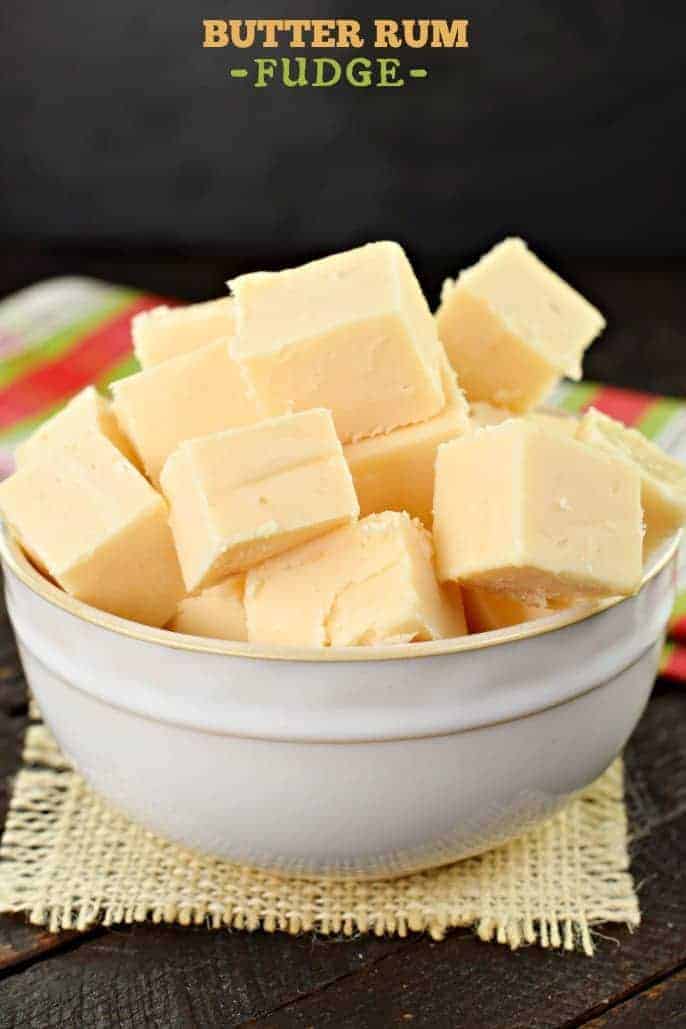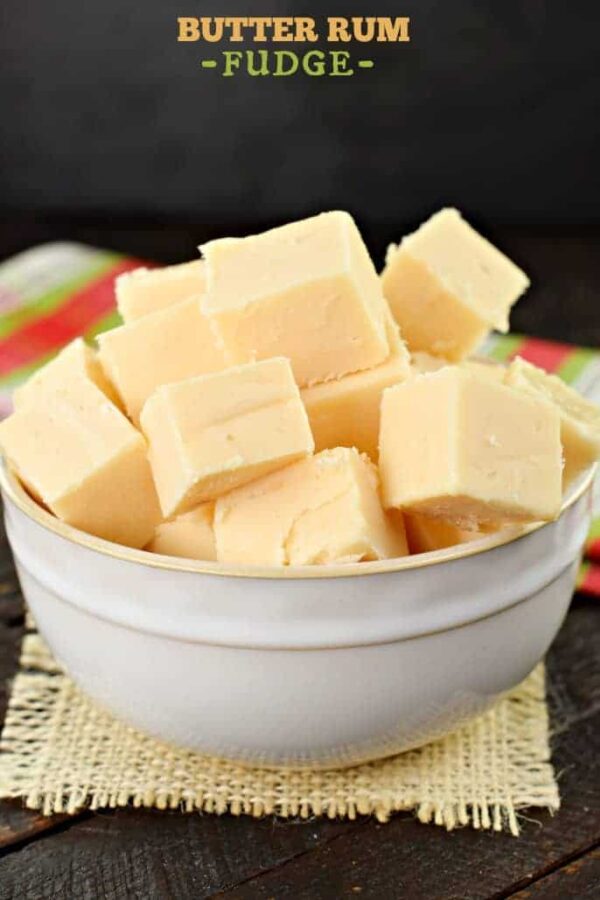 Um. Do you know how long it's been since I shared a new fudge recipe?
Wait for it.
FEBRUARY. I'm so ashamed. I've been dubbed the "queen of fudge" by many of my friends and family, yet I haven't created a new recipe for nearly 9 months. My apologies, friends, for letting my skills for how to make fudge lapse!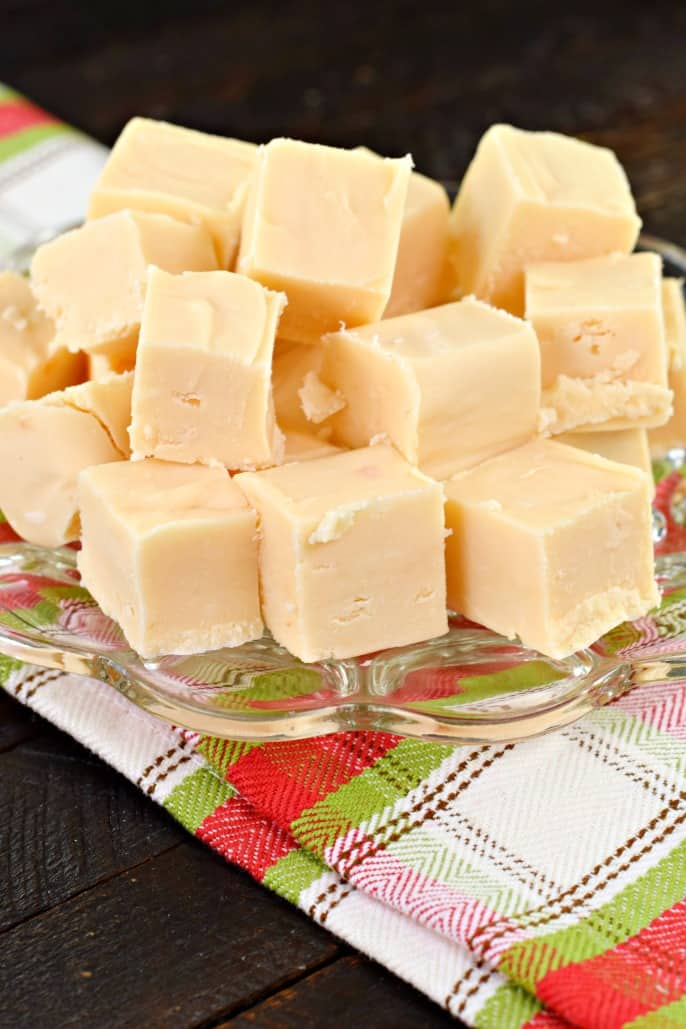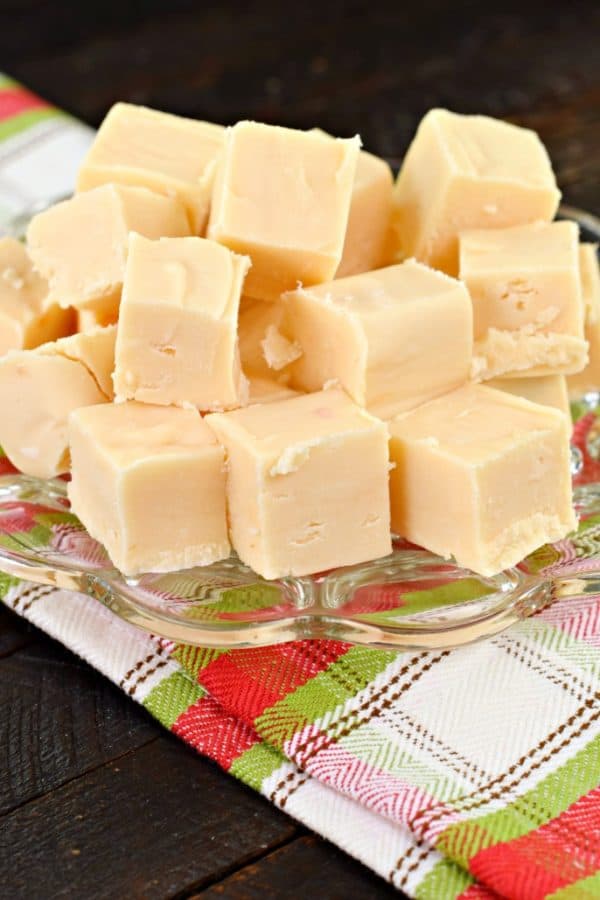 If it's any consolation, today's recipe for Butter Rum Fudge was worth the wait. This one melts in your mouth. And if someone doesn't tell you the flavor, you're left wondering what that creamy, buttery taste might be!
Growing up, I loved those Brach's Royals (filled caramels), and my favorite flavor was the Butter Rum. Does anyone remember these? (true story, while I was typing this out, I just ordered a 3 lb bag on Amazon. Had no idea they still existed)! Don't worry though, there's no actual alcohol in this fudge, so even the kids can have a few pieces, if you're willing to share, that is!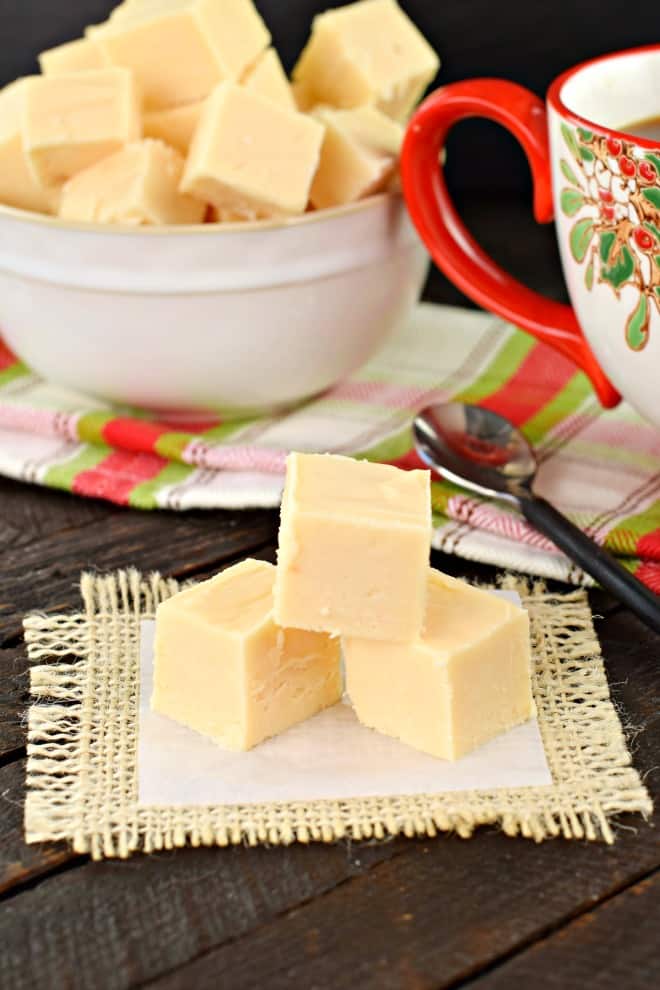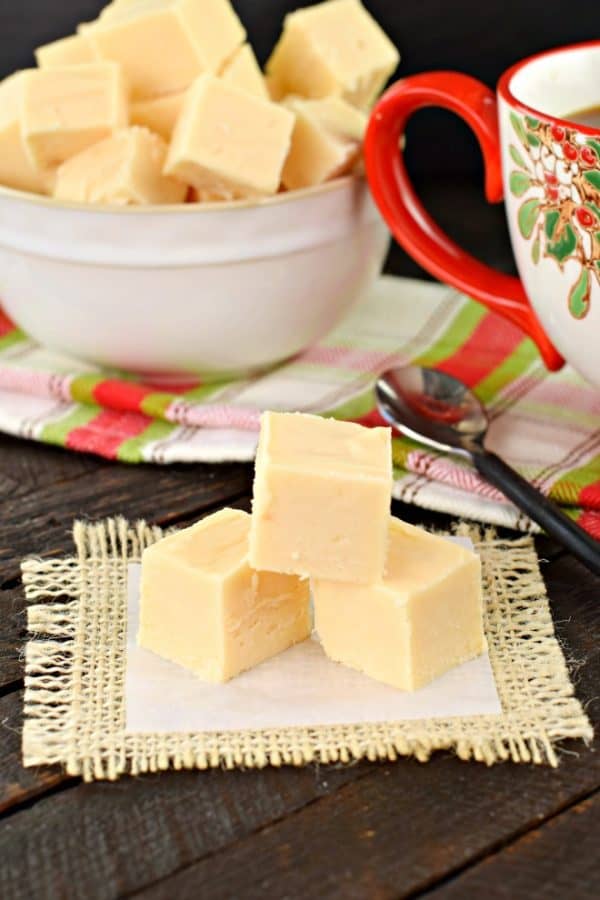 How to make Butter Rum Fudge:
First, have all your ingredients ready. I like to put the white chocolate morsels, the butterscotch morsels, the rum extract, and the marshmallow fluff in the mixing bowl before beginning.
Once you bring your sugar and butter to a boil, allow it to continue to boil for a full 5 minutes. Immediately remove from heat and pour over the ingredients in the mixing bowl. Beat on low just until all the morsels are melted and blended. Pour into your prepared baking dish.
Refrigerate for about 2 hours (or more!) until the fudge has set up properly.
For freshest fudge, once it's set up remove from fridge and place in a ziploc bag. Only cut pieces as you need them. Store at room temperature. ENJOY.
What holiday treats are on YOUR baking list this year? I've got some goodies coming soon, so make sure you sign up for my email subscription. It's free and you'll receive a new email with each new recipe I post!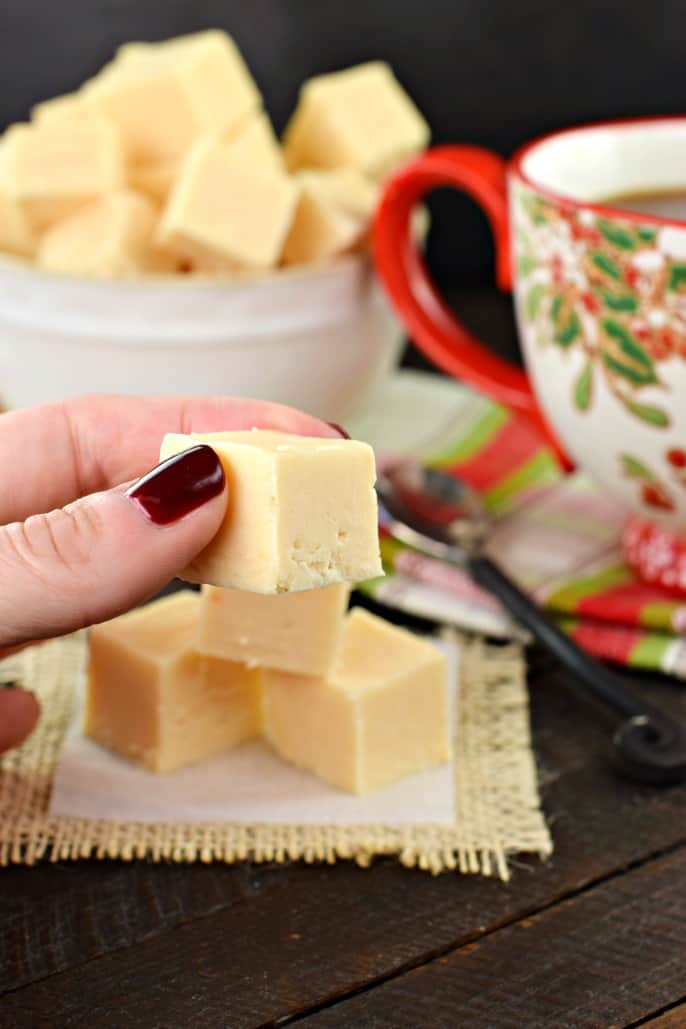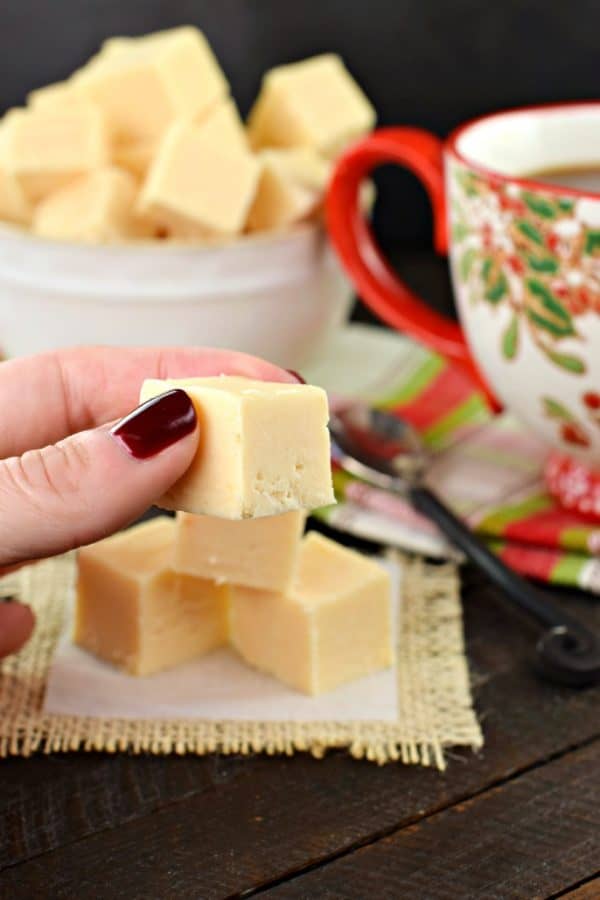 I created a fun little group on facebook and I'd love for you to join in! It's a place where you can share YOUR favorite recipes, ask questions, and see what's new with Shugary Sweets (so that you never miss a new recipe)! If you'd like to check it out, you can request to join HERE.
Connect with Shugary Sweets! Be sure to follow me on my social media, so you never miss a post!
Facebook | Twitter | Pinterest | instagram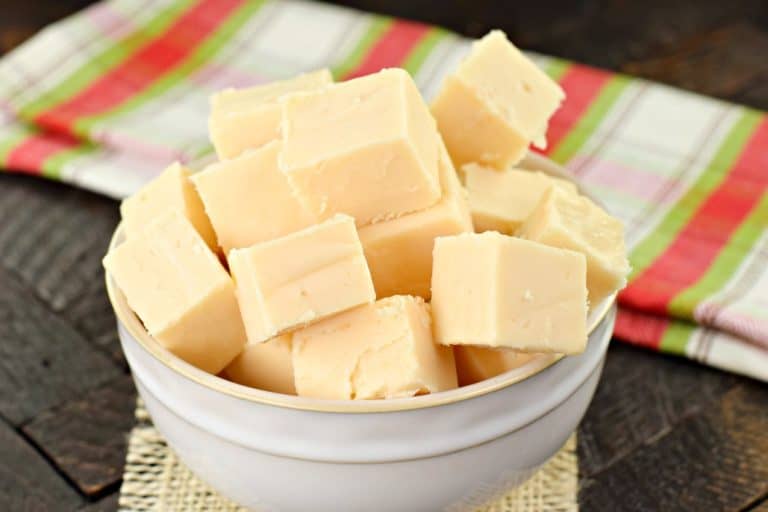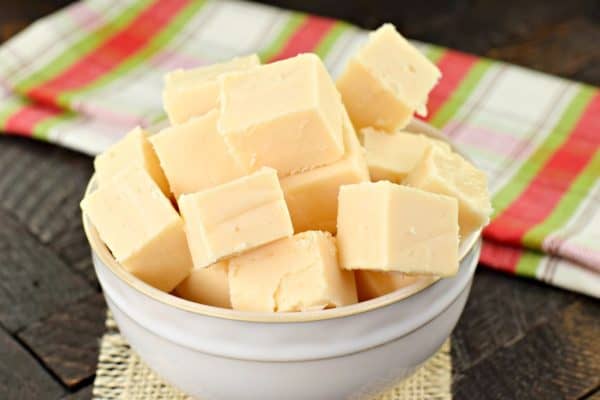 Here are a few of my favorite treats for the holidays:
Gingerbread Fudge. You'll love the simplicity of this tasty fudge, without the hassle of rolling out cookie dough!
Hot Buttered Rum Cocktail from Barefeet in the kitchen. Sweet and festive with holiday spices!
Did someone say boozy fudge? Thank goodness Lisa from Wine&Glue made this Bailey's Fudge. Perfect way to survive the holidays!
I've got a Cinnamon Fudge recipe that tastes so good, you won't want to share!
Haystacks from She Wears Many Hats are one of my favorite winter cookies. I don't know why, but growing up my mom only made these during the holidays!
Yield: 64 pieces
Butter Rum Fudge
Total Time
2 hours
25 minutes
This easy Butter Rum Fudge recipe is packed with flavor! Your family and friends will think you slaved in the kitchen making this special treat!
Ingredients
2 cups granulated sugar
3/4 cup heavy cream
3/4 cup unsalted butter
pinch of salt
1 bag (11oz) white chocolate morsels
1/4 cup butterscotch morsels
1 jar (7oz) marshmallow cream
Instructions
Prepare an 8-inch square baking dish by lining it with parchment paper. Set aside.
Add white chocolate morsels, butterscotch morsels, rum extract, and marshmallow cream to a large mixing bowl. Set aside.
In a large, heavy saucepan, add butter, cream, sugar and salt. Bring to a boil over medium high heat, stirring frequently. Once boiling, continue to boil for a full 5 minutes, stirring constantly. Remove from heat and pour over white chocolate mixture. Using an electric mixer, blend for about one minute, until morsels are melted and mixture is smooth.
Pour mixture into prepared baking dish and refrigerate for two hours (or overnight), covered with a piece of plastic wrap.
Once set, cut into bite sized pieces and store in an airtight container at room temperature for two weeks. For freshest fudge, only cut as needed, keeping the large chunk of fudge in a ziploc bag until ready to eat.