Homemade coffee creamer is easier to make than you think! Plus, you can pronounce all the ingredients! Caramel Macchiato Coffee Creamer is DELICIOUS.
Be sure to sign up for my email…new recipes in your inbox!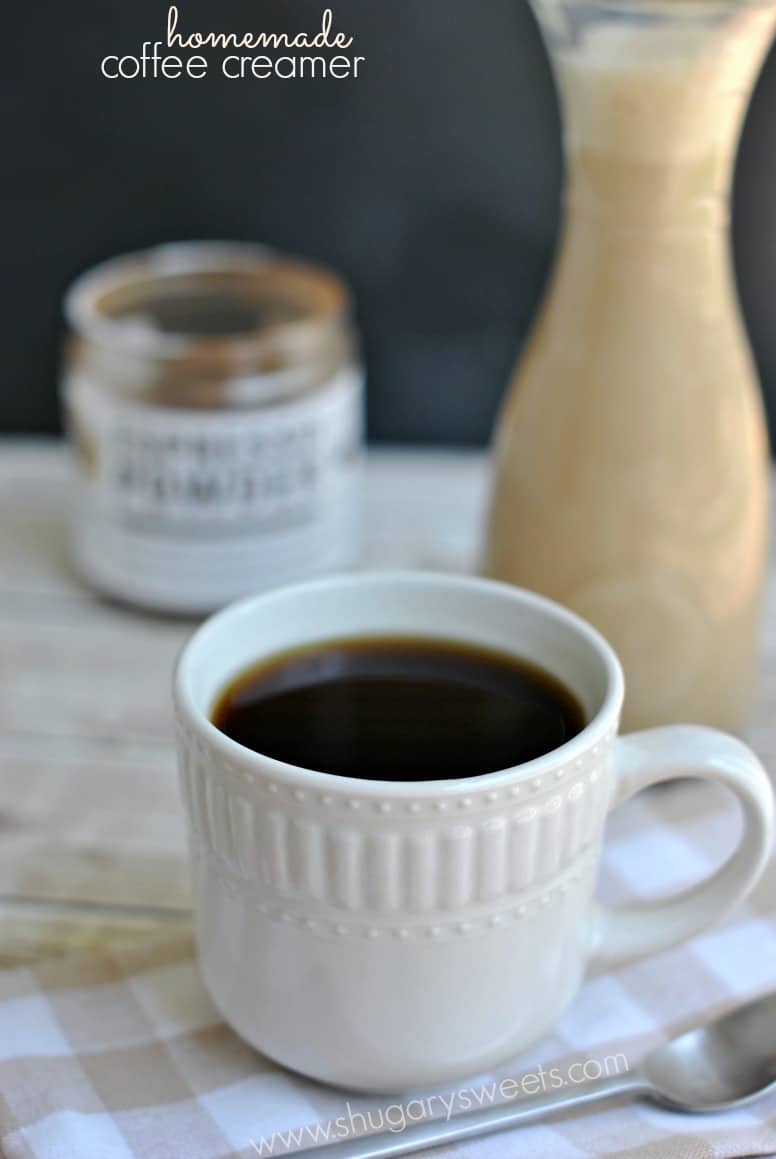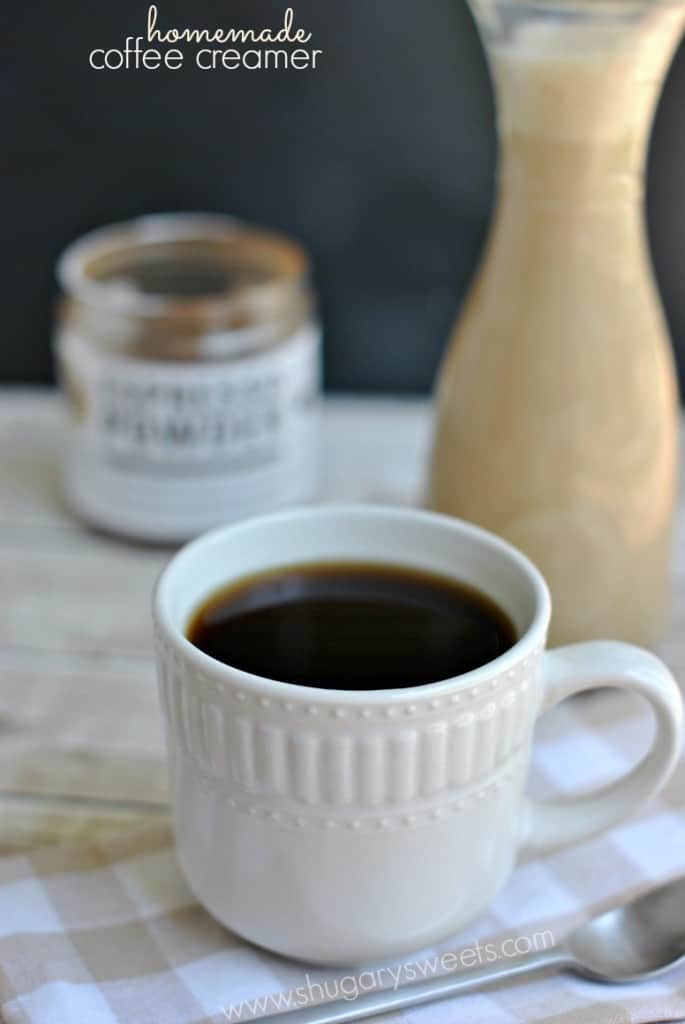 I am obsessed with coffee. I am a coffee addict.
There. I said it. Can we move on?
Here's the thing. While I am obsessed with coffee, I am pretty cheap. I hate paying money for Starbuck's and other coffee shop coffees. I do it occasionally, but I would rather pay the extra money for some good bagged coffee and beans.
And I will pay extra for some delicious coffee creamer too.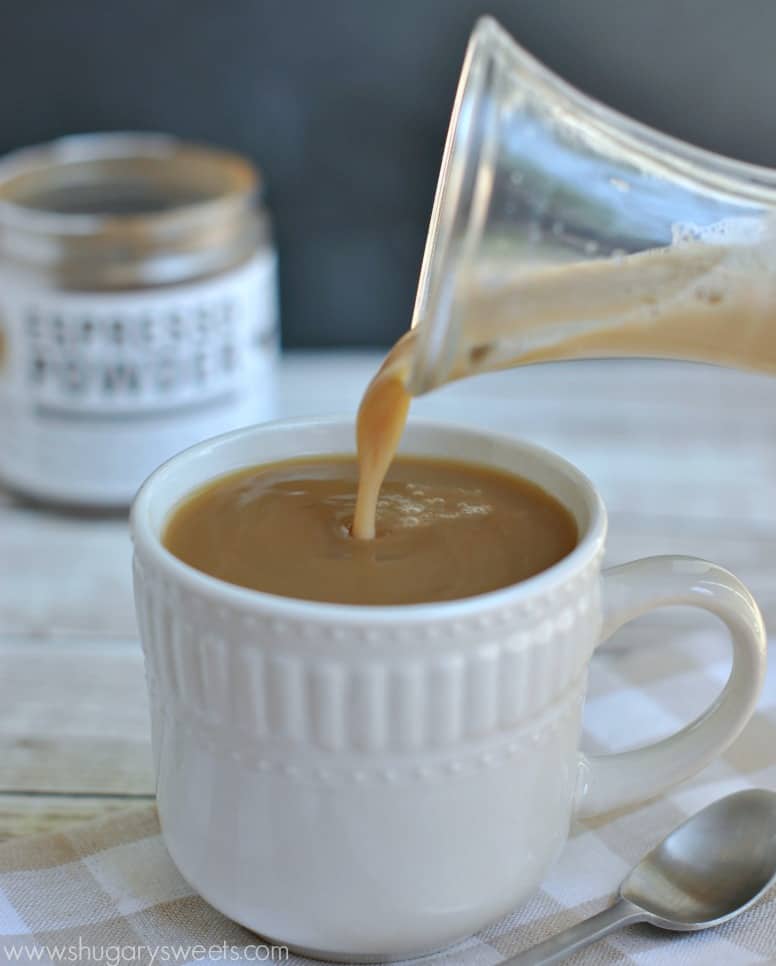 But, my one indulgence…Wait. Let's re-word that. ONE of my indulgences is a Caramel Macchiato from Starbucks. I love the strong coffee with the creamy caramel. And the froth. Oh so delicious.
A couple years ago I learned about Espresso Powder. I buy a jar of this at least once or twice a year. It's not only great in today's recipe, but also good in these No Bake Cookies, these Chocolate Espresso Fudge Cookies, Tiramisu, and some Mocha Cupcakes.
In today's recipe, I added the espresso powder for not only the extra boost of coffee flavor, but it also froths up the coffee creamer. Granted, when adding it to your coffee you lose the froth, but the flavor is incredible.
And because you're making this creamer at home, you can feel good about what you're drinking! I use fat free milk and fat free sweetened condensed milk to cut a few calories. Of course then I add 1/3 cup caramel and I've achieved balance. While I enjoy it with the fat free milks, it's even creamier if you use the regular sweetened condensed milk and whole milk.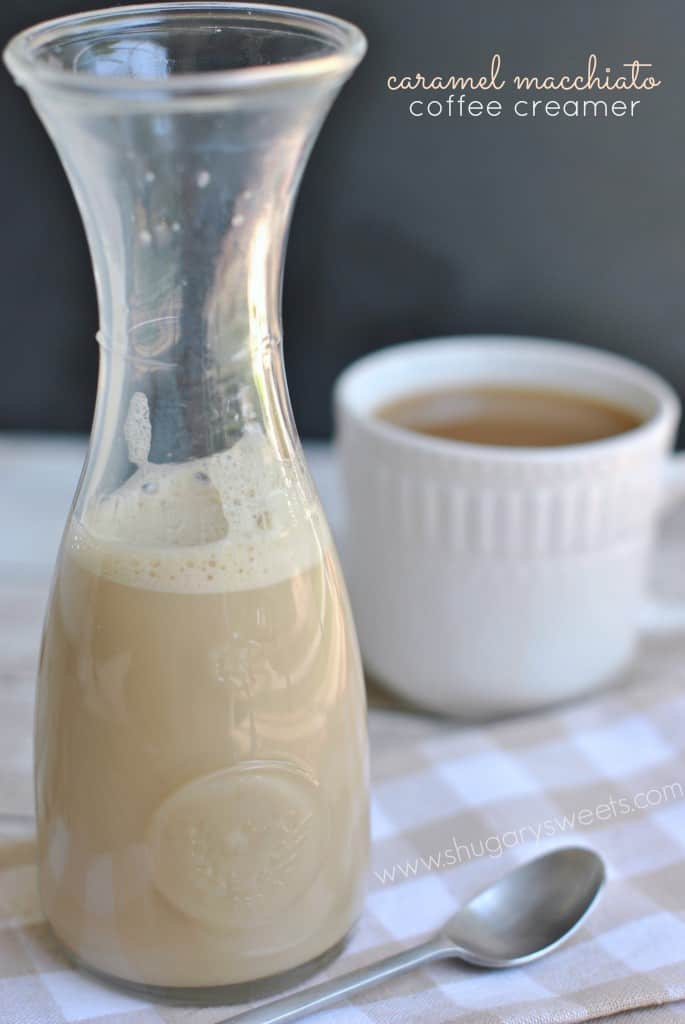 Connect with Shugary Sweets! Be sure to follow me on my social media, so you never miss a post!
Pinterest | instagram | Bloglovin'
Caramel Macchiato Coffee Creamer
Ingredients
1 1/2 cup milk
1 tsp espresso powder
14oz sweetened condensed milk
1/3 cup caramel sauce
2 tsp vanilla extract
Instructions
In a quart size mason jar, combine 1/2 cup of the milk with the espresso powder. Microwave for 30 seconds.
Whisk smooth, and heat an additional 30 seconds. Add remaining milk, sweetened condensed milk, caramel sauce and vanilla.
Screw top on mason jar and shake vigorously until combined. Store in refrigerator.
Notes
Use fat free milk and fat free sweetened condensed milk to cut some of the fat.
I use caramel ice cream topping.
To determine how long this will last, go by the date on your milk.
Try making some of these other homemade Coffee Creamers too: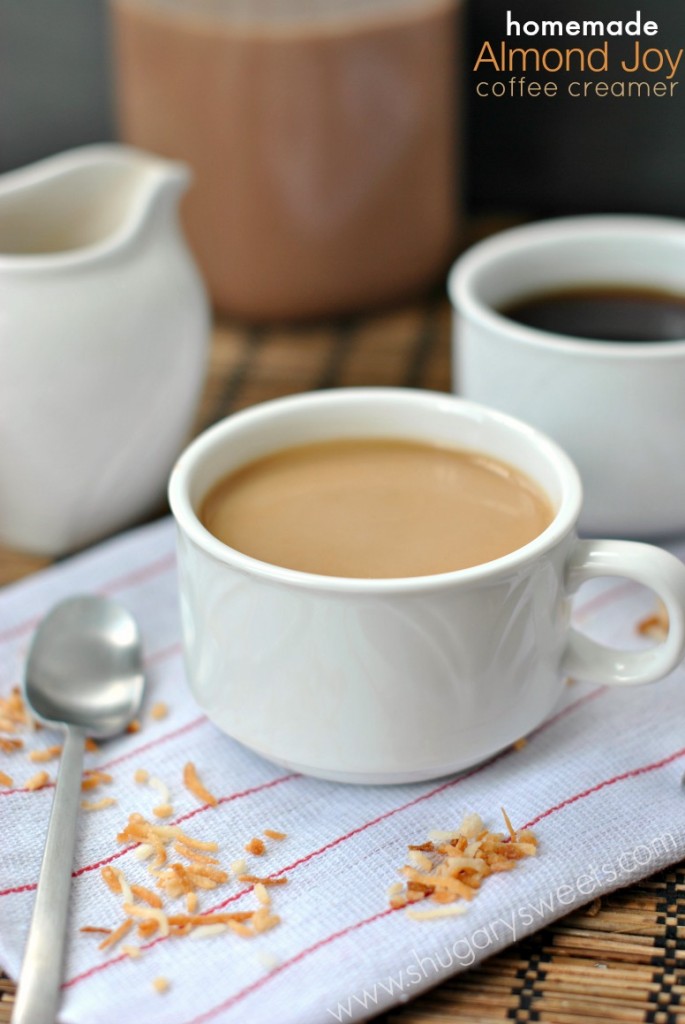 Homemade Almond Joy Coffee Creamer: creamy coconut, almond and chocolate creamer! Indulge!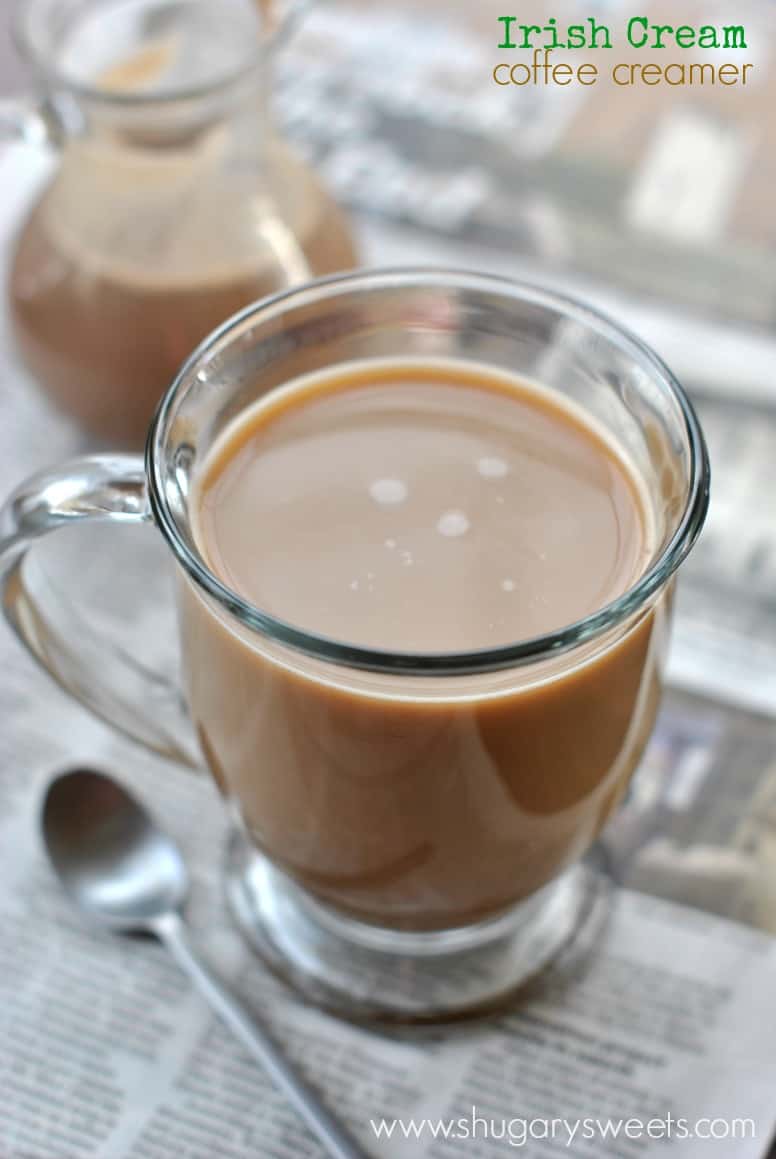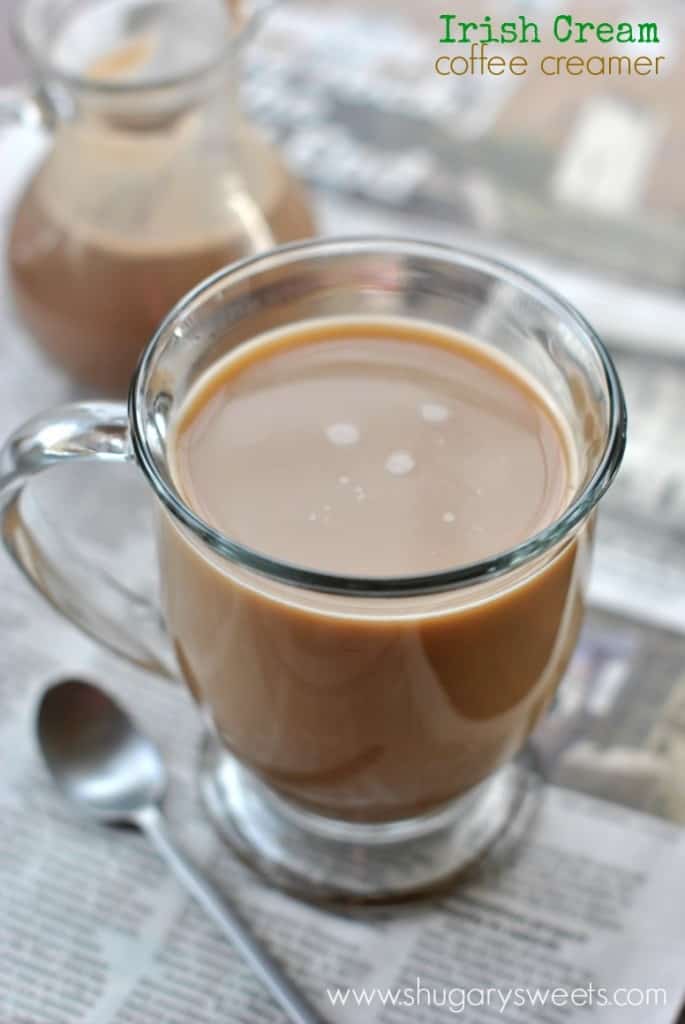 Irish Cream Coffee Creamer: add a shot of Bailey's and this is now DESSERT.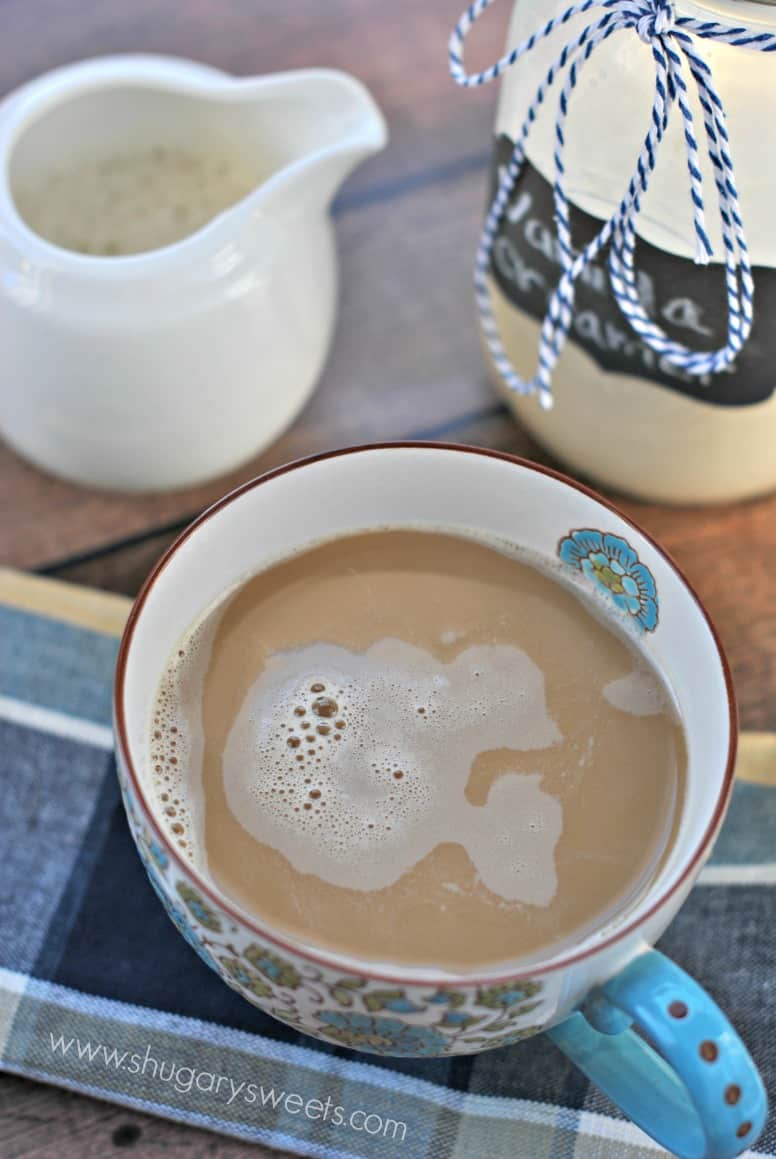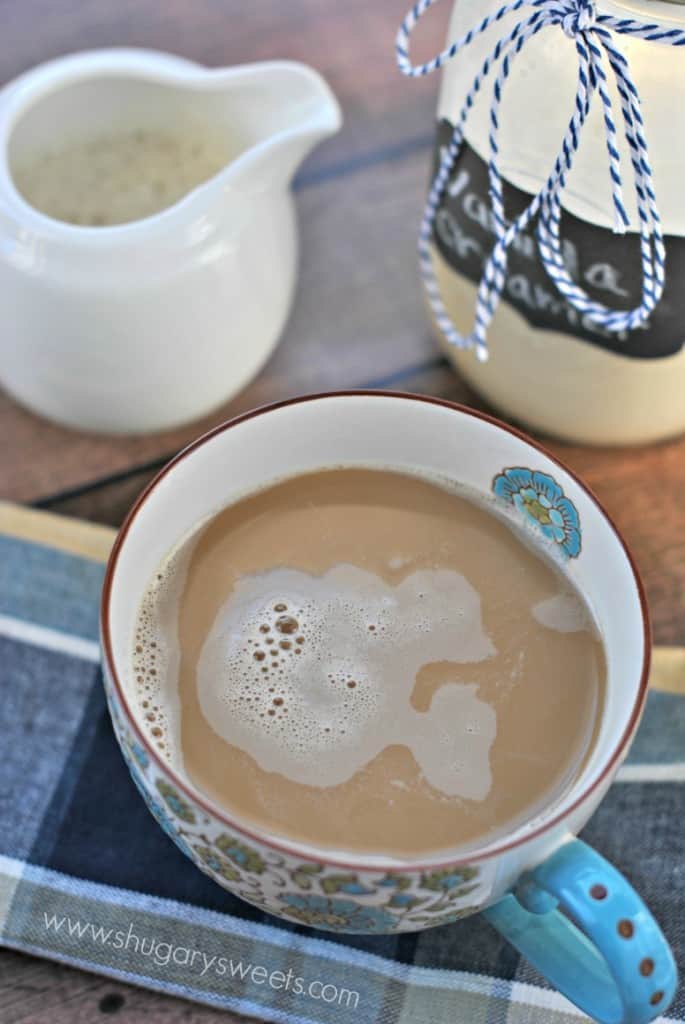 French Vanilla Coffee Creamer: my most popular coffee creamer recipe. And the one I make most often too!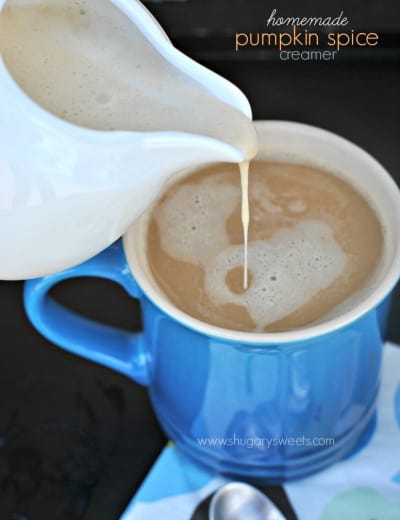 Pumpkin Spice Coffee Creamer: now you can enjoy one of your favorite creamers all year long!