Replace your daily drive-thru coffee habit with homemade Caramel Macchiato Coffee Creamer. This caramel-flavored creamer is easy to make with ingredients you can actually pronounce!
Want to cut back on your coffee shop spending without cutting back on your coffee? Try this Skinny Caramel Mocha recipe or this Caramel Coffee Milkshake next time you need a caffeinated pick-me-up!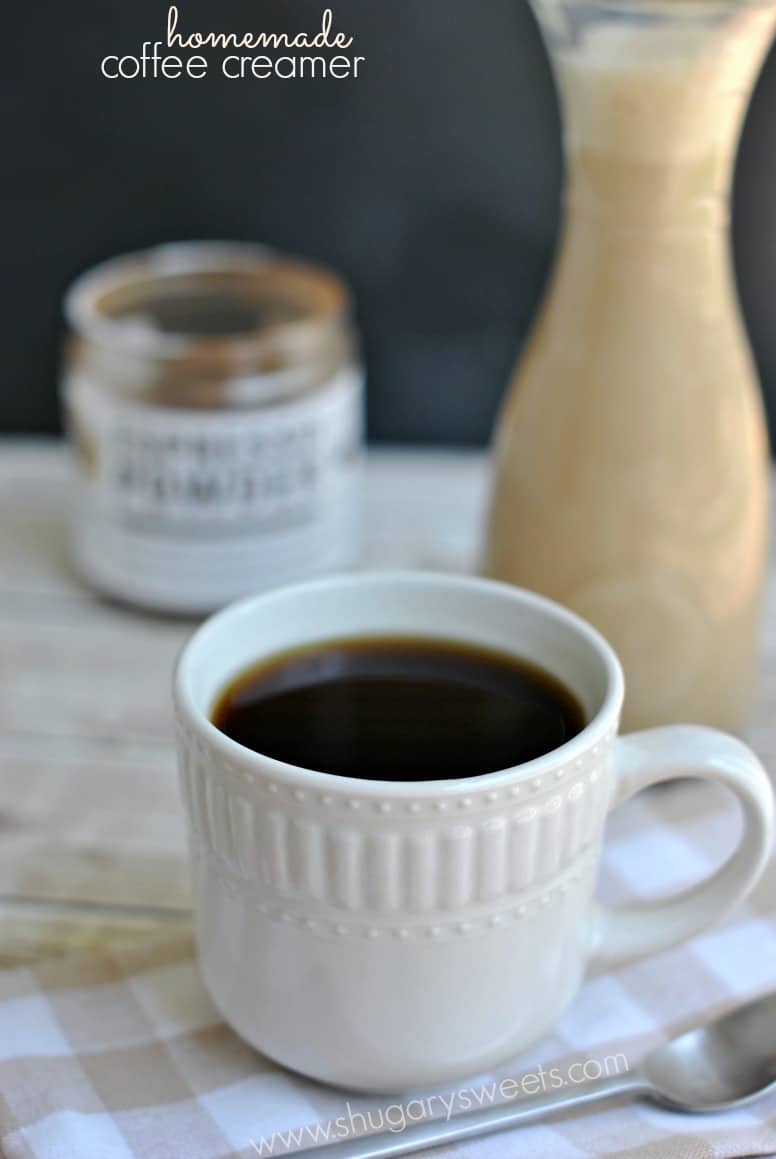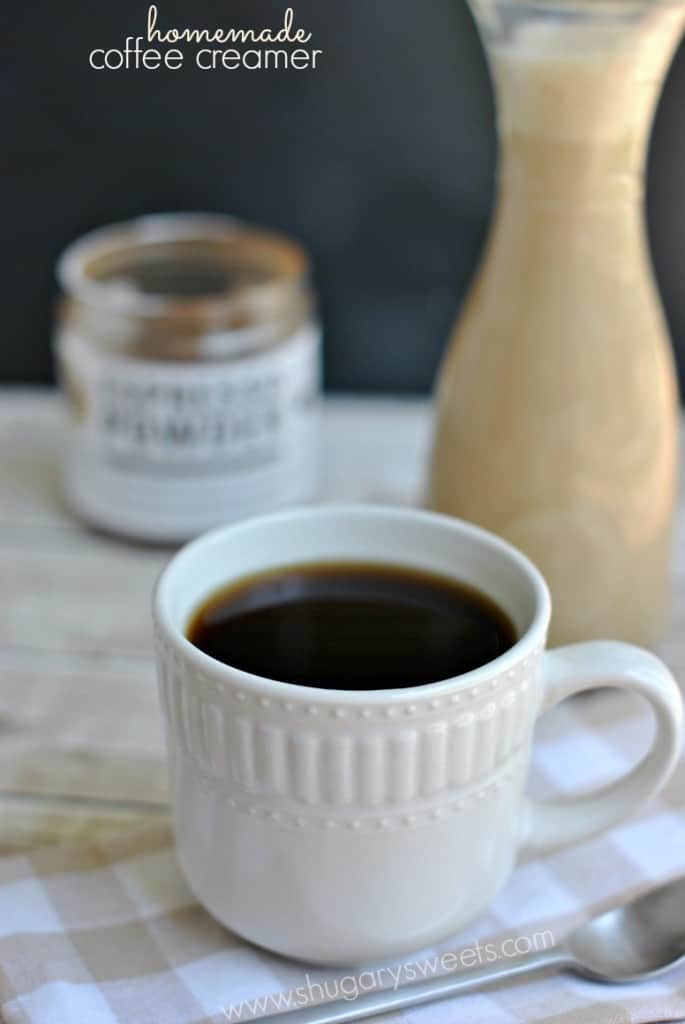 Why this Creamer is Best
Make a big jar of Caramel Macchiato Coffee Creamer and you'll be ready to turn an everyday cup of coffee into an extra special treat.
All the flavor of a Starbucks caramel macchiato at a fraction of the cost per cup.
You can control the level of sweetness when you make it yourself.
Made with espresso powder to give your coffee an extra boost.
Delicious in hot or iced coffee!
A 5 minute, 5 ingredient microwave coffee recipe. No stove top required.
Once you've tried this classic flavor, whip up a mug of our newest apple crisp macchiato. SO AMAZING.
Ingredient Notes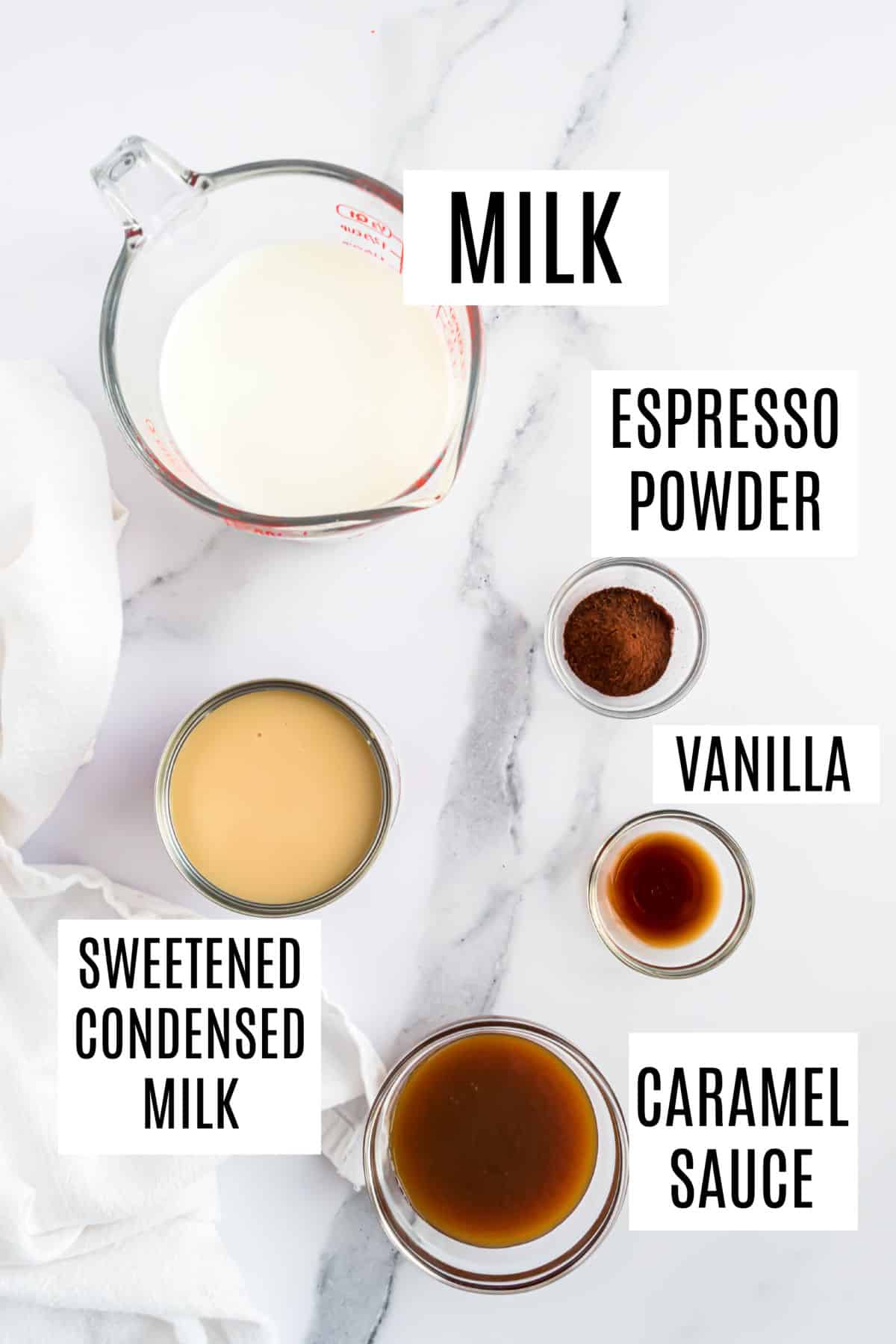 Here's everything you need to make this caramel macchiato coffee creamer recipe.
Whole milk – The higher fat content keeps the creamer from getting watered down when added to coffee.
Espresso powder – This strong instant coffee mimics the taste of the espresso in the coffee chain version. We use King Arthur for best flavor (bought on Amazon)!
Sweetened condensed milk – Essential for coffee creamer that's sweet and, well, CREAMY!
Caramel sauce – I used the ice cream sundae caramel topping from a squeeze bottle.
PRO TIP- We love making our own homemade vanilla extract, but if using store bought, be sure it's pure extract, not imitation (for best flavor).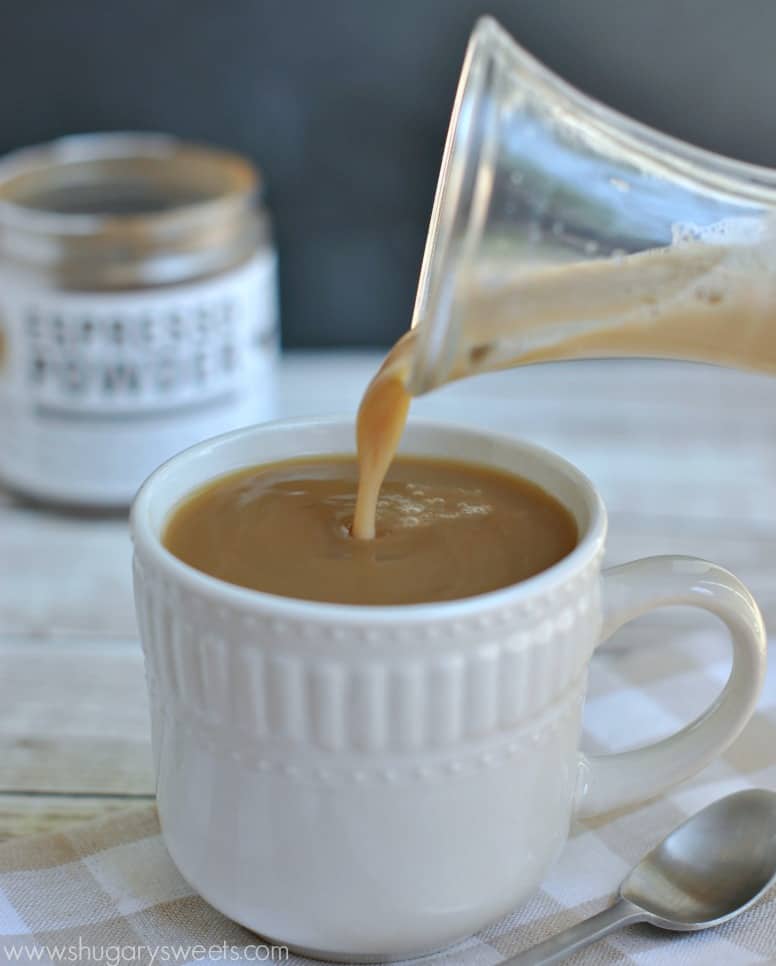 Tips and Tricks
Microwave the milk and espresso powder. The espresso powder will dissolve into the warm milk to distribute the flavor evenly throughout the creamer.
Whisk half way through. After 30 seconds, take the milk out of the microwave and whisk to help dissolve the espresso before heating for an additional 30 seconds.
Shake, shake shake! I have found the best way to combine the ingredients for coffee creamer is in a mason jar. Screw on the lid and give it a few vigorous shakes before storing the creamer in the fridge or adding it to your coffee.
Dunk. Whip up a batch of our caramel macchiato biscotti, or our easy orange biscotti to dip in your coffee for breakfast!
Recipe FAQS
How much coffee creamer does this recipe make?
This recipe makes 2 cups of caramel macchiato coffee creamer. It's enough for anywhere from 8-12 cups of coffee depending on how much creamer you like to add!
How can I make it low fat?
For a lower fat coffee creamer, use fat free or low fat milk instead of whole milk and fat free sweetened condensed milk. You can also use a sugar free caramel sauce to reduce the sugar if you like.
How long does it keep?
The shelf life of homemade coffee creamer depends on the freshness of your milk. Check the expiration date on your milk and use that to determine how long your creamer will stay good.
Can I use this in iced coffee too?
YES! My caramel macchiato creamer tasted equally delicious added to iced coffee as it did to my hot coffee.
What can I use instead of espresso powder?
You can substitute the espresso powder for any powdered instant coffee. The coffee flavor may not be as strong but it will still taste good.
Can I make it without a microwave?
If you do not have a microwave, you can warm your milk in a sauce pan on the stove top instead. Keep the stove on the low setting and heat the milk just until it's warm enough to dissolve the espresso powder, whisking often to avoid scalding.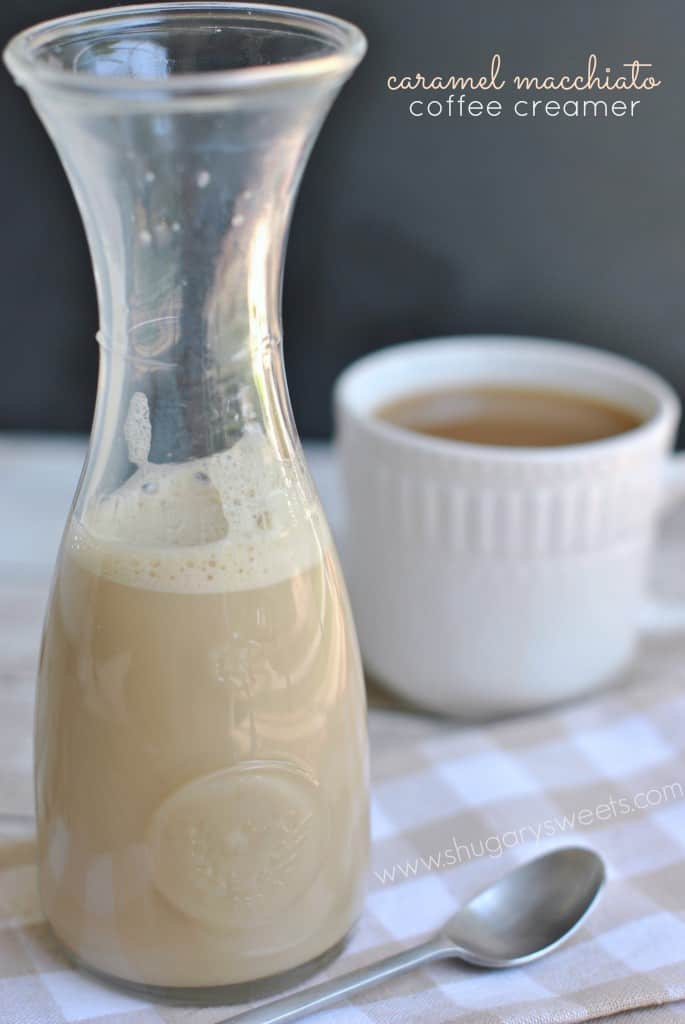 More Coffee Creamer Recipes
Meet your new coffee obsession. This caramel macchiato coffee creamer recipe is better than store bought and easy to make with 5 ingredients!