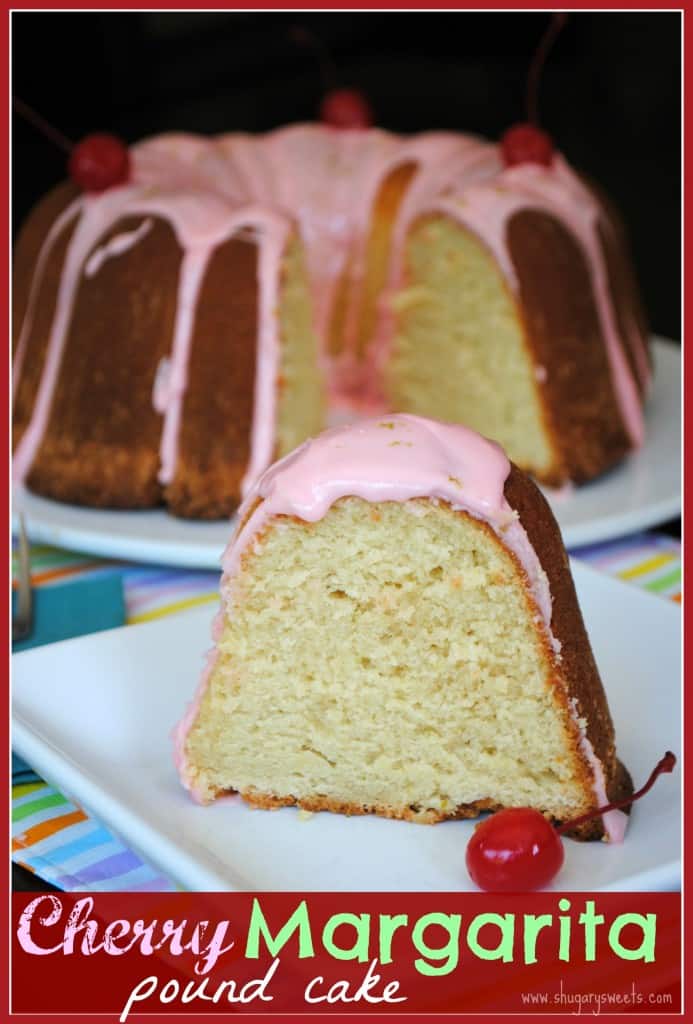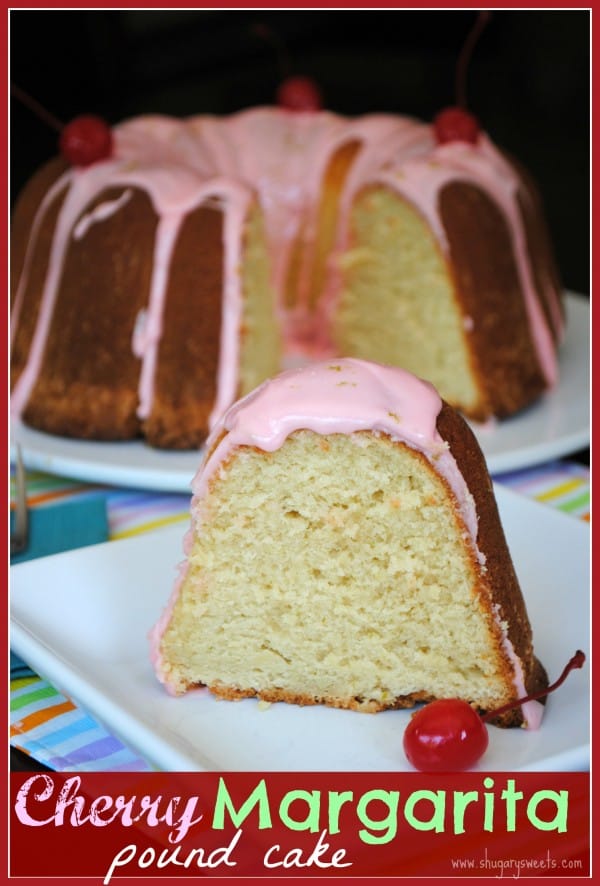 Have I mentioned how much I love
margaritas
cherries? I love cherry flavored desserts. And every baker needs a good, solid pound cake recipe. I'm fortunate to have a
couple
that I   love
!
My son and his friend made this pound cake a couple weeks ago, using lime juice. But me? I thought why not add in tequila instead. Perfect.
My hubs said he could taste the "zing" of the tequila, I sure didn't think so. I think the "zing" he tasted was lime zest. BUT, if it's called margarita cake, you have to have tequila. Don't ya think?
This cake was so good I had to wrap up the leftovers and put them in the freezer for later use. To eat a whole pound cake in two days just is not good (for my waistline). So if you make this cake, invite a friend (ME) over for coffee, and share!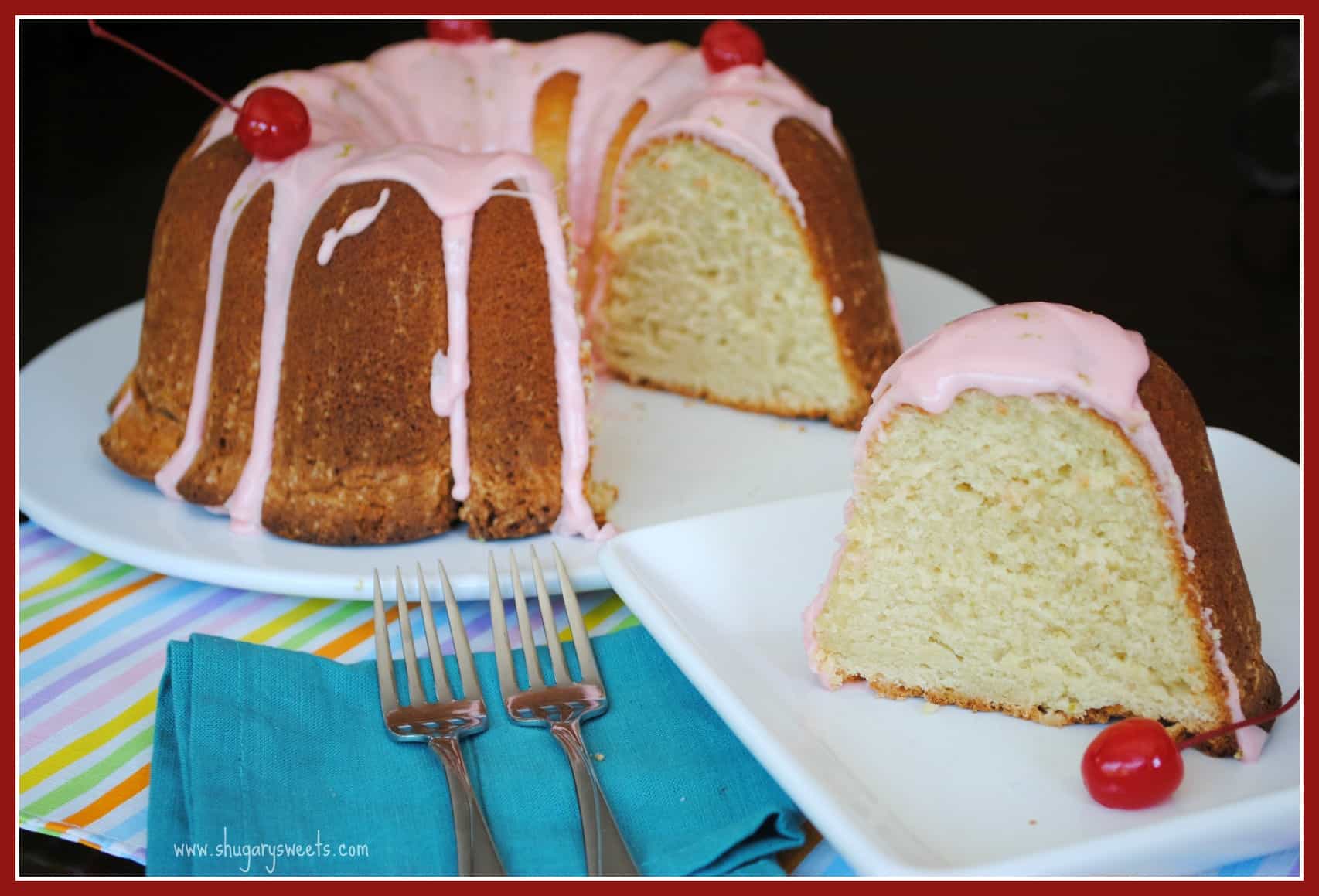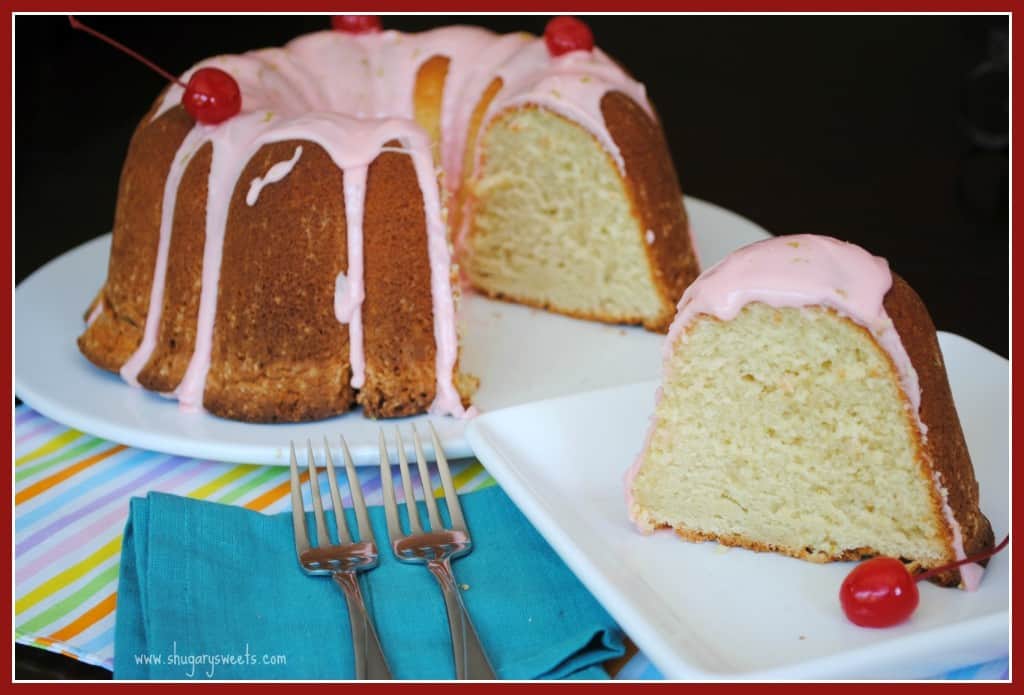 Want more Margarita recipes? Check out these recipes…
Cherry Margarita Pound Cake
Ingredients
For the Cake:
1 cup butter
3 cup granulated sugar
6 eggs, separated
3 cup flour
1/4 tsp baking soda
1/4 tsp baking powder
1/4 tsp kosher salt
1 cup sour cream
4 small limes, zested (save juice)
1/2 cup tequila
For the Glaze:
2 cup powdered sugar
5 tsp maraschino cherry juice
1 Tbsp lime juice (about 1/2 lime)
Maraschino cherries, for garnish
Instructions
In a large mixing bowl, beat butter until creamy. Add in sugar, beating until fluffy. Add egg yolks, one at a time (save whites for later in this recipe). Beat well after each egg yolk addition. Beat in lime zest and tequila (you can substitute 1/2 cup fresh lime juice if you prefer).
In small bowl, mix together flour, baking soda, baking powder and salt. Slowly add flour mixture, alternating with sour cream until fully mixed.
In clean mixing bowl, beat egg whites at high speed until stiff peaks form. Fold gently into cake batter. Pour mixture into bundt pun (sprayed with nonstick baking spray with flour). Bake in a 325 degree oven for 85-90 minutes.
Let cake cool about 10 minutes in pan. Remove from pan then cool completely on wire rack.
To make glaze, whisk together the sugar with lime and cherry juice. Drizzle over cooled cake. Enjoy!