You're going to love this Easy Chicken Salad recipe. A classic salad recipe made with yogurt, chicken, craisins and with a crunch from sliced almonds!
When it comes to lunch, I'm a big fan of easy chicken salad recipes as well as delicious chicken caesar salads!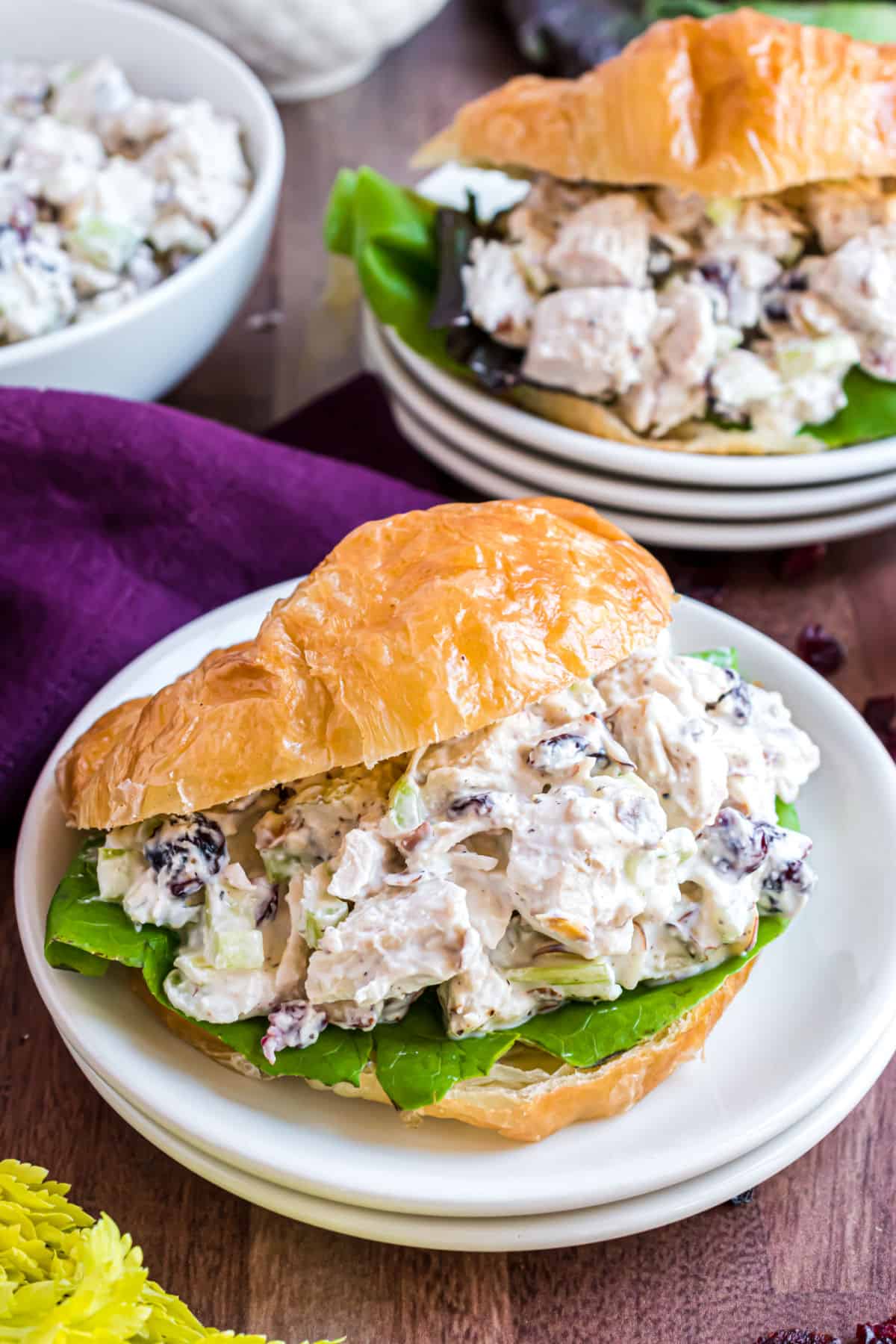 Why this Recipe is Best
Typically a chicken salad is packed with sour cream and/or mayonnaise. I've replaced both of those with plain Greek Yogurt. I also added in some heart healthy sliced almonds.
The almonds aren't just for the health benefits. They add the perfect crunch! A little seasonings, some diced celery and dried cranberries, and you're well on your way to a delicious lunch or dinner.
This chicken salad recipe has every bit of the flavor of a classic, mayo-packed salad while packing in more nutrients and less saturated fat.
I like to serve my chicken salad on a bed of spring greens. Some people prefer chicken salad in a croissant or on some sliced bread (also delicious). However you choose to serve it, one thing is for certain: The taste is amazing!
Ingredient Notes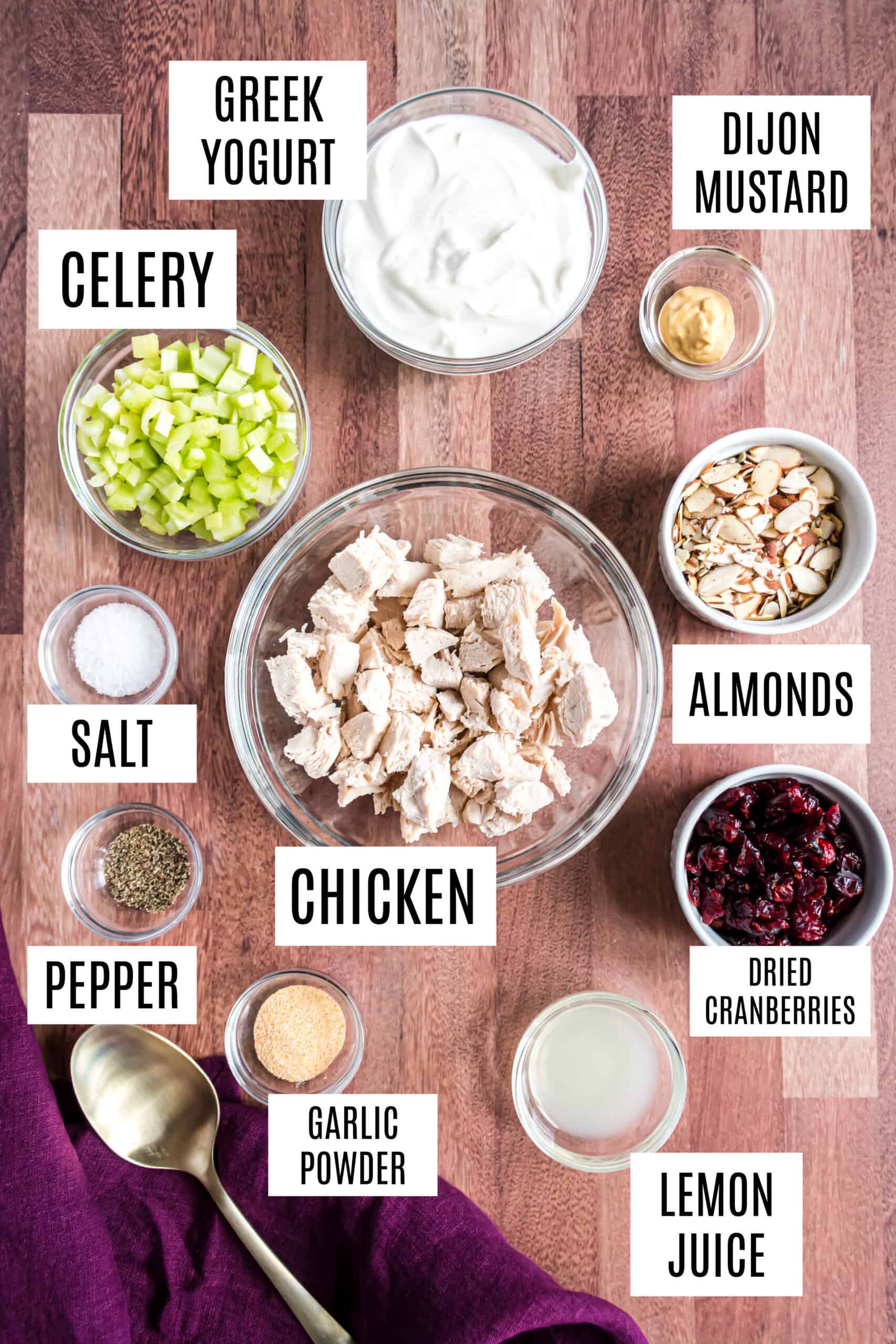 Diced cooked chicken – Using my shredded chicken recipe is such a time saver! Just dice the chicken instead of shredding and you're good to go. You can also use leftover roasted chicken or grab a cooked rotisserie chicken to make it even quicker.
Greek yogurt – Plain unsweetened greek yogurt has the perfect balance of creaminess and tang. If preferred, you can substitute sour cream.
Slivered almonds – Walnut pieces or pecans would work as a substitute too. If you need this to be nut free, go ahead and leave them out; the chicken salad will still taste great with crunch from the celery.
Seasonings – I use dijon mustard, garlic powder, kosher salt and pepper to enhance all the natural flavors in the chicken salad. Feel free to adjust the seasonings to taste.
Craisins– Don't forget a handful of dried cranberries too for a juicy pop of sweet flavor.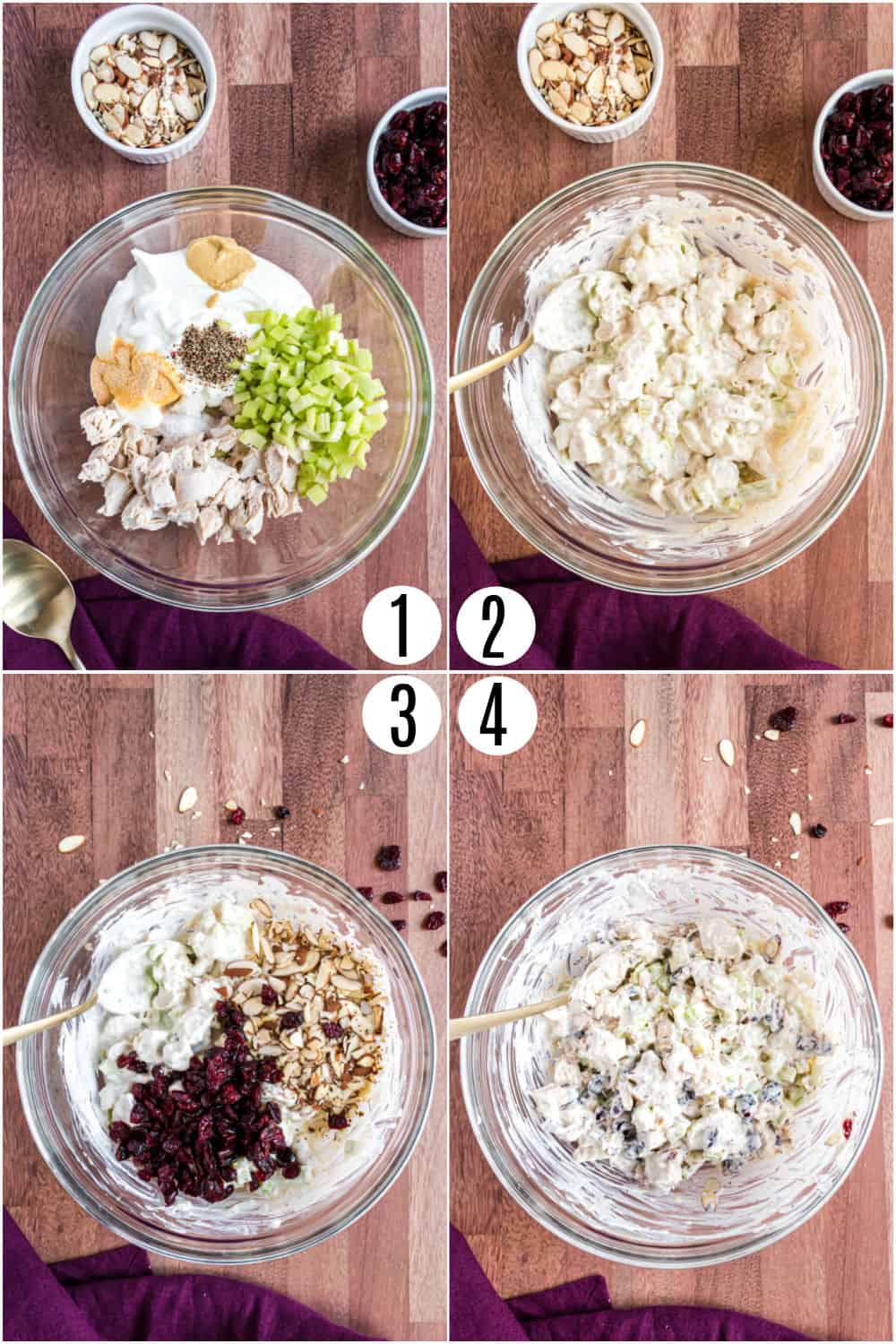 Tips and Tricks
Letting the chicken salad rest in the fridge for at least 15 minutes before serving helps the flavors to mingle and combine. You can store this chicken salad in an airtight container for about 3 days.
Need more serving ideas? Here are a few more suggestions for how to eat and enjoy this healthy salad!
Wraps – Stuff into a tortilla or flat bread.
Crackers – Butter crackers or wheat crackers taste delicious with this!
Greens – Tossed with mixed greens or romaine.
Celery boats – Pile the salad into celery sticks for a crunchy, healthy snack!
Open faced sandwich – Pile on to toasted french bread.
There's no wrong way to eat this amazing chicken salad recipe!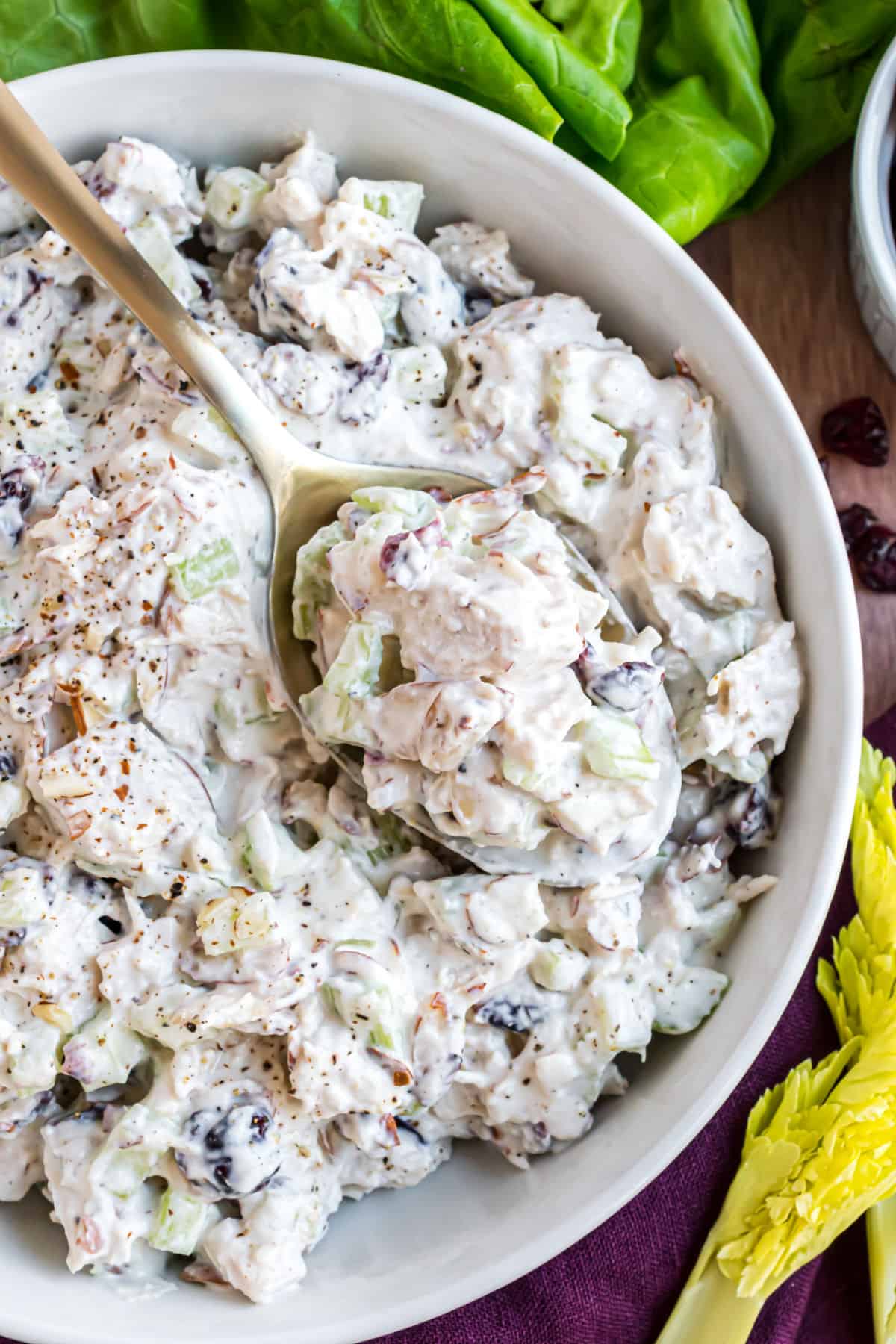 Recipe FAQs
What chicken is best for chicken salad?
For chicken salad, both chicken thigh and chicken breast meat that's been cooked and diced work perfectly. If using leftover chicken from another recipe, make sure it's not marinated or overly seasoned with spices that will overpower the chicken salad.
How long does chicken salad keep?
This chicken salad will stay good in the fridge for about 3 days. I like to add a few more almonds on top of my leftovers for even more crunch.
Can chicken salad be made with regular yogurt?
When making chicken salad, regular yogurt will have a more watery consistency than Greek yogurt and less tang, so I don't recommend it as a substitute here.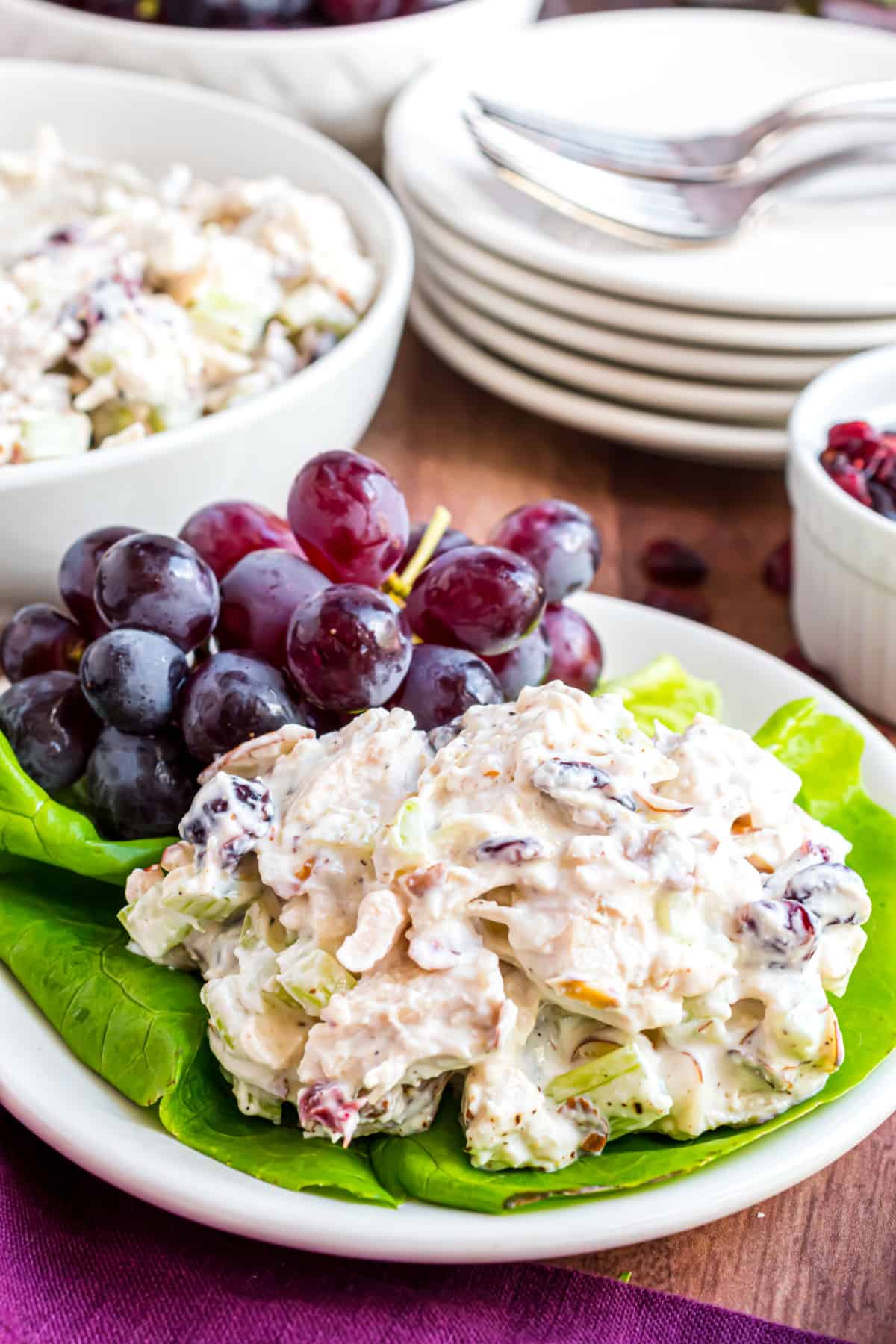 More Chicken Recipes
Scrumptious, flavorful, crunchy chicken salad that's good for you too! What could be better? Try this protein packed, heart healthy recipe for lunch or dinner this week!