This Malt Ball Fudge recipe is made with Ovaltine powder and chopped Whoppers candies. Crunchy malt balls make smooth chocolate fudge even better!
I love adding candy to fudge. Try my M&M'S® Fudge and my Cadbury Egg Fudge recipes next!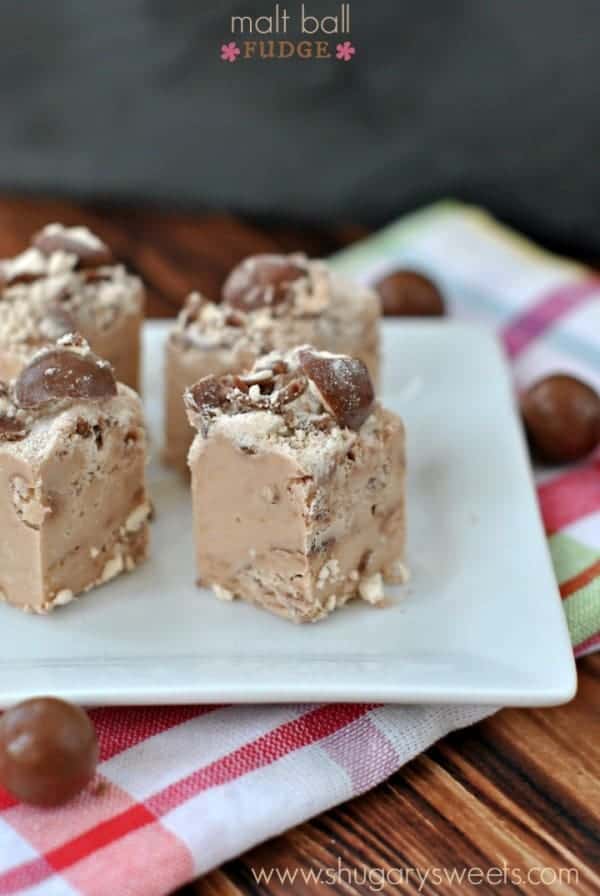 Why This Fudge is Best
Malted milk powder adds a toasty grain flavor to the rich fudge.
You'll love the combination of smooth and crispy textures.
It's easy to make with no special equipment needed.
The perfect fudge for Whopper's candy fans!
I cant help it: I am obsessed with fudge. There are endless combinations of flavors to make!
Today's Malt Ball Fudge comes with a hint of sweet grain flavor that sets it apart. Like a malted milkshake in fudge form!
Ingredient Notes
This recipe starts by boiling butter, heavy cream and sugar to create a candy base. You'll also need:
Ovaltine – You can use any brand of chocolate malted milk powder here.
Marshmallow fluff – Also sold as a"marshmallow cream", it gives the fudge its smooth consistency.
White chocolate chips – These are melted and combined with the fluff and Ovaltine for a perfect creamy chocolate quality.
Malted milk balls – We use crushed Whoppers candies in this fudge!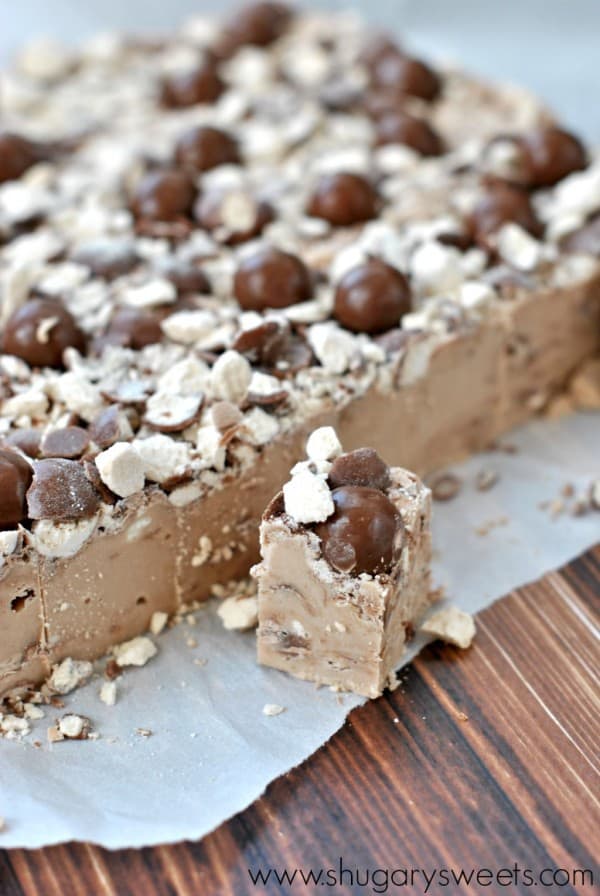 Tips and Tricks
To smash the Whoppers, place them in a gallon sized zip top bag. Use a rolling pin or mallet to crush them into large chunks. Some variety in size of the pieces is best.
Boil the butter, cream and sugar mixture on the stove for a full 4 minutes. Stir constantly, keeping the mixture at a rolling boil.
Use a stand mixer or beaters to combine the boiled sugar mixture with the marshmallow fluff, Ovaltine and white chocolate. Keep mixing until everything is smooth and combined.
The fudge sets up quicker if chilled in the refrigerator. You can leave it at room temperature, but it will take a couple of hours longer to reach a firm slice-able consistency.
Recipe FAQs
How long does malt ball fudge stay good?
Fudge with malt powder tastes best if eaten within 1 to 2 days. After that, the whoppers will begin to get soft.
What is malted milk powder?
Malted milk powder is a product of malt grains including barley and wheat. It's combined with milk, then dehydrated and used to add sweetness and body to milk, milkshakes and recipes like this one!
Can I use milk chocolate chips instead?
I don't recommend making this with milk or dark chocolate. The chocolate flavor will overpower the malt.
As written, the recipe has a nice balance of chocolate and malt flavor. You don't notice the flavor of the white chocolate since it's combined with the Ovaltine.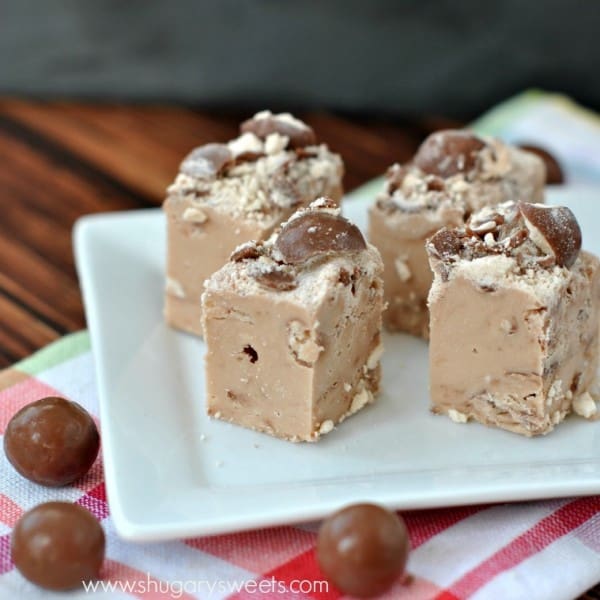 Sweet and loaded with malted milk balls, this easy Malt Ball Fudge is going to become your new obsession!