This Malt Ball Fudge recipe is filled with rich chocolate Ovaltine and chopped candy. Doesn't get much better than this!
Be sure to follow me on Bloglovin'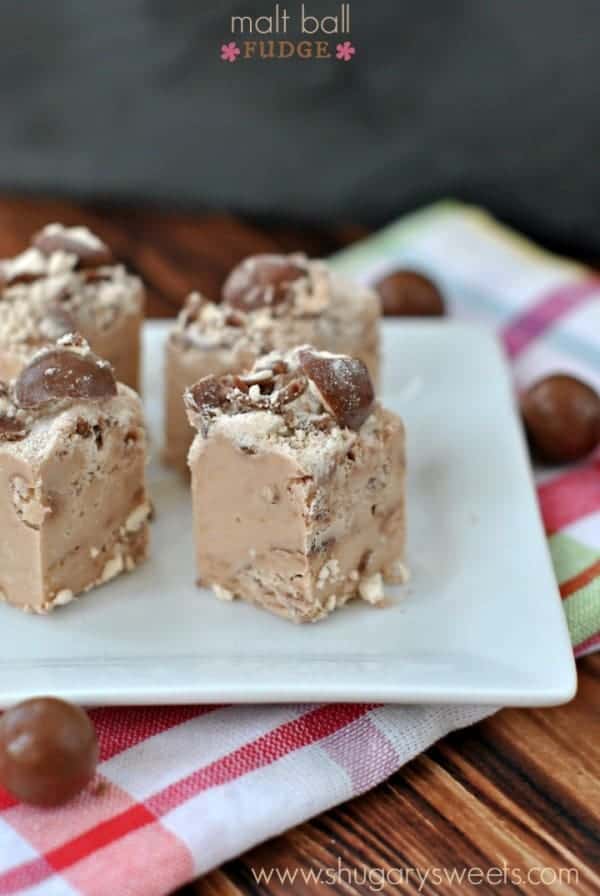 So, good news! My house is sold. This next month is going to be crazy trying to find a new one (yeah, probably number one on our to-do list), packing, and getting, everything squared away to move (doctor records, kids schools, etc). If you follow me on INSTAGRAM you can see my crazy life behind the scenes!
I have to chuckle though, when people were looking at our house I wanted to be a fly on the wall when they opened my pantries. Yes, pantries, as in plural. We have a regular pantry in our kitchen that holds all of our canned goods, cereal, snacks. You know, the stuff most people put in a pantry. Then behind our kitchen we took a coat closet and turned it into a second pantry.
This one is for all my baking supplies. You know the 25lb bag of flour, 10 lb bags of sugar, powdered sugar, brown sugar. And the chocolate. I buy my chocolate chips by the case….so there is probably a dozen bags of white chocolate morsels, a dozen butterscotch, a dozen milk chocolate, a dozen semi sweet.
And the candy. This is what probably looks insane. BAGS and bags of candy. For every holiday. You know, as a food blogger I'm creating recipes already for fall comfort food and Christmas. #foodbloggerproblems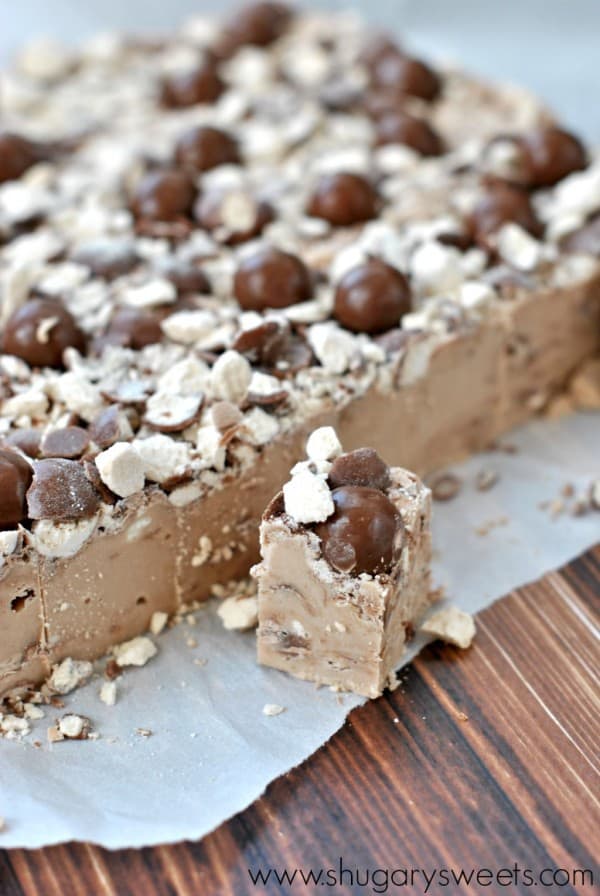 In an effort to start thinning out my baking pantry, I'm trying to use up some of my supplies. And by supplies, I of course mean candy and chocolate.
Learning how to make chocolate fudge is so easy, and it's the perfect treat to keep in the fridge year round!
I found a box of malted milk balls (WHOPPERS) in my pantry and immediately knew I wanted to make a Malt Ball Fudge recipe. In addition to the candy, I added some Rich Chocolate Ovaltine to the fudge (I sound like a commercial when I say that in my head). My kids love adding ovaltine to their milk, gives it a little extra vitamins vs chocolate syrup. So basically, I'm saying, this fudge has vitamins. You're welcome!
I shared this recipe today over at Food Fanatic! Stop on over!!