Whopper Cookie Bars – Chewy malted milk cookie crust topped with a layer of whopped candy filled fudge. Part candy, part cookie, these bars are full of chocolate malt flavor.
Love malted milk balls? This Whopper Fudge recipe is amazing. You may also love these Malt Ball Cheesecakes topped with chocolate ganache!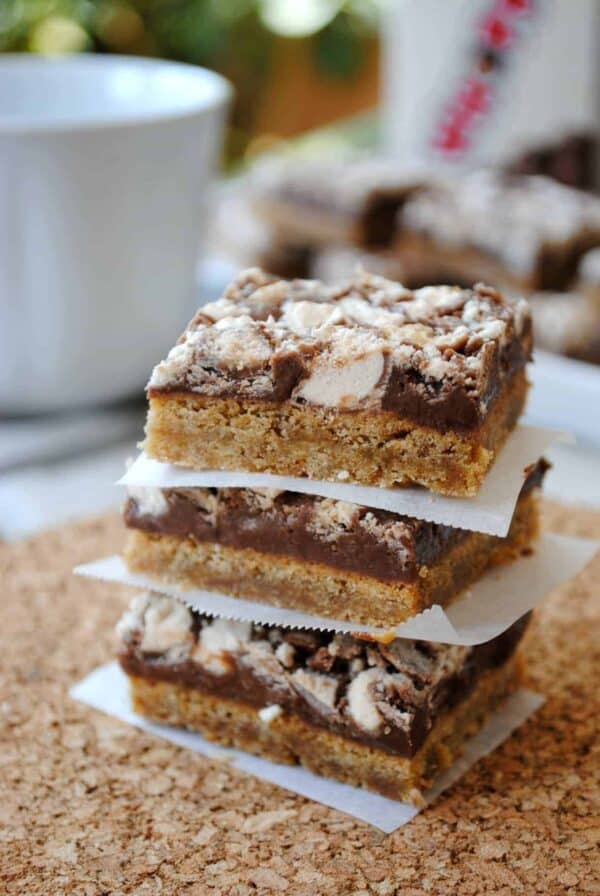 Malt Ball Cookie Bars
Whoppers are high on my list of favorite candies. Sweet chocolate melts in your mouth to give way to the crunchy malt balls.
I had plans to add some chopped up whoppers to my next batch of Chocolate Fudge. Then, thinking about the crunchiness of the whopper candy mixed with the soft texture of fudge, I decided it would be even better with a cookie crust!
Some malted milk powder in the chocolate chip cookie layer and more in the fudge, makes these taste like a chocolate malt shake! The finished bars have the ideal balance of chewy, soft and crunchy textures; they're also incredibly rich and satisfyingly sweet.
If you've never baked with malted milk powder, you'll be amazed by how much unique flavor it adds! I seriously love these Whopper Cookie Bars and I hope you do too.
Ingredient Notes
Crisco – The cookie base calls for shortening. It gives the cookie a chewy and fudgey texture you can't quite replicate with butter.
Malted milk powder – Use regular (plain) malted milk powder, not the chocolate kind, for the cookie layer. Ovaltine ( or another chocolate malted milk powder) powder goes in the fudge topping. If you can't find this ingredient, check out this guide for how to make homemade malted milk powder as a substitute.
Candies- Along with chocolate morsels, you'll need a full box of whoppers or another chocolate melted malt ball candy. These should be slightly chopped first (see "Tips & Tricks "below).
PRO TIP: Use a large roll of refrigerated cookie dough to make these even easier!
Step by Step Instructions
STEP 1. Make the cookie crust
Beat the crisco, milk and brown sugar until combined. Add egg and beat again. Slowly beat in malted milk powder, flour, salt and baking soda.
Press the cookie dough into a large baking sheet with one inch sides. Bake for 18-20 minutes until browned. Remove from oven.
STEP 2. Make the fudge
While the cookie is baking, heat sweetened condensed milk over low heat. Add in milk chocolate and heat until smooth. Remove from heat and whisk in ovaltine powder.
When the cookie crust is ready, remove the pan from the oven and pour in the fudge mixture.
STEP 3. Whopper topping
Press the chopped whoppers into the top layer of the fudge. Refrigerate the bars for at least 2 hours or up to overnight before cutting and serving.
Tips and Tricks
How to chop whoppers: pour the candy into a large ziploc bag. Lay the bag on a cutting board and use a heavy frying pan to give the candies a few thuds. You don't want them pulverized; it's ok if there are still some whoppers in tact!
Storing: Keep these bars covered in the fridge. They taste great cold!
I used a 15 x 10 inch baking pan to make these bars. Make sure your pan has rims that are at least 1 inch high.
Anyone who loves an old fashioned chocolate malt is going to love these bars. All the taste of Whoppers and Cookies in one treat!