Delicious layers of homemade Spice Cake with a Pecan Pie filling. This Pecan Pie cake is topped with a creamy Brown Sugar frosting! Drooling yet?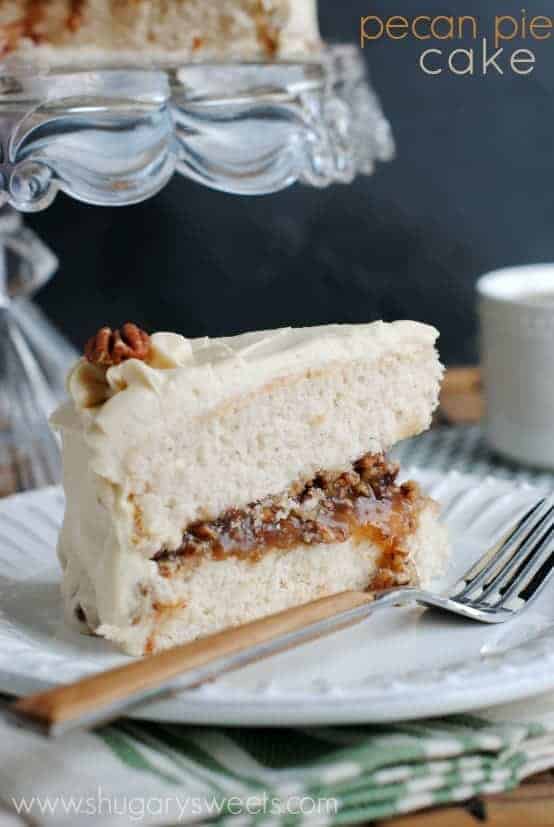 Click HERE to save recipe to Pinterest
Guys, if you're still planning what to make for dessert this Thanksgiving, your search is over.
Normally when I bake for my family I share the recipes here on Shugary Sweets. IF they are top notch.
Often times we eat things that are good, or okay, but not quite perfect enough for the blog.
This time of year I find myself in overload of incredible recipes (and ideas)! And when I go on some crazy hair baking spree….my kitchen is left (a mess), but more importantly, full of treats.
More treats than even my family can eat!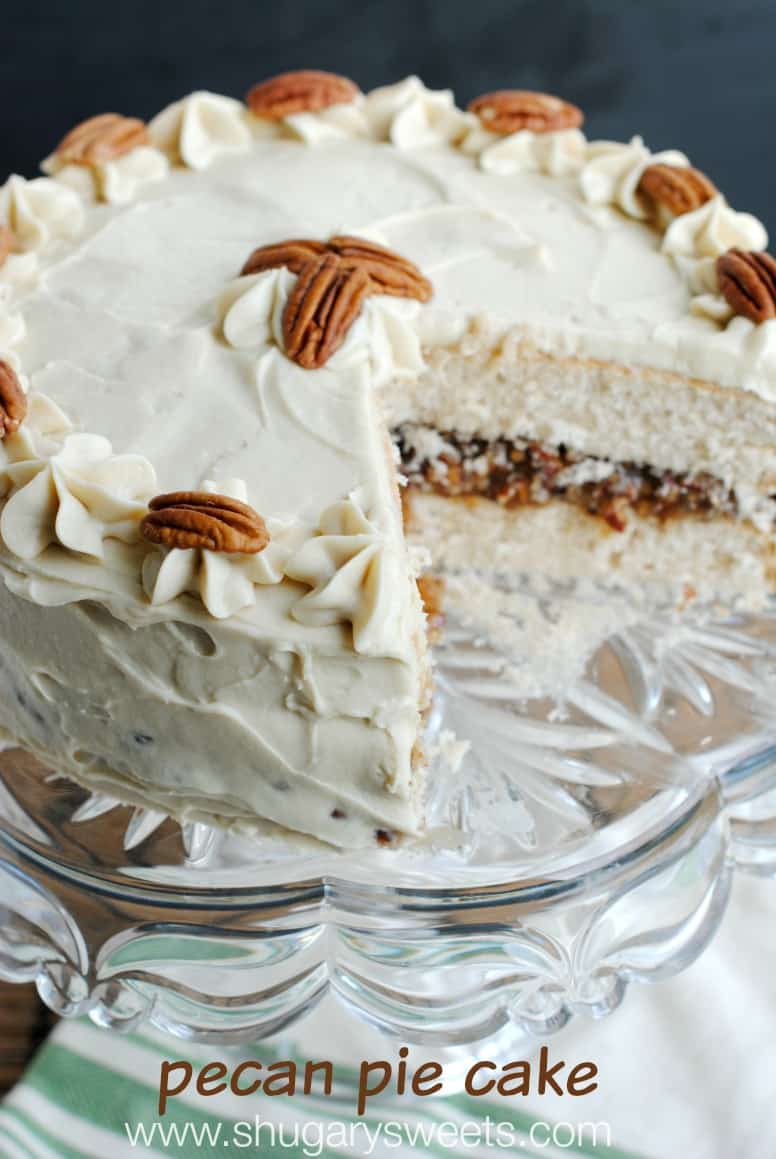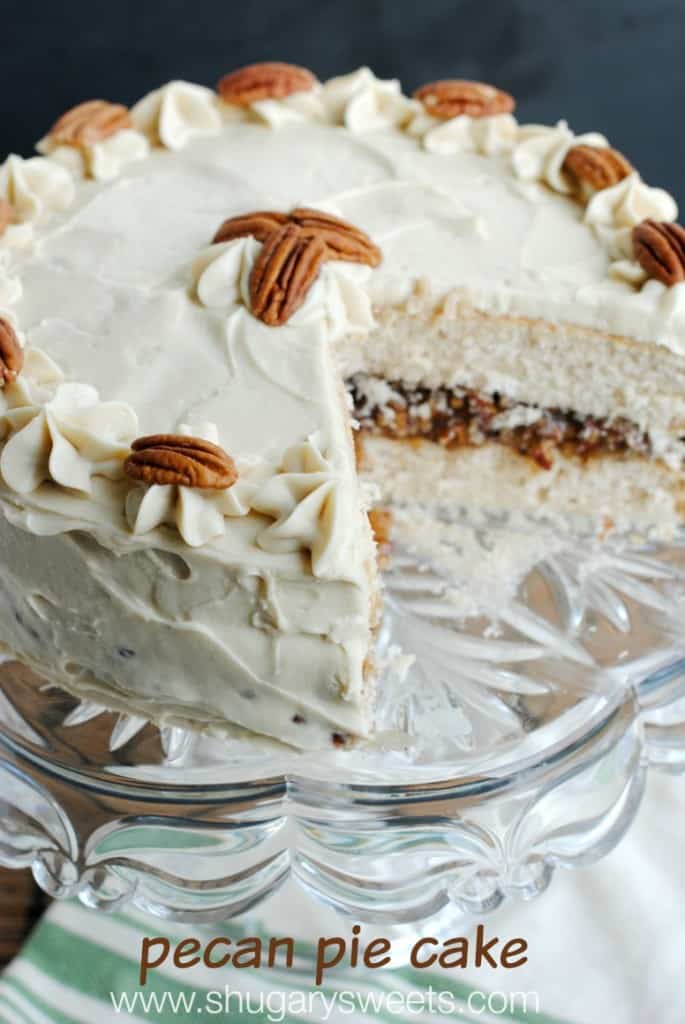 Thank goodness for facebook. There are plenty of people who live near me who are willing to take some of these said treats off my hands. God bless them.
Today's awesome cake happened to be one of those desserts that came about in my kitchen when it was full. Full, as in, too many treats already filled my fridge and counters!
Here's the thing, when I bake something, or come up with an idea, I have no guarantee that it's going to succeed. So I don't always expect to have a huge cake on my counter, because many times they have ended in the trash (oh, the joys of recipe development)!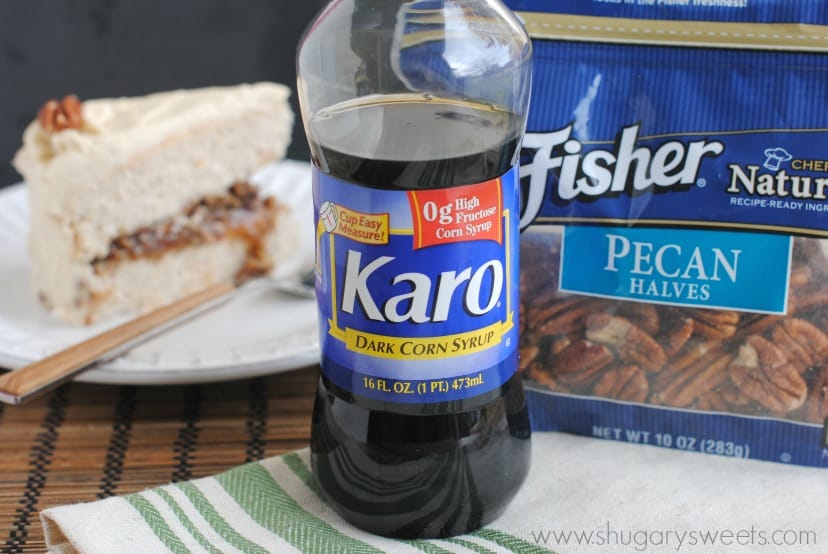 You may remember last year I teamed up with Fisher Nuts and KARO corn syrup and made you these delicious Pecan Pie Truffles. I tell you, they were awesome, and I'll be making them again this year for Thanksgiving!
If you're looking for more incredible recipes with the dynamic duo here are a few to start:
Strawberry Chocolate Tartlets: these are so fun, with ready made mini graham crusts!
Oatmeal Butterscotch Cookies: I love the crunch of pecans in this chewy, classic cookie recipe!
Sweet and Crunchy Snack Mix: stop buying those little bags when you can make this in bulk at home, and it tastes so much better too!
Spiced Cranberry Tart: loving the pumpkin pie spice with fresh cranberries, this one is going on my holiday dessert menu for sure!
Walnut Shrimp Poppers: for the savory lovers, this one is a must make!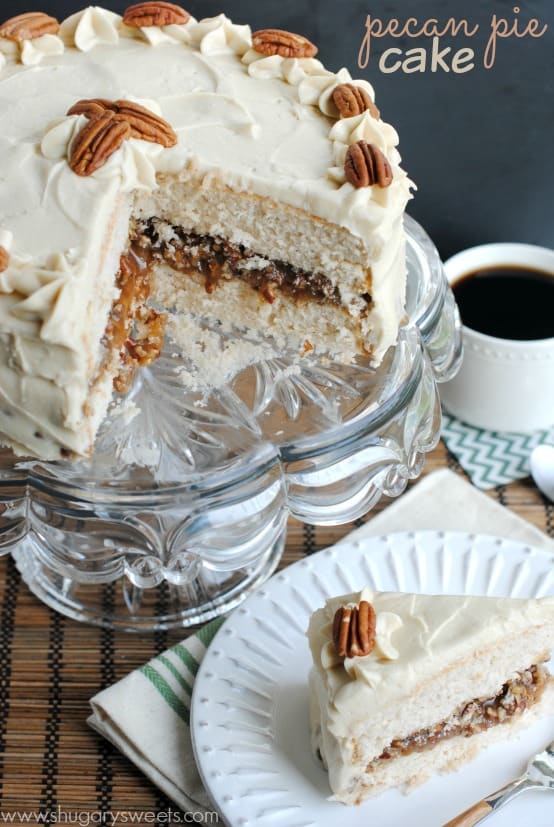 How to make a Pecan Pie Cake
I started with my from scratch, spice cake recipe. If you want to save yourself a step and use a boxed mix, go for it. I enjoy making homemade cakes from scratch, but I've used plenty of mixes too. Your call, I'll never know!
For the filling, you're going to heat the brown sugar, KARO dark corn syrup, heavy cream, butter and kosher salt until it begins to boil. Stirring constantly, you want to boil this for a full minute. And when I say "boil": I'm talking about a full rolling boil, not the small bubbling you get in the beginning! Once it's boiled for the full minute, add in the vanilla extract and chopped pecans. You'll want to chill this until it thickens. You can do this step before baking your cakes. Or make the filling the night before.
Once you've got your cakes baked, you'll want to make sure they are level before stacking. I've mentioned before, I love using bake even strips to get a nice level cake. If you don't have them yet (and you really should!!) just use a serrated knife to cut the dome off the top of your cake. This is especially important for the bottom layer. You don't want the pecan pie filling oozing out the sides too much.
Finally, the brown sugar frosting. In making this type of frosting in the past, I have melted the brown sugar with the butter, then let it cool before whipping it with the cream cheese and powdered sugar.
But this time, I went the easy route. I just beat the cream cheese, butter, brown sugar and powdered sugar together. And it turned out glorious! The first version is a little more "caramel-ly", while this one definitely has more of a brown sugar taste. Which is great on today's cake!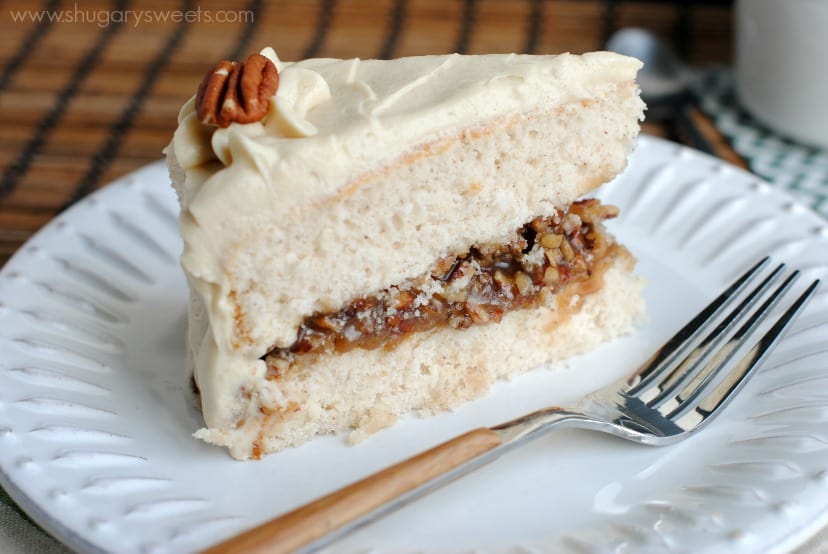 So, there you have it friends, the perfect holiday cake! Print this one out for your recipe box, it's going to be a new family favorite!
Connect with Shugary Sweets!
Be sure to follow me on my social media, so you never miss a post!
If you LOVE this recipe, share it on Instagram and tag me #shugarysweets so I can see it!
I created a fun little group on facebook and I'd love for you to join in! It's a place where you can share YOUR favorite recipes, ask questions, and see what's new with Shugary Sweets (so that you never miss a new recipe)! If you'd like to check it out, you can request to join HERE.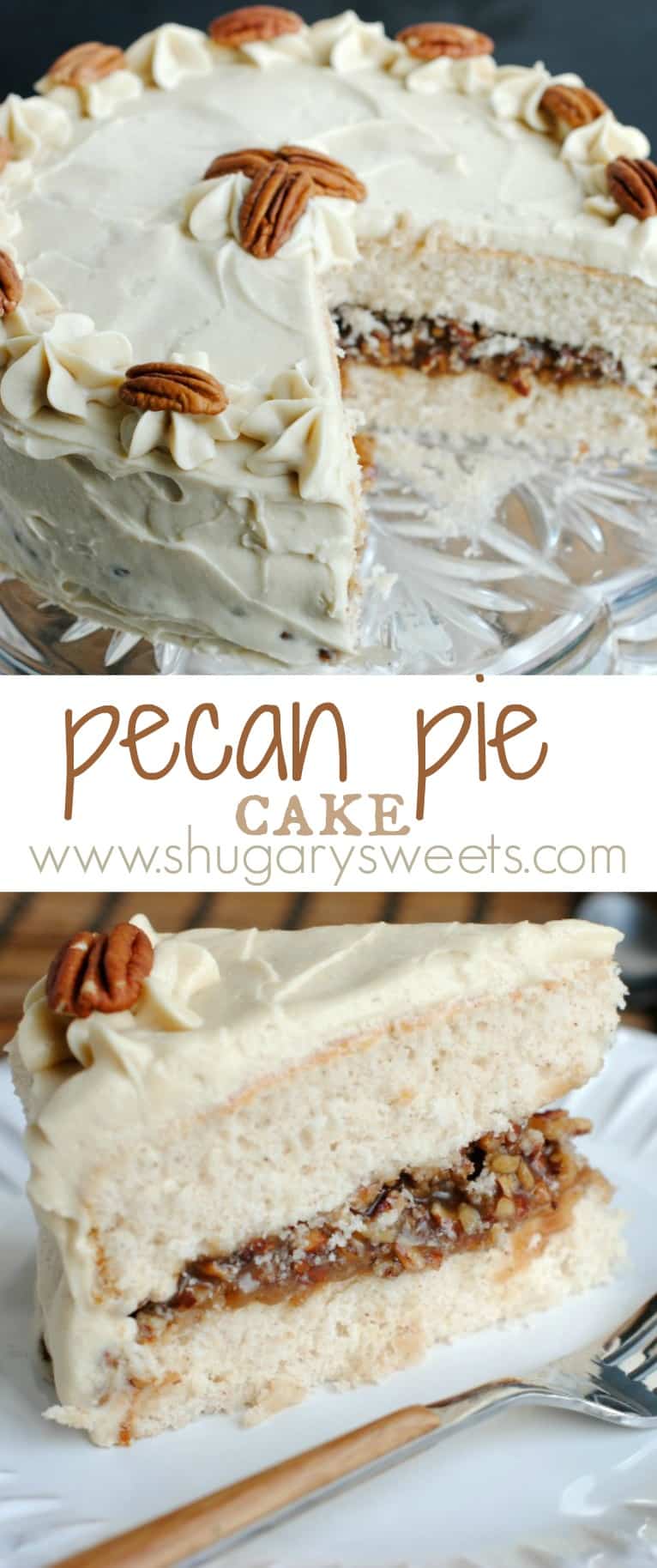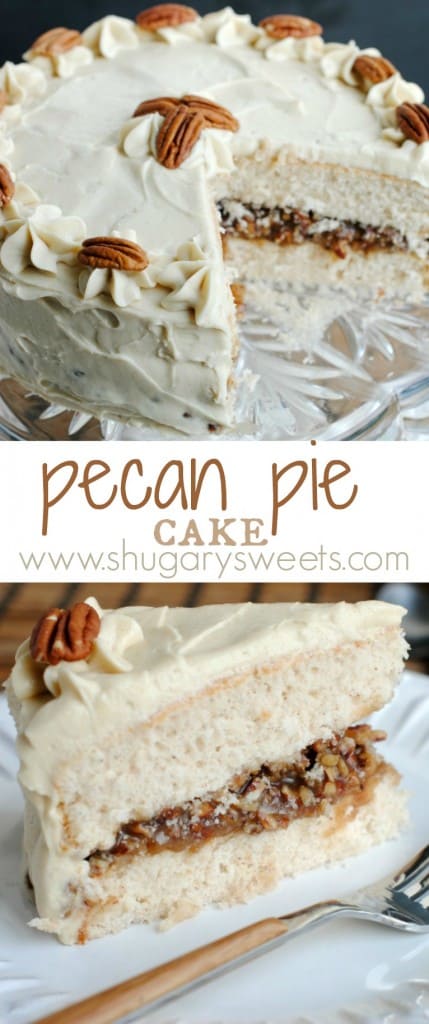 Be sure to follow my "Let's Give Thanks" Pinterest board for more Thanksgiving ideas!
**Don't forget to sign up for my email subscription too! You can get these recipes straight to your inbox!**
**This is a sponsored post on behalf of Fisher Nuts. I was compensated for my time, however all opinions expressed are 100% my own!
Today's recipe was originally published on November 16, 2014 and has been republished in November 2018.