Need a fun snack to bring to a 4th of July celebration? These Red, White and Blue Pretzels are delicious. The filling is made with Duncan Hines frosting creations flavors in Cotton Candy and Bubble Gum!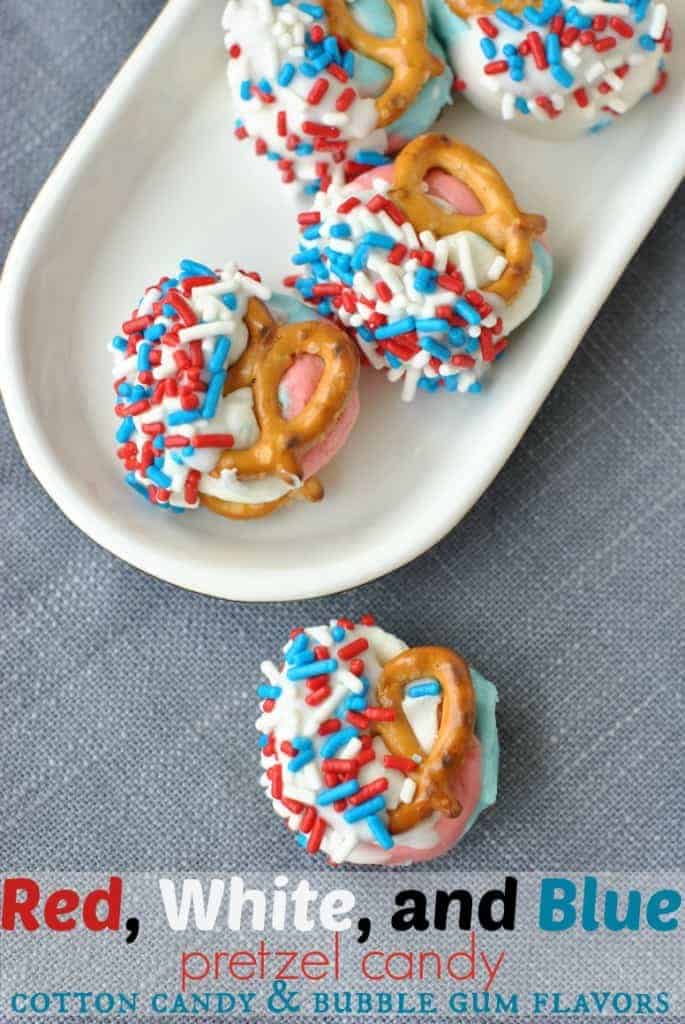 Once upon a time 4th of July was my favorite holiday. I loved everything red, white and blue. In college, my dorm was decorated with flag stuff. I bought all sorts of American Eagle clothing that had flags featured on them.
I was obsessed.
I loved fireworks. The National Anthem. And all the carnivals and festivals that always happened around the 4th of July (Taste of Chicago anyone???)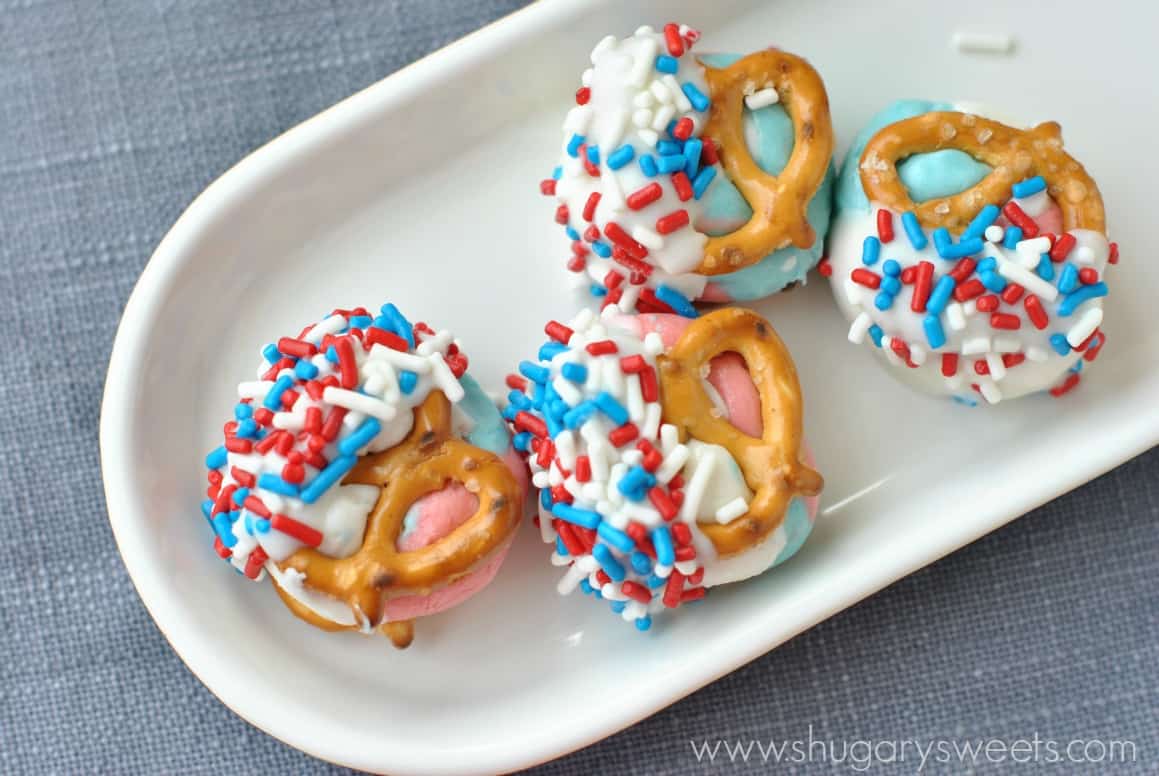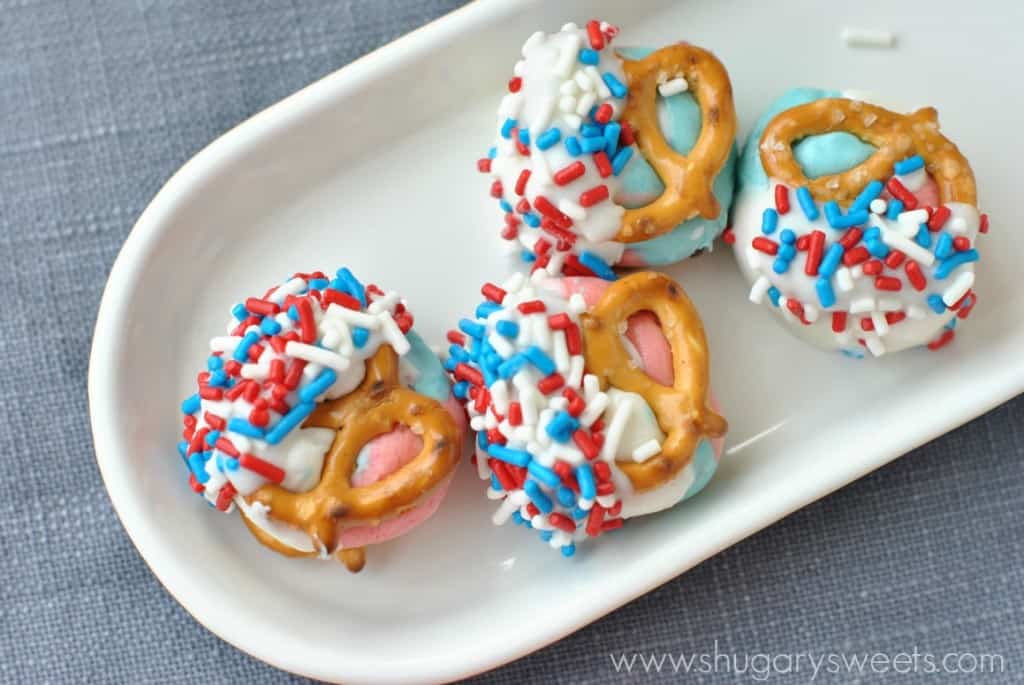 Then came the children…and the crying at the loud BOOMS. And the wanting to play with sparklers because "all the other kids have them." (yes, let's give little kids hot sticks with fire on the end…kind of reminds me of why I hate s'mores too).
Anyways, my kids are finally getting to an age where the 4th of July is fun again. I can relax now when they hold a Sparkler (well, kind of relax). I can sit in a chair and watch the fireworks and not listen to anyone cry (well, unless you count my crazy dogs who are TERRIFIED of the fireworks). And, I can enjoy all the delicious snacks and drinks that happen at potlucks!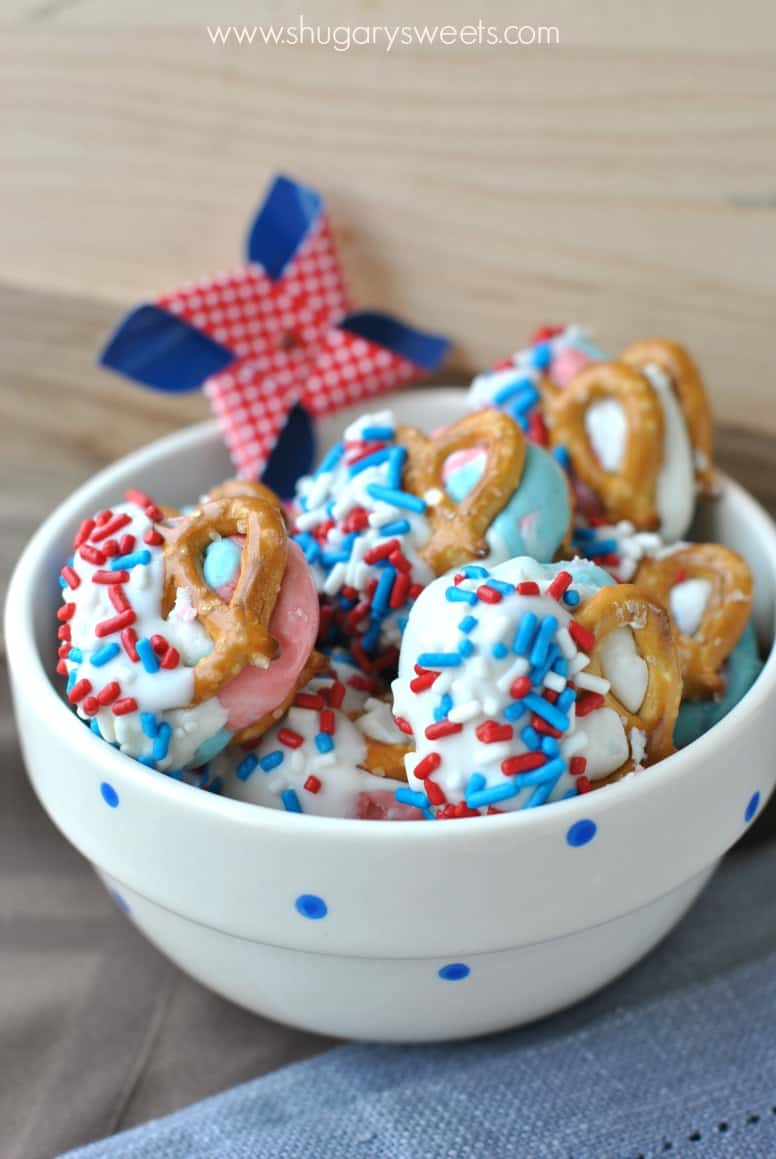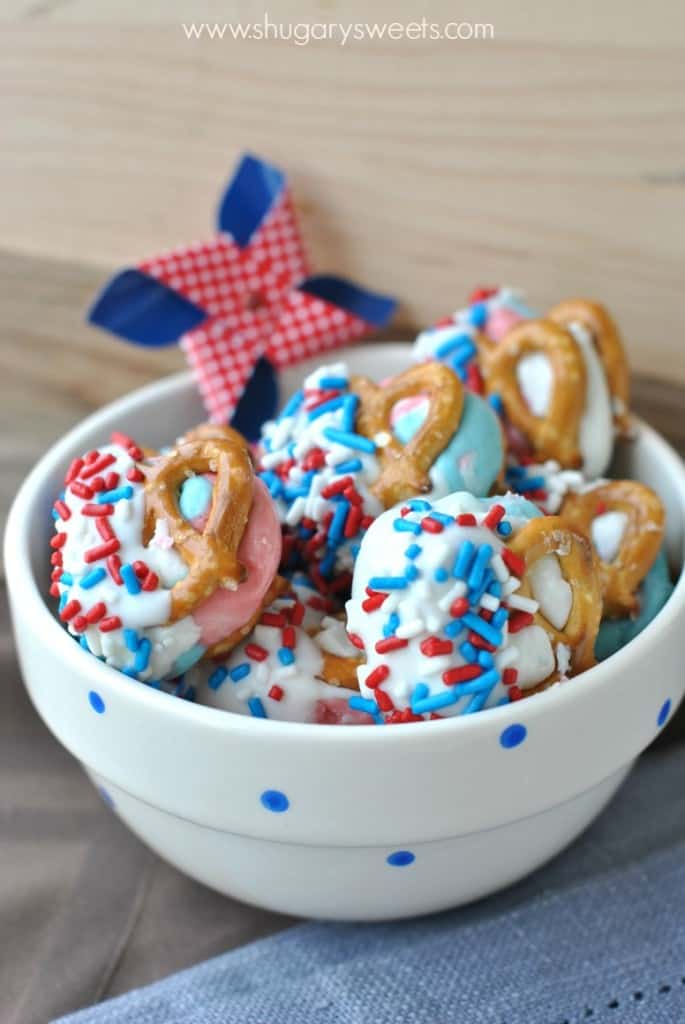 These little candies are the perfect thing to bring. They not only make the kids happy, but one bite and you will be brought back to childhood. Sticky cotton candy. Chewy bubble gum!
Have you tried the new Frosting Creations mixes from Duncan Hines? The idea is you take one of the little flavor packets, mix it into one of the canned frostings and BOOM. Delicious frosting flavors!
However, I'm not always a rule follower. I love adding these little mixes to OTHER things for the fireworks of flavor.
I used Snyder's mini pretzels, but you could also use snaps (the waffle looking pretzels) or there is a Patriotic pretzel shapes package in the stores too (from Snyder's)! You decide, just make them, K?
Connect with Shugary Sweets!
Facebook | Twitter | Google+ | Pinterest | instagram | Bloglovin'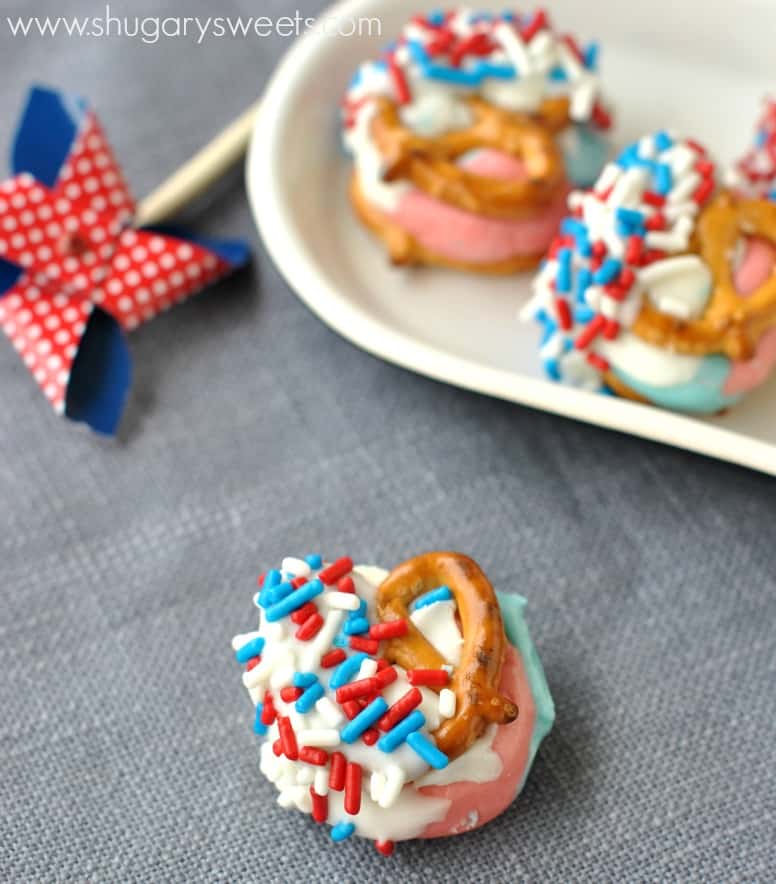 Yield: 4-5 dozen
Red, White, and Blue Pretzels
Need a fun snack to bring to a 4th of July celebration? These Red, White and Blue Pretzels are delicious.
Ingredients
1 jar (7oz) Marshmallow Creme (Fluff)
1/2 cup unsalted butter, softened
5 cup powdered sugar
1 Tbsp milk
1 envelope (.10oz) Duncan Hines Frosting Creations Cotton Candy flavor
1 envelope (.10oz) Duncan Hines Frosting Creations Bubble Gum flavor
100 Snyder's mini pretzels
12oz Vanilla Candiquik, melted
sprinkles
Instructions
In a large mixing bowl, beat marshmallow creme with butter until combined. Add powdered sugar and milk, beat for 2-3 minutes.
Divide mixture into thirds. Keep one third plain white. To one batch, mix in the cotton candy flavor packet until fully combined. To the third batch, mix in the Bubble gum flavor packet.
To assemble, take about 1 tsp of each color and roll it into a ball. Press it between two pretzel twist and lay flat on a parchment paper lined baking sheet. Repeat until all candies are assembled. Freeze candies for one hour.
Dip end of one frozen pretzel candy into melted vanilla Candiquik. Tap on side of bowl until excess drips off. Add sprinkles and place back on parchment paper. Repeat until done. Allow to set, about 15 minutes. These taste best when cold, but my kids enjoyed them at room temperature as well. Store in covered container for up to one week.
Notes
**If you can't find the Duncan Hines flavors, feel free to use about 1 tsp of JELLO gelatin mix (in your choice of flavors). ENJOY.
Looking for more 4th of July ideas? Try making this JELLO Trifle. Its light and delicious!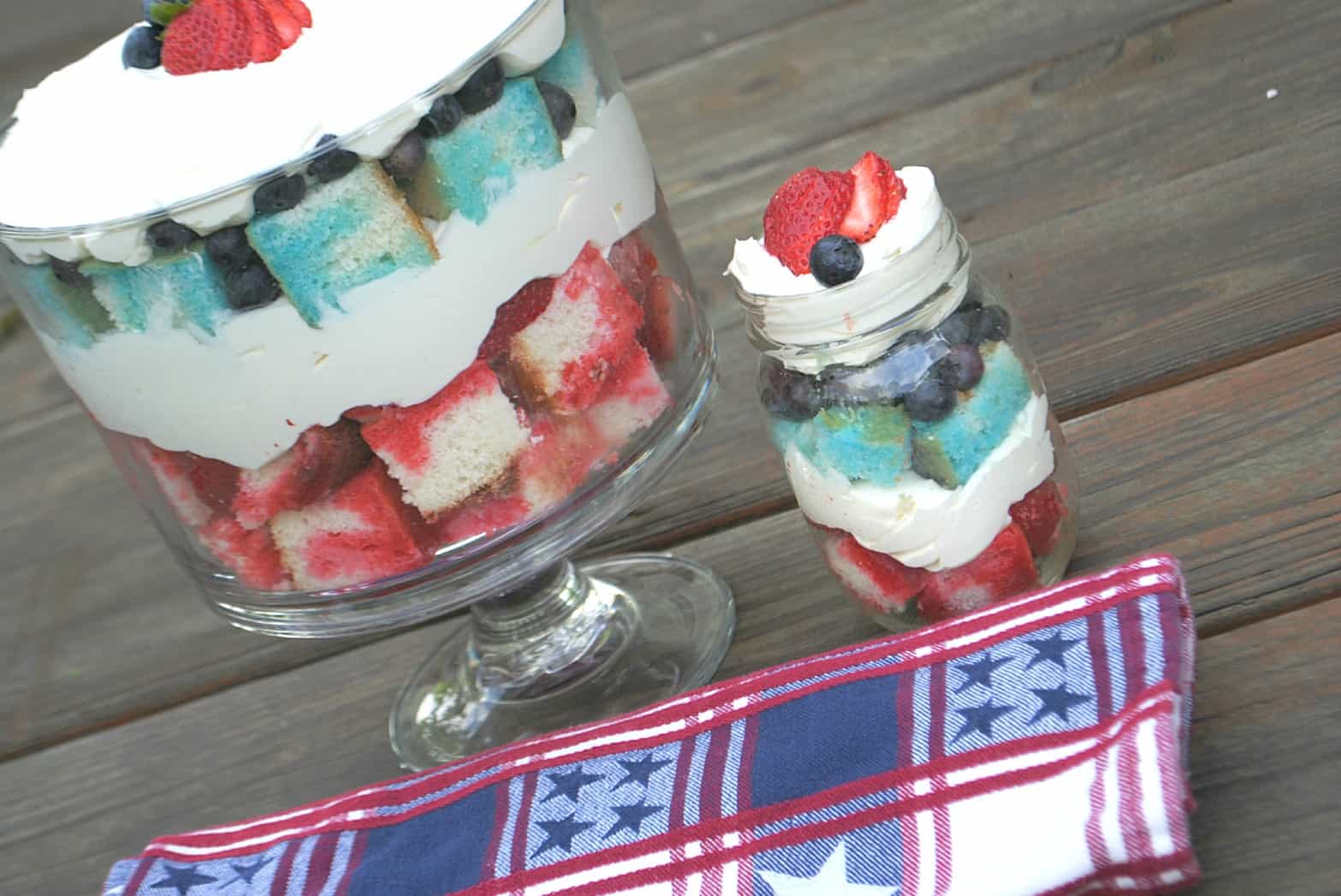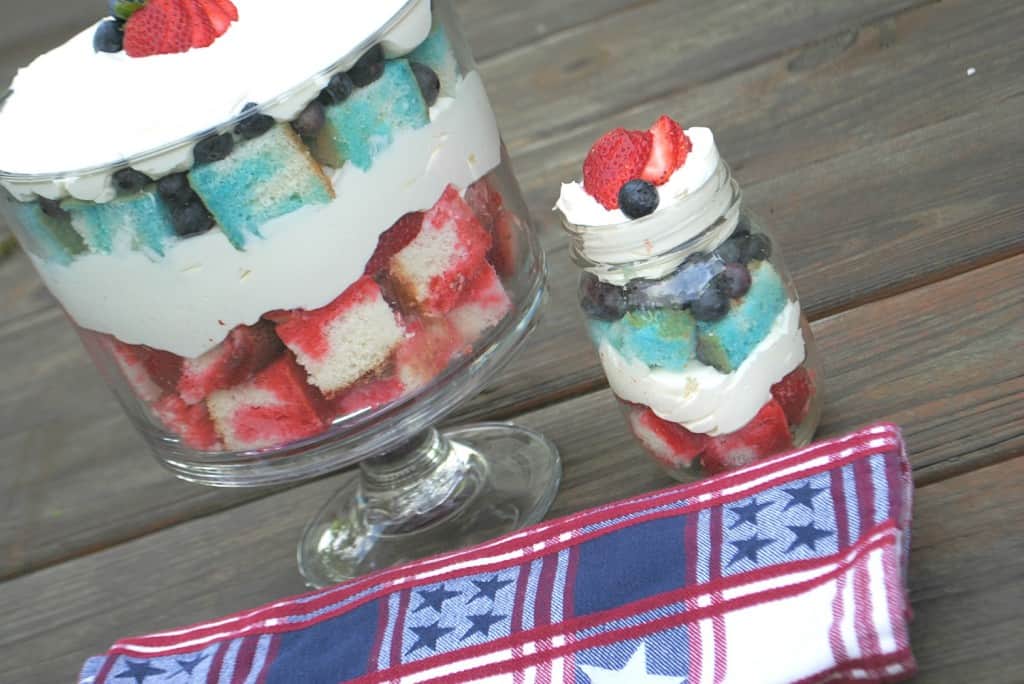 These fun Red, White and Blue Icebox Cookies are a treat for any party!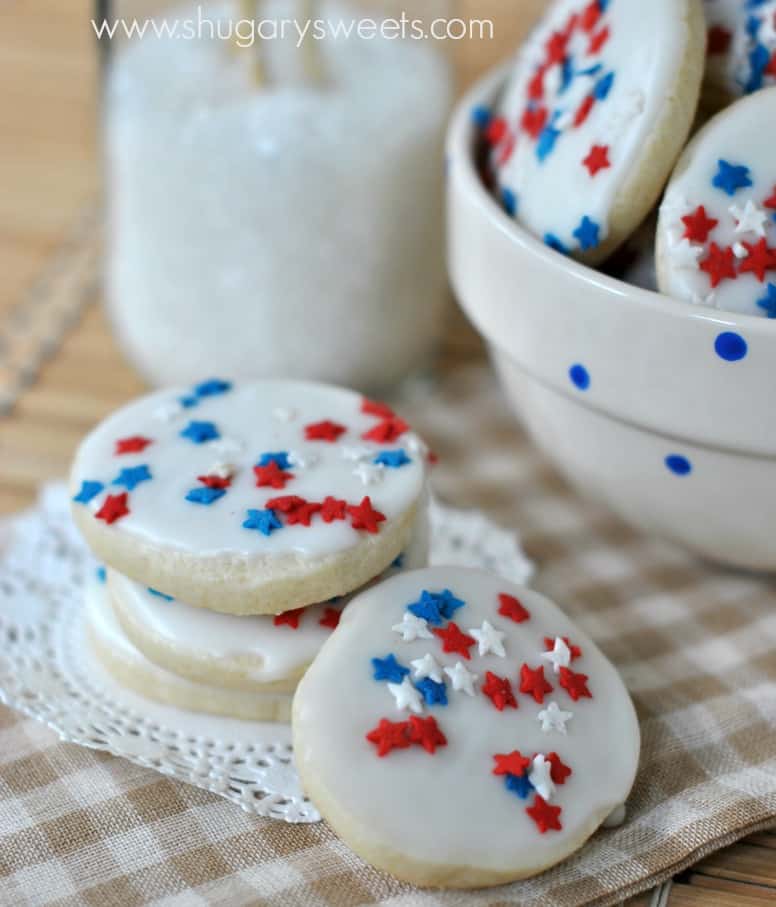 Looking for a dip to share with family and friends? Jalapeno Artichoke Dip is a real crowd pleaser!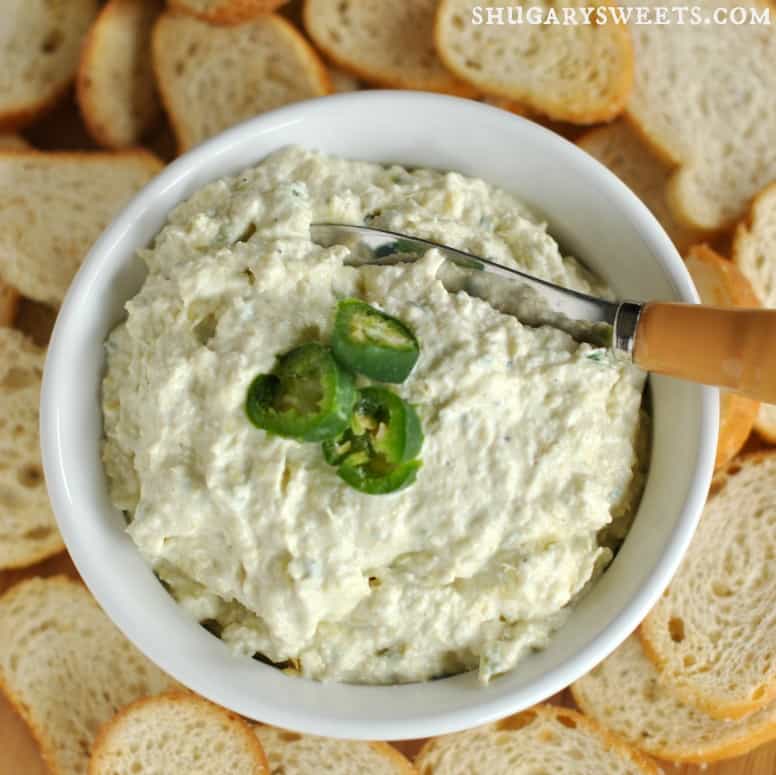 More recipes from Blog Friends you may enjoy….
Bacon Ranch Grilled Jalapenos from Inside BruCrew Life
Red, White and Blue Peppermint Patties from Mom on Timeout
Patriotic Peanut Butter Bark from Crazy for Crust