Sausage Tortellini Soup brings together spicy sausage with tender pasta and cheese in this comforting soup. Grab a spoon and bowl and get ready for a dinner that satisfies body and soul.
Love easy soup recipes? This Roasted Tomato Soup is so easy, and is loved by kids and adults! Or give our most popular soup, Broccoli Cheddar Soup, a try soon!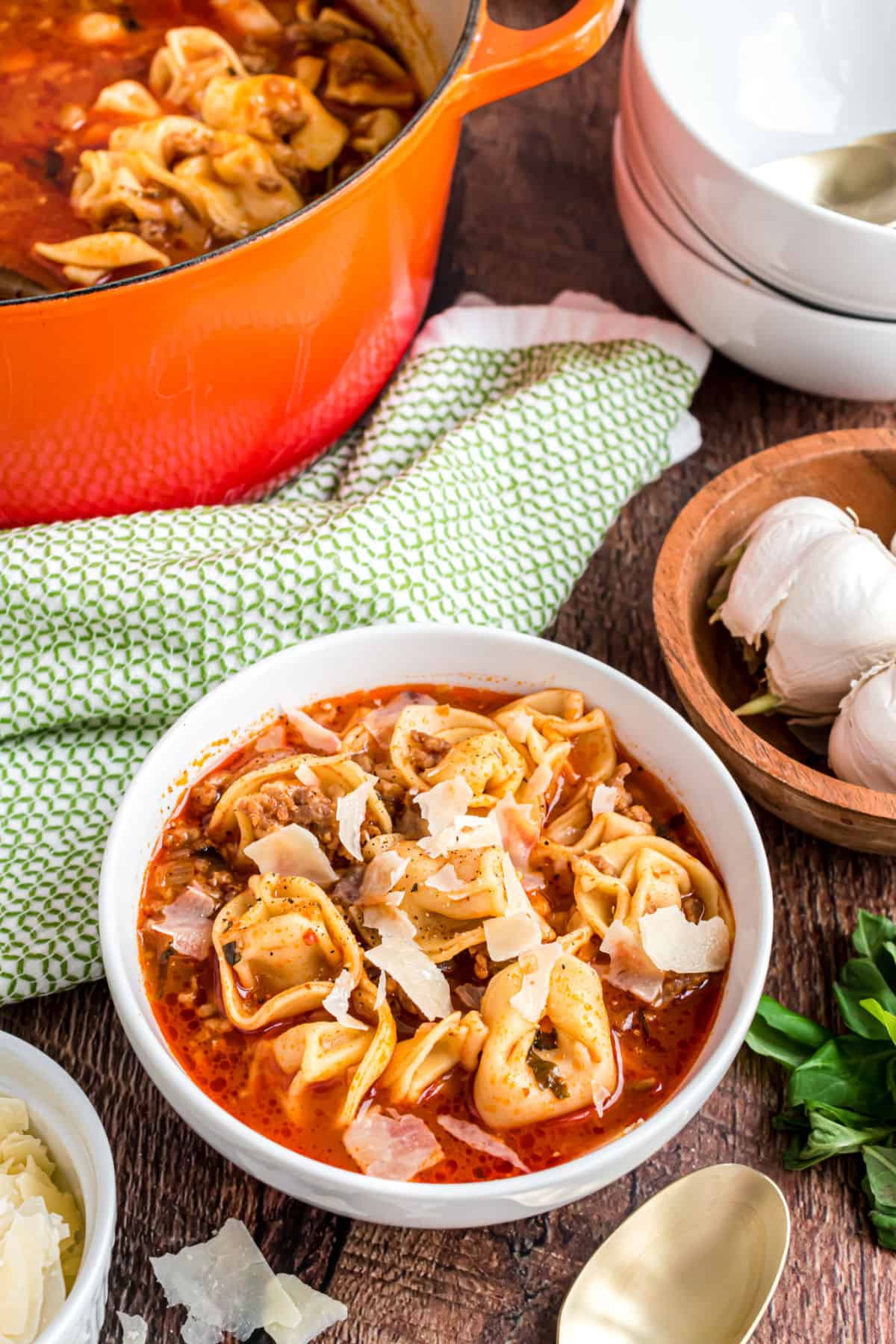 Easy Sausage Soup
I love soups. This recipe is a winner because it's packed with flavor and easy to make in about 30 minutes.
From the spicy sausage to the cheesy tortellini, it won't disappoint!
We served ours with an olive garden salad and some crusty garlic bread. A steaming hot bowl of Sausage Tortellini Soup made the perfect comfort food dinner.
It's full of filling nourishing ingredients that will make you feel satisfied but not overwhelmed and weighed down. My entire family asked for seconds!
Ingredient Notes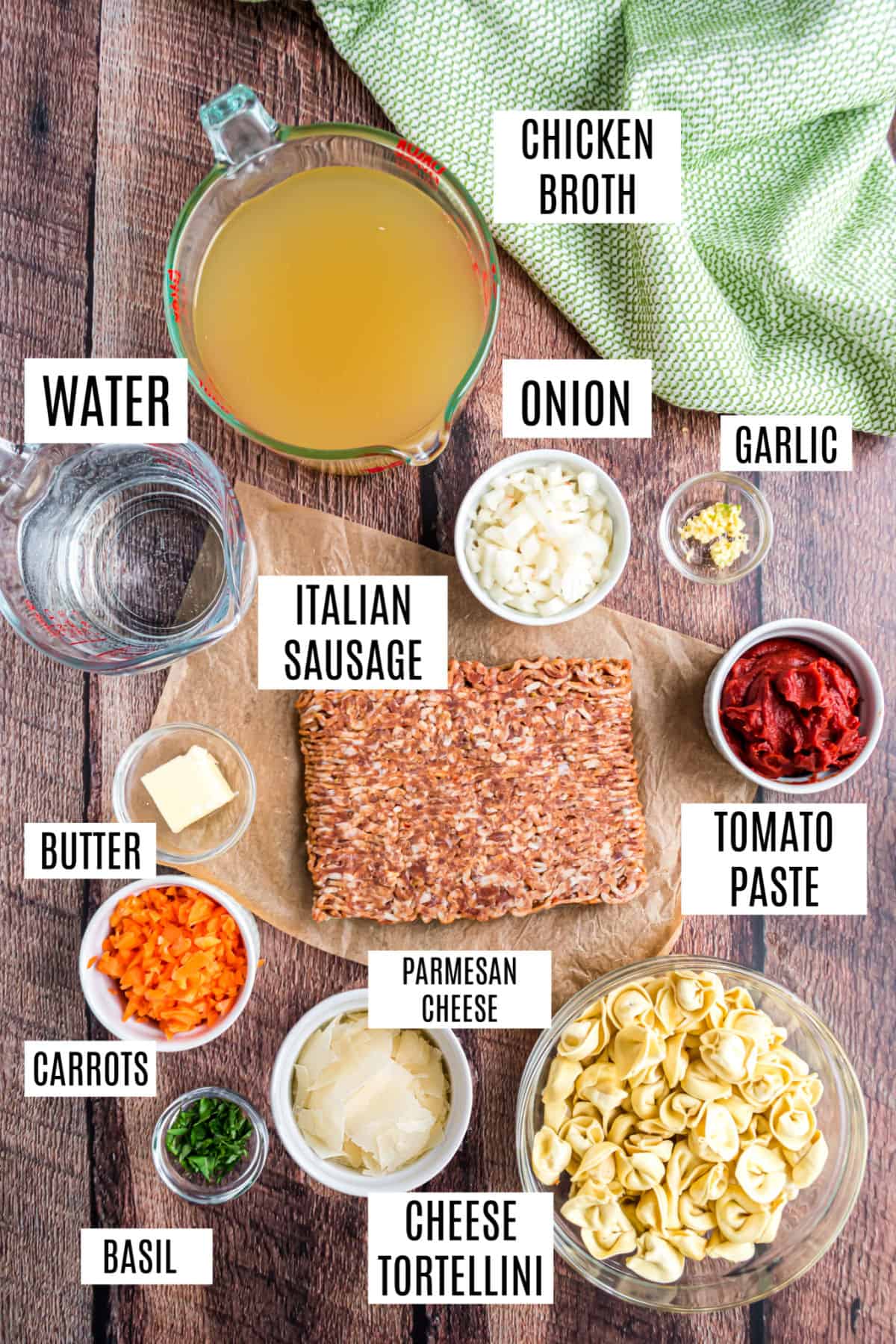 I'm a bit of a spice addict. I can never have enough.
Italian Sausage. I think the HOT Italian sausage is best with the cheese tortellini soup. It adds just the right kick without being anything close to unbearably spicy.
That said, feel free to adjust the heat by using a sweet Italian sausage instead of spicy Italian sausage. Either way it's going to be delish.
If you purchase it in links (in casings), just be sure to strip it out of the casings. Or, if you prefer, you could just cook the links and slice them for the soup.
Tortellini. I used store bought cheese stuffed tortellini. These days there are so many different kinds to choose from if you have a decently stocked grocery store! Any kind will do, but I used a simple frozen variety without any extra seasonings or spices; just the cheese! Fresh tortellini will work just as well too.
Carrots, Onion, Garlic. Adds flavor and texture to the soup!
Chicken Broth. I use this because it adds flavor without overpowering the soup. Vegetable broth would be great too. In a pinch, you could use beef broth if that's all you have on hand.
Fresh Basil. Adds a lovely fresh Italian flavor to the soup.
How to Make Tortellini Soup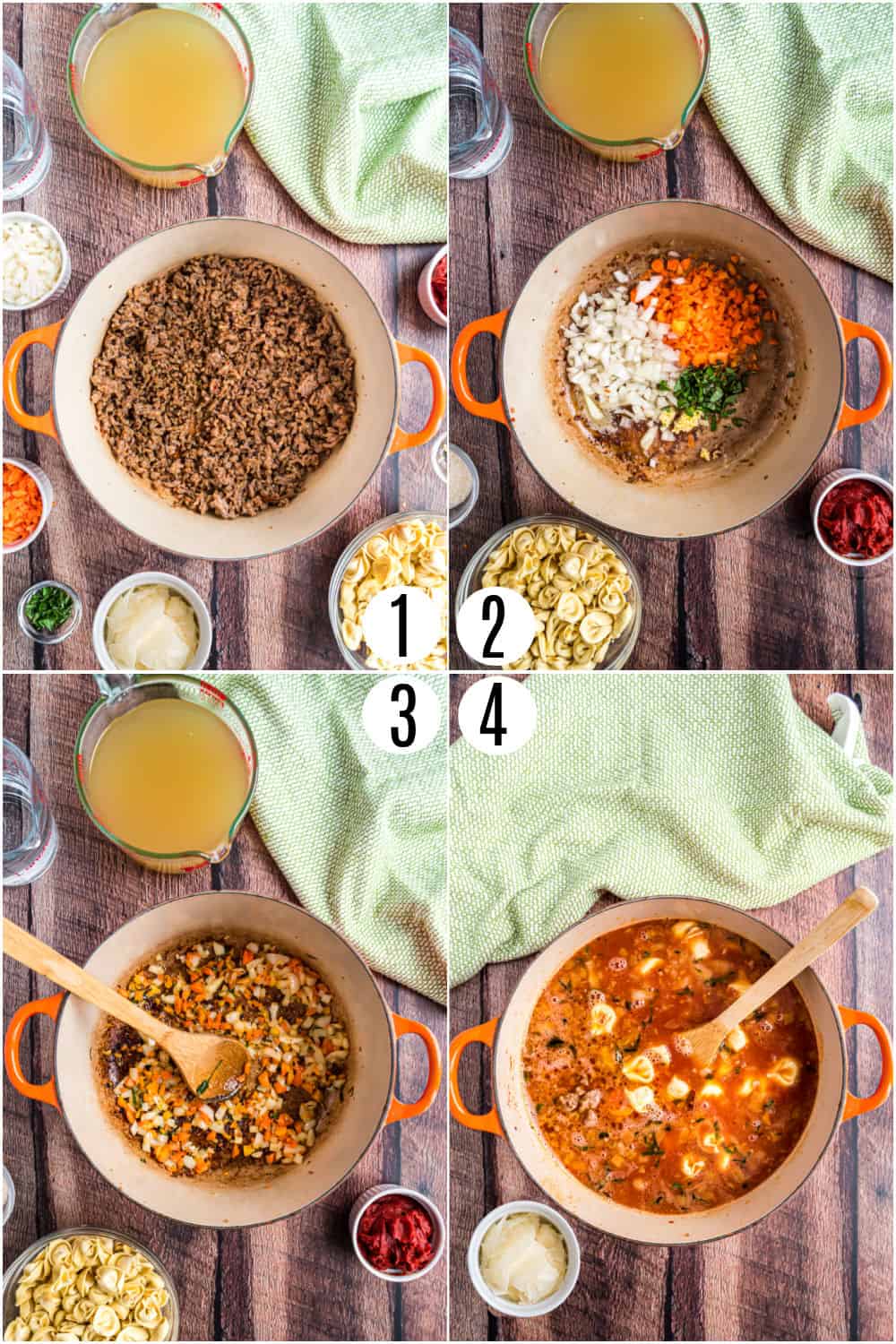 This homemade sausage soup is ready to eat in 30 minutes and you only need one pot.
Brown the Sausage. In the soup pot you'll be using, brown the Italian Sausage, breaking into small chunks as it cooks. This takes 6 – 8 minutes. Drain the grease and set sausage aside (I put it on a paper towel lined plate or bowl).
Cook Vegetables and Herbs. In the same pot, melt butter. Saute onions and carrots with basil and garlic for several minutes.
Make Soup Base. Whisk in tomato paste, broth and water. Heat about ten minutes on medium high heat.
Combine. Add sausage and tortellini (fresh or frozen). Cook until tortellini is tender. Serve with fresh shaved or shredded parmesan cheese. ENJOY!
Recipe FAQs
Can I use sweet Italian sausage in soup?
Sweet Italian sausage makes a delicious substitute for the hot Italian sausage if you prefer less heat.
How can I make this creamy sausage tortellini soup?
To make creamy sausage tortellini soup, add in about 1/2 cup heavy whipping cream with the sausage and tortellini, cook until tortellini is tender.
Can I add vegetables to tortellini soup?
Yes! Feel free to throw in some kale or spinach with the sausage and tortelini so that it can wilt and cook down slightly. You could also add some small diced potatoes to the soup with the carrots.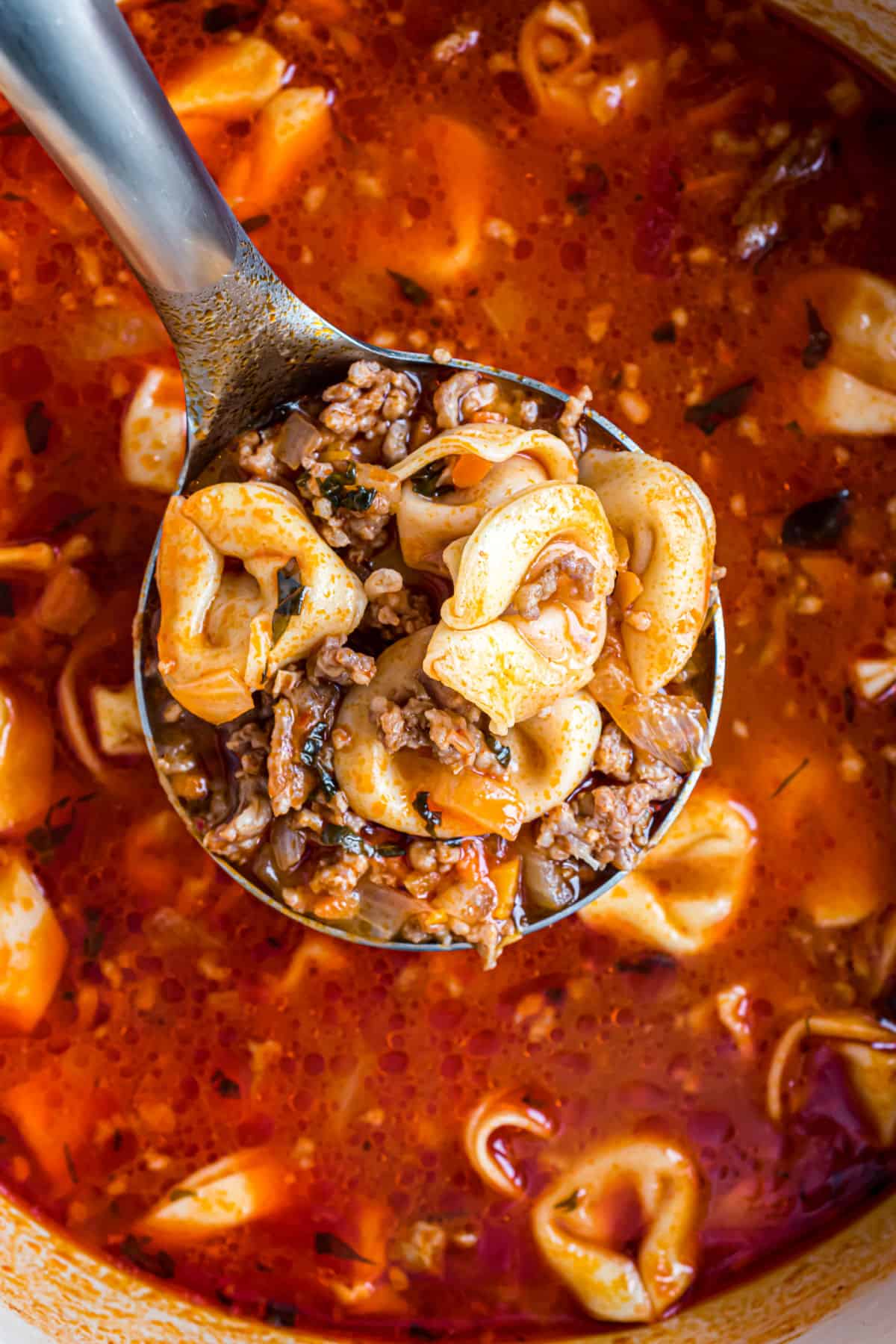 Tips and Tricks
STORAGE: I recommend eating this soup right away so the tortellini doesn't get mushy. If you need to make it ahead of time, you can cook everything up until adding the tortellini, then transfer to the fridge to store for up to 2 days or the freezer for up to 3 months. When ready to serve, bring to a simmer on the stove top and add the tortellini, cooking until tender.
SLOW COOKER: If wanting to use a crockpot, brown the sausage. Then put everything in the slow cooker except the tortellini and parmesan cheese. Cook on low 5 hours. Add the tortellini and cook and additional hour until soft and tender.
Parmesan Rinds: If you buy fresh parmesan, save those rinds! This is the perfect soup to toss that rind in while the soup simmers with broth. It adds a rich and delicious flavor.
Lasagna Soup -all the delicious taste of lasagna in an easy to make soup recipe!
Chicken Pot Pie Soup -one of our family favorites, don't forget the delicious pie crust toppers!
Easy, hearty and completely delicious this Spinach and Tortellini Soup will warm you right up on a cold night! Made with Italian Sausage and prepared tortellini, this homemade one pot soup takes just 30 minutes to make.