Peanut Butter Reese's Pieces Shortbread Bars
One day it's a lemon dessert I crave and the next day I am drooling over these peanut butter shortbread bars.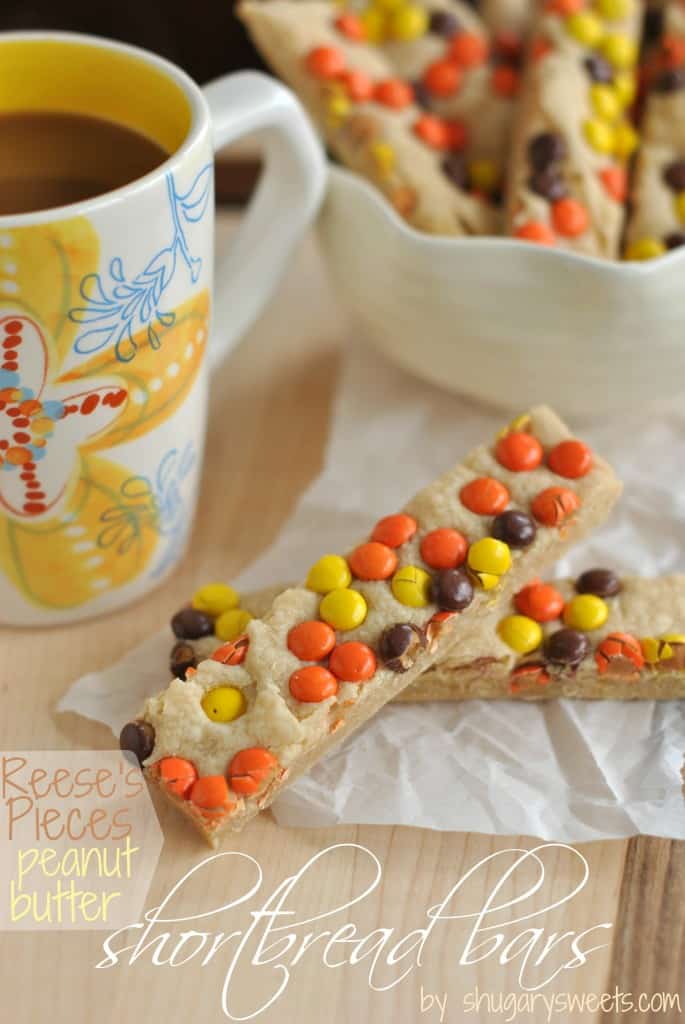 Not just any old peanut butter cookies. Buttery, peanut butter, crunchy, melt in your mouth shortbread bars! Oh, and filled to the max with mini Reese's Pieces.
Have you seen these minis yet? I found mine in the baking aisle. You could totally add regular Reese's Pieces if you prefer, or can't find the minis!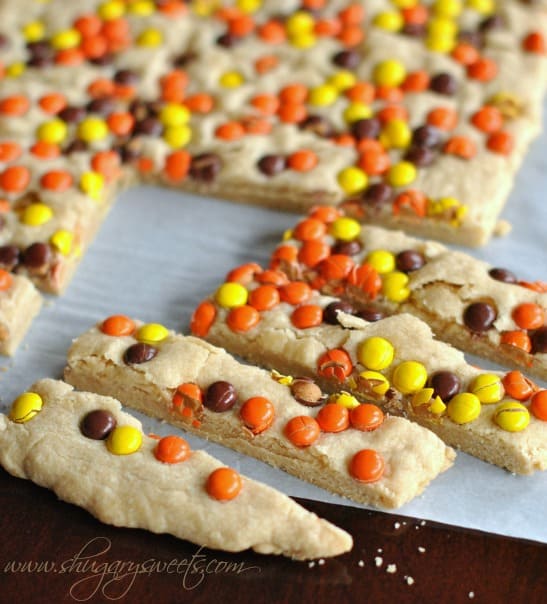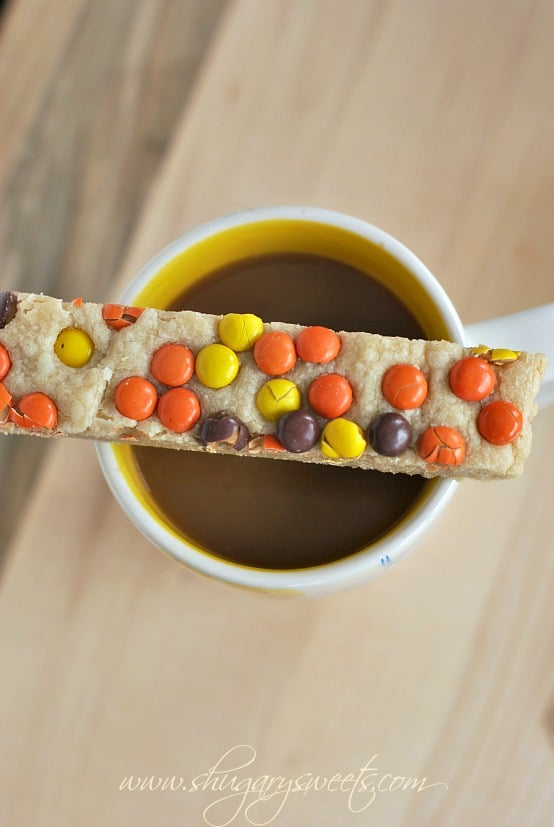 These are quite easy to make too. Mix up your dough and pat it into a big rectangle on a parchment paper lined baking sheet. Press in your Reese's Pieces and bake. After removing from oven, immediately slice the cookies into any shape. I like a nice dunkable stick, but you can do squares or triangles too! Allow to cool completely on pan, then separate and remove. Store in a covered, air tight container. ENJOY!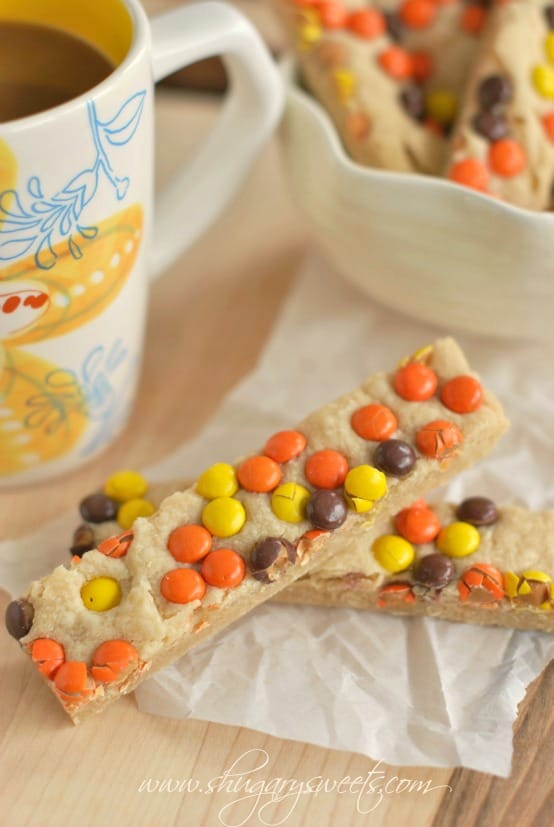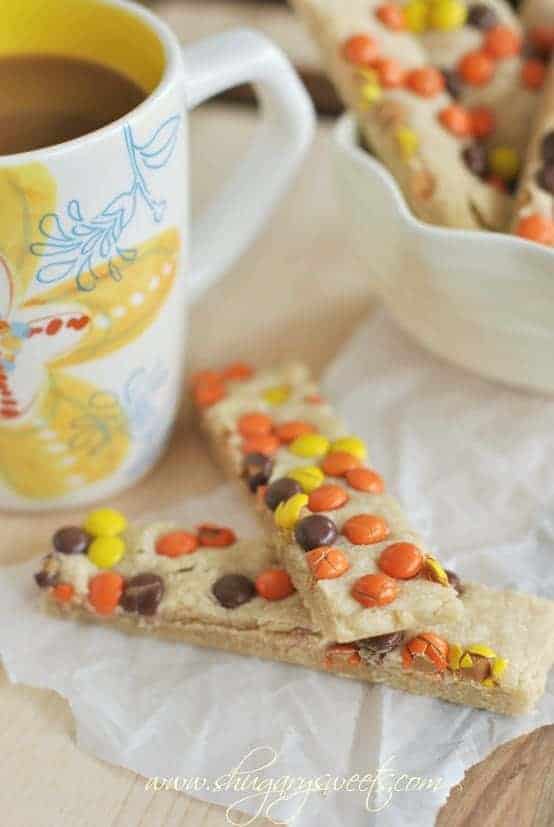 Are you following me on Pinterest yet? 
Want more cookie ideas? Check out my Cookies, Brownies and Bars board
Be sure to check out Desserts-sweets and treats for your next recipe idea!
 Don't miss a single recipe: connect with Shugary Sweets!
Instagram | Facebook | Twitter | Google+ | Pinterest | Bloglovin'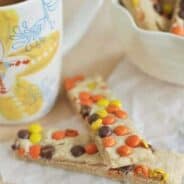 Peanut Butter Reese's Pieces Shortbread Bars
Yield: 28 bars
Prep Time: 15 minutes
Cook Time: 20 minutes
One day it's a
lemon dessert
I crave and the next day I am drooling over these
peanut butter shortbread bars
.
Ingredients:
3/4 cup unsalted butter, softened
1 cup powdered sugar
2 cup all purpose flour
1/4 tsp kosher salt
1/4 cup creamy peanut butter
1 Tbsp milk
3/4 cup mini Reese's Pieces candies
Directions:
Beat butter with powdered sugar for about 3 minutes. Beat in flour, salt and peanut butter. Mixture will be crumbly. Add in milk and mix with hands. Dump mixture (will still be slightly crumbly) and knead dough together on a piece of parchment paper. Press into a 12x10 rectangle. Slide parchment paper onto a large baking sheet. Press the candies into the top of the dough.
Bake in a 350 degree oven for 20-25 minutes. Cut immediately and allow to cool. Separate and store in air tight container. ENJOY.
MAKING THIS RECIPE? Share it with me on Instagram using the hashtag #ShugarySweets so I can see what you're cooking up in the kitchen!
Love this recipe? You may also enjoy these Reese's Peanut Butter Bars!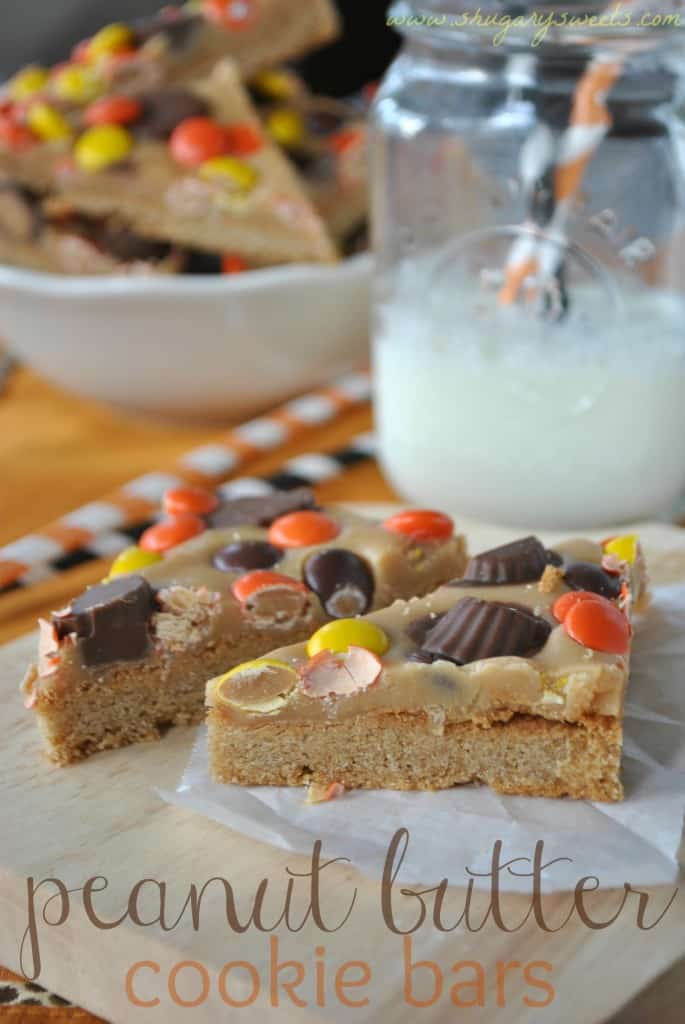 Delicious white chocolate cupcakes with a peanut butter swirled frosting! Inspired by a white chocolate Reese's!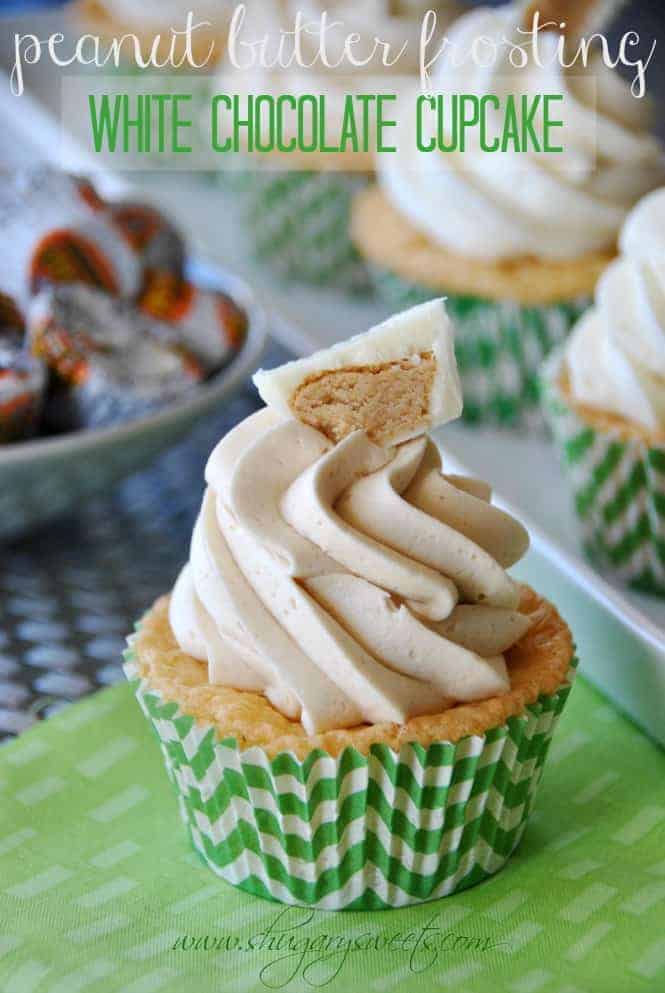 Make your own Peanut Butter granola bars! These are no-bake delicious!