There are not enough words to describe how delicious these Butterscotch Cookie Cups taste! Shortbread butterscotch cookies are baked in a mini muffin tin then topped with a sweet rum glaze in this easy recipe.
If you like today's recipe, you'll love these Pecan Sandies and these Butterscotch Blondies too.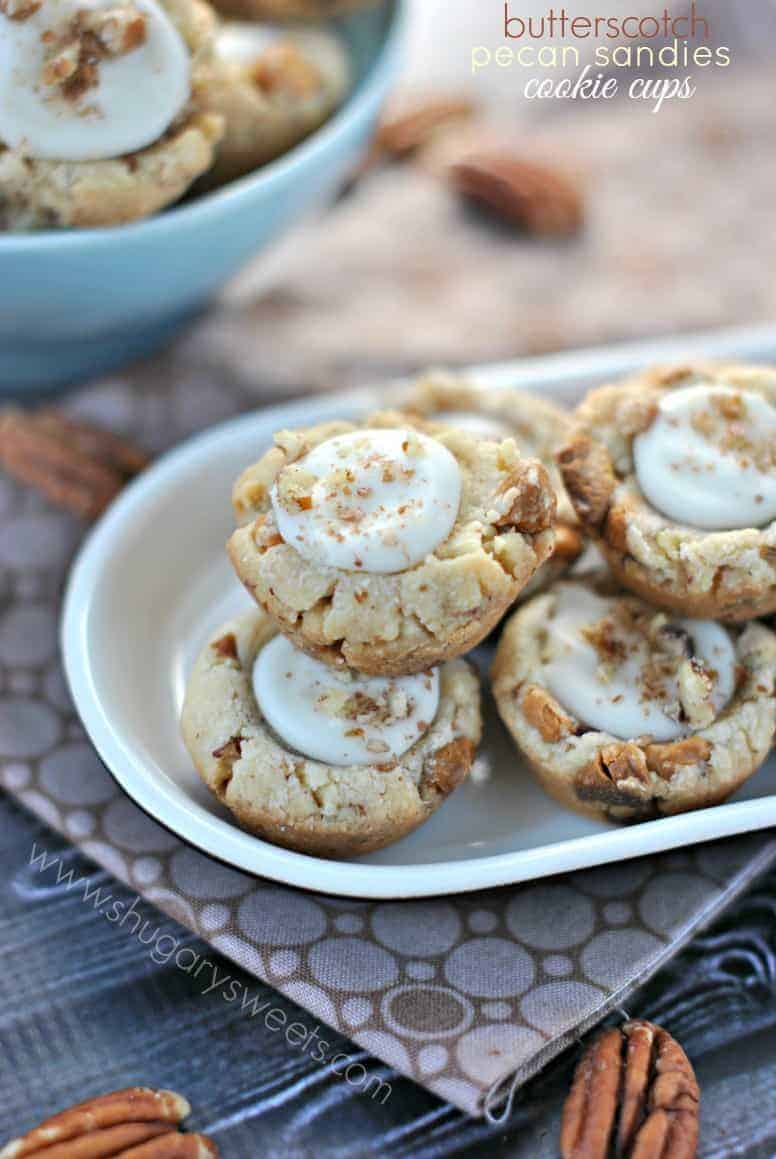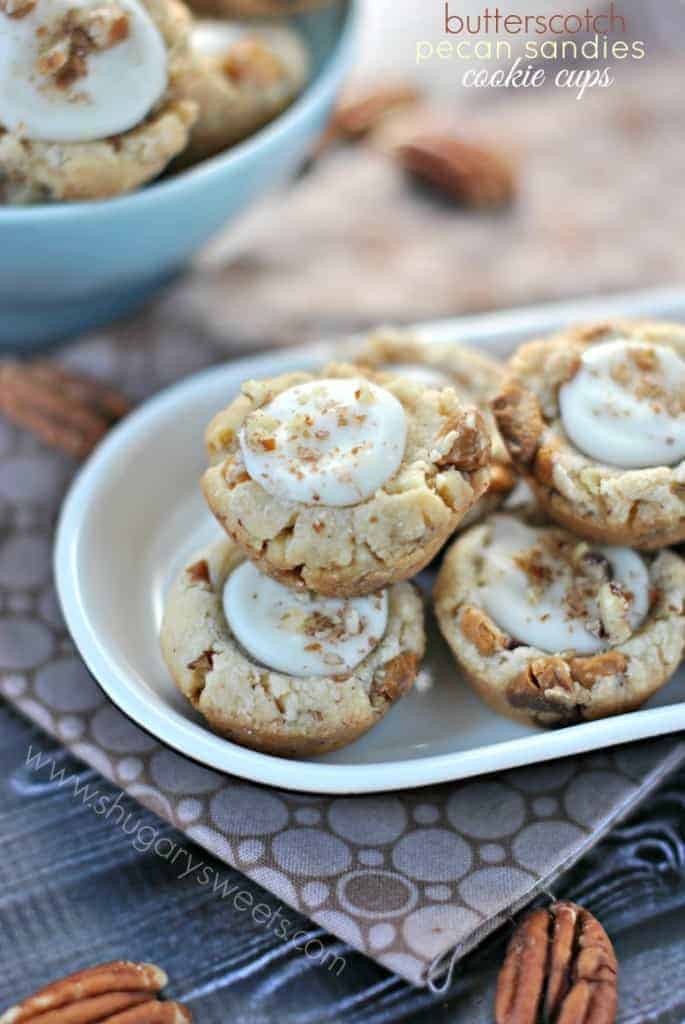 Why These Cookies are Best
I love cookie cups. They're a great excuse to add frosting to any kind of cookie. Sometimes I even make them with refrigerated cookie dough, like in these Snickers Cookie Cups.
For today's Butterscotch Cookie Cups, we made everything from scratch.
A homemade shortbread cookie dough is packed with butterscotch morsels and crunchy pecans!
The cookie cup shape is perfect for topping with icing.
You'll love the pairing of butterscotch and rum flavors.
Easy to make–no chilling or rolling dough required!
Ingredient Notes
Butter – We recommend softened unsalted butter for a rich, delicate shortbread crumb.
Powdered sugar – The fine confectioner's sugar dissolved quickly into the butter for a crisp crumbly cookie consistency.
Cornstarch – A teaspoon of this added to the other dry ingredients (flour and salt) helps the shortbread dough hold its shape.
Butterscotch morsels – Here's where the "butterscotch" part comes in to play! They soften into the dough just a bit as the cookies bake for amazing flavor.
Chopped pecans – The crunchy nuts add a satisfying contrast of texture and flavor to the flaky shortbread dough.
Rum flavoring – This highly concentrated rum extract is used to flavor the simple cookie glaze. Once you have a bottle on hand, you can use it in all kinds of other recipes too, including my Eggnog Truffles.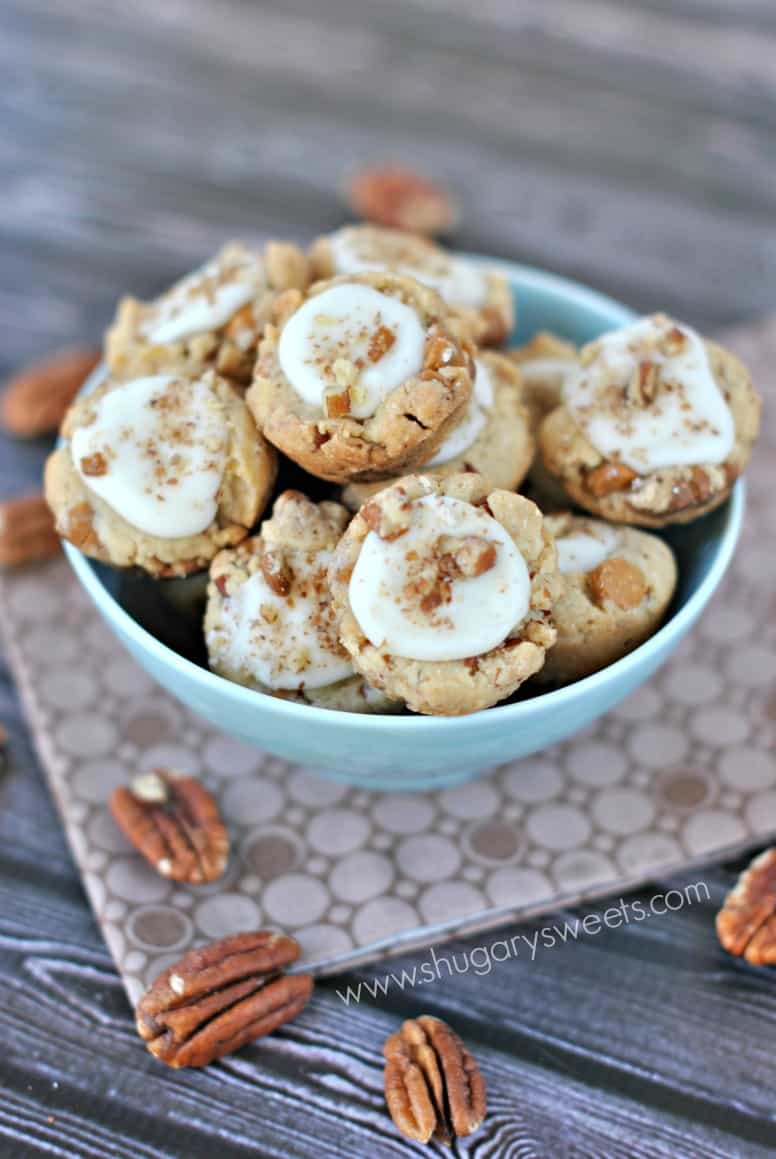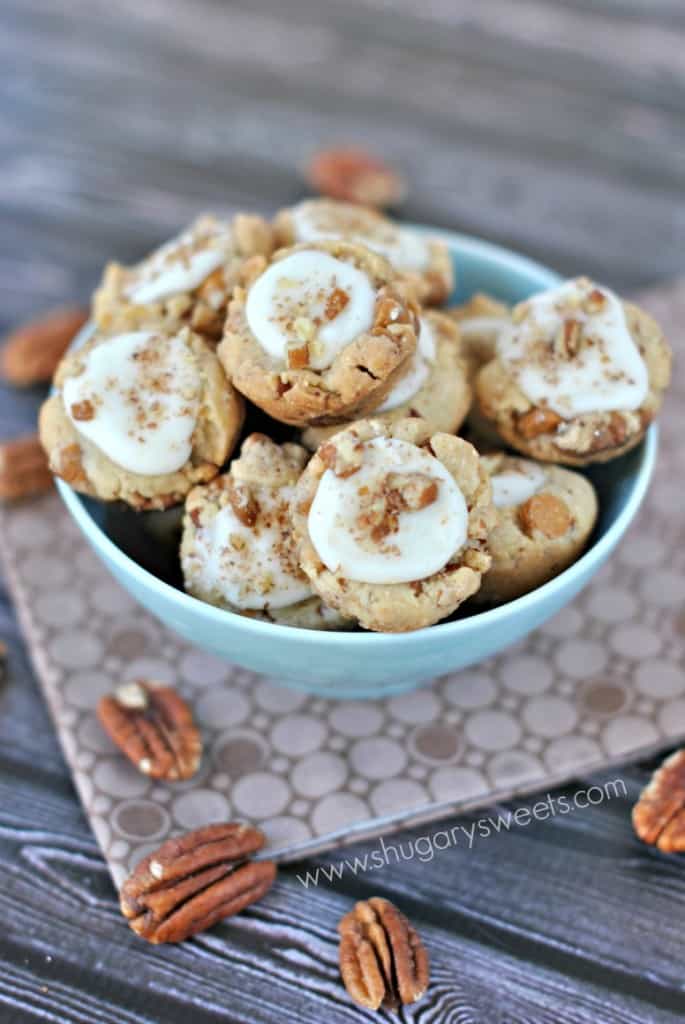 Tips and Tricks
The dough will be a bit crumbly, like shortbread. Roll the dough into balls with your hands and it will begin to hold together.
Make a slight indent in the tops of the cookies right after baking, while they're still soft and warm. You can use a tart shaper or even a bottle cap for this step.
Drizzle a small amount of rum glaze into the indent of the cooled cookie cups.
Sprinkle the glaze with more chopped pecans before the icing sets.
Recipe FAQs
How do I store these cookie cups?
You can store these butterscotch cookie cups in an airtight container at room temperature for up to 1 week. Or freeze them for up to 3 months.
Can I make this recipe with salted butter instead?
You can certainly use salted butter if that's what you have. I prefer to bake with unsalted butter because it makes it easier to control the flavor of the finished cookies.
If you make this recipe with salted butter, reduce the amount of added kosher salt by half.
Will this recipe work for regular cookies?
Yes, you can bake these cookies on a cookie sheet instead of in a mini muffin tin. You may need to adjust the baking time if you make them this way.
Keep an eye on the cookies as they bake. Take them out of the oven when the bottoms just begin to brown.
What can I use instead of rum flavoring?
The rum flavoring is spectacular in this glaze, but if you can't find any or prefer not to use it, you can use vanilla extract instead. The glaze won't have the rum element but will still taste good!