Fluffernutter Fudge is as fun to eat as it is to say! A rich peanut butter fudge tastes even better when you combine it with marshmallow cream and crunchy nuts.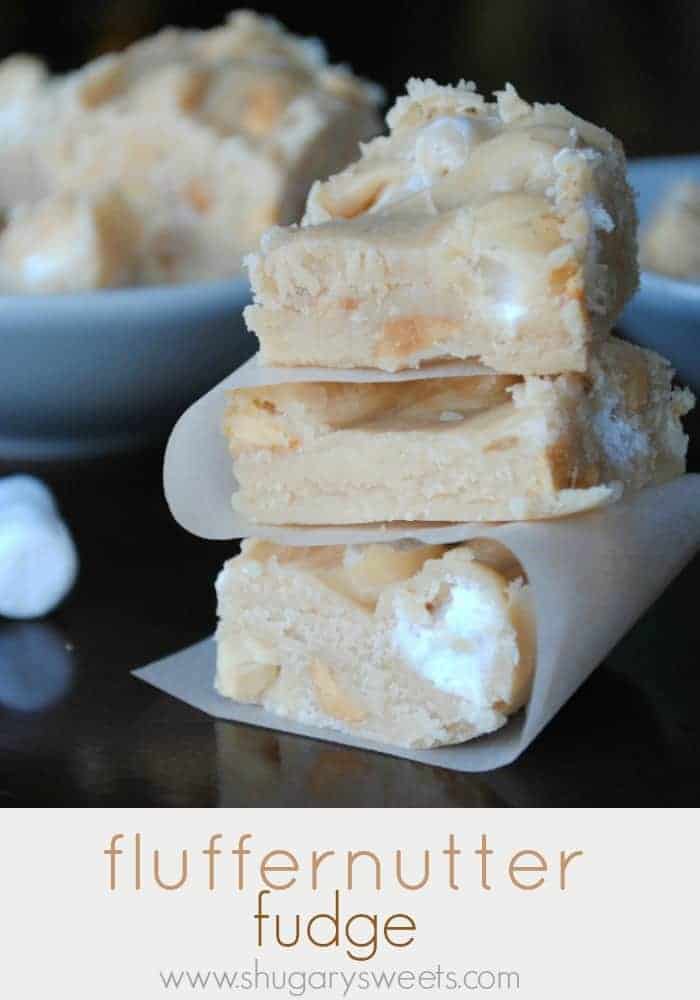 I don't know if I've ever confessed this before, but peanut butter isn't my favorite ingredient. I enjoy an occasional peanut butter treat, like Peanut Butter Bars or Peanut Butter Rice Krispie Treats but there are other flavors I prefer.
Peanut Butter Fudge
This fudge though? This is good enough to change my opinion on peanut butter desserts. The creamy fudge combined with an occasional chewy marshmallow and crunch of peanuts…oh my!
I'm usually all about covering my peanut butter desserts with melted chocolate, folding in chocolate chips or finding some other way to add chocolate to the treats. Not this time. The peanut butter and marshmallow stand on their own.
My kids agreed that this spin on peanut butter fudge is made extra delicious thanks to all the marshmallows you fold in! We polished off the whole pan within a day. . .and I'm already craving it again.
You NEED to try Fluffernutter Fudge at least once. Trust me on this!
What is a fluffernutter?
Wondering where this silly sounding name came from? This peanut butter fudge gets its name from a Sandwich I used to eat as a kid. Did you ever have a fluffernutter in your lunch box?
One slice of white bread with peanut butter + one slice covered with marshmallow fluff = a Fluffernutter sandwich. It might not be the healthiest of school lunches but it was such a treat!
Nowadays, that's a bit more sweetness than I want in my sandwiches. It's the perfect amount for a rich fudge recipe though!
Peanut Butter Marshmallow Fudge Recipe
Along with being eyes-rolling-back-into-my-head levels of tasty, Fluffernutter fudge is so easy to make too.
Okay, yes, the instructions do involve a candy thermometer. Don't be scared! You don't need to be some kind of candy making genius. Follow the steps and you'll be just fine.
As far as ingredients go, you need light corn syrup, milk and sugar along with mini marshmallows and peanut butter. Oh, and don't forget the peanuts for that little bit of CRUNCH factor!
How to Make Fluffernutter Fudge
Here's how to make your own addictively scrumptious homemade peanut fudge.
First, add sugar, corn syrup, salt and milk to a sauce pan.
Stick your candy thermometer in the pan, and boil boil boil until soft ball stage (235 degrees).
I think I took my thermometer out a few degrees before because I was impatient, and it turned out JUST PERFECT.
Remove the pan from the heat and immediately stir in one cup of marshmallows. Now it's stir time!
STIR STIR STIR until all those lovely fluffy marshmallows are melted. Add the peanut butter and stir some more.
Now fold in all the remaining marshmallows and the peanuts. Immediately pour into a lined baking dish and quickly spread the fudge mixture evenly to cover the bottom of the pan.
Work quickly here before the fudge starts to set! 
Finally, put the whole pan in the fridge and let it set! Mine took just over 30 minutes, but you could certainly leave it in for up to an hour to get the texture you want.
When set the fudge will be easy to slice but shouldn't be melty or gooey. Slice the fluffernutter fudge into squares and enjoy!
Tips and Tricks
Mini marshmallows are my preference.  They melt much more quickly than full sized marshmallows and you want the unmelted ones small enough to bite into! If you can't get miniatures, use full size marshmallows and chop them into bite sized pieces before proceeding with the recipe.
Can this be made without a candy thermometer? I don't recommend it. Getting the corn syrup mixture to the right temperature is key to achieving the consistency you need. Without it, the fudge could be a runny mess or hard as a rock. For a homemade fudge recipe without a thermometer, check out this other Peanut Butter Fudge recipe!
Variations: I think this fluffernutter candy is delicious all on its own. If you're like I usually am and can't resist adding chocolate to everything, you could certainly top this with a layer of melted dark chocolate before putting it in the fridge! White chocolate would taste great on top of this fudge too if you're so inclined.
Storing: I keep this in an airtight container at room temperature. If your house runs warm you might want to store it in the refrigerator instead.
New to making homemade fudge? My guide for How to Make Fudge is the ultimate guide for making perfect homemade candies, no matter what your skill level.
The creamy, sweet, nutty flavors you loved in your favorite sandwich as a kid are even better in homemade candy form. Make this  Fluffernutter Fudge for yourself, or that special someone in your life! 
Yield: 2 dozen
Fluffernutter Fudge
Ingredients
3 cup granulated sugar
3/4 cup unsalted butter
pinch of kosher salt
1 cup heavy cream
2 cup white chocolate morsels
3/4 cup peanut butter
7oz jar marshmallow cream
1 cup mini marshmallows
1/2 cup lightly salted roasted peanuts
Instructions
Line a 8x8 baking dish with parchment paper or foil. Set aside.
In a large mixing bowl, add white chocolate morsels, peanut butter, and marshmallow cream. Set aside.
In a large saucepan, heat granulated sugar, butter, salt and heavy cream until combined. Bring to a ROLLING boil and stir continuously for 4 minutes (set your timer)!
Remove from heat. Quickly pour hot mixture into the large mixing bowl with the other ingredients. Mix for one minutes, until smooth.
Fold in mini marshmallows and peanuts. Pour fudge into prepared pan and refrigerate for 3 hours, until hardened.
Remove from pan, remove lining. Cut into bite sized pieces.