A classic sugar cookie made easy by making them into bars. Frost with a generous layer of buttercream, tinted in your favorite color! Frosted Sugar Cookie Bars are a family favorite!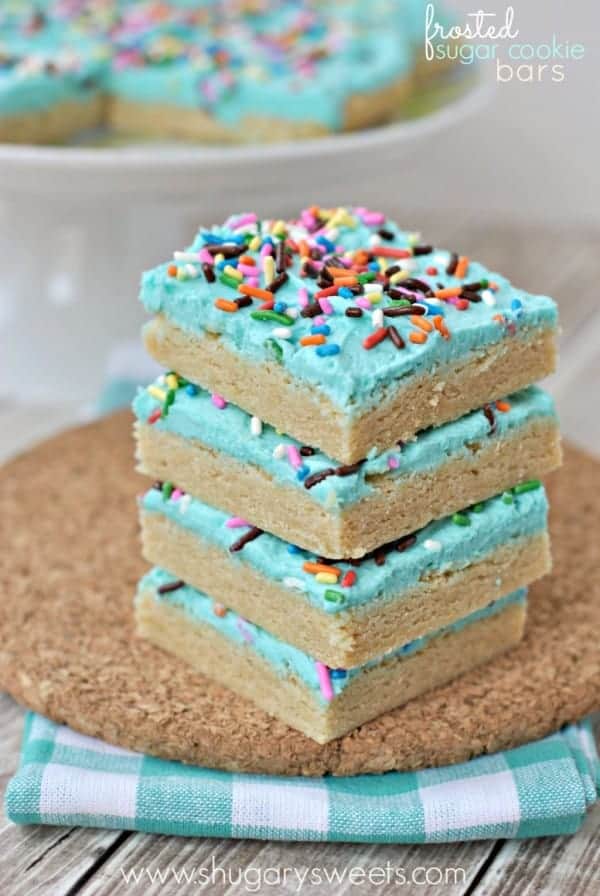 Click HERE to save recipe to Pinterest
Do you follow me on Instagram?
You may have noticed I was traveling this past weekend. As a food blogger, one of my favorite things to do is meet up with other foodies. I had the opportunity to go to Miami for the BlogHer Food conference (thanks to Candiquik and Crunch Pak)!!
If you've followed me for any period of time, you would know that I have the worst luck traveling. From being stranded in Dallas last year at BlogHer food to having a cancelled flight to Miami in February for the South Beach Food and Wine Festival.
If a flight is going to be cancelled, chances are I'm involved! Before I get to the sugar cookie recipe, I'm going to tease you with photos while I tell my story!! (or scroll all the way down for the recipe)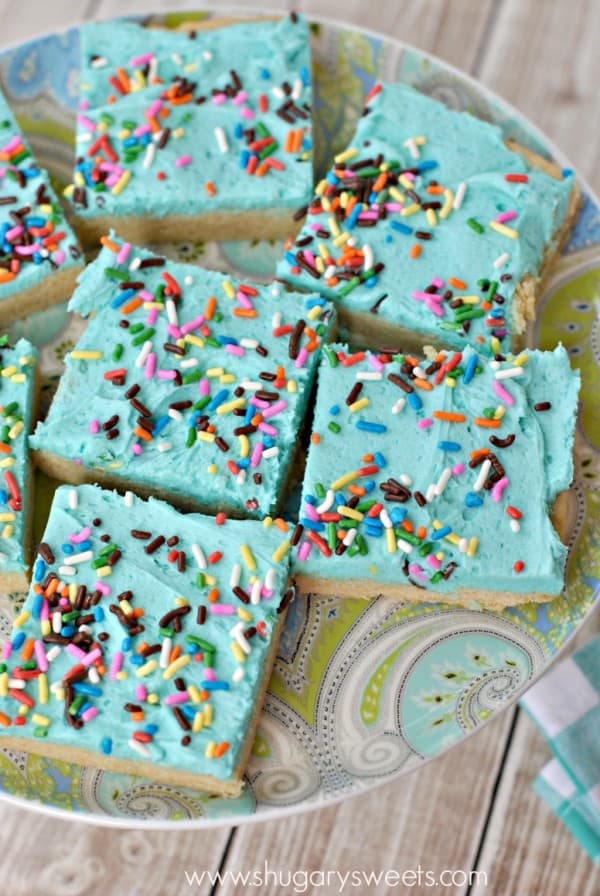 My flight down to Miami was pretty uneventful. However, within minutes of landing in Miami, a terrible storm rolled in, causing the airport to close and dozens (hundreds??) of flights to be diverted and delayed. I rejoiced at my good fortune.
I was so thankful to not be one of those bloggers stranded this time! "How lucky am I", I thought to myself!
I had an amazing weekend, filled with good food and of course, lots of friends and networking!
I even planned my trip to have a little downtime on Sunday and taking a later flight home! It gave me plenty of time to sleep in and enjoy some delicious food and chatting time with friends!
All my good fortune changed once arriving to the airport to head home. I should have known this was coming! My flight was delayed from Miami-Atlanta, which would have caused me to miss my connection to Cincinnati. Crap.
My choices at this point in talking with the desk were to stay in Miami and catch all my flights the following day, or fly to Atlanta and hope my connecting flight was delayed as well, otherwise spending the night in Atlanta. I was going to choose option B, but things got worse. The flight to Atlanta got cancelled.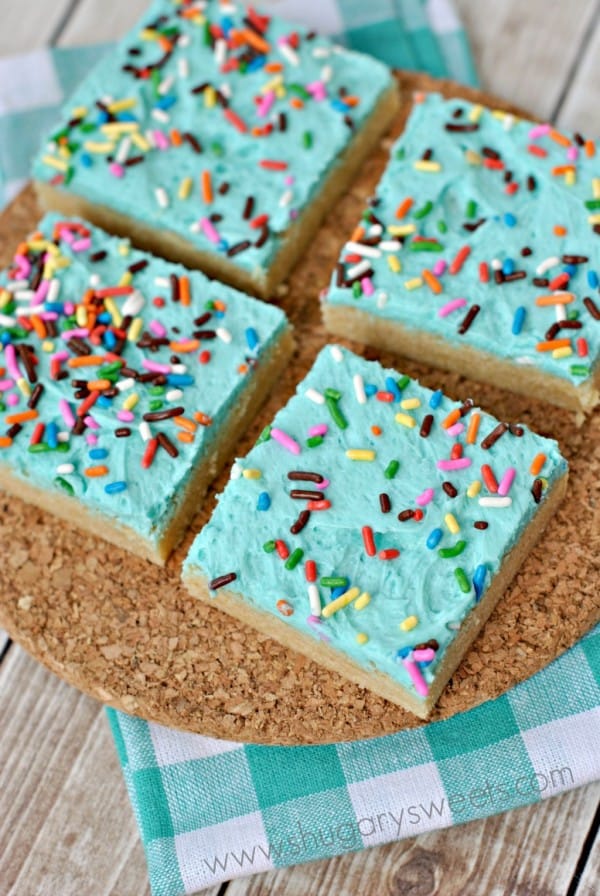 Needless to say, I got on the phone with Delta and was given a new option. Fly to Chicago then get a connecting flight to Dayton, Ohio (which is about the same distance as Cincinnati for me)! Yeah!!!
No. Of course it wouldn't be that easy, once arriving in Chicago, my Dayton flight was cancelled (of course it was!!). So I spent the night in Chicago at a fancy hotel, enjoyed some complimentary meal tickets and flew first class home in the morning.
Given my track record with HORRIBLE flights, I'll be sharing some tips for you as a traveler. Tips on what to bring, what not to bring, and how to deal with change! So stay tuned for part 2 in "Adventures with Aimee." Coming to a blog near you on Thursday!
IN THE MEANTIME, why don't we all just enjoy some frosted sugar cookie bars!?! I've been teasing you with photos this whole post! I took my favorite sugar cookie recipe, made some delicious, easy bars (cause who has time to make individual cookies every week??) and frosted them with a creamy, BLUE, buttercream frosting.
Of course there were sprinkles involved too!
How to make Sugar Cookie Bars
Line a 15 x 10 x 1-inch baking sheet with parchment paper. Preheat oven to 350 degrees F.
In a large bowl, beat softened butter and sugar with an electric mixer for several minutes, until creamy. Add vanilla and egg and beat until fluffy.
Add in flour, baking powder, and salt, mixing until combined.
Using floured hands, drop cookie dough onto baking sheet and press until evenly distributed. You're going to feel like you don't have enough dough, but you will.
Bake for 15-18 minutes, until the edges begin to lightly brown. Remove and cool completely.
For the frosting, beat butter and vanilla on high for two minutes. Add powdered sugar, salt and milk and beat for up to 5 minutes until fluffy. If you want, add a drop of gel food coloring and mix it in until combined. Spread frosting on cooled cookie bars, and add sprinkles. Cut into squares and enjoy!
This frosting will harden slightly so you can stack the cookies, or place parchment paper between layers.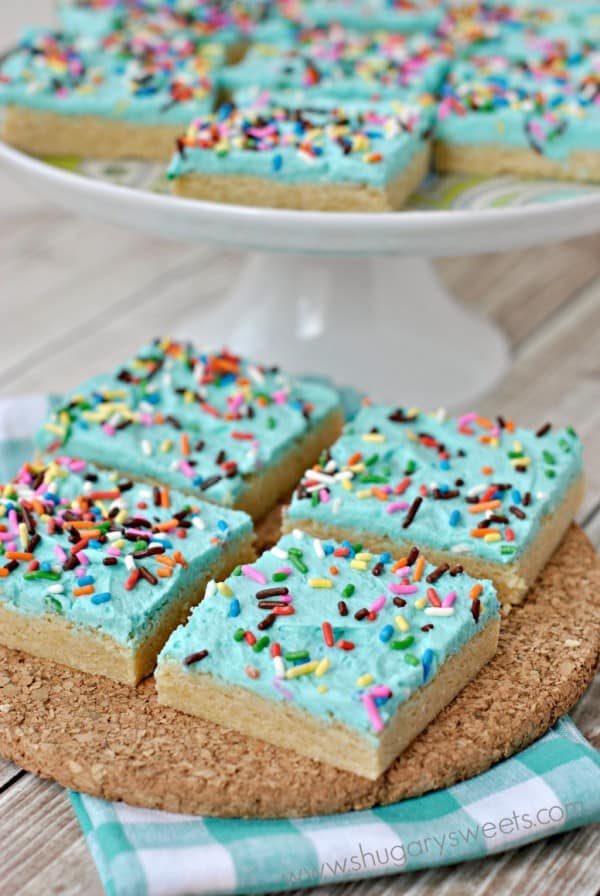 More cookie recipes
The best, chewy Sugar Cookies with a no-chill dough. Topped with a creamy sugar cookie icing, you'll love this Copycat Swig Sugar Cookie recipe!
These Easy Traditional Kolachky Cookies Recipe for Christmas have a melt in your mouth cookie base and are topped with sweet preserves. Don't forget the extra powdered sugar!
Connect with Shugary Sweets!
Be sure to follow me on my social media, so you never miss a post!
Facebook | Twitter | Pinterest | instagram


Recipe originally published May 20, 2014