Fun, festive and full of chewy peanut butter taste, Holiday Scotcheroos are a must try! The kids will love helping you decorate these easy family friendly treats.
Christmas cheer found here! Whip up a batch of sugar cookies with our favorite sugar cookie frosting. Feeling grinchy? Be sure to have a slurp of this delicious Grinch Cocktail.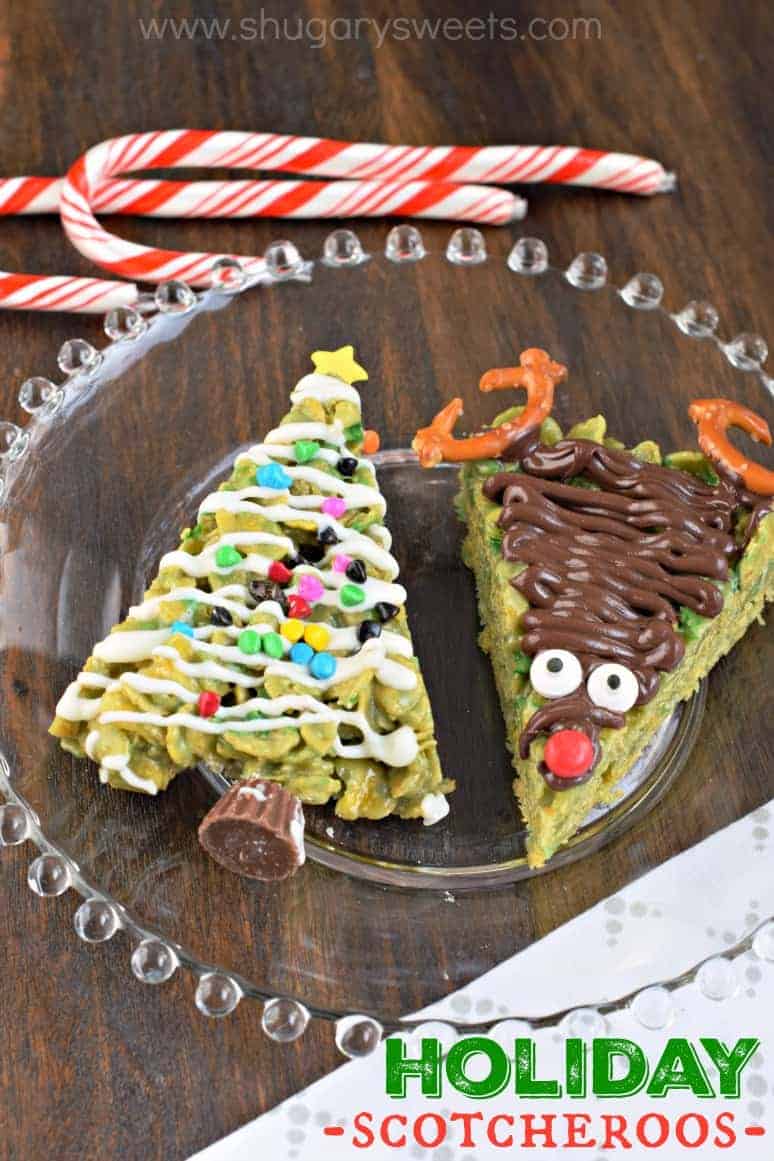 What are Scotcheroos
It's no secret I love rice krispie treats here on my blog. So why not take that love and mix it up a little bit for a scrumptious holiday treat?
A traditional Scotcheroo recipe is made with peanut butter, butterscotch, chocolate, and rice krispies cereal.
They are chewy and delicious, much like a Peanut Butter Rice Krispie Treat.
Unfortunately I opened my pantry and realized my love for rice krispie treats has used up all my crispy rice cereal. Did I let that stop me?
Oh no. I grabbed a box of corn flake cereal to use as a substitute. I was positive it would work as my aunt has always made delicious, chewy edible wreaths for the holidays using corn flake cereal.
And how, you may ask, do they get so chewy? The light corn syrup adds a chewy texture while giving the perfect amount of sweetness needed for the peanut butter and white chocolate to stand out in these Scotcheroos!
Each batch of Holiday Scotcheroos makes two 9-inch round baking pans that get cut into 8 triangles (for a total of 16 wedges of scotcheroos).
PLUS, there are so many fun ways to decorate these for the holidays!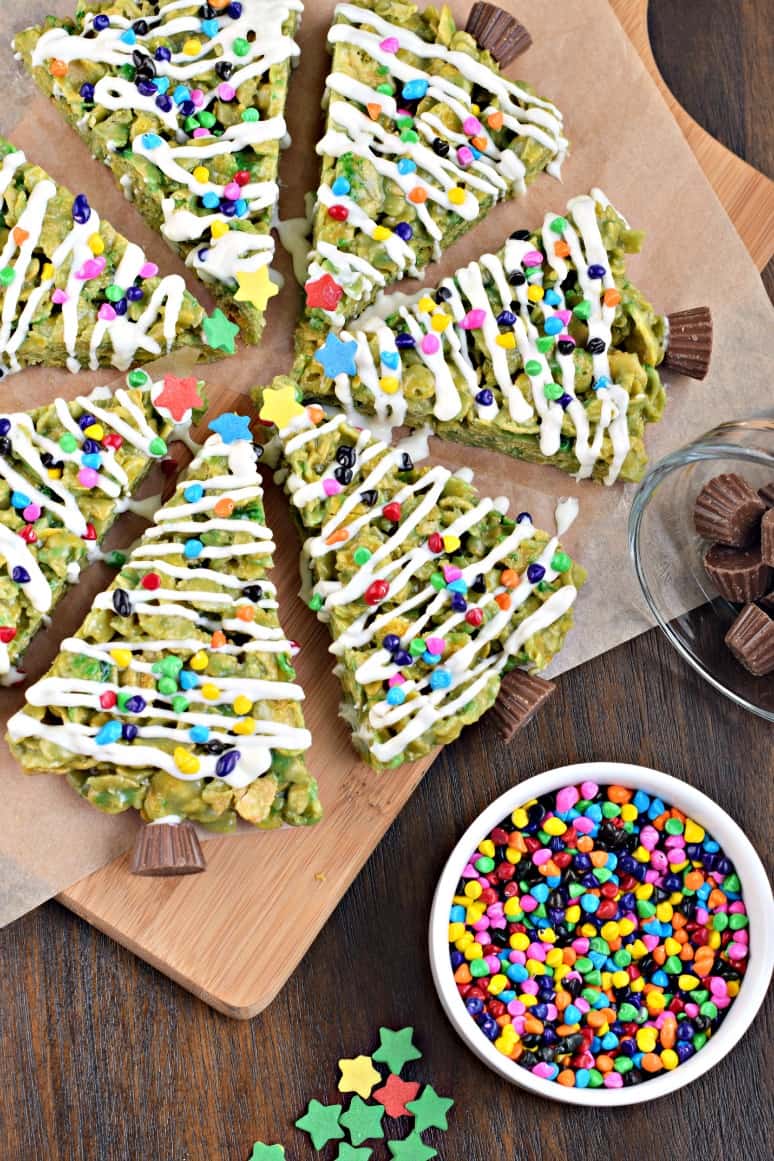 Ingredient Notes
Corn flakes cereal – You can also substitute rice krispies cereal for a more traditional Scotcheroo!
Corn syrup – Be sure to use light corn syrup (like Karo).
Peanut butter – Creamy, shelf stable peanut butter gives these the best consistency.
Food coloring – Green gel coloring makes the treats festive. Feel free to swap out the color or leave the food coloring gel out if you don't care about the color.
What you need to decorate the holiday scotcheroos depends on what designs you want to make. For today's treats, I did a combination of Christmas trees and Reindeer.
You can do a LOT with semi-sweet and white chocolate, red hots and mini pretzel twists! Feel free to change up the garnishes and experiment with your own designs too.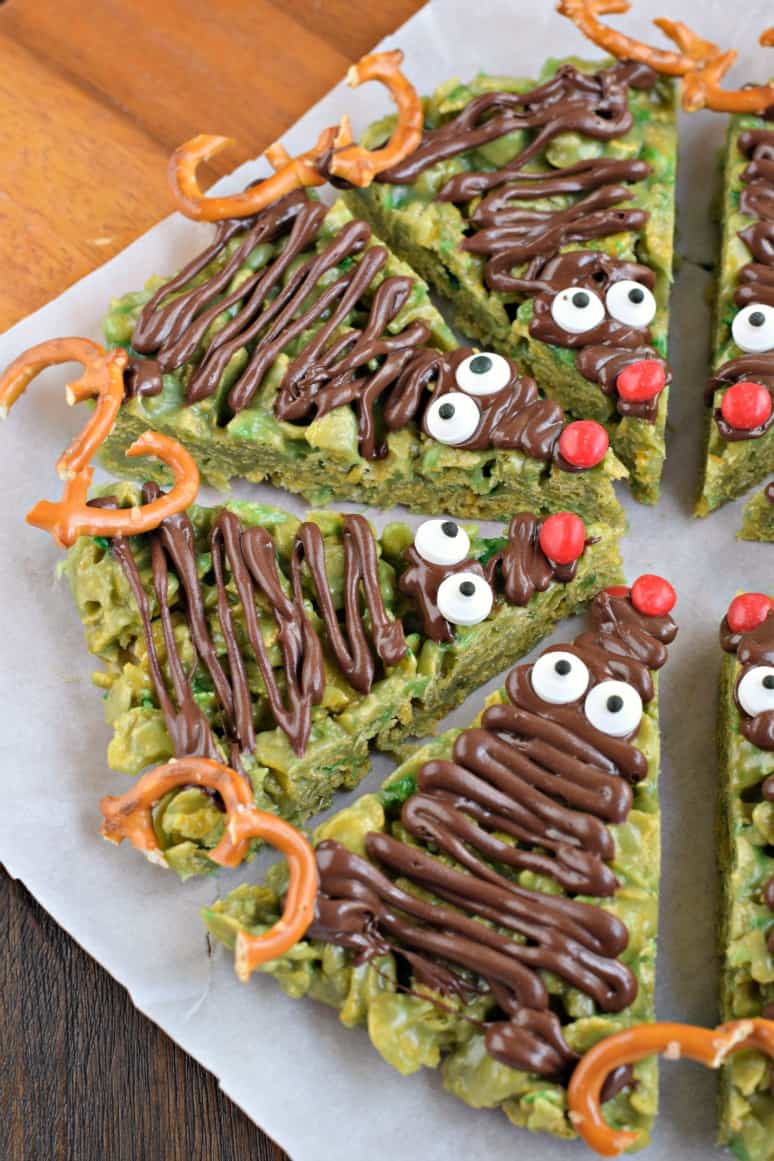 Step by Step Instructions
Knowing how to make Scotcheroos is not that different from knowing how to make rice krispie treats.
STEP 1. Line the pans
First, line your 8 or 9-inch round baking pans with parchment paper. This will make the treats easy to lift out of the pan after they have set.
STEP 2. Combine the wet ingredients
In a large saucepan, combine corn syrup with sugar over medium heat until the sugar dissolves. Bring mixture to a boil and boil for ONE full minute. Remove from heat.
Stir in peanut butter and food coloring until smooth.
STEP 3. Add cereal
Add the corn flakes to the peanut butter mixture and gently fold in to combine. Pour the mixture into your prepared pans and very gently press with the back of a spoon.
Let the treats set for 30 minutes.
STEP 4. Cut into shapes
Lift the parchment paper out of the pans (with the treats) and set on a cutting board. Cut each circle into 8 triangles.
STEP 5. Decorate
Now comes the fun part!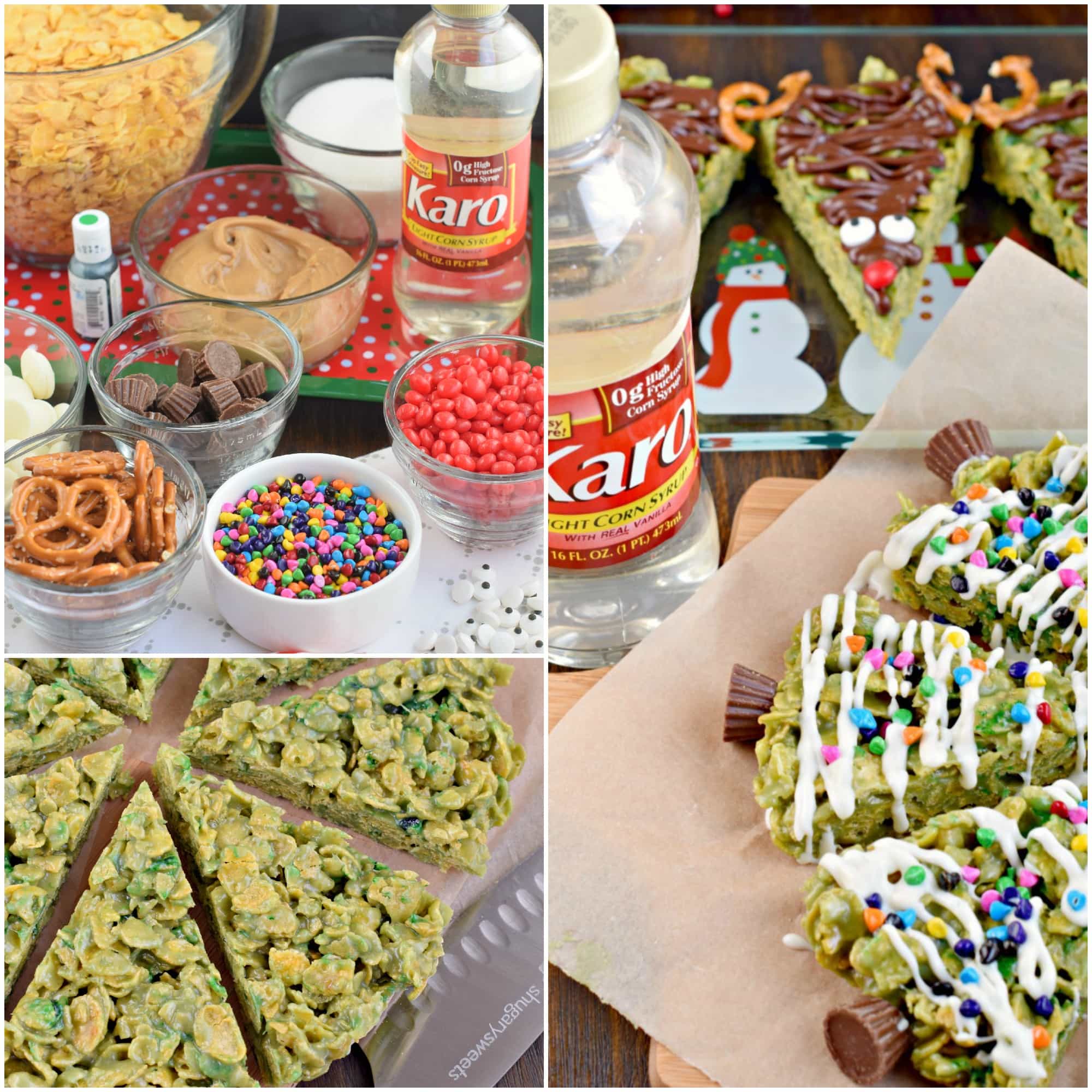 To make Christmas trees: Drizzle melted white chocolate across the triangle to create snowy stripes. Sprinkle rainbow chips or sprinkles across, then press a peanut butter cup into the bottom of each treat (using a bit of extra peanut butter as the glue) to make a trunk.
To make Reindeer: Drizzle melted chocolate over the treats covering the tops as much as possible. Press on broken pretzel twists to make antlers at the widest corners. Press on two candy eyes just above the narrowest point and finish the reindeer with a red hot candy for a nose.
Let the decorated treats set for about 10 minutes, then serve and enjoy.
Recipe FAQs
How should you store Scotcheroos?
Store them in an airtight container at room temperature. They'll stay fresh for several days.
Where do you find candy eyes?
I buy mine online or from a craft store. If you don't have candy eye balls you can still make these holiday scotcheroos! Two white chocolate chips or white M&Ms with a dab of chocolate in the center could make reindeer eyes in a pinch.
Why did my Scotcheroos turn out hard?
There are a few reasons that can happen. The most common is pressing the cereal mixture down too hard when you add it to the pan. You just need a light touch to ensure everything sticks together. The harder you press, the harder the finished treats will be.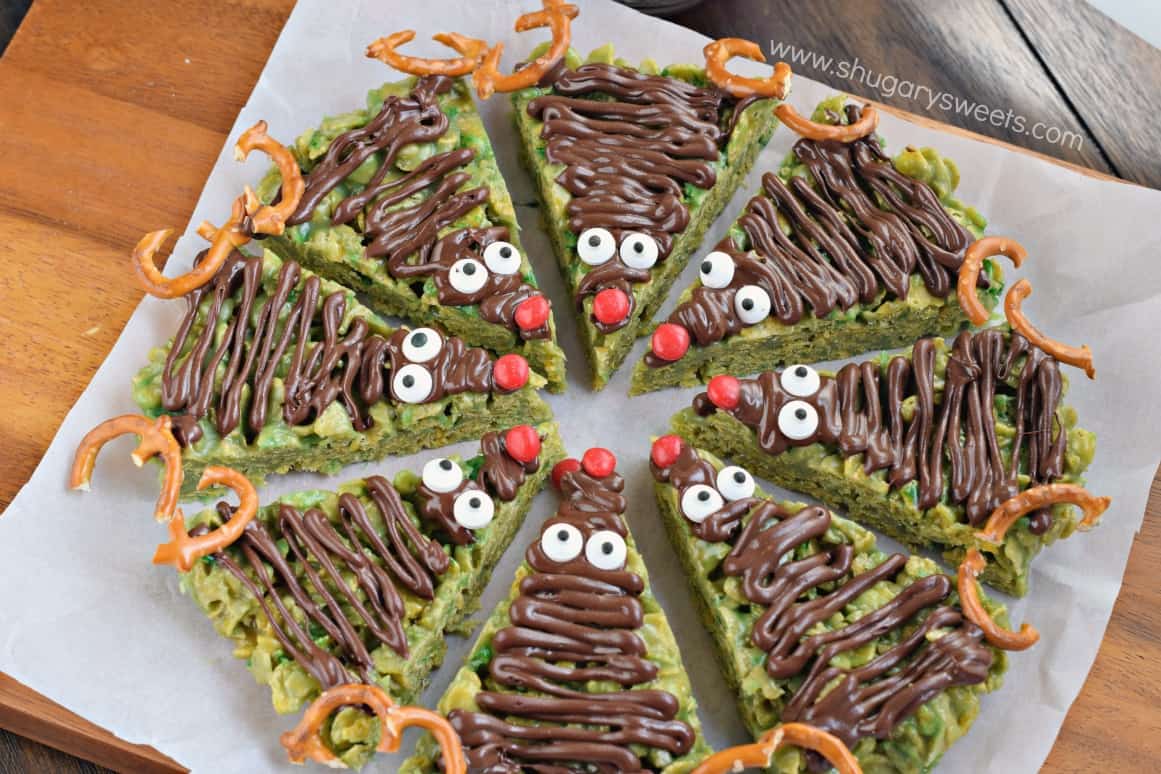 More Easy Desserts
Make these easy, adorable and delicious Holiday Scotcheroos for your next family baking project!